Why I'm Excited: Men in Black: International
I loved the Men in Black movies as a kid, initially because of Will Smith. Other than George Clooney, Smith was the only actor that I not only enjoyed but also recognized from other projects. There was something about that familiarity that I found very comfortable. When the second one came out, I keep quoting the "old and busted/new hotness" line from the trailer. During the long wait for the third film, I identified certain things about the franchise that I hadn't before, the first being that the Men in Black were essentially cops who hunted aliens, something that Tommy Lee Jones mentioned on the audio commentaries. The veteran actor also pointed out that this was one of the first properties to explore the idea of a genre mashup.
Another thing I found fascinating with this franchise was that the series could be considered a progenitor of the modern-day comic book movie genre. While most people would consider Blade and X-Men the first properties, it could be argued that honor goes to Men in Black, as it was based on the Malibu (a company which, coincidentally, was folded into Marvel) comic by Lowell Cunningham. When the likes of Spider-Man and Daredevil began making their way to the screen, it rather surprised me that the third Men in Black film had yet to materialize. After all, when you have one of the biggest stars on the planet as a part of what is ostensibly a comic book movie series, it would behoove the studio to get the ball rolling on another installment. Yet the problem, if one could call it that, was, well, that they had one of the biggest stars on the planet.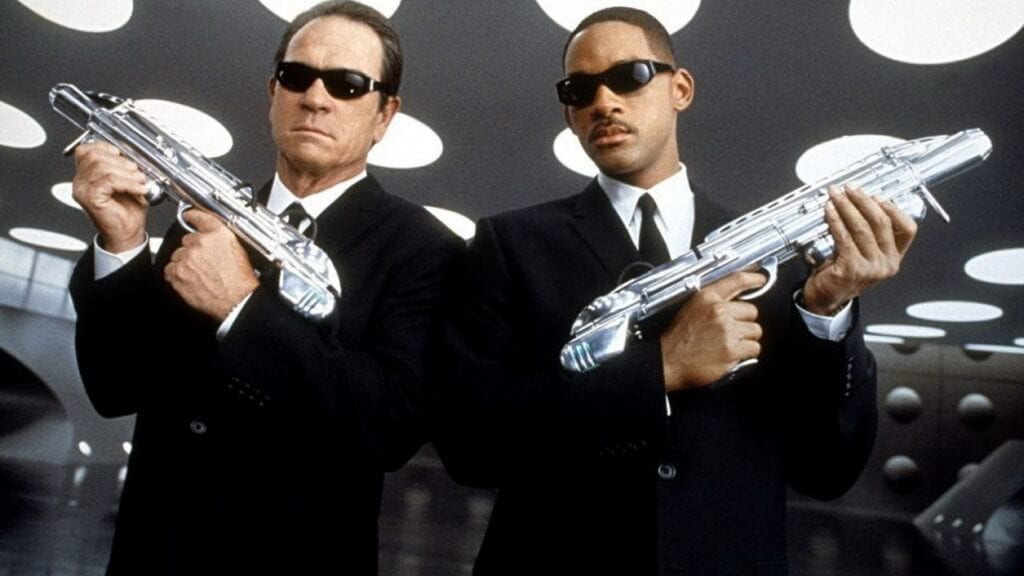 Over the course of what I like to refer to as the "Mr. July era" of his career, Will Smith's only series of films had been Men in Black, much like Tom Cruise's only franchise of that era was Mission: Impossible. Both actors were simply waiting for the right time to release new installments, especially after the lackluster reception of Men in Black II (Cruise was arguably dealing with a similar problem with Mission: Impossible 2). Each year, Smith would come out with a new blockbuster, and each year I would wonder when the third Men in Black would arrive – a third film that, according to some sources, only had a first act complete when filming began.
When Men in Black 3 was released in 2012, it was critically well-received, with reviewers singling out Josh Brolin's performance as a young Agent K. Alice Eve's portrayal of Emma Thompson's Agent O was also praised, which sparked rumors that both actors would be featured in a spinoff prequel set in the sixties – something I would have loved to see, especially in light of Will Smith feeling that three of anything was enough. Tommy Lee Jones had a different perspective, believing that the franchise was a well-oiled machine now and that both he and Smith could just pick up their characters in a fourth installment down the road. However, the studio had a different idea, wanting to cross-pollinate the 21 Jump Street franchise with Men in Black. Eventually, it was revealed that there was a possibility of Jump Street's Jonah Hill and Channing Tatum starring in the Men in Black crossover, but that the film would not feature Smith and Jones. While I love the Jump Street series, I have to say, I'm glad this idea never came to fruition; it smelled of desperation to try to reinvigorate two franchises.
So, when a reboot trilogy of Men in Black films from the same behind-the-scenes auspices as the last three movies was announced,  I was intrigued. Yes, that meant that the Smith era of the franchise was officially over, but at least we were going to get a fresh take on the universe. I even wrote on Twitter how I hoped director F. Gary Gray would convince Chris Tucker to join him, given their previous collaboration on Friday. With the likes of Rush Hour and The Fifth Element under his belt, I really wanted to see Tucker combine the two genres and put on the black suit. Despite this, I had misgivings about the next film being a reboot. While it had arguably been long enough to consider a reboot, I loved Smith and Jones and was hoping to at least see some connective tissue between the two iterations of the series. As it turned out, the studio had a similar idea.
At first, Men in Black: International seemed like a clean reboot, with Chris Hemsworth and Tessa Thompson leading the film. I was excited about this pairing; after all, this was a Revengers reunion, something that Hemsworth acknowledged in an Instagram post about the movie. Speaking of Hemsworth, I was really glad to see him get a new film series, considering his time in the MCU is rumored to be over after the upcoming Avengers: Endgame. I've been a fan of his since his memorable appearance as George Kirk in 2009's Star Trek. While critically acclaimed, Hemsworth hasn't really been able to open a movie outside of Marvel, so it seems he'll have a new IP to lean on. With the return of Agent O, it was revealed that this Men in Black film was, in fact, not a reboot, but a reset, and all the previous films happened. With any luck, we'll get those Smith and Jones cameos down the line after all, even if it won't be in International. My one wish is that Mark Ruffalo will eventually show up in the franchise so that we can not only have a reunion of all the Revengers, but so we can all watch and see if he hilariously spoils the franchise. In all seriousness, Ruffalo would be a great addition, and it would behoove the studio to capitalize on the actors' chemistry.
Men in Black: International is the latest example of a series reset done right. With Thompson and Hemsworth toplining the film, Emma Thompson's Agent O returning from the previous trilogy, and F. Gary Gray at the helm, the future of this legacy franchise is in great hands, and I can't wait to explore this universe further.