WWE Backlash Results (2022)
Backlash Results
WWE Backlash results and commentary from Danny Damage!
WWE Backlash Results
Just as it has been every year, WrestleMania has been a two-day event, fatigue set in, and my eyes and ears needed a bit of a rest from Vince McMahon's world of over-produced madness. I've not watched too many of the weekly shows since the last PREMIUM LIVE EVENT. I haven't missed it… well, I've missed Pat McAfee.
The double-barreled name has become a permanent thing, it seems. Vince must be wanting to give the impression that WrestleMania season lasts even longer now!
Cody Rhodes vs. Seth Rollins
Winner: Cody Rhodes (pinfall)
They played on the fact that Seth has learned loads since he was surprised by Cody's return at WrestleMania. Rollins scouted and countered a lot of Cody's moves early on in the match, and by the time they were putting on another solid wrestling match, Cody's matches in the mud show began to slightly fade out of our memories. The end of the match came when Seth tried to roll up Cody with a handful of tights, but Cody reversed that and scored the win.
The fans are still firmly behind Cody, which is to be expected when his dad has been mentioned a bunch, and everyone got caught up on the bus to nostalgia land. It won't be long until the fans are chanting "Stardust" at him, and Brandi is gobbing off on Twitter again. Still, a good match, and I bet Cody feels refreshed too.
Bobby Lashley vs. Omos
Winner: Omos (pinfall)
I like what they're trying to do with Lashley here, even if it has been sloppy in execution. Omos was a bit better on his feet this time around, but his inexperience is still painfully obvious. While he's putting a beating down on someone, Omos jumps between talking smack to the camera and pulling gormless faces as he stares off into the distance.
It looked like Lashley finally had the match won, but MVP proved essential to Omos when he cracked Lashey with his cane behind the referee's back, allowing Omos to finish him with the choke-bomb.
AJ Styles vs. Edge
Winner: Edge (TKO)
Edge worked on AJ's arm that he and Damien Priest had attacked previously. AJ fought back and looked like he had things in control, especially when Finn Balor neutralized Damien Priest, but a masked individual foiled AJ's attempt at a Phenomenal Forearm. This allowed Edge to lock in a crippler-cross-face and then a sleeper. The referee rang the bell, and Edge's accomplice turned out to be Rhea Ripley.
As I've said before, I've never bought Edge's tough-guy act. This is thrice the case now that he's having a go at playing a psychotic Gangrel ripoff. However, Ripley and Priest getting some of the spotlight and gaining a level or two by association is a good thing.
Charlotte Flair vs. Ronda Rousey ("I Quit" Match/Smackdown Women's Title)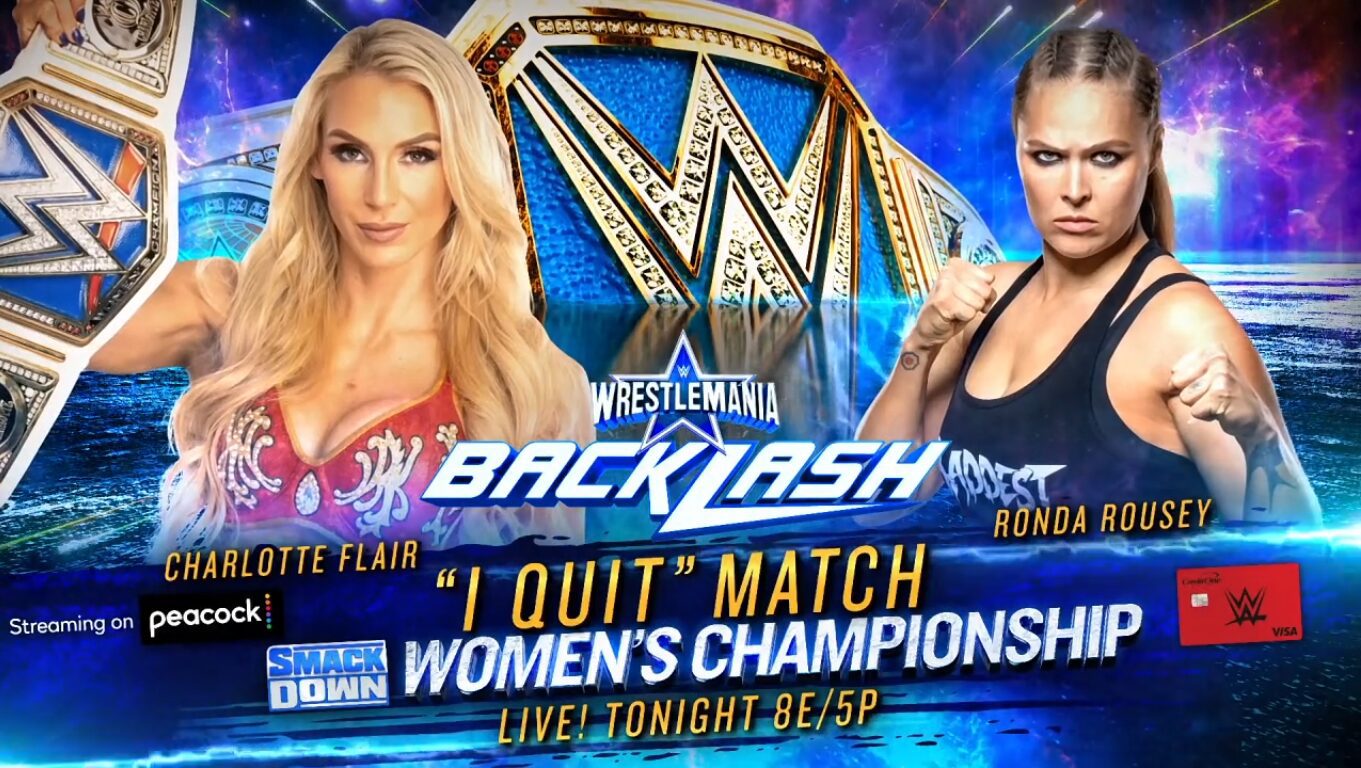 Winner: Ronda Rousey
With each match these two have together, their work gets a little smoother. As with all "I quit" matches, the majority of the crucial moments involved someone panting and squealing into the microphone. The lasses wandered around ringside and into the crowd while the least authoritative referee in the company sounded petrified to ask, "Do you give up?" at every turn.
Rousey forced Flair to quit when she mangled her arm inside a chair-assisted armbar.
Happy Corbin vs. Madcap Moss
Winner: Madcap Moss (pinfall)
Moss pinned Corbin with a surprise sunset flip in a piss break match that went on for longer than expected.
Fuck knows why we've still got this awful version of Baron Corbin. Only a few years ago, he was a grungy biker bully with a belting Jim Johnston theme song. That soon vanished, and we got a budget version of Corporate Kane. Then he lost all his money and was a hopeless bum for a couple of weeks, which was actually quite amusing, and then he evolved into Happy Corbin. He would have fit in beside Edge as a nice little revamp to his character, but Damien Priest got in there first.
Let Corbin vanish from our screens for a little while; we've had him rammed in our faces solidly since he jumped up from NXT and started spouting lines that Vince wrote himself. As for Moss, he still laughs like Killer from One Piece, and I can't see the gimmick lasting long. The only thing I'm left wondering after this development is whether he will be mononymously known as "Madcap" or "Moss" once Vince gets bored.
Drew McIntyre & RK-Bro vs. The Bloodline
Winners: The Bloodline (pinfall)
The faces started out on top until the Bloodline trapped Riddle in their corner for a while. Reigns didn't enter the match until Riddle was getting knocked around, and he was actively avoiding going toe-to-toe with Drew. That didn't last, and they went at it for a few minutes before Reigns put Drew through the announce table with a Rock Bottom. Riddle hit an Uso with an RKO off the top, but Reigns blind-tagged himself in and dropped Riddle with a spear.
Since Drew was all over the Hell in a Cell advert that aired during this PREMIUM LIVE EVENT, I'm going to guess that Drew will get Roman one-on-one in a month inside a cell. Oh yeah, Riddle had 3D grasshoppers jump out from his flip-flops tonight, which is neither better nor worse than birds… they're both stupid.
–  OLDER RESULTS –
Thanks for reading these WWE Backlash results! Feel free to get in touch on Twitter, SUBSCRIBE to my YouTube channel, and check out everything else I write about over on: