WWE Money in the Bank Results (2022)
WWE Money in the Bank Results
WWE Money in the Bank 2022 results and commentary from Danny Damage!
WWE Money in the Bank Results 2022
Well, this caught me off guard. Not only did I think MiTB was another week away, but I was expecting it to be on Sunday.
Like WWE has a habit of doing, there's a risk of overkilling the gimmick we're trying to enjoy tonight. Two of the same stipulation in a three-hour period lessens each offering, but at least they were spread out.
Women's Money in the Bank Ladder Match
Winner: Liv Morgan
Everyone went 100MPH from the bell; there were highspots all over the shop, many of them sloppy. Shotzi managed to muck up noticeably a few times, including cracking the back of her own head on a ladder; it's almost as if you're supposed to receive extensive training before doing this stuff live and in front of thousands of people.
It's hard to call everything they rushed through in the match as the camera missed a couple of spots in the chaos. The end saw Morgan and Lynch standing off while both on a ladder. Lynch kicked Morgan's ladder away, but Liv managed to re-balance herself, kick Lynch to the mat, and grab the briefcase.
Becky absolutely lost her shit outside the ring afterward.
Bobby Lashley vs. Theory (US Title)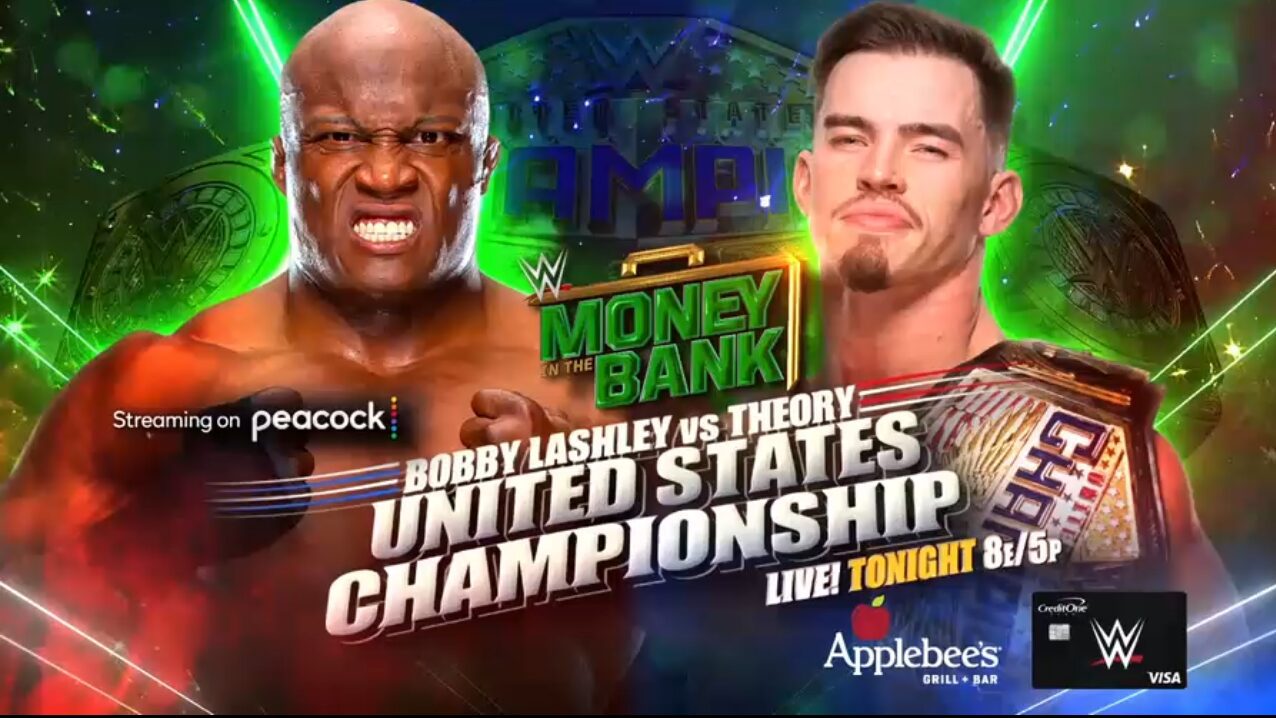 Winner: Bobby Lashley (submission)
Theory went into the contest way too arrogantly, and he couldn't even come close to matching Lashley's power. In time, Theory got sneaky and ended up on top of Lashey for a while. It looked like Theory had victory in sight when he raked Lashley's eyes and hit him with a spear. Lashley reversed Theory's finisher and made him tap with the Hurt Lock.
Bianca Belair vs. Carmella (Raw Women's Title)
Winner: Bianca Belair (pinfall)
Nothing spectacular between these two lasses, but nothing shoddy either. Bianca looked really strong and tossed Carmella around for most of the match. Kiss of Death for the win.
Drunky & Jay Uso vs. The Street Profits (Undisputed WWE Tag Titles)
Winners: The Usos (pinfall)
Nothing new between these two teams. I mean, I feel like we've seen this match-up 9999 times by now. Still, it wasn't a bad tag team match; it had some structure, and the rules were adhered to.
The crowd was so quiet in the early goings of the match that Kevin Dunn started pumping some pre-taped cheering into the feed. They got into it by the end, and the Usos pinned Montez Ford after a 1D.
After the match, the replay showed that Ford's right shoulder was off the mat from the start of the count… which means this isn't over yet.
Ronda Rousey vs. Natalya (SmackDown Women's Title)
Winner: Ronda Rousey (submission)
The lasses put on a decent match. They have good chemistry,  and they're great sparring opponents. Rousey made Natalya tap out, but the point of this match was yet to come.
Liv Morgan ran down and cashed in her MiTB contract and tried to take advantage of a one-legged Rousey. It looked like it was all for naught when Rousey caught Liv's first kick and locked her in an ankle lock. Liv kicked Rousey's bad leg, rolled her up, and won the belt.
If she gets a rematch, Rousey will murder Morgan.
Men's Money in the Bank Ladder Match
Winner: Theory
That's right! Before the bell rang, Adam Pearce introduced the eighth entrant into the match: Theory!
Like the women's version, it was a full-speed car crash from the beginning. Seth Rollins, Sami Zayn, AND Theory all played the part of the sneaky empty-ladder stalker. Omos was the biggest threat in the match, but everyone teamed up to leave him buried in a pile of ladders. Everyone still standing then found something to jump from, which gave Omos time to wake up. This caused the whole gang to team up for a second time to put Omos out of action.
Drew McIntire looked like he had it won, but Scrappy Doo Butch charged down to the ring and stopped him. Eventually, Theory and Riddle were fighting at the top of the ladder, and Theory bested Riddle and won the match.
There we have it. The payoff for the women's MiTB has already been and gone, and Theory will be lingering around with his briefcase for a bit. It would mean so much more if title shots didn't come along as frequently as they do nowadays.
Sorry. What am I saying? We don't need to worry about silly things like that, do we? WWE will be back to doing what it does best on Raw tomorrow… dancing for advertisers.
G'night!
–  OLDER RESULTS –
Thanks for reading these WWE Money in the Bank results! Feel free to get in touch on Twitter, SUBSCRIBE to my YouTube channel, and check out everything else I write about over on: