WWE Royal Rumble Results (2022)
WWE Royal Rumble Results
Danny Damage here with WWE Royal Rumble results and commentary!
WWE Royal Rumble 2022
Historically, the Royal Rumble was that time of the year where attention spans came to die, and a building full of people trird to turn themselves into the star of the show by getting WAY too into counting down from ten. Sticker books (and coloring books for the advanced fans) would be a great way of keeping the focus on the fighting, but a supply chain issue of said books has been created by WWE's flooding of the market and with AEW's presence.
Roman Reigns vs. Seth Rollins (Universal Championship)
Winner: Seth Rollins (disqualification)
Rollins has been messing with Roman's head by reminding him of their good times together in The Shield. This tactic served Rollins well at the start, but Reigns got his head back in it and started to batter Rollins. Reigns hit a spear, but Rollins offered a fistbump while on his back. An irritated Reigns locked Rollins in a guillotine but wouldn't release the hold when Seth got to the ropes.
Before Reigns left, he reenacted Seth's chair shot from behind when The Shield imploded several years back.
Women's Royal Rumble Match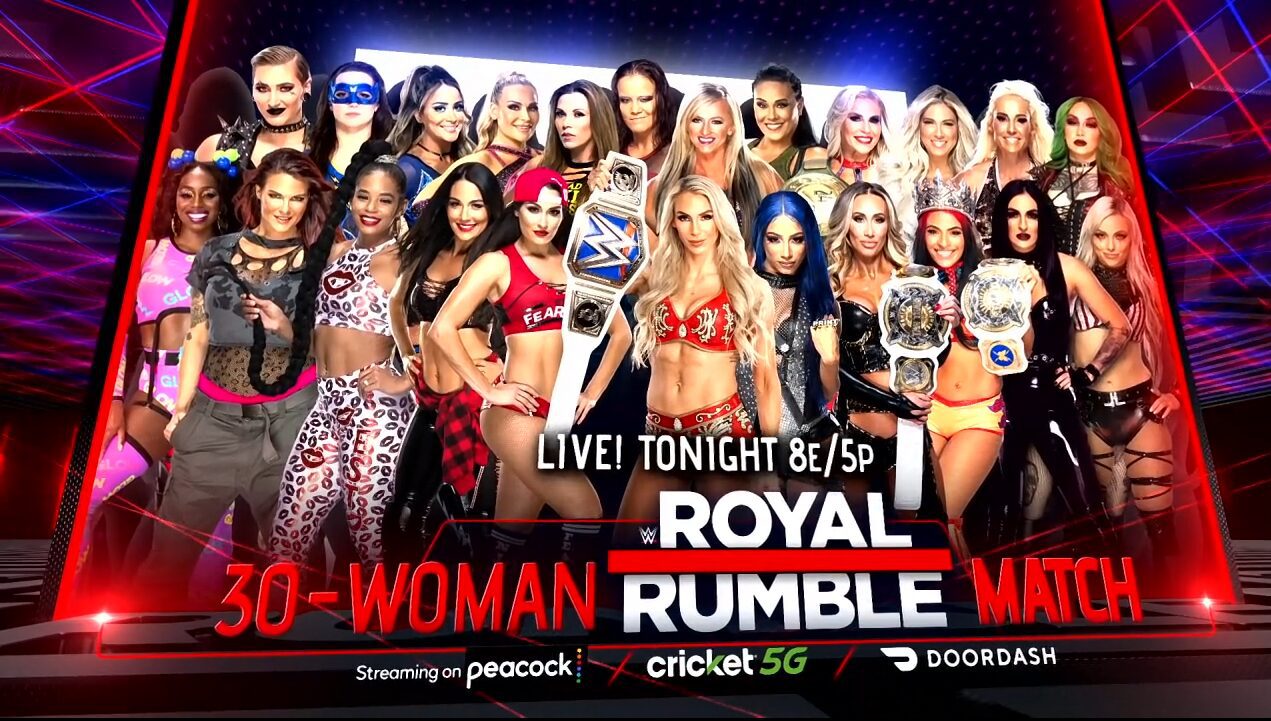 Winner: Ronda Rousey
Some of the old names they dragged back were the same ones they always use, and it gets to levels of sloppiness that one shouldn't show off. Ronda and Charlotte Flair were the final two. Flair rushed in with a big boot, but Ronda caught her and dumped her over the top. Happy to be at the destination, but the car journey was a bit rough and embarrassing at times.
Becky Lynch vs. Doudrop (Raw Women's Championship)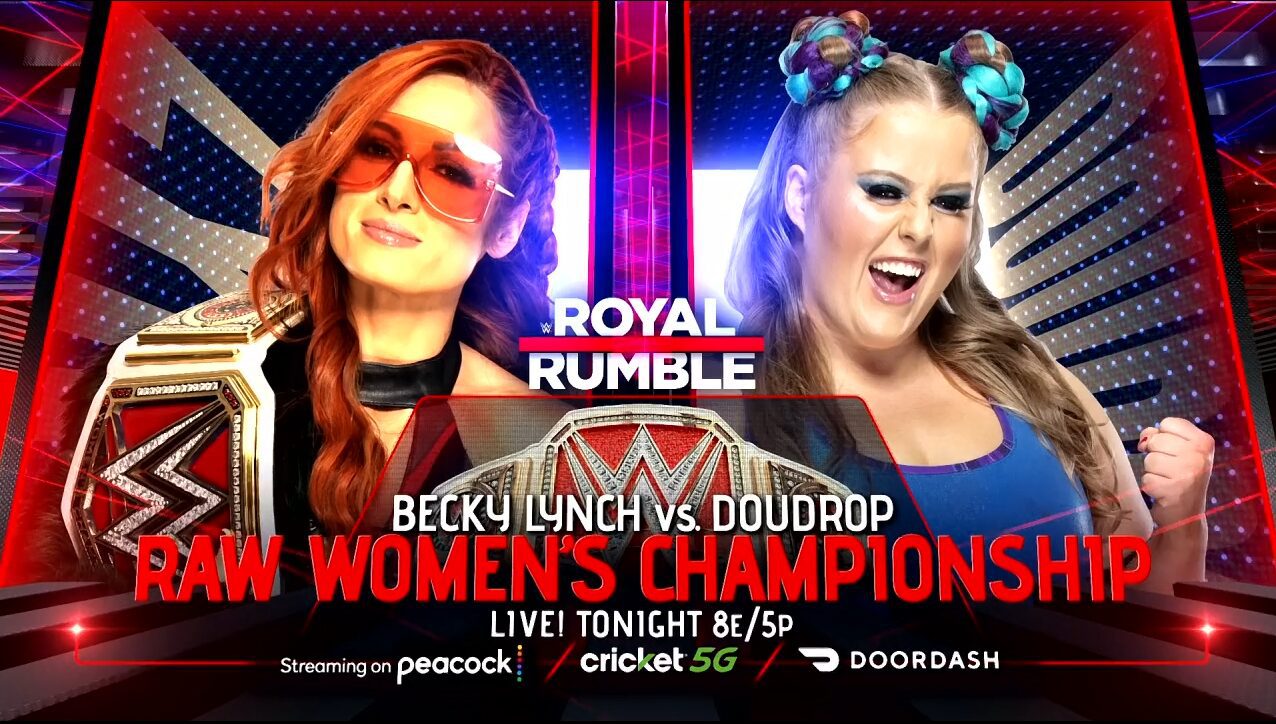 Winner: Becky Lynch (pinfall)
A slower-paced match to reset the crowd after the first of two Royal Rumble matches. Becky had to work from underneath the larger competitor, but she eventually hit a Man-Handle Slam from the second rope to win the match.
Brock Lesnar vs. Bobby Lashley (WWE Championship)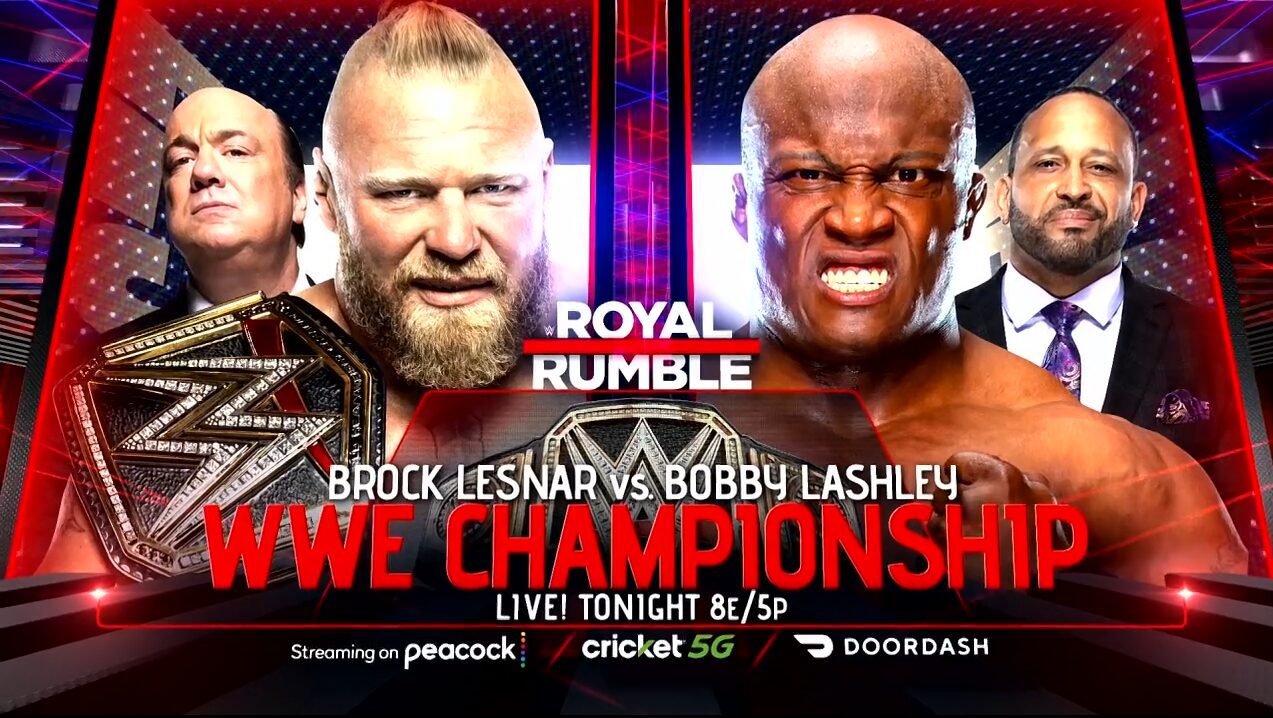 Winner: Bobby Lashey (pinfall)
The hype package for this match is some of WWE's best work, mainly because both chaps have legit pasts in combat sports and proof of that added so much to the match. A hard-hitting clash between two behemoths. After a referee bump, Roman Reigns hit Lesnar with a spear, and then Paul Heyman handed Reigns Lesnar's title belt. Reigns KO'd Brock with his own belt, and then Lashley pinned Lesnar to take the belt off of him.
Reigns and Heyman walked off together, and Lesnar was left there staring at the lights.
Edge & Beth Phoenix vs. The Miz & Maryse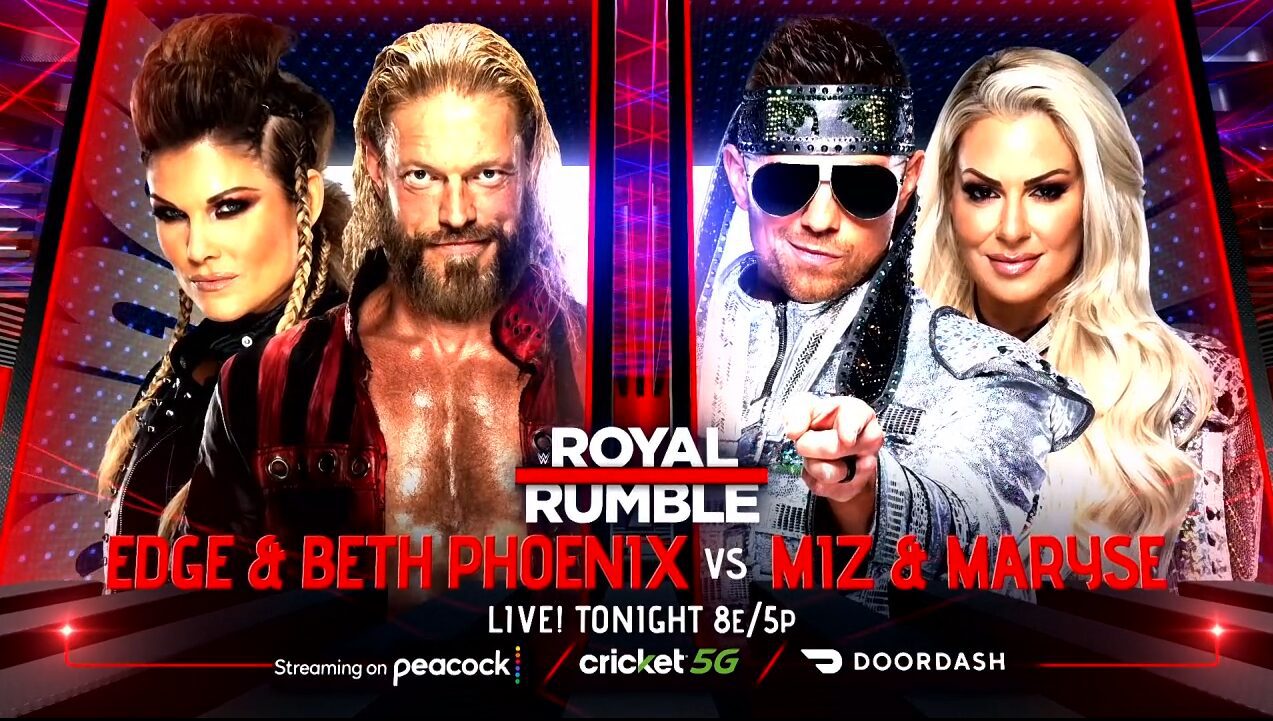 Winners: Edge & Beth (pinfall)
The Grit Couple + The It Couple = a piss-break match before the main event. A mixed tag match means it was bound to be dumb regardless. Not only did the match contain the usual momentum-killing stupidity, but they did the old bit where Beth hitting The Miz behind the referee's back is absolutely fine, but Maryse doing the same to Edge is a no-no. Dumb. Despite their despicably devious efforts, Miz and Maryse couldn't do anything when hit with stereo spears and stereo Glam-slams.
Men's Royal Rumble Match
Winner: Brock Lesnar
Like the women's match, there's too much to list in full. Check out the match to enjoy all the twists and turns. Drew McIntyre and Brock Lesnar were the final two; no explanation was given as to why Brock had the #30 spot or if he took it from someone. Either way, the crowd popped for him, they were conflicted when he tossed out the hometown hero, Randy Orton, and they were happy when he eliminated Drew to win the match.
This sets up Brock and Roman Reigns for WrestleMania, the Universal Championship… and possession of Paul Heyman.
–  OLDER RESULTS –
Thanks for reading these Royal Rumble results! Feel free to get in touch on Twitter, SUBSCRIBE to my YouTube channel, and check out everything else I write about over on: