WWE WrestleMania 39 Results (Night 1)
WWE WrestleMania 39 Results (Night 1)
WWE WrestleMania 39 results (night 1) and commentary from Danny Damage!

WWE WrestleMania 39 Results (Night 1)
Regular readers know that I generally enjoy something about the WWE's PREMIUM LIVE EVENTS, despite them being far from perfect. WrestleMania is the amalgamation of a year's worth of work, and although the weekly TV ingredients are often tough to digest, there's a healthy amount of anticipation for the "global live spectacular" – their words, not mine.
When the WWE Network came in, the pay structure for the talent (amongst other things) changed drastically. Wrestlers used to get paid depending on ticket sales, PPV buys, where they were on the card, if they were a champion, and so on. Those numbers meant less once all the PPVs could be found online for a small monthly fee. Vince McMahon would obviously use this to his advantage, and he really showed how much the little guy meant to him when he whored the Network out to Peacock. Now, for an even smaller fee, you have the same access to the WWE's "treasured" archive of wrestling history, as well as all the modern, premium live events.
And now, my point.
AT LEAST with WWE's use of Peacock, and to a lesser extent, the WWE Network, the layout of the big shows makes a lot more sense, and they are a lot more enjoyable. You get a break with adverts and sometimes a bit of backstage stuff in between the matches with a hype package beforehand. The table is set, and you're left to the storytelling that's served in front of you.
When you watch WWE on television, it takes no time at all to see what they're up to. On TV, WWE's priority list goes: advertisers > TV network > interchangeable others > wrestling fans. Don't get me wrong; that order doesn't change during the PPVs. It's just the whole event isn't built around television's NEED to cut to a commercial break every five minutes. Funnily enough, the premium live events are set up around… (wait for it) the wrestling matches!
This is also a great example of how the Vultures of Television have their priorities flipped and gradually drain every bit of storytelling flow and potential immersion. Whether it's Raw or Smackdown, attention-seeking reality stars or crime detective drama, nothing properly gets going, and then you're dragged out of the mood by people selling fast food, overpriced/powered phones, more fast food, and pharmaceuticals that you probably don't really need.
The only upside to this is that WWE/Vince would never use the wrestlers you're supposed to suspend your disbelief for in cheap, character-breaking commercials for third-party companies JUST because they had a few bags of money…
</sarcasm>
Austin Theory vs. John Cena (US Title)
Winner: Austin Theory (pinfall)
Theory took control early on, thanks to some underhanded behaviour. Cena spent much of the match fighting from underneath. The crowd was happy to see John and was firmly behind him. The referee took a bump just before Theory started tapping to the Chinese Apology Rack STF. By the time the official had come around, Theory had hit Cena in the balls and finished him with the A-Town Down.
Men's WrestleMania Showcase Match
Winners: Street Profits (pinfall)
Not a proper match. Four-way, no rules, then the rules matter, then they don't. Loads of obviously cooperated spots. However, Chad Gable hitting Brawn Strowman with a rolling German suplex was a sight to behold.
In the end, Ricochet tried to hit Angelo Dawkins with a Shooting Star Press, but Dawkins got his knees up, setting him up for Montez Ford to hit the killing blow.
Seth "Freaking" Rollins vs. Logan Paul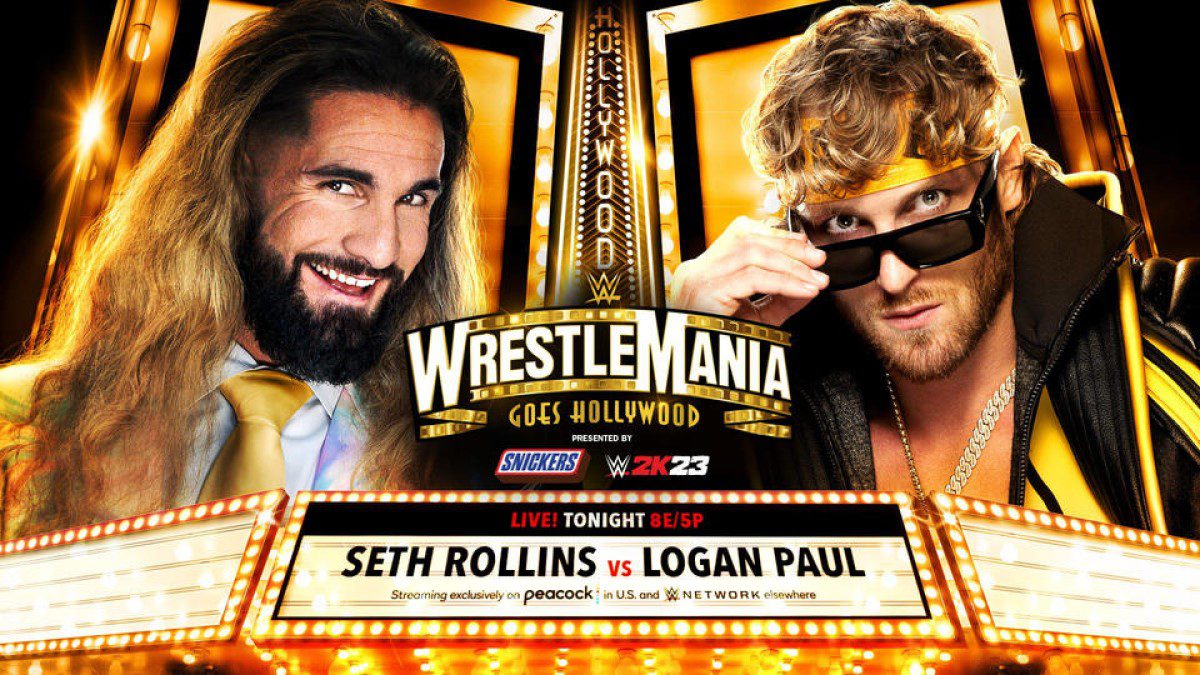 Winner: Seth Rollins (pinfall)
The veteran Rollins led this match and let Paul go on the offensive from the start, showcasing all the new stuff Logan's added to his armory and the old stuff he's polished up. Paul's Maverick (Buckshot) Lariot looks better each time he hits it; it's easily the best in the business.
After Rollins turned the tables, the Prime energy drink mascot who accompanied Paul to the ring was revealed to be Paul's business partner, KSI. Rollins was then double-teamed and placed on the announce table by the heels. Luckily, Seth managed to pull KSI into harm's way as Paul launched himself off the top turnbuckle. Paul hit a Go To Sleep on Rollins and a frog splash, both for two-counts.
Paul lined himself up to hit Seth with a Coast to Coast, but Rollins got to his feet, super-kicked Logan out of the sky, and followed it up with a Curb Stomp for the win.
Despite what I said in my intro regarding cheap, forced promotional crossover efforts, that's not what's going on here with Logan Paul and his millions of social marketing media followers. Logan is fantastic in this spot; he takes his role more seriously than a lot of the roster, and he embraces his super-slappable face. If the energy drink mascot hadn't clearly been part of an angle from the start, I would have commented about WWE not learning from their Mountain Dew Pitch Black match at the Royal Rumble.
I've noticed that every time Paul does something in WWE, The Miz is always nearby. One would assume that Miz has helped Paul with a lot of the hurdles that he also faced transitioning into wrestling.
Trish Status, Lita & Becky Lynch vs. Damage CTRL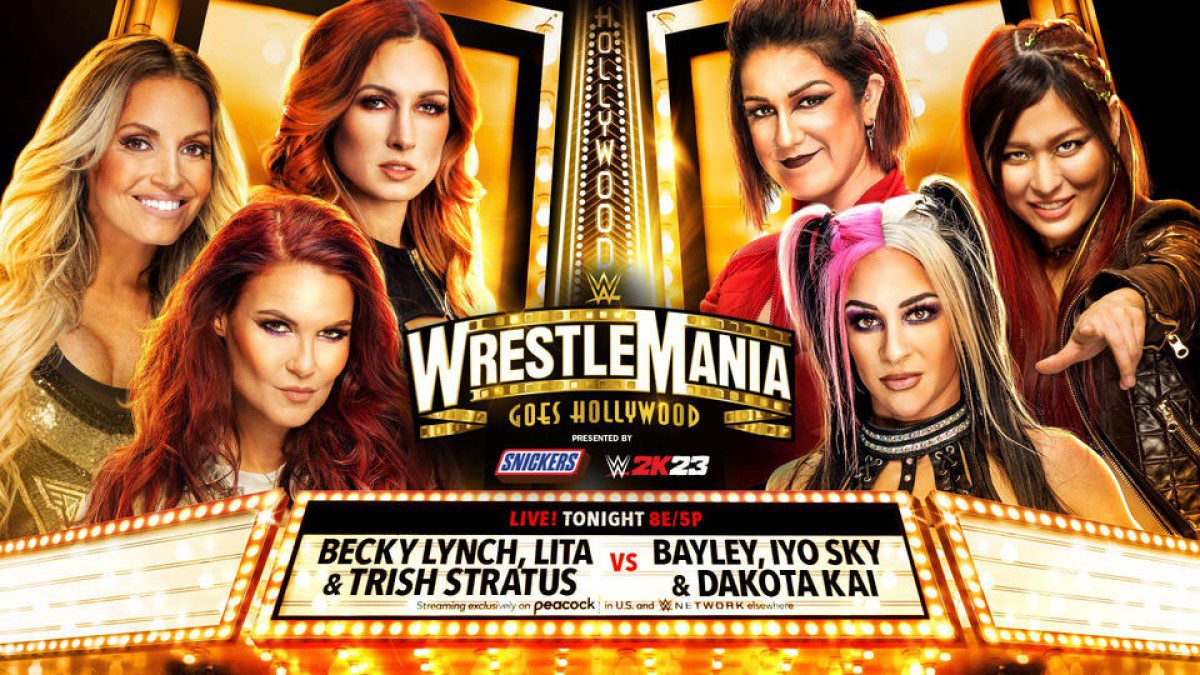 Winners: Becky, Trish & Lita (pinfall)
When Becky and the legends came to the ring, there was a black-and-white filter on the screen… and I'm not sure why. How long ago do people think Trish and Lita wrestled full-time???
Becky started the match, and the heels isolated her early on and took the majority of the bumps. She made the hot tag to Lita, who cleared house, but Damage CTRL tripled-teamed her and wore her down for a while. Trish got a pop when she tagged in and went through her greatest hits too.
That's when things got a bit sloppy and started going on a bit too long. All six women adhered to tornado tag rules at the drop of a hat, and the referee went along with it.
The finish saw Becky hit Bayley with a Man Handle Slam from the 2nd rope.
Rey Mysterio vs. Dominik Mysterio
Winner: Rey Mysterio (pinfall)
I didn't care about this one initially, but Dominik's been such an entertaining, slippery heel that I made sure not to turn it into a piss-break match.
Don't worry; my optimism was punished hastily.
For whatever reason, this match was sponsored by a cereal brand with emoji faces. This meant that all the ringside display screens and Rey's name graphic had cartoon faces on them, and any chance of convincing me of the legitimacy of a grudge match between father and son went right out the window.
Dominik got in the face of his ringside mother and sister and threw a drink in the latter's face. As Rey ran over to stop his daughter from jumping the barrier, Dominik took advantage and dropped Rey. After Dominik was slapped by his mom, Rey evened things up, but then Damien Priest and Finn Balor showed up.
It looked like Dominik was going to knock out Rey with a chain, but Bad Bunny, who was at the Spanish table, snatched the weapon away and opened the door for Rey to get the win.
Charlotte Flair vs. Rhea Ripley (SD Women's Title)
Winner: Rhea Ripley (pinfall)
Charlotte and Rhea had a great match, but the crowd's loyalty made it a strange one. Charlotte's supposed to be the babyface, but the fans love Rhea and can't help but cheer her on. Charlotte's personality makes her a natural heel. Smugness oozes out of her constantly, and she's been given everything in WWE… thrice. This makes it so much easier to boo Flair Jr., and she can't help but slip back into that role.
Ripley hit a headbutt and a Riptide in succession; the building thought that was it, but Charlotte kicked out at the last moment. Rhea slammed her brakes on to avoid colliding with the referee, and Charlotte speared her for a two-count. Charlotte fought to lock in the Figure Four, but Ripley quickly got to the ropes. The fans ate everything up, but they were cheering for the heel.
The roof blew when Ripley landed a Riptide from the second rope to win the belt.
The Usos vs. Kevin Owens & Sami Zayn (Undisputed Tag Titles)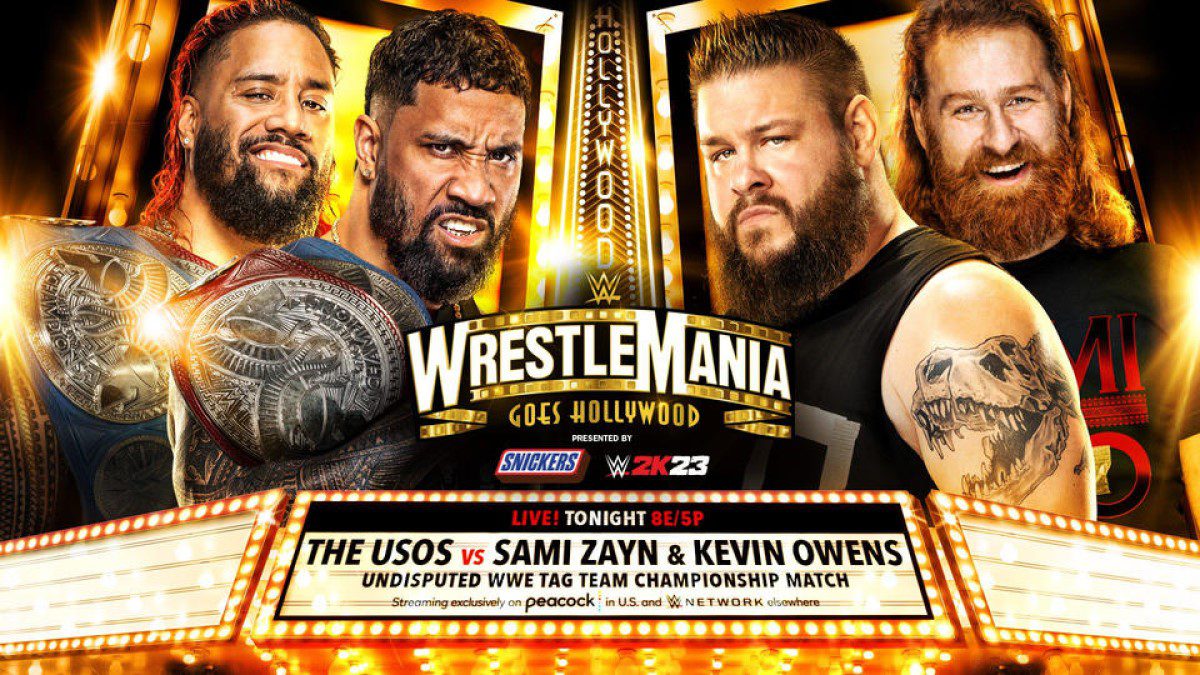 Winners: Kevin Owens & Sami Zayn (pinfall)
The Usos cut the ring in half and worked on Sami from the start. When Owens eventually got tagged in, his first offensive move was a cannonball from the top to both Usos on the floor. Owens got overwhelmed by the twins and managed to tag out once Sami had recovered some.
The Usos kept tagging in and out, attempting to kill Zayn with superkicks and double-team moves. Owens showed signs of life, so the Usos put him through a commentary table. It looked like the dream was over when Sami ate a 1D in the middle of the ring, but he kicked out just before three.
Sami survived the onslaught until Owens made it back onto the apron. They both hit their finishes on an Uso but could only manage a two-count.
The crowd fell silent when Owens got flattened by a double Uso splash, but he wouldn't let that be the end and kicked out. Sami appeared in the corner and begged for the tag. Jay was dazed in the corner, got booted with three Helluva Kicks, and the Uso's title run finally came to an end.
Good call putting this on last. Charlotte and Rhea was a classic, but The Bloodline storyline has been the only consistent draw to Raw and SmackDown for the last year plus. The video hype package really drove this point home, and I dare say more fans were looking forward to this resolution than Cody Rhodes and Roman Reigns tomorrow.
See you tomorrow for night 2:
–  OLDER RESULTS –
ROH Death Before Dishonor 2022
Thanks for reading these WWE WrestleMania 39 results (night 1)! Feel free to get in touch on Twitter, SUBSCRIBE to my YouTube channel, and check out everything else I write about over on: