Alan Rickman's Secret Journals Reveleaed
The late Alan Rickman's private journal entries have been revealed exclusively by The Guardian. There are 26 volumes, some with random fluff, others that recount events such as 9/11 and days on various film sets and play rehearsals.
Here are some excerpts from 2001
11 September
"NEW YORK TRADE CENTER ATTACK.
11.30am Rehearse [for Private Lives, in London, with Lindsay Duncan]. Run Act 1. As the dance rehearsal is about to begin, the first report from New York comes in. Total shock. All rehearsal becomes an acute, flattening irrelevance but we do it anyway. Eventually back home at 7.30 and just watch it over and over on TV as if to imprint it on the brain, the psyche, the life really … That plane was like watching a knife go into butter."

7 October
"Talk to Joanne Rowling again and she nervously lets me in on a few glimpses of Snape's background. Talking to her is talking to someone who lives these stories, not invents them. She's a channel – bubbling over with, 'Well, when he was young, you see, this, that and the other happened' – never, 'I wanted so & so …'"

4 November
"HARRY POTTER PREMIERE.
6.30pm The film should only be seen on a big screen. It acquires a scale and depth that matches the hideous score by John Williams. Party afterwards at the Savoy is much more fun."
Talk about harsh! It's pretty rare to find someone dismissing John Williams' work, and nowadays, actors never criticize projects they were a part of.
Some excerpts from 2002
14 January
"HARRY POTTER 2.
6.50am pick-up (writing this with the wide-awake-at-2am thing) Nice to see them all again but it's a dreamlike thing, as if it has never stopped. And in a way, it hasn't – and won't … Richard Harris is enveloped in flu – a cue for Maggie Smith to encase her face in a scarf. Mind-blowing exhaustion by the end of the day. Somehow one hour's sleep is not quite enough. Back to the hotel for a club sandwich, chips, red wine, Ground Force and bed."

18 May
"8pm show [Private Lives, now transferred with the same cast to Broadway] After which we discover that Nicole Kidman & Tobey Maguire arrived half-hour late. Why come in?"
It would appear Alan wanted to set the young American actors straight!
Some excerpts from 2003
2 May
"8.40am pick-up Corridor with Dan Radcliffe. He's so concentrated now. Serious and focused – but with a sense of fun. I still don't think he's really an actor but he will undoubtedly direct/produce. And he has such quiet, dignified support from his parents. Nothing is pushed."

30 July
"7am pick-up Snape/Lupin Classroom. The day got off to a fabulous start with the screen guillotining on to my head, a sudden, swift blackout followed by day-long melancholy. Alfonso [Cuarón, director] was quietly ballistic with me. I love him too much to let it last too long so I wailed offset and we sorted it out. He's under the usual HP pressure and even he starts rehearsing cameras before actors, and these kids need directing. They don't know their lines and Emma [Watson]'s diction is this side of Albania at times. Plus my so-called rehearsal is with a stand-in who is French."
Ouch, shots fired at little Emma Watson!
Some excerpts from 2004
23 May
"NEW YORK.
4pm Harry Potter 3. World Premiere. Arriving at Radio City was like being a Beatle. Thousands of fans screamed as we got out of cars. Mostly for Daniel Radcliffe but a rush for everyone. Not to mention walking out on to the stage to 6,000. Alfonso has done an extraordinary job. It is a very grown-up movie, so full of daring that it made me smile and smile. Every frame of it is the work of an artist and storyteller. Stunning effects that are somehow part of the life of the film, not show-off stunts. Later back to the hotel w. Ariel Dorfman, who takes egomania to utterly charming heights. He just loves being him."

28 September
"HP [4]. 7.55am pick-up Smacking the backs of Daniel [Radcliffe] & Rupert [Grint]'s heads – doubtless a fuss will ensue about corporal punishment."
13 December
"HP. LAST DAY?
7am pick-up Last scene with Pedja [actor Predrag Bjelac] who I rudely described as [like] working with a sideboard on wheels. Nothing to do with him as a (complex, delightful) person but more to do with the way he manages to bang into you at any opportunity. I feel so shafted on this film with all Mike's [director Mike Newell] best motives. He's under pressure (like Alfonso) and everything is about the shot. We only talk about the scene on about take four. Plus ça change."
Excerpts from 2006
"5 January
5am Wake up. 5.45am Driven to the hospital. 6am Pre-op. This is like a film set. Nothing seems real. Remembering nothing but with that painkiller high in the recovery room. Attentive, caring people. [Throughout 2005, Rickman received treatment for an aggressive form of prostate cancer. It was decided that the best option was to remove the entire prostate, an operation carried out at the Vanderbilt University Medical Center in Nashville, Tennessee.]

8 January
"7am The doctors come round and after dealing with catheters and drainage, finally, nervously get to the point – 'How did you do the fall at the end of Die Hard?'"

30 January
"Finally, yes to HP 5. The sensation is neither up nor down. The argument that wins is the one that says: 'See it through. It's your story.'"

12 April
"6.45am pick-up. I realise as soon as that [Snape's] ring and costume go on – something happens. It becomes alien to be chatty, smiley, open. The character narrows me down, tightens me up. Not good qualities on a film set. I have never been less communicative with a crew. Fortunately, Dan [Radcliffe] fills that role with ease and charm. And youth."
Excerpts from 2007
20 July
[PUBLICATION DAY OF THE LAST HARRY POTTER.]
"11.15pm Tunbridge Wells and Waterstones. I had guessed at 20 or 30 people waiting for midnight. Probably 300-400. And a queue moving slowly. One hour in the queue and it was time for action. Went to friendly security man. 'Have you read the books?' No. 'Have you seen the films?' One of them. 'I'm in them.' Oh yes! There will be mayhem if I go into the queue. 'I'll get the manager.' (Manager arrives.) 'Oh! Hello!'"

27 July
"… I have finished reading the last Harry Potter book. Snape dies heroically, Potter describes him to his children as one of the bravest men he ever knew and calls his son Albus Severus. This was a genuine rite of passage. One small piece of information from Jo Rowling seven years ago – Snape loved Lily – gave me a cliff edge to hang on to."
Excerpts from 2008
7 February
"8.15am pick-up Car park. Paparazzi. Freezing cloister of Gloucester Cathedral. A whole new working relationship, this time with Tom Felton [playing Draco Malfoy]. The story of this so-far-six-part epic is one minute there were all these little kids … now? Found Maggie in her trailer vulnerable and fuck-it – all at once."

10 March
"The line 'take out your wand' reduces Helena Bonham Carter to helpless mirth and will be a bit of a Waterloo come Thursday … Helen McCrory says she's terrified but fits like a glove with the mayhem."
29 December
"1pm Lunch w. Dan Radcliffe at Cafe Cluny. One minute he was 12 now he's 19. When did that happen? And he's sensitive, articulate & smart. And owns a three-bed apt in NY."
Excerpts from 2009
2 July
"Somewhere in here, finally, the deal is done for HP 7 parts one and two, and people are all carefully left in possession of genitalia."

9 July
"HP 6. NEW YORK.
Party at the Natural History Museum. The desire to eat and even more get a drink is matched only by the need to bang the three Davids' heads [Harry Potter producers David Heyman and David Barron, and director David Yates] against the nearest wall. I get the character development and the spiffing effects (dazzling), but where is the story????"

25 November
HP [7].
"6.15am pick-up To the Flight Shed … Cold, wet, draughty but the crew seem miles away so Ralph and I can just get on with inching our way towards the scene. David Y stubborn as ever about V[oldemort] killing me with a spell. (Impossible to comprehend, not least the resultant wrath of the readers.) Great working with Ralph, though. Direct and true and inventive and free. Back home and Rima (narrative brainbox) says, 'He can't kill you with a spell – the only one that would do that is Avada Kedavra and it kills instantly – you wouldn't be able to finish the scene.'"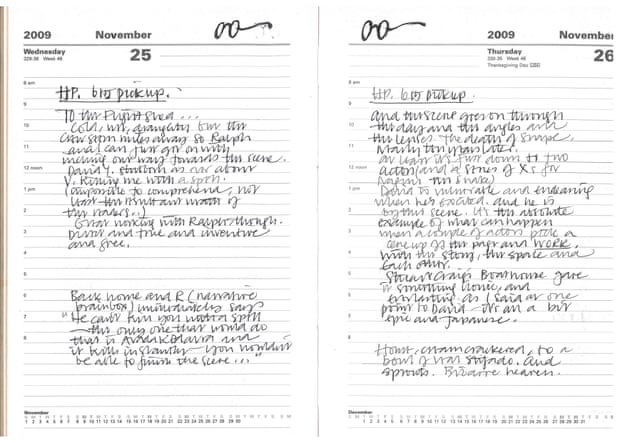 This small excerpt shows Alan actually caring about his character throughout the years and fighting with the top dogs to keep Snape's death as accurate as possible! His wife is absolutely correct: if he died via a spell, Harry would never have gotten the memories.
26 November
"6.15am pick-up
The Death of Snape. Nearly 10 years later. At least it's just down to two actors … David is vulnerable and endearing when he's excited. And he is by this scene. It's the absolute example of what can happen when a couple of actors pick up a scene off the page and work with the story, the space and each other. Stuart Craig's boathouse [set] gave it something ironic and everlasting. As I said at one point to David – it's all a bit epic and Japanese."
Excerpts from 2010
14 January
HP.
"6.30am pick-up After a night of not sleeping at all. Scene 305. Or – The Last Breath of Severus Snape. Here I am with Dan, Emma and Rupert 10 (?) years on (Emma is here on a break from Brown University), blood all over my throat from an imagined Nagini [Voldemort's pet snake], the three of them still with furrowed brows and panting a bit. Finding it hard to remember any particular scenes over the years mainly because all the decisions are taken in committee rooms and not on the floor. We listen as DY [director David Yates] tells us what we are thinking and why (and in some cases recounts the story … ) and a small piece of something creative caves in."

25 February


8 March
"3.15pm. To HP to rehearse with Michael Gambon. On the way back to the trailer Michael talks of his fear of learning/forgetting his lines. And then he tells me he's doing Krapp's Last Tape – what's wrong with this picture??"

29 March
LAST DAY ON HARRY POTTER.
"6.15am pick-up. All a bit hard to believe. I think even Daniel was shocked by the finality. Cameras were everywhere, it seemed (docu ones). [I am asked] 'So how does it feel?' Before you've felt it, before the feeling has a name. 'It's private,' I managed, 'and I'm not sharing it with that' pointing at his lens. Something is in those cans and it is finished. Thanks, Jo."

7 August
"1.45pm Car to Leavesden for the HP wrap party. Almost every expense spared – at least in the food department. At 2.30pm little was left, anyway."

23 November
"55 Wimpole Street. Doctor's laboratory. Blood test and reading many magazines, including Vogue's info that Emma Watson was given a vintage Rolex 'by her producers' …"
Excerpt from 2011
7 July
"HP 7 PART 2. IT ALL ENDS. To Trafalgar Square – which takes an hour. Once there, red carpets everywhere. A screen, a platform, an interviewer and thousands screaming and singing, 'Snape, Snape, Severus Snape … ' The carpet snakes into Leicester Square for the film at 8pm. I found it unsettling to watch – it has to change horses midstream to tell the Snape story and the camera loses concentration. Audience, however, very happy."
There are plenty of excerpts to go through, including him having a meal with younger Harry Potter actors such as Sean Biggerstaff (Oliver Wood). It's also worth noting his talks about actors who have passed, such as Natasha Richardson, Helen McCrory, and Richard Harris, who played Albus Dumbledore in the first two films, before passing away.
What do you think of these journal entries? Will you be picking up a copy of Madly, Deeply: The Alan Rickman Diaries? It releases next month! Leave a comment below!