Hollywood Lavishes Award Nominations on Fauci and Mayor Pete Because Of Course
Award Season is going to have a direct Democrat influence, even more so than usual. Documentaries about the Director of the National Institute of Allergy and Infectious Diseases and Chief Medical Advisor to the President, Anthony Fauci, and Secretary of Transportation Pete Buttigieg have racked up five collective nominations from the Critics Choice Documentary Awards. Normally, the CCDA's are a strong prognosticator of nominations in the future, so that just means more screen time for a pair of cable news darlings.
National Geographic's Fauci (by extension, paid for by Disney) earned a total of three  nominations, including "Historical or Biographical Documentaries," "Science/Nature Documentaries," and "Most Compelling Living Subjects of a Documentary." Is anyone really surprised as to why no one wants to watch award shows anymore?
Fauci has been a critical success but an audience flop of biblical proportions. On Rotten Tomatoes' audience score, Fauci charts at a paltry 2%, compared to a 90% from critics, illustrating the disconnect between the elites and the masses like very few things ever have. IMDB is another wonderful example of this, having had to employ some new tricks to ward off the overwhelmingly negative feedback. Somehow registering a 5.8 at first glimpse, until you look at the image below, note the disclaimer: "Our rating mechanism has detected unusual voting activity on this title. To preserve the reliability of our rating system, an alternate weighting calculation has been applied." Hence, they conclude: "10,948 IMDb users have given a weighted average vote of 5.8/10." No, they didn't; 9,900 viewers gave it a "1," and you fixed the results.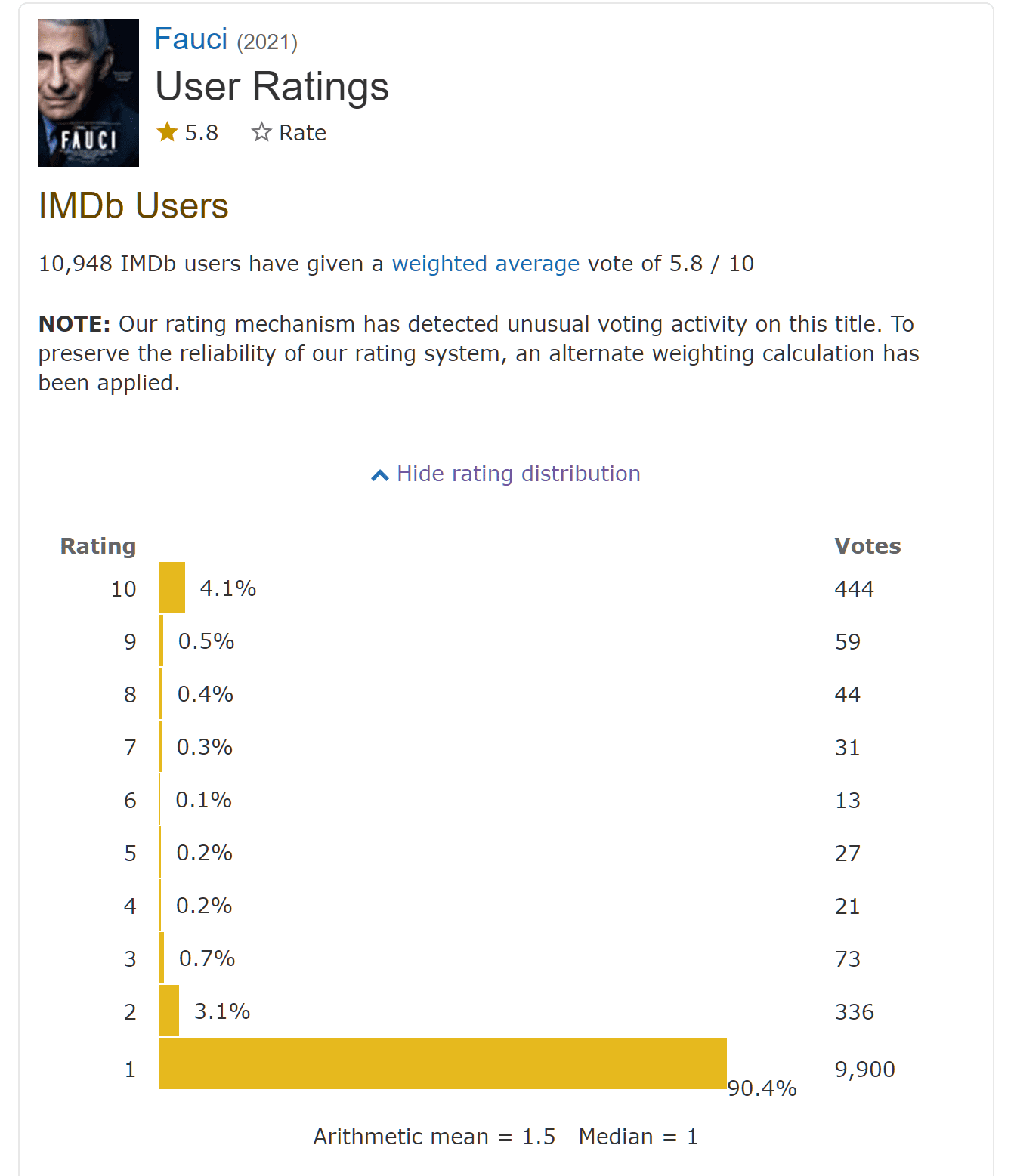 If you would like to subject yourself to the torture, feel free to fire up your Disney+ subscription and watch the introspective look into the good doctor's life. I'm sure it's very enlightening. If you walk away from it thinking you didn't care for it, just wait a couple of days; you might think differently about it after a while. That's the Fauci way!
Mayor Pete has not yet been released; it is scheduled for a November 18th drop on Amazon Prime Video. Reviews have yet to be astroturfed/submitted, but the reception to the trailer from the public has been warm so far…

The story of the Buttigieg documentary is that of the woefully unsuccessful 2020 Presidential campaign of the first openly gay presidential candidate. The two nominations for this romp are "Best Political Documentary" and, sharing a category with Fauci, "Most Compelling Living Subjects of a Documentary." Quite relevant, considering his current job is quite compelling, but he wouldn't know because Secretary Pete is still on paternity leave and has been since mid-August, as he and his husband, Chasten, adopted twins around that time.