Another Week of Wrestling #23 (25th October 2021)
MJF, Britt Baker, Charlotte Flair, Powerhouse Hobbs, WWE Crown Jewel, wrestling news, and more!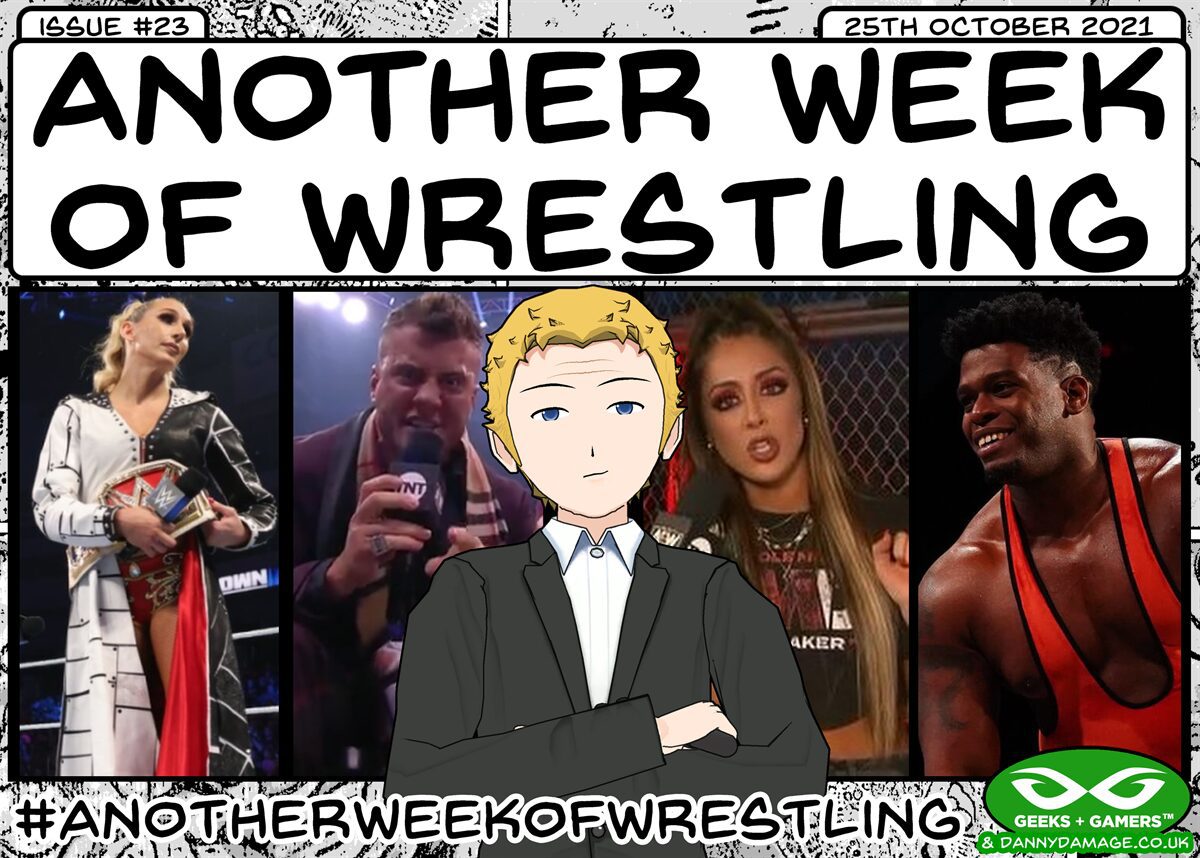 I discuss MJF, Britt Baker, Charlotte Flair, Powerhouse Hobbs, WWE Crown Jewel, wrestling news, and more! Welcome, and thanks for joining me at Geeks + Gamers!
As well as previously bringing you That's Not Wrestling and ranting about PPVs on YouTube, I'm here to mouth off on a Monday about wrestling news, results, and events that catch my eye, ear, and sometimes my nose. I'm Danny Damage, writing for Geeks + Gamers, and this is Another Week of Wrestling for October 25th, 2021!
<—Last week's installment of Another Week of Wrestling!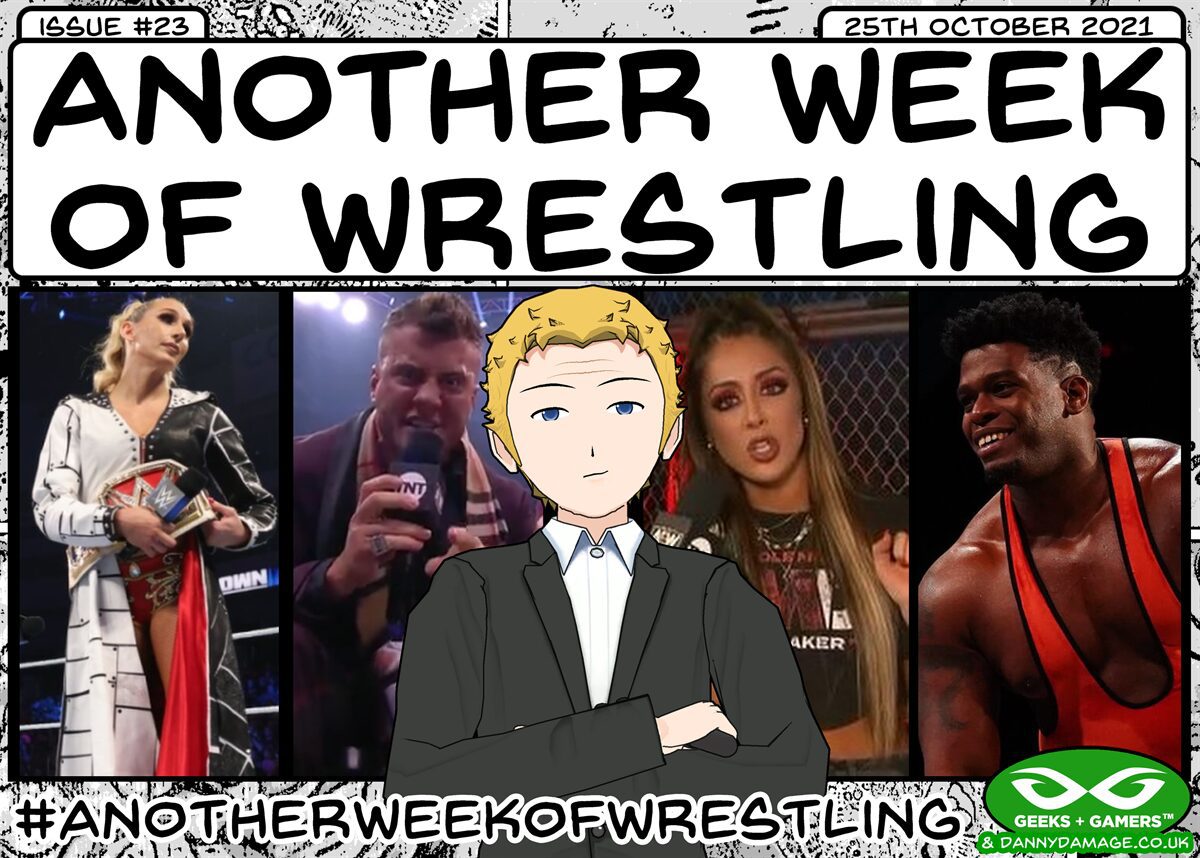 WWE Raw
Charlotte Flair kicked the show off and pointed out that Bianca Belair has two shots at two different titles this week, which is more impressive than what Charlotte usually gets served up! Belair showed up and recited some lines that were written for her; Flair and Belair will square off in the main event.
Xavier Woods advanced to the final of the King of the Ring tournament over Jinder Mahal.
Drew McIntyre and Big E temporarily patched things up and prepared for a match against the Dirty Dawgs. The faces won, they coexisted, they'll clash at WWE Blood Money in Saudi Arabia on Thursday.
Monsoor used a neck breaker to defeat Cedric Alexander. Then Monsoor and M'st'fa (Christopher with an M) Ali bickered for a few minutes.
Vince McMahon proved once again that he's only a couple of doors down from "The Fabulous" Moolah by whoring people out. Vince loaned out several of his talents to appear on Top Chef Family Style. A deal that I'm sure will do the wrestlers a great service to their wrestling careers… honestly, it's not just another instance of Vince fishing for more of that casual/mainstream audience at the detriment of his apparent wrestling product. </sarcasm>
Bobby Lashley and Goldberg spent a few minutes putting over the fact that Goldberg is going to attempt murder at WWE Blood Money in Saudi Arabia. Lashley pointed out the criminal factor involved in the threat but failed to realize they don't take laws overseas with them, so anything could happen. Hopefully, old Bill doesn't react badly to the heat again and drop Lashley on his head.
Backstage, Matt Riddle and Randy Orton went through some of their material where they tried to make each other break character.
Raw promoted Keith "Bearcat" Lee's arrival to Raw once the draft is in effect. It's a shame that this silliness is stuck onto Lee here. I was one of very few to critique his "limitless" gimmick, but I'll happily admit that this is too much in the wrong direction. The silent, menacing persona is fantastic, but the nickname and all the sound effects that accompany turn it into a joke.
RK-Bro and The Street Prophets got partway through a fun tag team match before AJ Styles and Omos appeared and destroyed everyone in sight.
Shayna Baszler took on Doudrop in the other Women's King of the Ring semi-final match. The winner of this match will face Zelina Vega at WWE Blood Money; Vega was also out in the arena area, watching the outcome. Baszler didn't take the newbie for granted as she chopped down her larger opponent from the bell. Once Baszler grounded Doudrop, she did her best to keep her there and wrap the Kirifuda Clutch on her at every opportunity. Doudrop held on for a while, gaining the odd moment of relief. Then she threw her weight back onto Baszler, which pinned her shoulders to the mat, and got Doudrop the surprise win.
Finn Balor massacred Mace in a couple of minutes. Xavier Woods appeared and taunted Balor, Balor told Woods to stop acting like a bellend (which he was), and then Kofi Kingston trotted out to make out as if Balor started it. Why did the New Day ever turn face? Their characters are terrible people.
John Morrison was caught backstage explaining meditation to The Viking Raiders… or at least, he attempted to. I hope this is going somewhere.
The main event match between Charlotte Flair and Bianca Belair wasn't bad; the finish just happened, though. The crowd was into the fight, but Charlotte just got herself disqualified with a chair after a while, and the show ended.
NXT 3.0
Carmello Hayes and Trick Williams reminded everyone that Hayes "executed his championship opportunity" last week on Isaiah Scott. Williams was really just playing Angelo Dawkins' role of leaning into the shot, waving his fist in the air, and saying "Yeaaah" to whatever his friend said. Johnny Gargano appeared and said he's looking for something to do at the moment since his Mrs. is off having a baby, and his "daughter" went off and got married. They threatened Gargano, and he pointed out his "son-in-law" was behind them. Dexter Lumis and Gargano sent them on their way.
Odyssey Jones had an easy night and made light work of Andre Chase.
The Diamond Mine declared they're now taking opportunities instead of waiting for them, and they headed out to the arena. Malcolm Bivens has great crazy eyes.
The Creed Brothers took the fight to Imperium, but Ikemen Jiro and Kushida caused a distraction, which allowed a Creed to be rolled up. After the match, MSK sneak-attacked Imperium and was informed "You suck" by the crowd. I don't do this often, but I agree with the NXT Universe on this one. MSK should just piss off back to Impact.
Resident PTSD sufferer Kyle O'Reilly and his big new friend Von Wagner spent some time in the woods and bonded.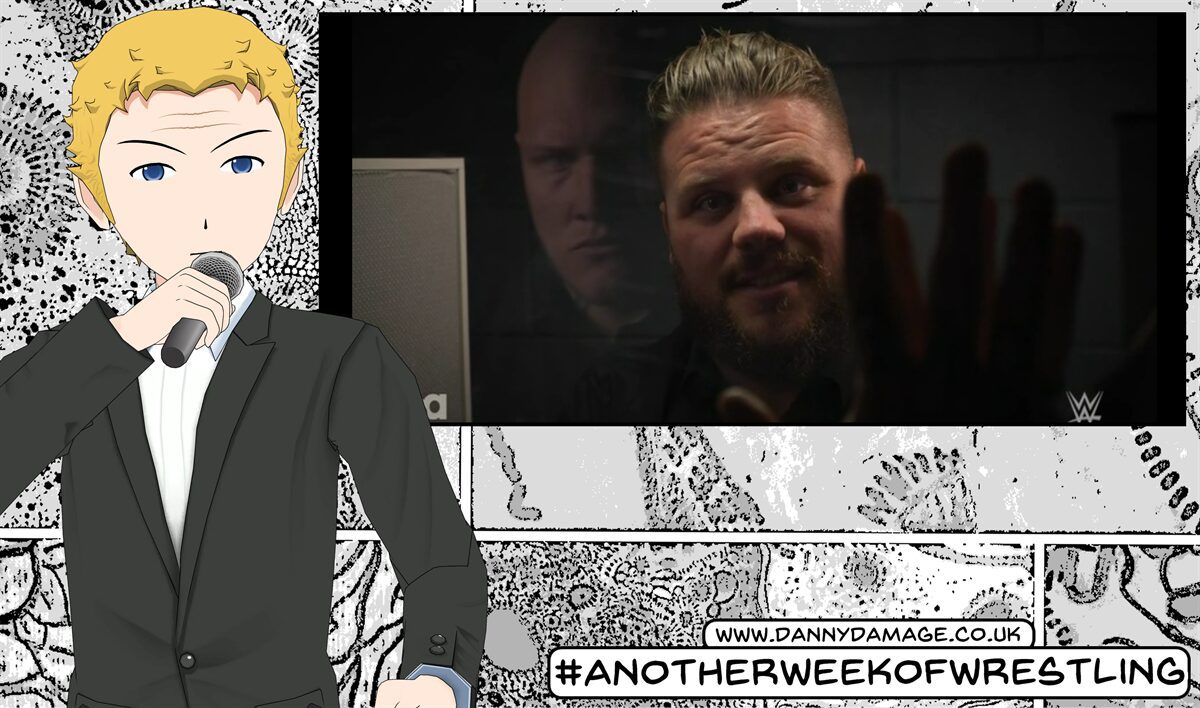 Joe Gacy's glare became more intense and sinister this week. His "Follow me, little snowflake" whispers to me in a similar manner as Bray Wyatt's "Follow the buzzards" and "Let me in" lines used tp.
Santos Escobar and Legado del Fantasma grumbled about the North American title match last week, which led to a short match between Electra Lopez and Cora (I've got a tiny skateboard) Jade. Lopez was dominant, but Jade got a sneaky roll up in there.
Bron Breakker was backstage with Tommaso Ciampa, and Breakker continued to get too big for his boots. Ciampa stood back, clutched his title, and let Breakker get even more comfortable in his false belief that Ciampa needs a protector. They meet next week at Halloween Havoc, and I'm pretty sure Ciampa has something up his sleeve.
Io Shirai vs. Persia Pirotta vs. Jacy Jayne was next. The winner got to spin the wheel of random chance to determine the title match's stipulation next week… which makes no sense. Some way into the match, Jayne attempted a dive to the outside, and her feet got caught in the ropes. This caused her to look like an invisible person DDT'd her to the floor, and I don't recall seeing her in the match after that. I've cringed for years at Big E when he does his spear and often landed in a similar manner; I don't just shout at the screen to be an arsehole. Shirai won the match with her moon sault, and Pirotta's second outing elevated her somewhat. After Shirai won the ability to spin a wheel of random selection, she "picked" a "Scareway to Hell" ladder match. I already Tweeted NXT and asked how one ascends a ladder to hell, but I'm yet to get a reply.
Tony D'Angelo reminded us that he "didn't" stuff a producer in the trunk of his car.
And then Samoa Joe's recent disappearance finally made sense to me. This clarity came in the form of a Solo Sikoa vignette. Regardless of what Triple H planned/wanted, there's no way Vince McMahon was going to have Samoa Joe on the roster when Vince is going to try and force as many new faces on the show as quickly as possible.
So much of this video screamed Samoa Joe minus the body weight (that Vince isn't a fan of) to me, and it's all to make way for the brother of Drunky and Jay Uso. It wouldn't be the first time WWE's doctor(s) have been the only ones that wouldn't clear one of their own talents to wrestle, just to make way for others they want to push. Yes! Yes! Yes!
Tony D'Angelo flattened Ru Feng and then paid off the interviewer that asked him about the missing producer.
I'm 99.99% sure the "I'm always open to taking sucker's hard-earned cash" line in Duke's Poker Room was written by/for Vince McMahon.
Legado Del Fantasma took on Briggs and Jensen, eventually. Legado came out first and waited for their opponents. It was revealed that Briggs and Jensen were assaulted with chairs a few minutes prior, and we went to a commercial break. When we returned, Briggs and Jensen had recovered and were trying to get into the ring to have the match they were booked to have. For some reason, referees and security were preventing them from doing so, which caused Briggs and Jensen to fight their way to the ring. While the scrappy pair showed plenty of heart, the injuries they'd sustained before the match prevented them from staying on the offensive for too long. The numbers on the outside were also a contributing factor, and it all became too much for them.
We saw a video package for the upcoming match between Mandy Rose and Raquel González, most of the clips being of them working out. The only thing we didn't see was Mandy using her legs to snip the top of fire hydrants off. Rose's persona is coming off like Peyton Royce's before the latter was sent away.
The teaser video for Elias' return was shown again, but they've stopped mentioning his name. Was I supposed to forget that's who this was about?
Carmello Hayes and Trick Williams clowned around in the locker room while looking for the North American title belt. They instead discovered a hand-drawn invitation to an "open house" next week from Dexter Lumis.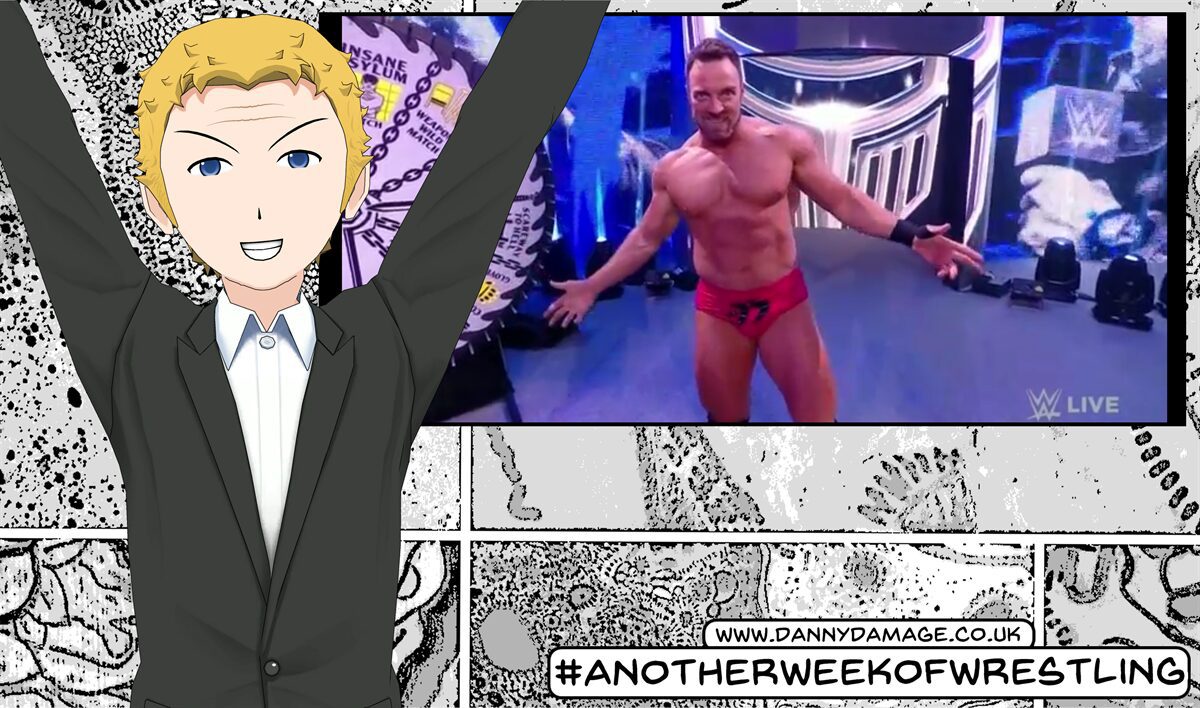 L.A. Knight won a match against Grayson Waller, using his Blunt Force Trauma. Knight will be the host of Halloween Havoc next week because of this win, which is such an improvement on the annoying green-haired pest that crowed/screamed through it last year. If NXT really wanted a kick-ass chick to host the Halloween special without looking like an embarrassing dumbass in a tank, they didn't need to do anything as they already had the perfect candidate. Alicia Taylor joined the NXT team in 2018 and is 100x more "metal" than Shitzi Wetfart.
The main event saw Tommaso Ciampa and Bron Breakker defeat The Grizzled Young Veterans. Ciampa and Breakker managed to coexist for the majority of the match. Breakker was happy to show off all the big power moves he could do, and Ciampa was just as happy to sit back and scout his opponent for next week. GYVs managed to use their tag team expertise to hurt Ciampa's neck and draw Breakker away from potential tags. Eventually, Ciampa hard-tagged Breakker's chest and asked where he'd been the last few times he needed him. Breakker finished the match with his gorilla press into a power slam, but not before telling Ciampa, "This is you next week." I said before, don't expect Ciampa just to let you take that belt off him. He'd have a breakdown and attempedt (pro-wrestling) murder before losing Goldie again.
WWE Blood Money 2021
I've already run down Crown Jewel verbally, so let's save me some typing and you some more reading.
Welcome back to wrestling news you can read.
WWE Smackdown
Pat McAfee continued to be those tasty bacon bits sprinkled into my bog-standard cheese sandwich. When Roman Reigns and Paul Heyman made their way to the ring, McAfee put over the match (that he wasn't there for) between Reigns and Brock Lesnar the night before, saying, "I almost left the Earth 5, 6, 7 times during that match." Once Reigns and Heyman were in the ring, Reigns put his hand out, and Heyman gave him the microphone. Reigns questioned why Heyman only hands him the mic and not the belt too. He asked Heyman if he was holding onto it for Brock Lesnar, and Heyman hastily handed the belt to Reigns. Roman drew attention to the fact that he's still the champ, that Heyman's crap at his job, and that he beat Brock so badly at WWE Blood Money that Brock has started Tweeting his threats now.
Reigns made Heyman read the quote from Brock and they waited through a break, but there was still no sign of Brock when we came back. Reigns started listing all the opponents he'd smashed while having the belt, and he talked more than I usually prefer him to. Normally, the more Reigns talks, the more he sounds like a poor man's impression of The Rock, but this evening was different; he sounded more Uso than anything.
Once Brock Lesnar's music hit and The Beast finally showed up, Drunky and Jay Uso were instantly battered by Brock, and then he got his hands on Roman. Lesnar went berserk and took out a cameraman and a referee while beating Reigns up. Eventually, the locker room emptied and got between them, allowing Reigns to scarper away up the ramp. Lesnar posed in the ring with the Universal Championship.
This storyline didn't end there. After more commercials, Adam Pearce was in the ring laying down the law. I don't know why I get such a kick from Pat McAfee's playful little grudge with Pearce, but I do. Last week when Pearce started speaking, McAfee started ripping into him, and this week, he asked, "who is this guy?" Pearce said that Brock Lesnar's actions were unacceptable and that he's suspended indefinitely. Brock wandered back into the arena, collared Pearce, and asked him to repeat what he just said. After some sniveling, Pearce told Brock he's suspended, so Lesnar ruined Pearce with an f5…twice. Pat McAfee almost pissed himself laughing at Pearce's trousers tearing in the crotch because of the attack too.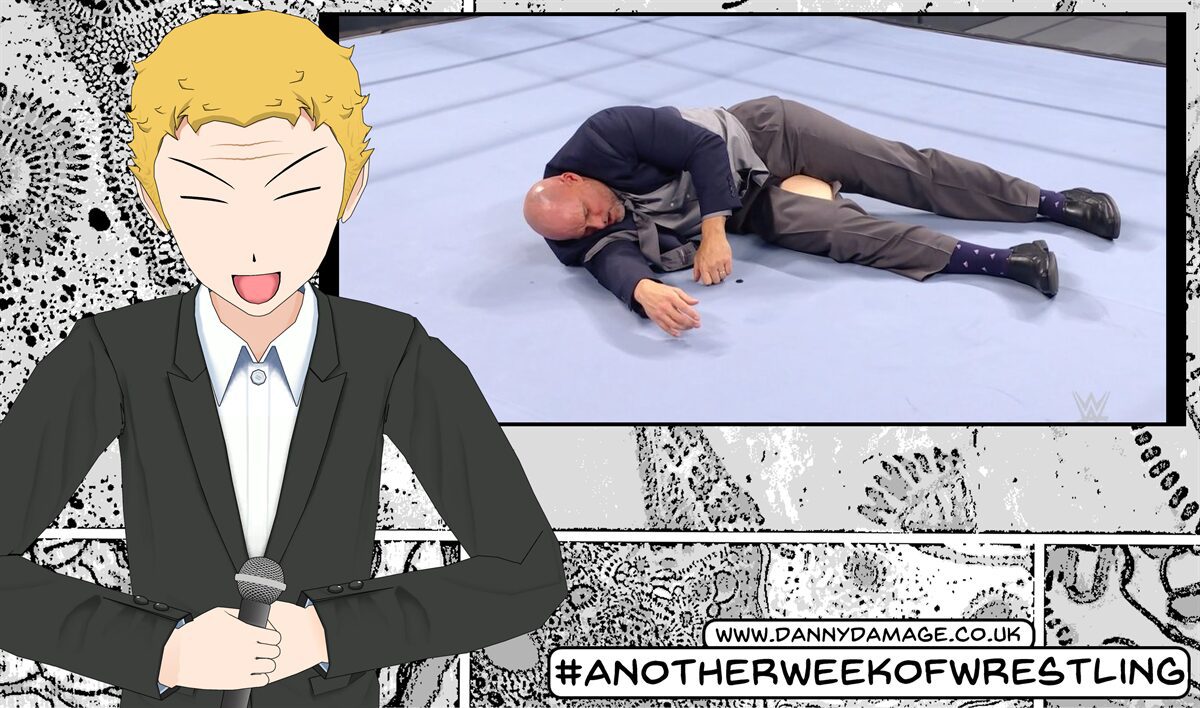 Sonya Deville bumped into Naomi backstage. Naomi demanded a one-on-one with Deville, but she was dismissed and sent away. Drew McIntrye then announced to Deville that he's off out to the ring and that he doesn't care what she had to say about it.
Drew issued an open challenge, and Sami Zayn (with new music) answered it. They had a quick bit of back and forth, and Zayn slithered his way into taking advantage. Zayn thought he had Drew softened up enough to hit a Helluva Kick, so he mimicked Drew's countdown and instead ran into a Claymore and lost.
Next, we were bored with Xavier Woods' coronation. Both he and Kofi Kingston waffled on with fake modesty and smugly thanked the crowd for the "You deserve it" chant. They were fantastic as heels; they should have never turned face. They're as irritating and needy as those people that have to tell everyone else it's their birthday.
Becky Lynch discussed the championship exchange later in the night. Because both women's champions were drafted to the opposite show, Becky and Charlotte Flair will be doing a tribute performance of when blokes did the same thing last year. Becky even suggested she might become "Becky 2 belts" again.
Mansoor and M'st'fa Ali had a rematch from WWE Blood Money. The crowd didn't really respond to this like they did the night before, and it ended when Mansoor got a sneaky roll-up.
We're entering the new era of SmackDown – a series of videos showed us what and who to expect in the near future. Coming soon: Xia Lia potato-ing bitches with her feet, Ridge Holland with his police bobby's baton he used "fighting on the streets of Yorkshire," Aliyah, Angel Garza & Humberto Carillo, and Sheamus… for some reason.
Hit Row is also part of the new era, but there was no wait for them. Isaiah "Swerve" Scott and Top Dollar impressively ran over a couple of jobbers in no time at all. However, I'm afraid they don't do anything for me outside the ring; they all talk in buzzwords and catchphrases. Yawn. I'm not 13.
Rick "ear rape" Boogs and Shinsuke Nakamura's plan to distract Baron Corbin with Boog's impression of Jack Black ten plus years ago backfired. Corbin pinned Nakamura and is now in contention for the Intercontinental Championship.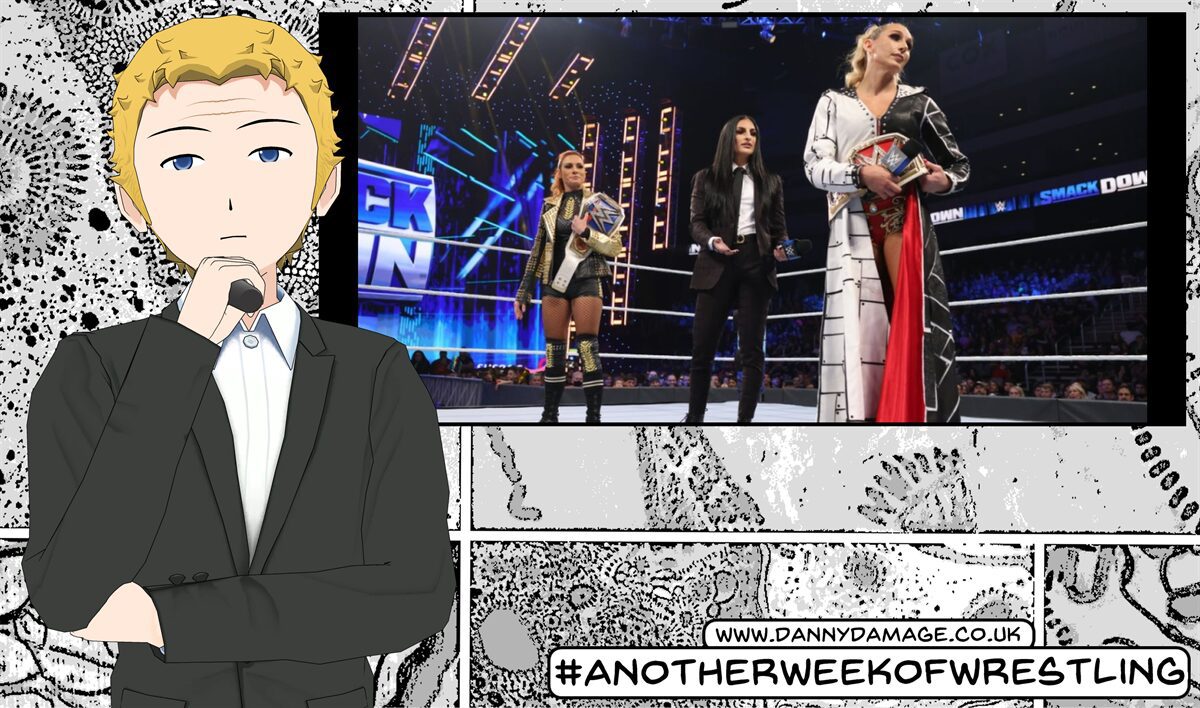 Sonya Deville was in the ring as the official to witness the exchange of Charlotte Flair and Becky Lynch's belts. Deville called the women out, and there was a strange tension in the air. It looked like Becky wanted a second or two's worth of screen time with both belts in her hands, but there was an awkward snatching of one belt, and another was thrown on the floor before all was said and done. Charlotte challenged Becky to winner takes all, but Sasha Banks swaggered down to the ring at the proposition. Becky left them to it and said she's off back to Raw. Flair goaded Banks, and they scrapped as the show faded out.
She's been all over the wrestling news this week, and there's talk of Flair having loads of heat backstage. The belt exchange kerfuffle was a result of that. Until all the facts are out, I will say one thing on the matter. WWE appears to be complaining about the monster that Charlotte Flair has (allegedly) become, but it was WWE that created the atmosphere and persona that Flair marinated in for years before turning into what's in front of them today. Dr. Frankenstien is only allowed to complain the first couple of times his monster turns on him, not repeatedly for 30 plus years.
AEW Rampage
Tony Khan's favorite pet, Orange Cassidy, managed to beat "Powerhouse" Hobbs, even though Cassidy went into the match with his injured ribs taped up. Hobbs worked on the bad ribs for a while, and then Cassidy rolled the meathead up for the three-count. This is possibly Tony McKhan's worst booking decision since CM Punk joined and a few new eyes were paying attention. Hobbs is a unit and a half; Cassidy is a joke. Hobbs could be a star one day if dealt with properly, while Cassidy seems to have peaked at a Santino Marella comedy level.
Rey Fenix is currently "injured," and Penta El Zero M was ambushed by FTR.
Britt Baker made Anna Jay submit to her Lock Jaw. Tai Conti turned up to get her arse out on TV make the save when Baker continued to hurt Jay after the match. Baker is great but still far from being a veteran or traveled teacher. Both Jay and Conti are too green to teach Baker anything, and the ass-vertising of their Instagram/Twitch/Only Fans/whatever they use isn't worth dragging Baker down.
Nobody asked for Cody and Brandi HemmorRhodes to transition from cosplaying Triple H and Stephanie McMahon to becoming a dollar-store Miz & Mrs., but here we are. Thankfully, the advert we saw said it would soon be over, and let's hope both of them find their road to something better.
Pac vs. Andrade was the main event. It was an impressive display from both men. The crowd loved the frantic, hard-hitting action, but most of it was spent outside the ring, and the referee was redundant. After Pac caught Andrade with a quick roll-up, the lights went out, and Malakai Black was in the ring. Black blinded Pac with his mystery mist, and he and Andrade beat him down. The American Idiot, Cody Rhodes, ran down to the ring to scare Black and Andrade away.
AEW Dynamite
Saturday night Dynamite kicked off with a Full Gear World Title Eliminator match between Bryan Danielson and Dustin Rhodes. In typical fashion, as soon as the two competitors locked up, Excalibore did his "before we get too far into the action" setup for shouting ticket sale information at us. Once he shut up, we were treated to Dustin's best match in AEW. Nobody expected him to beat Danielson, but there were moments where enough people weren't 100% sure, and the near-falls nearly brought the roof down. My interest in Dustin was long lost before he and the rest of the Hemorrhodes Family outstayed their welcome when he turned on the fans and blamed them for AEW's sloppy, outlaw ways. Since everyone has their own "Hulk up" spot in their checklist of tricks, Dustin got to show his while screaming, "C'mon motherfucker!" at Danielson. The finish came when Bryan locked in a guillotine, and the referee called for the bell. Dustin looked close to death after the match.
The NWO4Kids crew were backstage pulling faces. Kenny Omega tried to sound like a tough guy and put "Hangman" Adam Page in his place, but nobody's buying it. They suck, and now they're dragging Adam Cole down with them.
FTR cut a killer promo next. They're not happy with just having the AAA Tag Championships, and they're coming for the Lucha Brothers' AEW belts once Rey Fenix is cleared to compete.
Tony Schiavone introduced Sting to the ring. Before Sting could say a single word, MJF interrupted him. As well as calling the live crowd garbage (amongst other things), MJF asked if it was Sting's leftover stash from the 80s that snowed down during his entrances. Once MJF got into the ring, he'd said enough to provoke Sting into swinging for him, but Wardlow and Shawn Spears were already at hand. The trio beat down the legend, and MJF continued mouthing off, this time to Darby Allin directly into the camera.
Ruby Soho and Penelope Ford almost had a perfect little on-the-job training match before they stumbled towards the end. A bit of mistiming and possible miscommunication caused them to look lost and confused at one point. Bunny tried to slide the brass knuckles to Ford, but referee Remsburg finally made use of himself, spotted the weapon, and kicked it out of the ring. Soho rolled up the distracted Ford, and Red Velvet made the save when the two heels were about to beat down Soho after the match.
Wardlow asked MJF what happened last week when MJF fed him to Sting to save himself. MJF weaseled his way out of the situation and gave Wardlow an "accountabilabuddy" in Shawn Spears. I've thought for a while that Spears is the Butters of The Pinnacle, so thanks for that!
Bobby Fish smacked Anthony Greene around for a while before KO'ing him with a head kick. When Fish was beating the rookie down after the match, Jim Ross took the time to explain why Fish's behavior seemed pointless; "He won, he's getting paid, why do this?" Before things got too out of hand, CM Punk ran down to make the save. His music didn't play until he'd already scared Fish off, which made the whole thing appear a lot more natural. Nice touch. Punk vs. Fish should be good.
Leo Rush and Dante Martin have a match against the Sydal brothers next week. Rush arranged it all, and Martin looked uneasy with the whole thing.
Lance Archer vs. Eddie Kingston didn't go as long as it was planned to go. As well as the usual daft spots with Archer beating up and throwing plants in the crowd, Archer discovered why nay-sayers like myself criticized him for needing to do all of the flips on his checklist in all of his matches. Archer went for a moonsault off the top, he landed on his own head, and someone called a sudden finish on the fly. Kingston rolled Archer up quickly. Good call; I hope Archer's okay.
Dan Lambert, Ethan Page, and Scorpio Sky took it in turns to talk shit about The Inner Circle. Lambert still gets the most grief from the crowd, but Ethan Page knows what he's doing and can control them a lot better. Lambert still gets a bit ahead of himself and doesn't breathe during five minutes of dialogue. Then Lambert called Sammy Guevara "That PR nightmare," which was enough to bring Guevara onto the ramp. Sammy was on his own, so he didn't go into the ring, but stipulations were made for the ten-man tag match at Full Gear. Sammy must face Ethan Page for the TNT Championship next week, and if he loses the match, he must also leave the Inner Circle and forfeit the whole PPV match. Sammy agreed to the terms and then realized he was in harm's way. Fortunately, Jake Hager, Santana, and Ortiz showed their faces and made the save.
As per usual, Britt Baker was on fire when addressing her opponent at Full Gear. For some reason, Tai Conti has been awarded a title match against Baker, and I was delighted to hear Britt agree with my previous observations/opinion. Baker asked what Conti had done to deserve a title shot? "All you've done is show your ass on TV." Fantastic!
Jon Moxley appeared to have gotten the spider out of his jacket, and he also managed to stand still for an entire promo. His focus has now apparently shifted because he's a father. It's all he cares about, and everyone facing him in the ring is preventing him from getting home to see his family. If Mox cares so much about his home life, maybe he should find a career with less chance of instant death or serious injury.
The Dark Order chatted about what they're wearing for Halloween next week when Adam Page showed up and thanked them for being patient with him during his absence.
Jungle Boy not only squashed Brandon Cutler, but he toyed with him a little too. Once he was done, he got to shout "Shit!" and then he called out another member of The Elite. There was no response, so Jungle Boy put his submission back on Cutler and made him squeal for help. Adam Cole stood at the top of the ramp, while the Young Bucks sneaked behind Jungle Boy. The crowd wanted Luchasaurus, but he's still out of action. Instead, Jungle Boy was launched off the staging and through a few tables.
I thoroughly enjoyed seeing Miro's beasty package again… said with better phrasing. Jokes aside, Miro made that TNT Title feel special; the sooner he comes back and dominates, the better.
Cody HemmorRhodes vs. Malakai Black was the main event of Dynamite this week. The third bout between these two came around quickly, and the three-week-long redemption arc of Cody was hollow and rushed. It's not just me; the live crowd still aren't buying it either. There were loads of boos and "Cody sucks" chants at the start of the fight. Then, a big spot happened during the break where Cody hit the Cross Rhodes on Black through a table on the floor. With hindsight, the spot should have stayed there, to be honest. When they replayed it, it showed Cody messing up the move and essentially putting himself through a table with all of Black's weight on top of him. Black bladed, so Cody did the same… just because, and then the whole thing fell apart when Andrade El Idolo appeared on the ramp.
Arn Anderson was in the ring for some reason at this point, and Andrade's assistant rushed him and ate a spinebuster. Arn got a face full of Black's mystery mist, and then Pac appeared on the ramp to deal with Andrade. Too much was happening at once here. Cody kicked out of Black's hook-kick, and Black kicked out of a Cross Rhodes in return. Cody survived EVERYTHING and then just started beating on Black and hit his finish another two times. After taking twice as much of a beating as his opponent, Cody pinned Black after hitting a Tiger Driver '98. I honestly thought that he was going for a Pedigree, and it would have made more sense for him due to his behavior in the last two years.
https://twitter.com/BluntDamage/status/1452094201349525508?s=20
That's it for wrestling news this week. Digest and discuss! If you're interested in a quick natter, or just to throw a passing insult, feel free to get in touch down below or over on Twitter.  Thanks for reading, take care, and I'll see you next Monday to discuss #AnotherWeekOfWrestling!
| | |
| --- | --- |
| – BONUS ARTICLES – | – BONUS VIDEOS – |
The amazing black and white background artwork that I've mucked around with was designed by Rachael Hope!
Please subscribe to my YouTube channel, my Twitch channel, and consider buying me a Kofi! You can also click below to be warped to my personal homepage: