Movies
Oscar Nominated Alfonso Cuarón Abuses Mexican Taxpayers' Funds and Film Incentives
The new film by the award-winning director is riddled with professional victimhood and abuse of the country's system.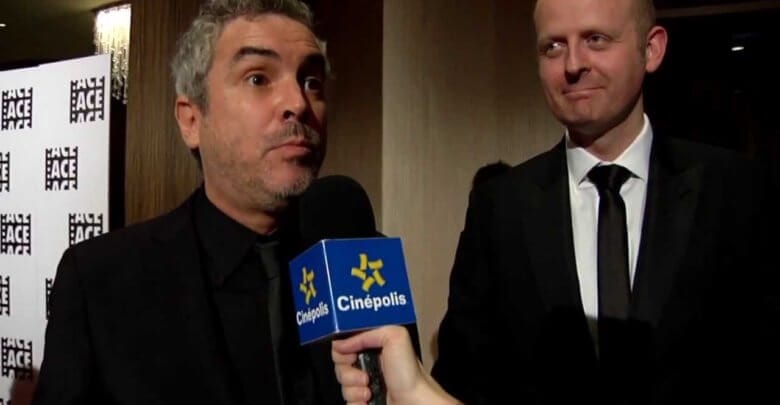 Alfonso Cuarón's latest film Roma, distributed through Netflix, has had a series of production problems and scandals, especially during the last couple of months of 2018, starting with a robbery during the filming of the movie in 2016 in a high-risk neighborhood of Mexico City. This, of course, was not their fault, and the local authorities investigated the crime immediately.
Quiero muchas más funciones en Mexico, tenemos todas las salas que hemos podido conseguir que, tristemente, son 40. Para poner las cosas en perspectiva, en Polonia se exhibirá en 57 salas y en Corea del Sur en 50. ROMA está disponible a todas las salas que la quieran exhibir. https://t.co/V8YsdoJbGi

— Alfonso Cuaron (@alfonsocuaron) November 20, 2018
Jumping to November 20, 2018, Cuarón replied to a tweet regarding the low interest of Mexican cinema chains in showing Roma, pointing out how it had more than Mexico's 40 screenings in smaller countries like Poland and South Korea. Even though Mexico's Cinépolis is the fourth largest cinema chain in the world, and Mexican theaters are known to be some of the best internationally, what Cuarón failed to mention is he had a distribution contract with Netflix and the movie would be available through the streaming giant in a few weeks, December 14th – quite a bad deal for Cinemex and Cinépolis. In spite of this, the film was exhibited by those companies regardless of it being a money funeral. Cuarón knew about the contracts, he had to make the deals himself, but he still didn't back down from his attacks, and Cinépolis revealed why they decided against investing more in showing Roma in a public statement.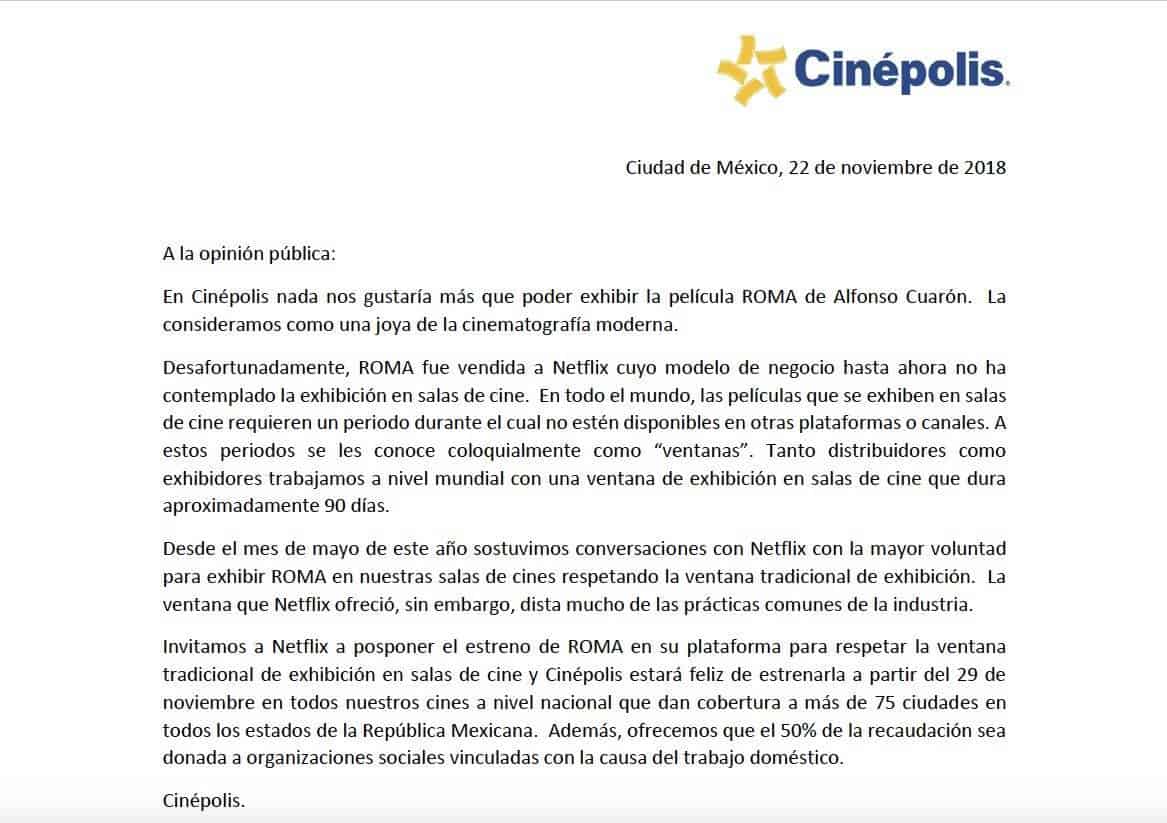 Not content with this (and it looks like Cuarón was trying to rub salt on the wound in an Oscar-bait warpath), Roma was exhibited to the public for free on December 13th at the former Presidential Residence "Los Pinos," converted into a museum by the new Mexican President AMLO days before. The film was already gaining a sizable retraction because of Cuarón's public crybully behavior and had already garnered meme status on the Mexican internet. So, to make matters worse, Cuarón broadly painted Mexico City as a "profoundly racist" place in a retrospective interview (made a year earlier during production) with Spanish newspaper El País, published on December 22nd.
Culturally, Mexico is the extremely libertarian melting pot which originated the "cowboy philosophy" in the 1600s – adopted two centuries later in the United States – which has had a pluricultural history and ethnic diversity even before the arrival of the Spanish Conquistadors, especially in Tenochtitlán, nowadays Mexico City, already one of the largest cities in the world by 1492. There's a very aggressive Wild West culture here, but it isn't about a single group oppressing another – except for multiracial corporatist-elitist classists, just like everywhere else in the world – and the phrase "insulting everyone equally" has never ringed truer than in the Mexican lexicon. It is overtly common for most of the population to call blondes "güeritos," SJWs and hippies "chairos," anyone with dark skin regardless of ethnic background "negros" (there are few African descendants here, but a lot of indigenous people also fall in the darker-skinned spectrum), anyone of European background "gringo" or "gachupín"… in the same breath. It's one of the few places in the world where you will find competing drug cartels, a small government, small-town farmer brigades and Marxist militias in constant conflict for the same reason. The Wild West always referred to Mexico. The modern US West was literally New Spain & Mexico until the Texas Annexation and Mexican-American War during the Manifest Destiny doctrine period. They weren't part of the US in the American Revolutionary War.
Now that there's context for those not in the know of the recent Cuarón scandals, here's the entry of Roma at the Mexican Film Institute, Imcine, a Mexican Federal entity, showing that the movie was made with a fiscal incentive for resident Mexican taxpayers/filmmakers in spite of Netflix, Cuaron's Esperanto Filmoj and Participant Media, the production and distribution companies tied to the film, not being located in Mexico. Alfonso Cuarón himself hasn't been a Mexico resident for more than a decade; he is currently living in England. The incentive and a highly questionable tourism investment contract for 10 million pesos with the Mexico City government were made through the dummy corporation Espectaculos Fílmicos El Coyul. We reached the company's telephone listed in Mexico City; it is nonexistent. Researching the company, it appears it exclusively existed during the production of Roma to move the film's local and dubious funding, and is owned by the film's producer, Nicolás Celis, as shown in the contract linked in this article. We also called his actual company, Pimienta Films, for an explanation. He was unavailable for comment.
As it usually is the norm with any involvement of taxpayer money, to be eligible for this type of funding the party getting the tax incentive and the involved production companies must be tax-paying residents of Mexico. I just don't see how a dummy company diverging funds to international interests falls into this category. Why didn't  Nicolás Celis do it through Pimiental Films in the first place? Even if he did, the money would still go to fund foreign entities. The official federal site from where the funding came only lists the dummy corporation as the production company, even though the poster is clearly a Netflix poster.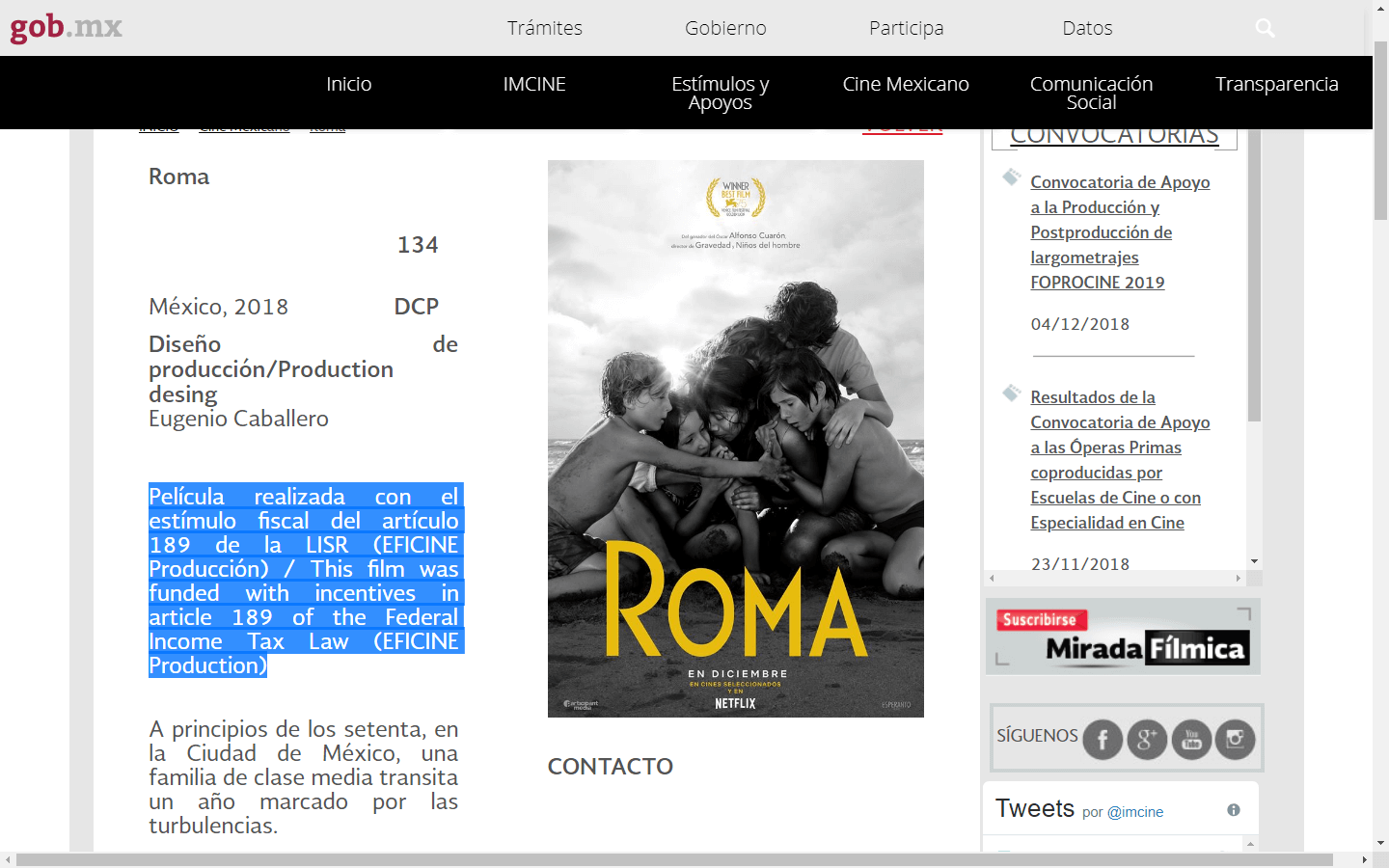 Besides the questionable legality and the evident failure of Mexico's system to implement these fiscal incentives, Cuarón's overall behavior contradicts all of his grandstanding. He clearly is the textbook definition of the abusive privilege he pretends to denounce. This case, legally, would be like Kanye West receiving Mexican taxpayer funds to produce an international, commercial movie. It is a clear corruption of funding designed to incentivize Mexico's minuscule film industry, not throw money at international, award-winning, movie industry titan in the position to get Hollywood-tier private funding that does not come at the expense of Mexican taxpayers.