That's Not Wrestling #7: The Grass Isn't Always Greener
Tony Khan, Vince McMahon, Jon Moxley, FTR, Chris Jericho, AEW, WWE, and more!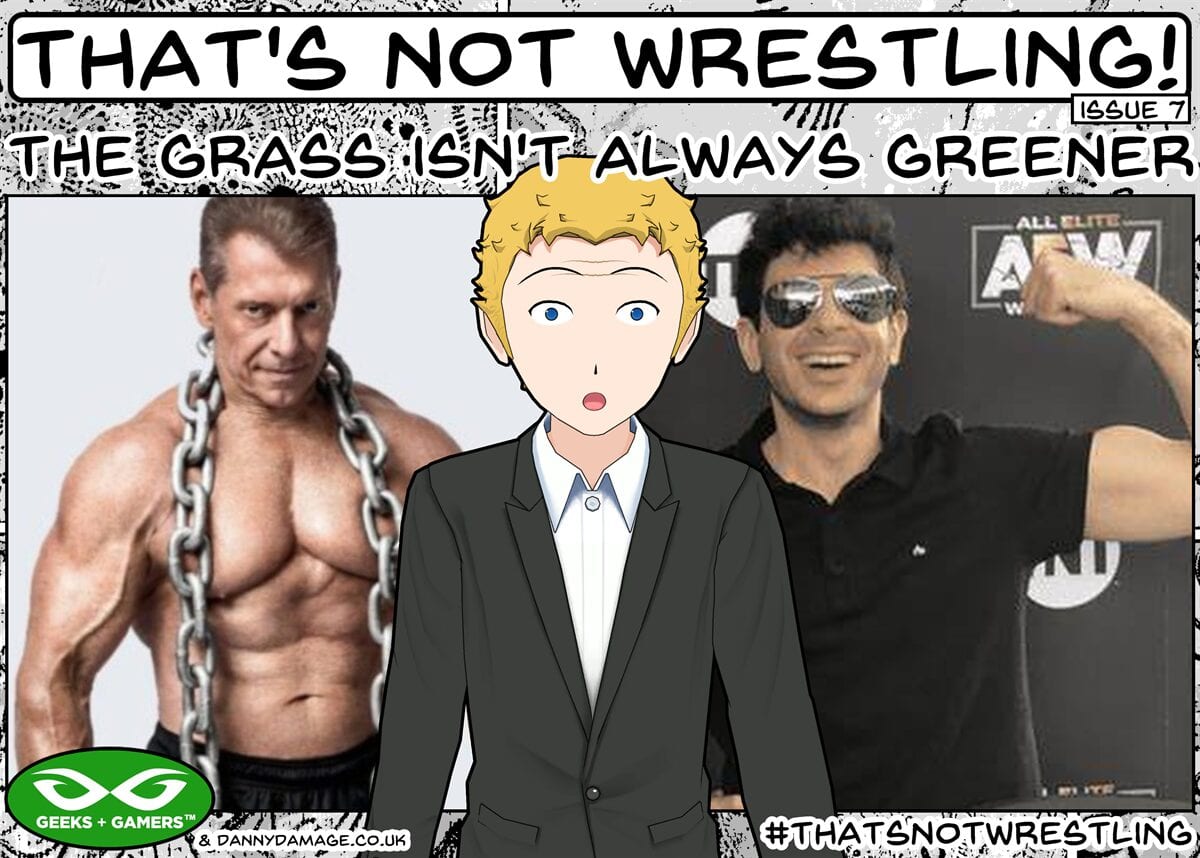 Welcome, and thanks for joining me! A couple of years ago, the planets looked to be aligning for a fantastic shift in the realm of pro-wrestling. Talk of a smashing new promotion with a television deal and "serious, sport-based wrestling" was on everyone's lips. Finally, the modern wrestling fan's life of "eating shit and learning to love the taste" was over. Or was it? Meet me here every Thursday to pick apart the actions of the daft, the dangerous, and the desperate in pro-wrestling… well, in AEW anyway.
<Last Week's That's Not Wrestling!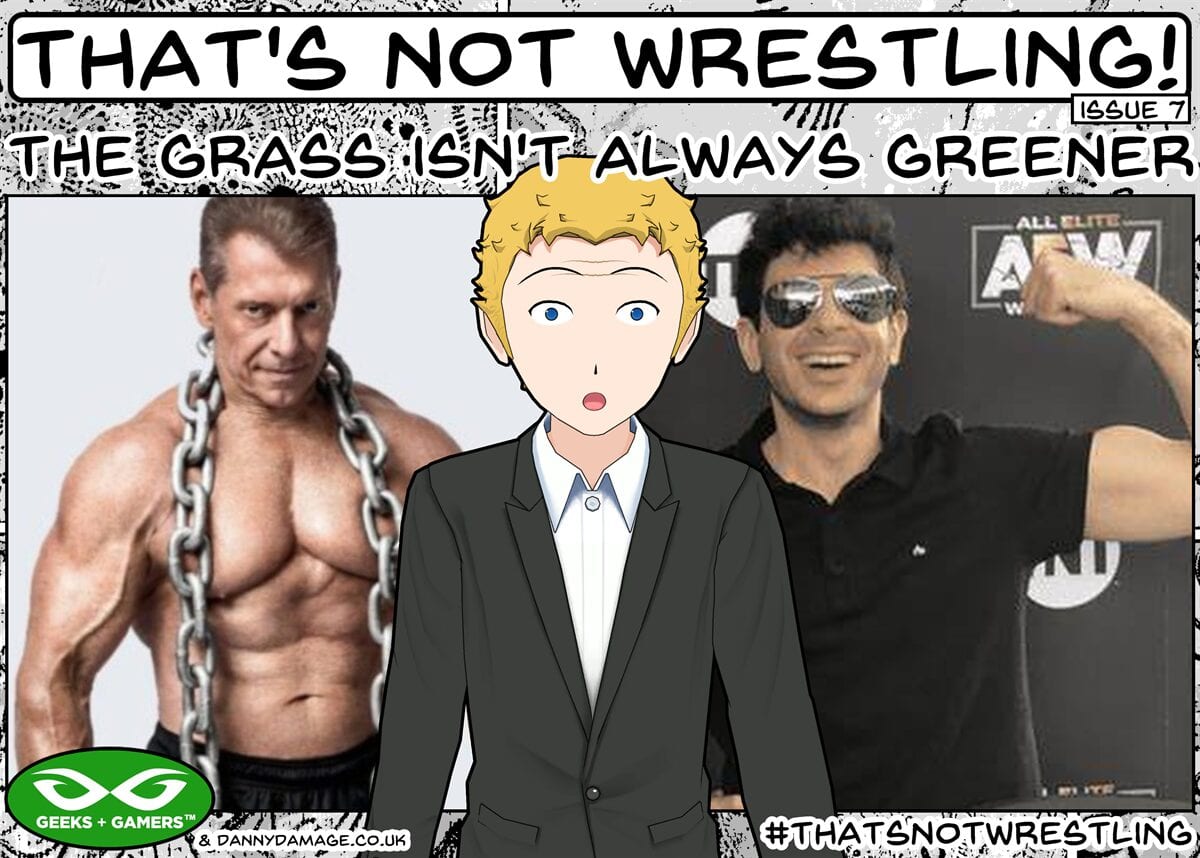 As AEW has only been around for two years so far, there hasn't been enough time for everyone's buyer's remorse to kick in yet. We've all heard that Vince McMahon can be bothersome to work for, but is he the worst? I've even written about Vince in great detail before, and although I agree that his world of rules seems like a nightmare, I'm not sure that the alternative is much better. There are those who felt the timid Tony Khan would be the lesser of two evils and jumped in with both feet, but do they regret it? Did they benefit from the move, or did they just receive a token gesture when they showed their newly found allegiance? Either way, I can see why people would want to leave WWE, but I also spot some regret in there; and let's not mention that injury list that keeps piling up… oops.
Chris Jericho
I'll start with Chris Jericho since he was the first and biggest name to jump ship to AEW. Jericho seems to be the only one that had a relatively long-term plan from the get-go. Everyone else appeared just to turn up and do their own independent thing each week. Perhaps the role wasn't written specifically for Jericho, but if someone wrote the first year plans for "top superstar to be determined," Jericho was perfect for that spot.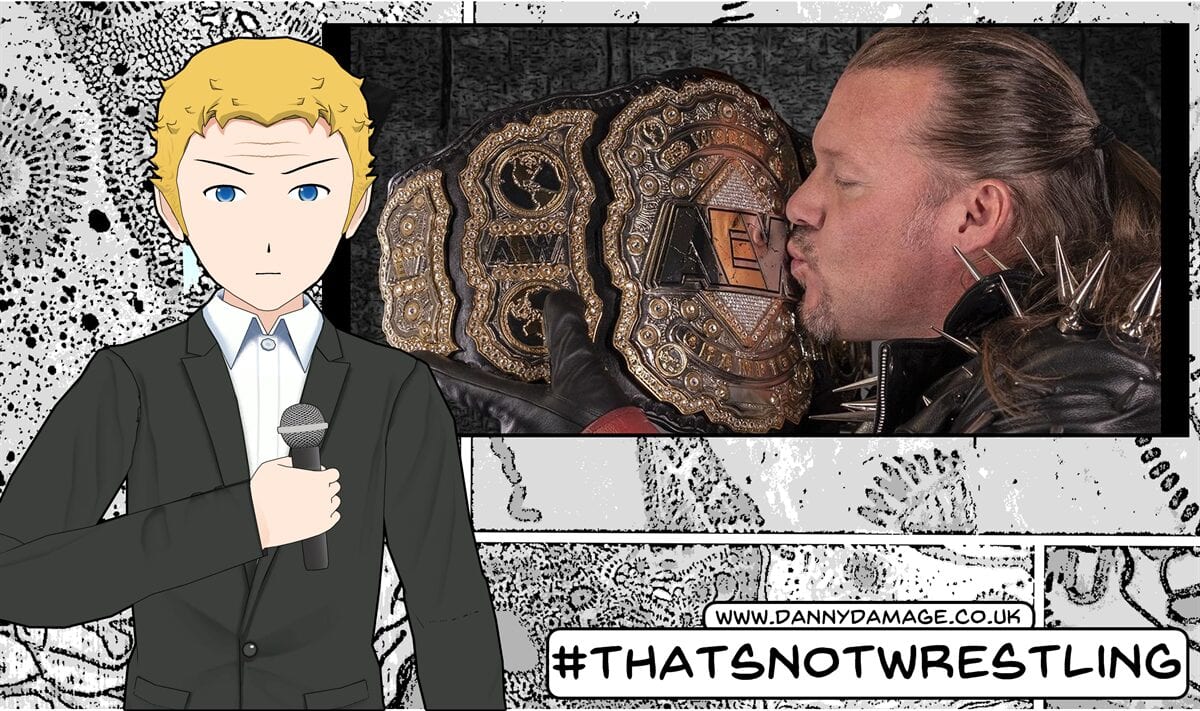 Once he lost the belt and this run was over, Jericho was set to take some time off and go on tour with Fozzy, but the world was locked down. Plans changed, and he stuck around for longer, making it up as he went along. It was from this point on we were soaked with piss-poor gimmick matches with Orange Cassidy and juvenile Monday Night Raw-esque shenanigans, flipping the bird and giggling at curse words. He's showed himself up beyond that, sadly, by taking to social media and waffling some utter nonsense. If he's not saying Kenny Omega and Orange Cassidy are top-tier wrestlers, he's ignoring the fact that half the crap that's happened in AEW so far is a re-run from an old Attitude Era episode of Raw.
I'm not surprised that Jericho has since got his foot back in the door with WWE by appearing on Stone Cold Steve Austin's podcast.
Jon Moxley
When Dean Ambrose reverted to being called Jon Moxley, it wasn't just his namesake that took a few steps back. When he wasn't doing silly skits in the doctor's office and acting like everyone's favorite wacky uncle, I enjoyed his work in the WWE… bar that daft rebound clothesline. Despite the antics of Dean Ambrose in WWE, watching him in the ring was almost always a delight. He knew where to be, his handiwork transitioning between and establishing holds always flowed nicely; I don't even recall him doing anything exceptionally reckless to himself or anyone else.
The hope when Ambrose became Moxley again was that he'd bring what he'd learned in the last few years, fuse that into his repertoires, and arrive as some kind of second coming of Stone Cold Steve Austin. Although I'm a big proponent of being the first coming of yourself, this outcome would have been better than what we got. Moxley, in all his hardcore, unadulterated, unrestricted freedom, is not all he's billed to be. With his crowd-wandering, self-harming, and constantly trying to maintain his balance, he's more like a Sandman knock-off than anything else.
Sadly, I think he's done trying to take this seriously, and he'll be doing this ECW/CZW tribute act until he retires.
FTR/The Revival
Although I grumbled about them being in WWE, I worried when Dax and Cash signed with AEW. It would have been more a cause for celebration if Tony Khan's Toybox was known for outstanding tag team action, but The Young Bucks are present, in focus and management, so that's that idea out the window. They're not alone in the division, but other teams with potential are keeping quiet and dancing how management wants them to dance.
FTR started off with a brief run with the tag team belts before dropping them to The Hardy Soyz/ The Young Bucks. That didn't last long, and now they're in a faction that debuted by having their heads flushed by The Inner Circle. They recently went on to lose to The Inner Circle in a dumb football field cluster fuck. I mean, it's no worse than the back-shaving angle they endured in WWE, but is it any better? AEW had the opportunity to be the pinnacle of tag team wrestling in the world when they signed FTR, but instead, they were used to make The Young Bucks look really strong.
Should things change, and someone with some know-how does end up calling the shots in AEW, I think FTR will rise to the top the fastest.
Cody Rhodes
This was a great move for Cody Rhodes, and Brandi Rhodes, obviously. Even though he has behaved like an absolute bell-end by promising things and delivering different things, Cody has more creative control in AEW, and that means he gets to act like Billy Big Bollocks on a weekly basis. Despite what Cody and the AEW diehards would have you believe, I'm sorry to say that Cody isn't the legend that he thinks he is. But moving to AEW has done a lot more for Cody than it has for the company or the business.
I agree that performing as Stardust in WWE must have been frustrating if he wanted to be taken more seriously, and I see that allowing everyone else to have matches that look ridiculous makes it so much easier for Cody and his work to stand out.  The thing is, he's had all the big matches and high-profile feuds in AEW and has always come off as the most serious part of any show. However, Cody has almost a million followers on Twitter; if he was as red hot as he thinks he is, he alone should be able to bring somewhere close to that each week to help the ratings. This is not the case, however, and the combined efforts of Cody and everyone else can only break a million viewers when they jump off a cage, cut off a finger, or jump a shark.
The sooner Cody and Brandi slither break into TV and/or film, the sooner their Triple H and Stephanie cosplay will be out of my sight.
Dustin Rhodes
Before I start ripping into Dustin Rhodes for his recent behavior, I'd like to point out that I was happy for him when he found somewhere to retire on his own terms and time. However, he's begun to enjoy the smell of his own farts lately as well. I wrote about this recently, but Dustin's temperament with constructive fan criticism has shown me he's probably not as cheerful as he claims to be. He's in great shape for his age, and his in-ring work is still better than most on the roster, but he just gets inserted places randomly. For example, he had a main event bull-rope match against Nick Comoroto, just like that and out of nowhere.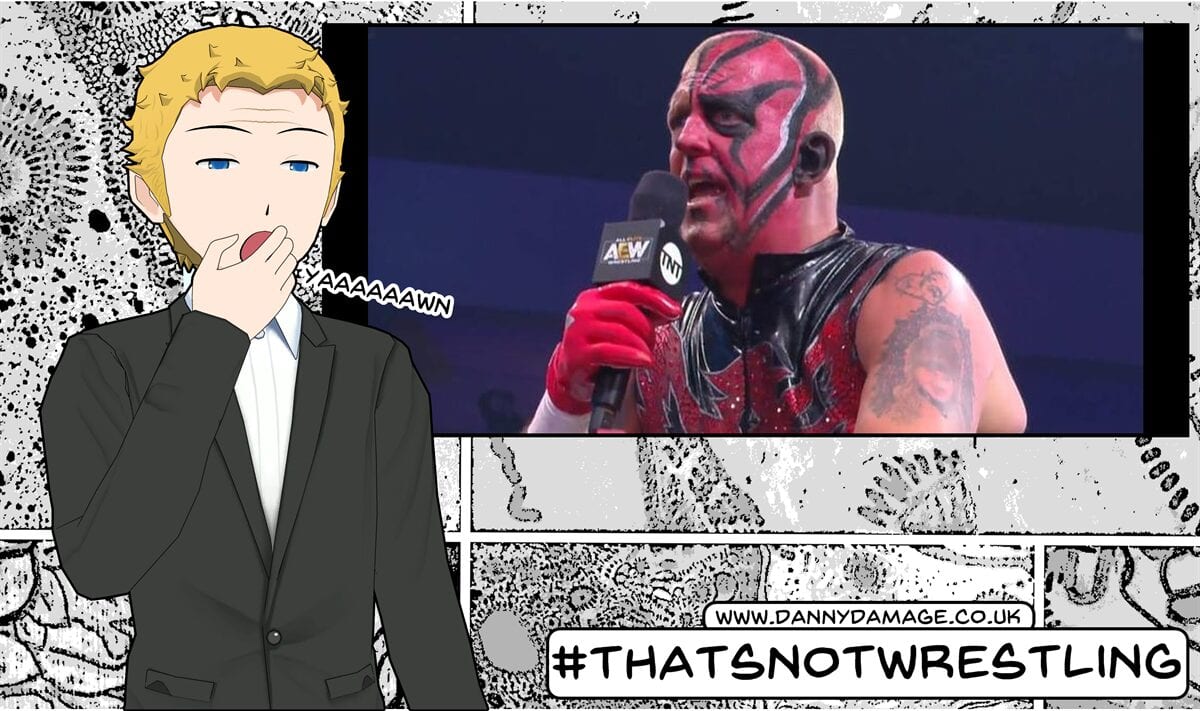 Love him or hate him, Goldust is an iconic character in WWE. And embarrassed or not, there's nothing Dustin can do to change that. Just like when Cody was painted as Stardust, they both smiled and said, "Everything's fine." Dustin changed his tune once his paycheck came from another source, and I think there's a bit of crying for the sake of crying going on here. I mean, Dustin turned up in character on Howard Stern's show, and he offered to get breast implants in the persona's early days; he can't have hated it THAT much.
Like most things being discussed today, not every idea that's pitched is going to be gold… dust.
Matt Hardy
When first announcing he was heading to AEW, I was excited for what Matt Hardy would bring to the table. I imagined a brief feud, and then he'd start his own faction of battle-ready misfits; Hardy himself shuffling further away from in-ring action over time. I always got big Father James Michell vibes from Matt in his blood-red jacket. We didn't get that. We got AEW's usual "my one superpower is to have ten superpowers" approach, and Matt was badly teleporting around an empty arena in no time. Oh yeah, he was being escorted by a drone with more personality than a lot of the roster at the time as well, a drone in which Chris Jericho engaged in a televised conversation.
Much like his Version 1 singles run years ago, the Woken/Broken Matt persona had given him a chance to shine as more than just Jeff Hardy's support worker older brother. He'd started to step out of that shadow and get something different over. Sadly, the character is so far gone due to weekly sketches that are forgotten two hours later; people just want him to jump off of stuff, as Jeff does.
He's now managing Private Party and acting more "plain" Matt Hardy, but many fear it's too little, too late. He, too, spends far too much time making excuses and fighting with and then blocking fans online.
I understand that Vince McMahon probably said no more often than he said yes, but that doesn't mean the solution is to find someone that tells you yes all the time. What if you were unwell/out of sorts and suggested something really dumb? Wouldn't you want your peers to suggest you check your workings? It's probably not a personal attack. Friends, fans, and colleagues may just want to help you not look like a joke. They might even be trying to help you avoid a concussion from jumping off of something daft and landing on concrete. Just saying.
That does it for this week. Thanks for stopping by. I spent the weekend covering E3 2021 for G+G, so go and have a look at that if it tickles your fancy. And don't forget to check out Putting It Bluntly: AEW Double or Nothing on my YouTube channel. I'll see you again Monday for #AnotherWeekOfWrestling and next Thursday for more #ThatsNotWrestling!
Background Artwork Designed by Rachael Hope.
NEXT ISSUE: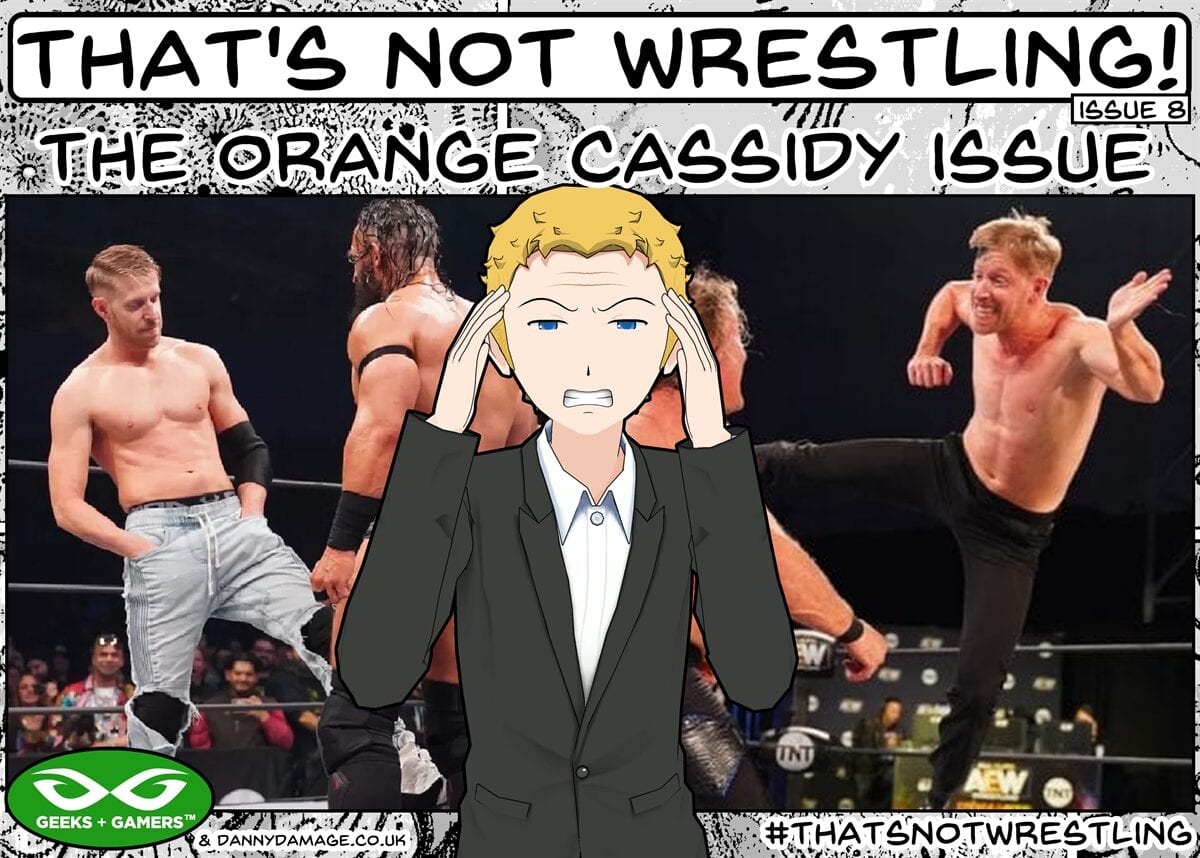 Thanks for reading! Feel free to get in touch on Twitter, subscribe to my YouTube channel, and/or check out everything else I write about over on: