Vancouver Canucks Officially Sign Elias Pettersson and Quinn Hughes
It has been a crazy 24 hours in Canucks land, but the deals are now finalized. The Vancouver Canucks have agreed to terms with their #1 centerman, Elias Pettersson, at 3-years x $7.35M ($22M total), and their young stud defenseman, Quinn Hughes, at 6 years x $7.85M ($47.1M total), per Elliotte Friedman of Sportsnet.
Elias Pettersson is a 22-year-old star centerman for the Vancouver Canucks, and arguably their best player. He was the 2019 Calder Trophy winner and has been a dominant offensive force in the NHL ever since. Pettersson has been in the league for three years now; in his first two seasons, he managed to rack up 132 points in 139 games. Last season was a bit of a setback for the Canucks' star player, as he only appeared in 26 games (due to injury) but still ended up with 21 points to finish off the 2020/2021 campaign. There have been rumors for a while now that Pettersson was looking for a shorter-term deal with the team, so he definitely got was he was looking for. He will be a restricted free agent after his contract expires in 2024.
Elias Pettersson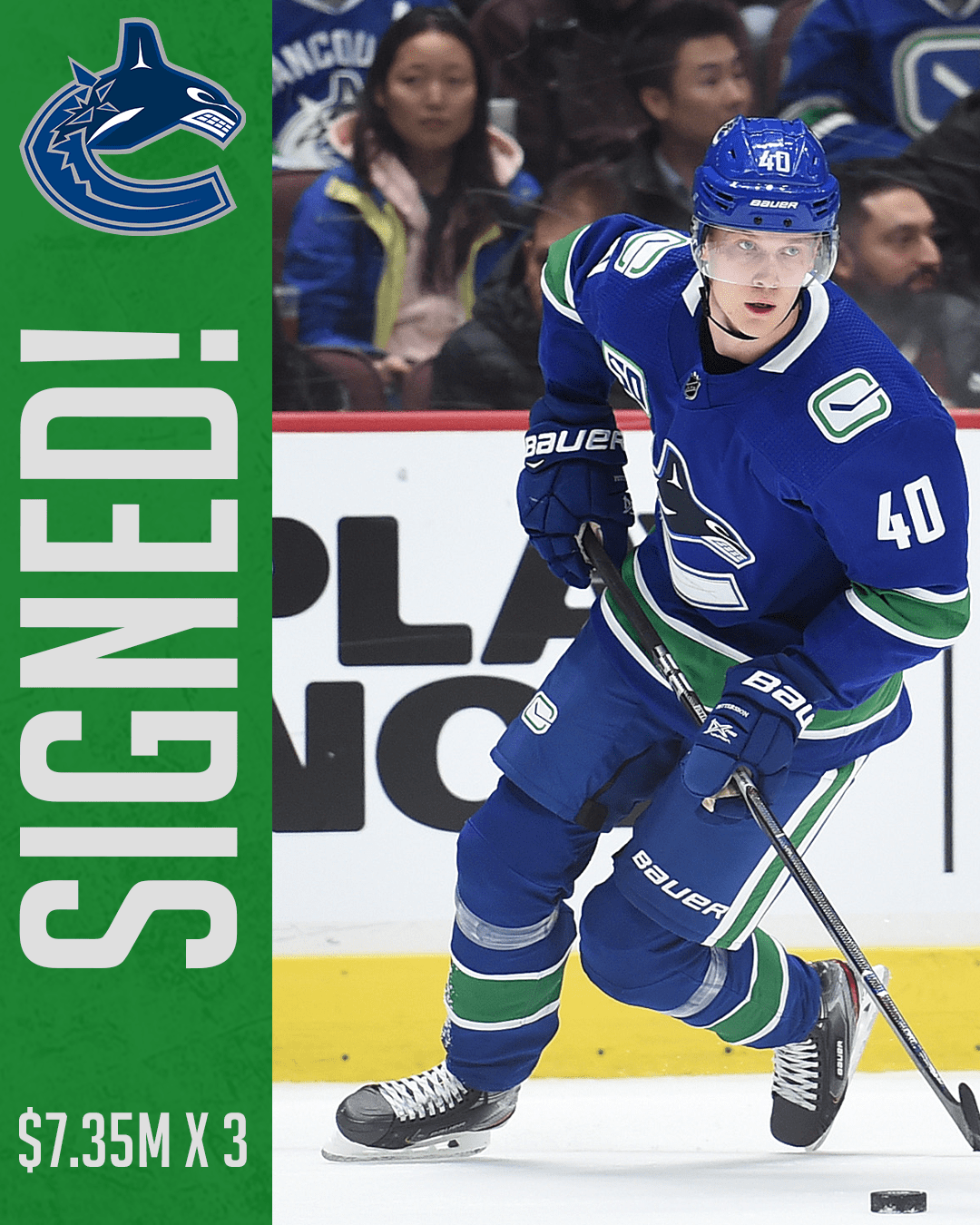 In addition to the Pettersson signing, the Canucks also needed to lock down their top offensively gifted defenseman in Quinn Hughes. The 2020 Calder Trophy runner-up has been nothing short of incredible for the Canucks' blueline these past few seasons. With 97 points in just 127 regular-season games, Hughes has shown he is top-tier talent when it comes to NHL defensemen. That's not to mention his insane playoff performance in the "Edmonton Bubble" back in 2020, where he was almost a point-per-game player, putting up 16 points in just 17 games. The general manager for the Vancouver Canucks, Jim Benning, was smart in locking this kid up for the long haul. Hughes will be a big staple to this Canucks core for years to come.
Quinn Hughes
The RFA, or "Restricted Free Agent," craziness is almost over in the NHL, with Brady Tkachuk of the Ottawa Senators being the last one standing. Expect the young star to get signed soon, with very similar numbers to Pettersson and Hughes.