REVIEW: John Wick: Chapter 4 (2023)
The tagline for John Wick: Chapter 4 should have been "Go big or go home." This is a big movie, certainly the biggest in a series that keeps getting bigger. It has the longest running time yet for a John Wick film at almost three hours. But unlike the lumbering behemoths in the Fast and Furious franchise, John Wick: Chapter 4 earns its length with a slate of engaging new characters, an ever-increasing wave of opposition for the world's deadliest animal rights activist to cut, shoot, and suffer through, and – perhaps most surprisingly of all – genuine stakes.
John Wick: Chapter 4 begins with the main players more or less where they were at the end of Chapter 3. Wick (Keanu Reeves) is in hiding with The Bowery King (Laurence Fishburne), preparing to wage war on The High Table, the rulers of the organized crime society of which he was once a part. In response to Wick's refusal to die, The High Table has empowered one of their own, The Marquis Vincent de Gramont (Bill Skarsgård), to use any means necessary to bring down the Boogeyman. Lots of killing ensues.
Boy, does it. The action in John Wick: Chapter 4 is, as one would expect, exquisite. It's also the main reason for the increased run time; long sequences of violence adorn this movie, but they manage to resist overstaying their welcome through several means. First is their inventiveness, with Wick and the other characters finding constantly evolving methods of dealing death to the wicked. Guns, knives, katana, the much-ballyhooed nunchakus, and good old hands and feet are employed, with nothing lasting so long that it gets dull, each switchover jolting you with new visuals, sounds, and satisfying victories.
Second is the locations, which are marvelous and perfectly chosen. Each is vast, with the action traveling from room to room or floor to floor, and each new stage feels like an entirely different environment. This works visually – who wants to look at the same background for a half hour? – and for variety, as John Wick: Chapter 4 makes the most of each setting, either by allowing Wick to improvise a new weapon or forcing the combatants to change their fighting method. Aiding this are lots of new weapons for Wick and company to use, and while I won't say what they are, one of them is among the coolest I've seen in a movie.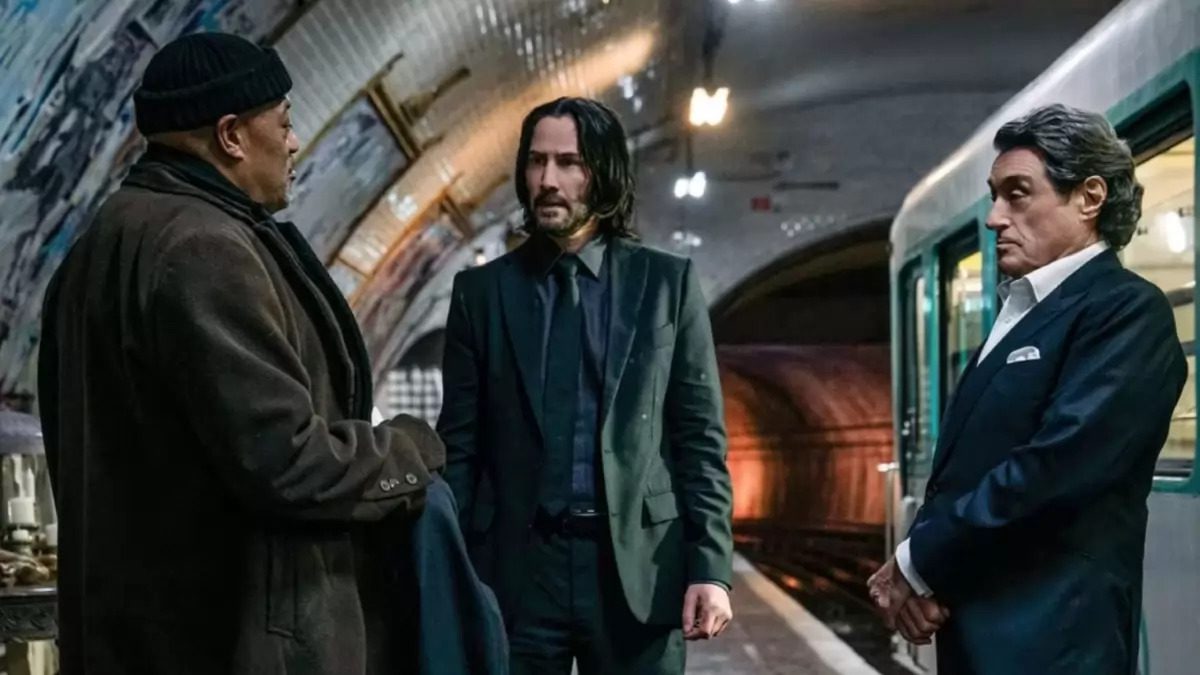 The third is the most important: the characters are wonderful. We all love John Wick and the regulars, like Winston (Ian McShane), Charon (Lance Reddick), and The Bowery King (Laurence Fishburne, who looks like he's having the time of his life in these movies). But John Wick: Chapter 4 presents new people and makes us care for them. Donnie Yen is sensational as Caine, an assassin and old friend of Wick's who's called in to eliminate his former compatriot. Shamier Anderson is Nobody, an entrepreneur who sees killing Wick as his way into The High Table's circle. Hiroyuki Sanada is Koji, another friend of Wick's who is under The High Table's control. And Rina Sawayama is Akira, a seemingly frightened girl who's much more than she appears.
What makes these four so compelling is their humanity. These aren't just a series of "The Next Guy John Wick Has To Kill;" these are well-rounded characters with unique motivations and arcs that tie into Wick's and revolve around the film's central theme. John Wick: Chapter 4 is concerned primarily with honor – to whom do you owe it, which recipient is more deserving of it than another, what different ways are there to demonstrate it, when is the proper time to let it go, and when is it vital to bring it back? The reasons are different for characters old and new, but they inform not just conversations and choices but the action scenes. Every bit of this movie is infused with humanity, emotion, and stakes for everyone.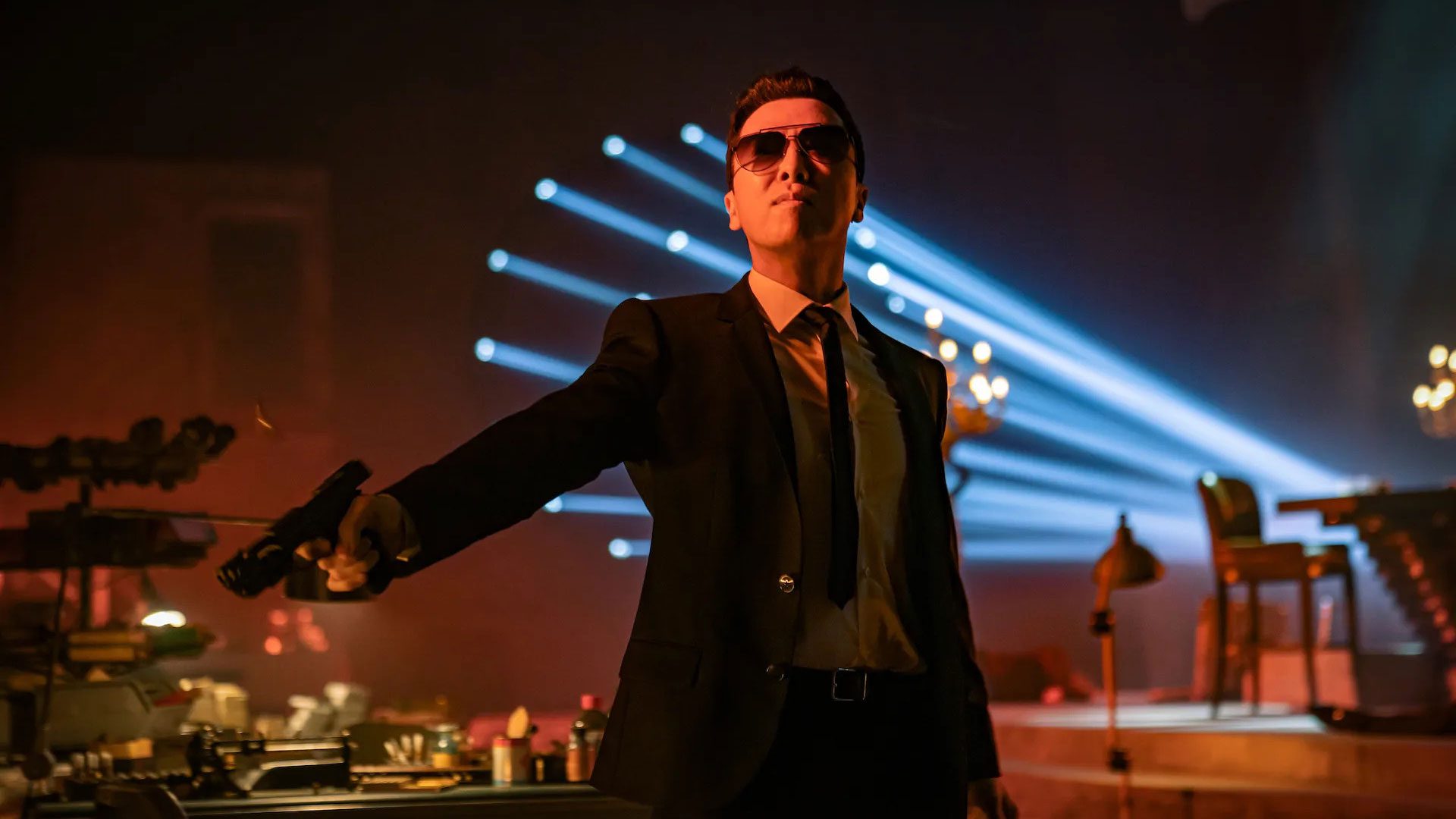 The other characters are less fleshed out but work in their own right. Bill Skarsgård fits The Marquis to a T; he's arrogant, dismissive, ruthless, cowardly, and so sure he can buy his way out of anything that he underestimates those he really shouldn't. The second he appears, you want to see John Wick remove his unctuous smirk with a brick. Clancy Brown plays The Harbinger, another one of those mysterious High Table emissaries that exist to speak portentously. He's not in much of the movie, which is why you cast someone like Clancy Brown – he brings instant gravitas and menace. And Natalia Tena, who played Osha on Game of Thrones, is Katya, yet another figure from John Wick's past who isn't sure if she should help him or deliver his guts to The High Table. Katya is a showy role, and Tena dives in and has fun with her.
But in many ways, the real star of the John Wick movies is Chad Stahelski, who has directed all four (the first with David Leitch). He doesn't rest on his laurels after three successful and popular films; John Wick: Chapter 4 looks terrific, not just because of the action itself but due to some fascinating camera angles that keep the relentless action fresh. But instead of the horrendous and all-but-dead shaky cam, these methods enhance the action, and you can always see what's happening on the screen. One towards the end reminded me of a scene from You Only Live Twice, which was probably not intentional but appreciated nonetheless. (There's actually a non-action scene that reminds me of From Russia with Love, too; again, I don't imagine Stahelski intended this, but if he did, he's got taste because those are both top-5 James Bond movies for me.) The quieter moments are intriguing as well, with something as simple as characters drawing cards loaded with tension.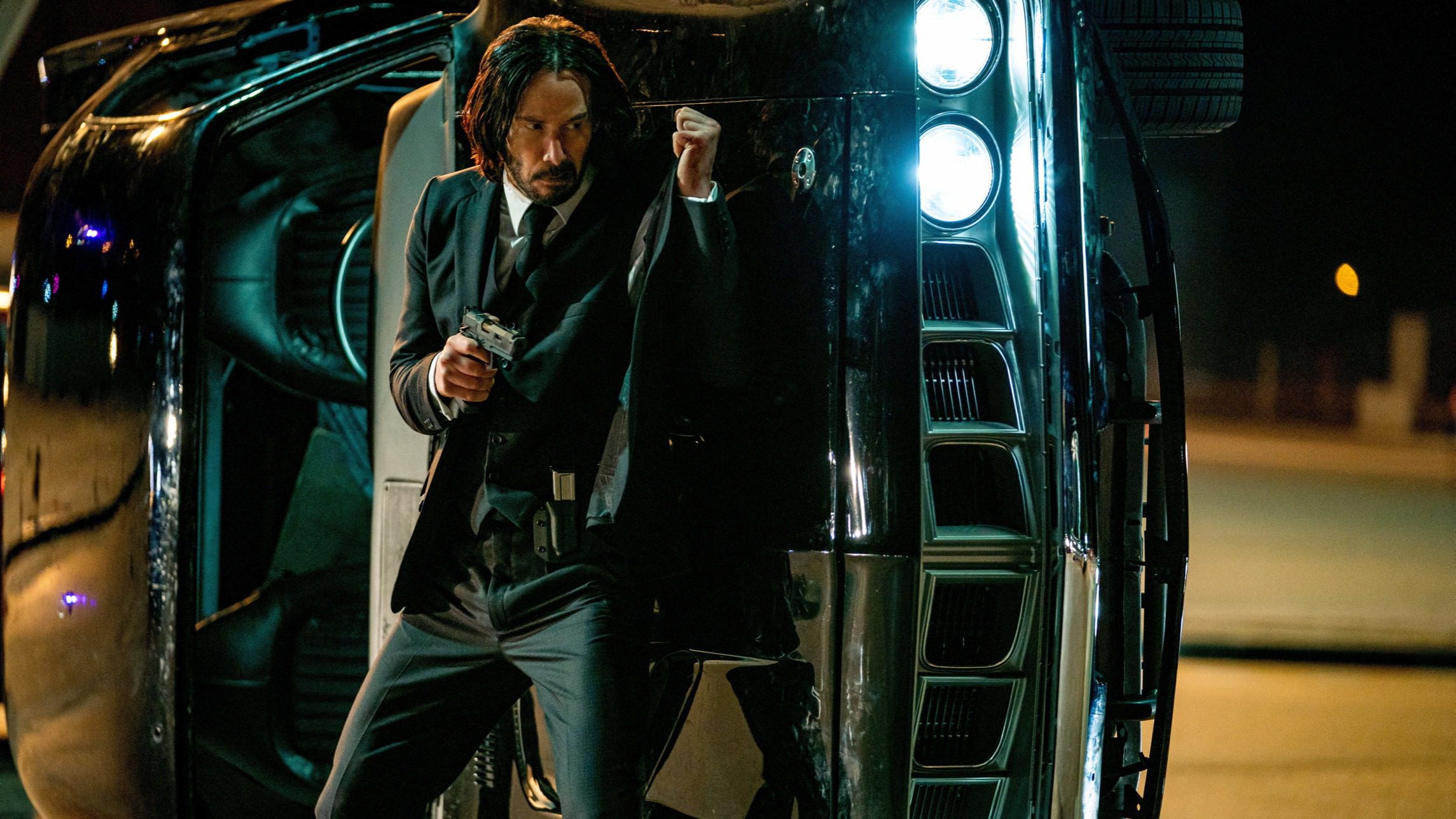 John Wick: Chapter 4 reminds us why we go to the movies in an era where we increasingly struggle to find a reason. While seemingly everyone else has given up on pleasing the audience, Chad Stahelski and Keanu Reeves want to earn the price of a movie ticket. And they do.
Plot - 8
Acting - 9
Directing/Editing - 10
Music/Sound - 8
Action - 10
9
Great
John Wick: Chapter 4 is worth the wait, an exciting and emotional action-fest with fantastic characters and unbearable tension that leaves you as breathless as its hero.