REVIEW: Prey (2022)
Prey, the newest addition to the Predator franchise, has finally been released, following several horrific trailers and insurmountable fan backlash. Nothing in this dragging slog of inconsistency and nonsensical storytelling is even remotely related to a good story with narrative or logical consistency. Throughout this utter mess, nothing makes sense, nothing ties together, and everything is cobbled together in the most irresponsible and lazy manner possible. Nothing about it shows any degree of talent outside of the cinematography and other technical aspects, which are all adequate and acceptable. Anything to do with the script, the characters, or the performances is some of the worst slop to come out of Hollywood in decades. It does not help that this film was stolen near verbatim from a fan film made a few years ago and could not improve upon this fan film even with a Hollywood budget.
This abysmal toil of an experience is total and complete nonsense. A child could have made this story make more sense than the supposed industry professionals that stitched together this Frankenstein's monster of a narrative. The sole praise that can be attributed to Prey is that the Predator is no longer hunting autism like in the reboot. Otherwise, at every single opportunity, this film crumbles at the seams, supported by no intelligent design nor competent crafting.
Prey follows Naru, a Comanche squaw who is repeatedly told she's better than everyone else in her community at everything except hunting, so she focuses on the one thing that she's not good at and derives her entire personality from this perceived failing. In several sequential hunts, Naru proves she is an incompetent hunter who puts herself and others in danger whenever she attempts it. Instead of recognizing this as a flaw or a failing to be overcome, she insists that these shortcomings are not her fault and is angered when people point them out to her. Ignoring all advice and rejecting any character that wants to protect her, she goes out in a one-woman war against the Predator, which is stalking the woods outside her village. Repeatedly failing upwards, making mistake after mistake unrecognized, she becomes the Predator hunting her prey to prove her worthiness to her village.
Picking the worst problem in this film is akin to determining the smelliest dung pile in a pigsty. It is a nigh-impossible endeavor, affected heavily by the priorities and experiences of the viewer. One fan may believe that the worst part of the film is the protagonist's characterization, while another may decry the film's woke motivations. However, the chief contender for the worst issue in Prey is easily its dialogue; in so many different ways, it's cheap, nonsensical, and horrific — perhaps the worst seen in a film in the last decade. The characters speak in modern English, and not just normal modern English, but heavily stylized and hip modern English. Characters used slang, idioms, and contractions to a degree that would make any modern intelligent person wince at its superficial and vapid utilization. This dialogue would be cringe and disconcerting in a contemporary film but stands out far more in a period piece taking place in the early 1700s.
Not only is the English awfully mundane, but the film constantly switches between Comanche and English, giving the audience immense narrative whiplash. Many fans have expressed their wish that Prey had very minimal dialogue, all of which would be in Comanche to add a degree of authenticity to the film, which should rely primarily on its action and tension. Rather than focusing on such an interesting piece of historical accuracy, Prey flip-flops back and forth between Comanche and English with no regard for reasoning or thought. The movie needed to pick a language and stick to it rather than trying to have both in equal parts in a Native American tribe. If this abysmal dialogue had been supported with well-rounded characters, perhaps the flawed wording could be forgiven. However, every character is thoroughly unlikable and two-dimensional.
Another massive failing of Prey's is its numerous historical inaccuracies. This includes simple stuff such as the scenery: the Comanches' territory stretches from Colorado to Kansas, and none of the land in that area even remotely looks similar to the woods of Alberta, Canada, where this film was shot. Additionally, Naru's companion is a modern dog. Domesticated wolves were available at the time, though extremely rare, but this dog is an extremely modern breed of canine that did not exist in the early 1700s, especially not in the wilds of the Americas. It doesn't make any sense for a modern dog to be in this setting. Even costuming and prop usage is incredibly cheap and historically inaccurate on several occasions. Nothing about Prey says early 1700s, from its props, settings, characters, or even its dialogue.
Regarding props, the dumbest is Naru's tomahawk, to which she attaches a string for quick returns. The strength necessary to merely get a weapon of that size back to her, let alone perfectly to her hand, is immense and far beyond the strength of this petite and undefined woman. Even with the strength necessary, it would take many years of intense training to utilize such a weapon as she does throughout the film. The day after she adds the string, she's operating this weapon in a way that would make Jet Li jealous, like some sort of superhero. A sci-fi or fantasy explanation for this weapon would have been essential to allow her to utilize it in such a fashion. However, she is just the bestest ever. That is the only explanation provided for this asinine and impossible weapon's effectiveness and usage. It makes no sense, just like everything else in this entire slog-fest of a film.
The tomahawk also represents a far larger issue with Prey, specifically regarding Naru's character. She never demonstrates the strength or intelligence she needs to deal with the problems she endures throughout the film. She also does not possess the tools necessary to accomplish the mighty feats she undertakes. Early in the movie, when she does fail, she does not recognize these failures as her fault and does not take responsibility for them in order to grow and overcome them. Failure is essential for characters; otherwise, they're just perfect and completely unrelatable to the audience. However, failure needs to be recognized by the character for an arc to begin. When Naru fails, she insists it's not her fault and whines when other people point out her failure. She doesn't work hard to overcome her failures and never admits her faults. She is just suddenly tremendous and can do things far beyond what any human of the era should be capable of doing. These are not signs of a good, three-dimensional character but of a Mary Sue who is handed things on a silver platter and constantly affirmed for her greatness.
Whining is Naru's only consistent character trait. She wines to her mother, her brother, her dog, and anyone who will listen. It is near constant throughout the film, grating on the audience's senses, making her incredibly unlikeable and off-putting. Fighting through adversity and discrimination can be a fascinating and compelling story, but not when saddled with such an incompetent and whiny protagonist who just demands people recognize her as the bestest ever despite her every action contradicting that.
Naru's whininess and arrogance also nearly get a man killed. In a war party that she forces her way onto, she is the only one with any medical experience, and when a man is injured, she is told to take care of him. However, she complains that she is being taken out of the hunt to take care of this wounded warrior. When someone needs medical attention, the medic should stay with them; that is not a complex concept to understand. If a person is dying, someone who can save them should remain with them. This supersedes the warriors' belief that Naru is incompetent and incapable of undergoing the hunt. She is the only person who can save this man's life, but she doesn't want to because she wants to be a big, strong hunter. Being willing to let a man die for pride is not a good character moment that will entice the audience to relate to a protagonist. Luckily, the warrior does survive, but she still abandons her patient because "I'm a big, strong warrior lady, and I don't wanna be no medicine woman. I wanna hunt." This makes her incredibly grating and unlikeable. She is just an awful character to watch throughout the film.
One of the worst scenes in Prey — one that proves that Naru is an incompetent hunter — was featured in the trailers. When Naru decides to hunt a bear alone, she makes an insane string of decisions that prove she does not have the intelligence or the skill to accomplish anything that she does in this film. Any real hunter would know to stay downwind of any wildlife, but Naru approaches upwind of the bear and does not react when she recognizes this. And instead of leaving or running when the bear catches her scent, Naru prepares to fire her bow, which will not hurt the bear at all. At this point, the bear is still primarily preoccupied with the recent kill on which it is feeding. Naru can easily escape before the bear's attention turns to her, and she does not have the weaponry or manpower to take on a beast of this size and ferocity. Nevertheless, she stupidly decides to fire at the bear because she wants to be a hunter. When her bow snaps, the bear sees her and charges. If not for the Predator showing up to save her — as shown in the trailer — Naru would have died because of her incompetence and stupidity. Yet, she does not admit her mistake, nor does the film. Naru is treated as the bestest and smartest ever despite her constant failing and asinine decision-making.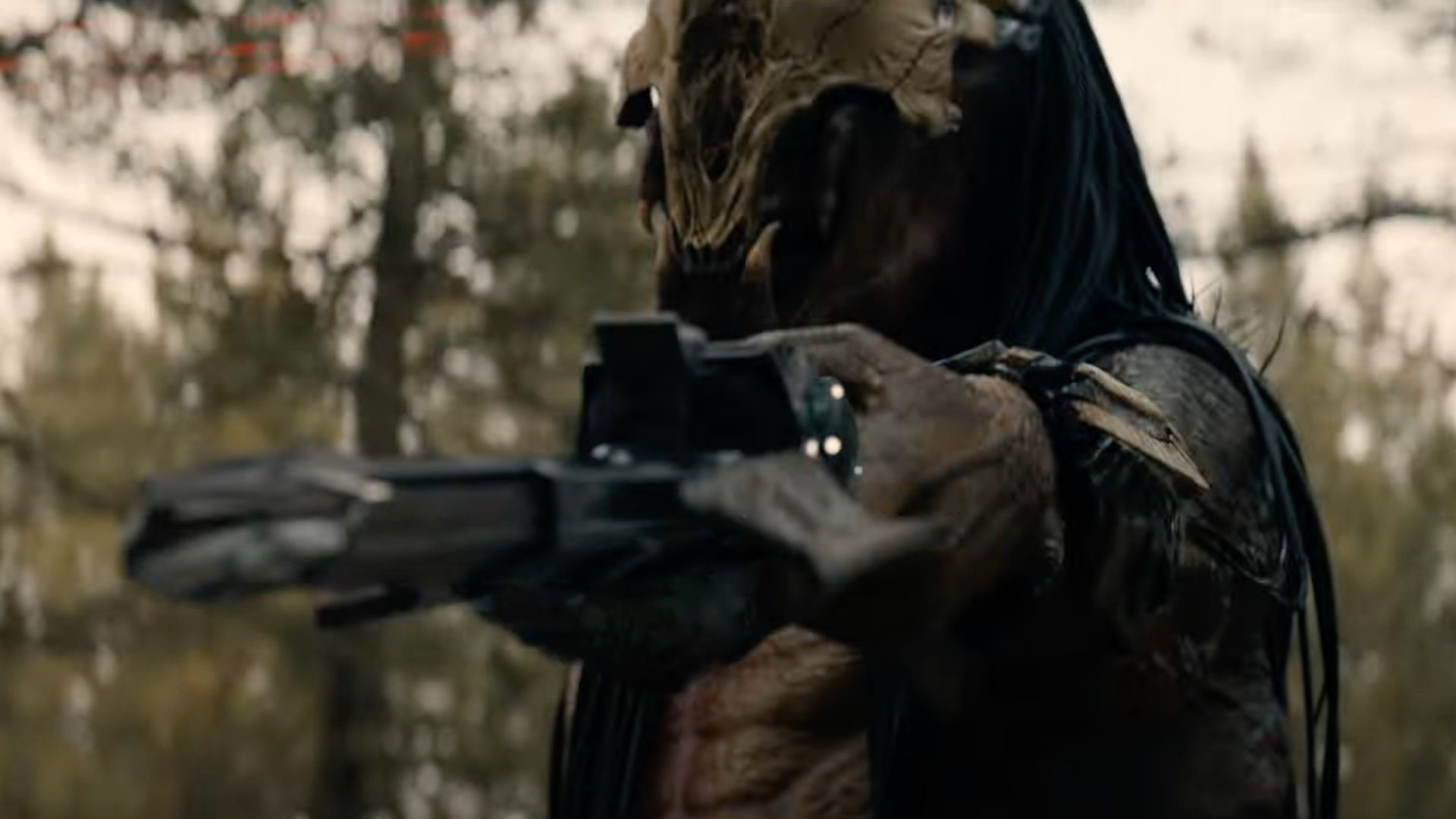 Prey is one of the dumbest films ever created. There is no logical consistency or anything remotely relating to good and competent characters. Perhaps this movie could have been good despite its script being utter and complete nonsense if there were good characters. However, the lack of them — or anything remotely similar to a good plot — leaves it to fall apart at every opportunity, crumbling at its very seems. This is one of the most painful drudges through two hours ever to be created. This film was tantamount to torture for any audience member with a modicum of intelligence or critical thinking capabilities. Nothing highlights its problems better than the terrible dialogue, which would be cheesy by today's standards, let alone in 1700. Prey does not deserve any praise or positivity as it falls short at every turn.
The ineptitude of this film is far more disappointing, considering it had more potential for greatness than any in this franchise since the first one. The idea of a Predator getting dropped into a random point in history, hunting that era's greatest warriors, is fascinating and worth exploring. Imagine a Predator dropped in feudal Japan taking on samurai, or medieval Europe with a bunch of knights. Even the idea of Native Americans versus a Predator would have been a fascinating concept if put to screen competently.
However, competence and good storytelling were never the primary motivation of Prey. As stated by the lead actress, Amber Midthunder, the Predator is a "side piece of the movie because the representation is a hugely important part of this story." If the Predator is not the priority in a Predator movie, how is it a Predator movie? Diversity and inclusion were the chief priorities of Prey and will be weaponized to cover up the laziness and incompetence that made this film possible. With such skewed motivations, Prey never had a chance to be a good story with strong, compelling characters. In classic Hollywood, this film would never have seen the light of day. However, diversity is all that matters today. As such, this will be the bestest movie ever merely because diversity and inclusion were the chief priority, as confirmed by the lead actor's statement. The Predator is just a B plot in a Predator movie. Nothing sums up the problems of this film better than that. Prey is utter nonsense, taped together by a moron whose only motivations were wokeness and diversity. Though an interesting concept with endless possibilities, Prey never had a chance at even mediocrity because of this.
*Editor's Note: A staff member has brought to our attention that the term "squaw" is considered a racist term for Native Americans in the modern day. It was used in this article in its historical context as a term for a Native American woman because the movie takes place in the 1700s, and we will not remove it.

Plot - 0.5
Acting - 0.5
Direction/Editing - 3
Music/Sound - 5
Action - 3.5
2.5
Why
This film is utter and total nonsense, taped together by a moron whose only motivations were wokeness and diversity. Though an interesting concept with endless possibilities, Prey never had a chance at even mediocrity because of this.