Superhero Spotlight: Dora Milaje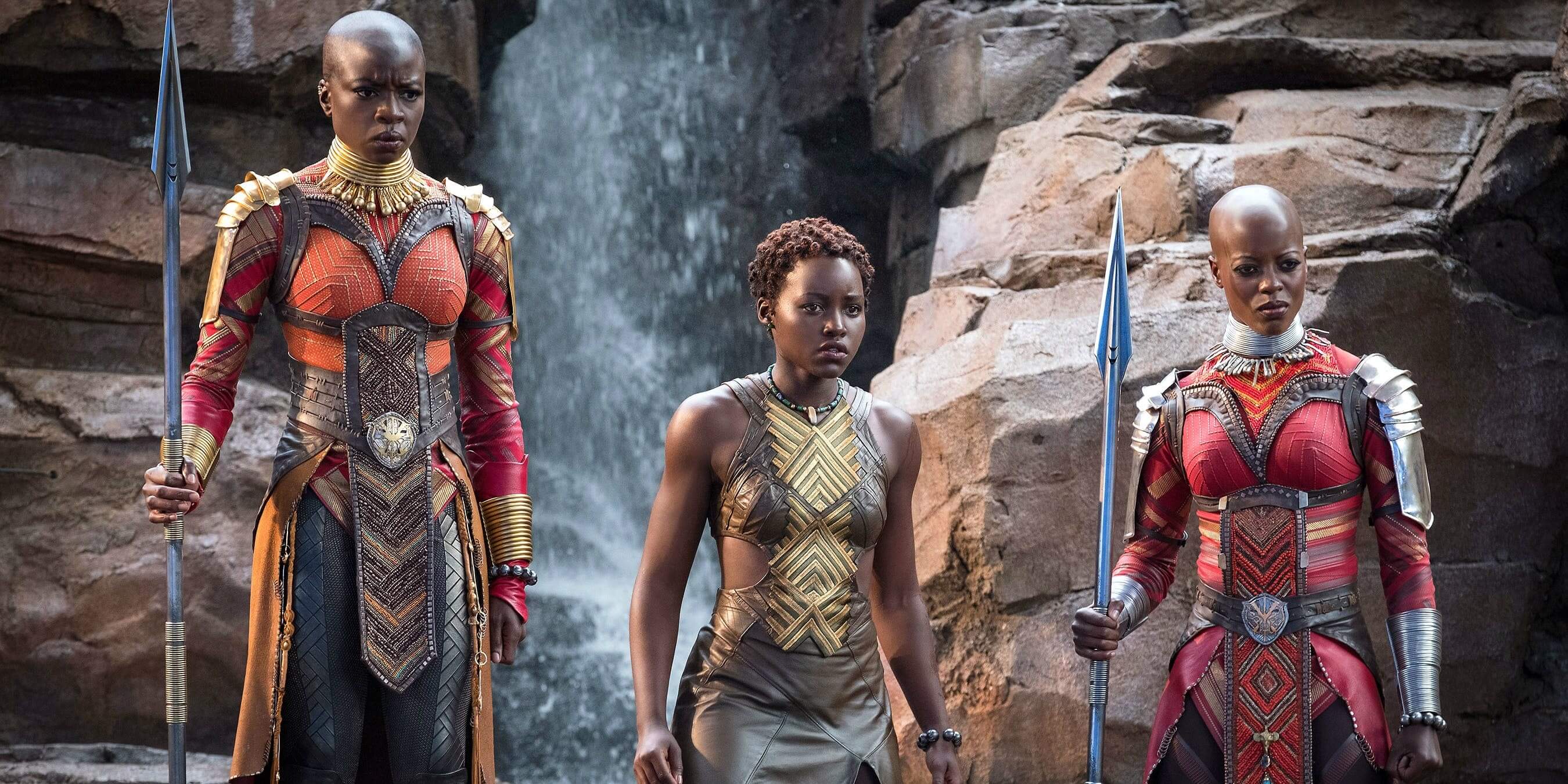 With the release of Marvels Studios' highly anticipated Black Panther just a few weeks away, Superhero Spotlight will be focusing on characters from the upcoming movie and giving you an insight into their comic book origins. This week is all about those kick ass ladies who make up the Wakandan special forces team known as the Dora Milaje.
The movie lineup for the Dora Milaje consists of Okoye, Nakia and Ayo. These fierce Wakandan warriors are the daughters of rival tribes who have been selected to serve T'Challa as bodyguards and potential wives, and their mission is to keep peace between all of those who reside in Wakanda.
At the age of 14, Nakia was chosen to join the Dora Milaje. She grew up in the Royal Palace of Wakanda and led a life that native tribalists like herself could only dream of. As a teen, Nakia developed a crush on her king that would turn into obsession and her gradual downfall. In a savage betrayal she ejected T'Challa's former girlfriend from a plane into a warzone. Naikia lied to T'Challa, claiming the girl was dead, but he saw through her lies and exiled her from the palace and the Dora Milaje. She was shunned by her tribe and all of Wakanda for committing such a treacherous act. Fleeing the palace,  Nakia was captured by one of Black Panther's enemies, Achebe. He horrifically tortured her, leaving the former Dora Milaje to die. This would have been her final resting place if it hadn't been for another of the Panther's enemies, Killmonger. He used mystical forces to restore Nakia, giving her new strength, flawless accuracy and a new name: Malice. She would become a big threat to Black Panther and all of Wakanda.
Okoye was chosen to join the Dora Milaje at the same time as her friend Nakia; unlike her friend, however, Okoye accepted T'Challa, did not hold any romantic feelings towards any of his guard and would not resent the King for his honesty or decisions. She is perhaps the most loyal member of the Dora Milaje, staying by T'Challa's side even through the most difficult times, including the battle with Nakia. Okoye is loyal to King and county, strong, a skilled warrior and a respected member of the Dora Milaje.
18 years after the appearance of Nakia and Okoye, Black Panther fans were introduced to Ayo. She served Black Panther as a member of the Dora Milaje until she tried to save another Dora Milaje from death after her friend and ally Aneka was found guilty of a crime by the former queen of Wakanda, Ramonda. After Ayo's pleads were unheard, she took matters into her own hands by using the prototype armor called Midnight Angel to rescue Aneka from prison. They both escaped and, after finding shelter, vowed they were no longer Dora Milaje. The two would go on to free women being held captive in a compound north of Wakanda, calling themselves the Midnight Angels. With the liberated women, Ayo and Aneka found a home in a village. Together they would battle and defeat the White Gorilla cult to protect their home, and claim the Jabari-Lands formerly claimed by the White Gorilla. The Midnight Angels would go onto convey tribunals, assemble communes, call for elections and write laws, gaining the support of numerous Jabari tribesmen in the process. After much conflict in Wakanda, T'Challa set out to form a council to write down a constitution so Wakanda could have a democratic government, one where he would remain the king, but solely as a representative of his people and not as their ruler, thereby giving independence to the rogue Dora Milaje called the Midnight Angels.
In the movie Okoye, played by The Walking Dead star Danai Gurira, is the leader of the Dora Milaje. Nakia is an undercover operative, and the incredibly talented Lupita Nyong'o takes on the role. Ayo is the personal bodyguard of T'challa; she is played, as she was in Captain America: Civil War, by the amazing Florence Kasumba. These women are strong, beautiful warriors and a fantastic way to represent women on screen. For more about these characters, check out the Black Panther panel from San Diego Comic Con 2017. Next week Superhero Spotlight continues with our Black Panther special as we take a closer look at the bad boys of the film, Ulysses Klaw, Erik Killmonger and M'Baku.