That's Not Wrestling #2: "The American Idiot" Cody Rhodes
Cody Rhodes, MJF, AEW, and more!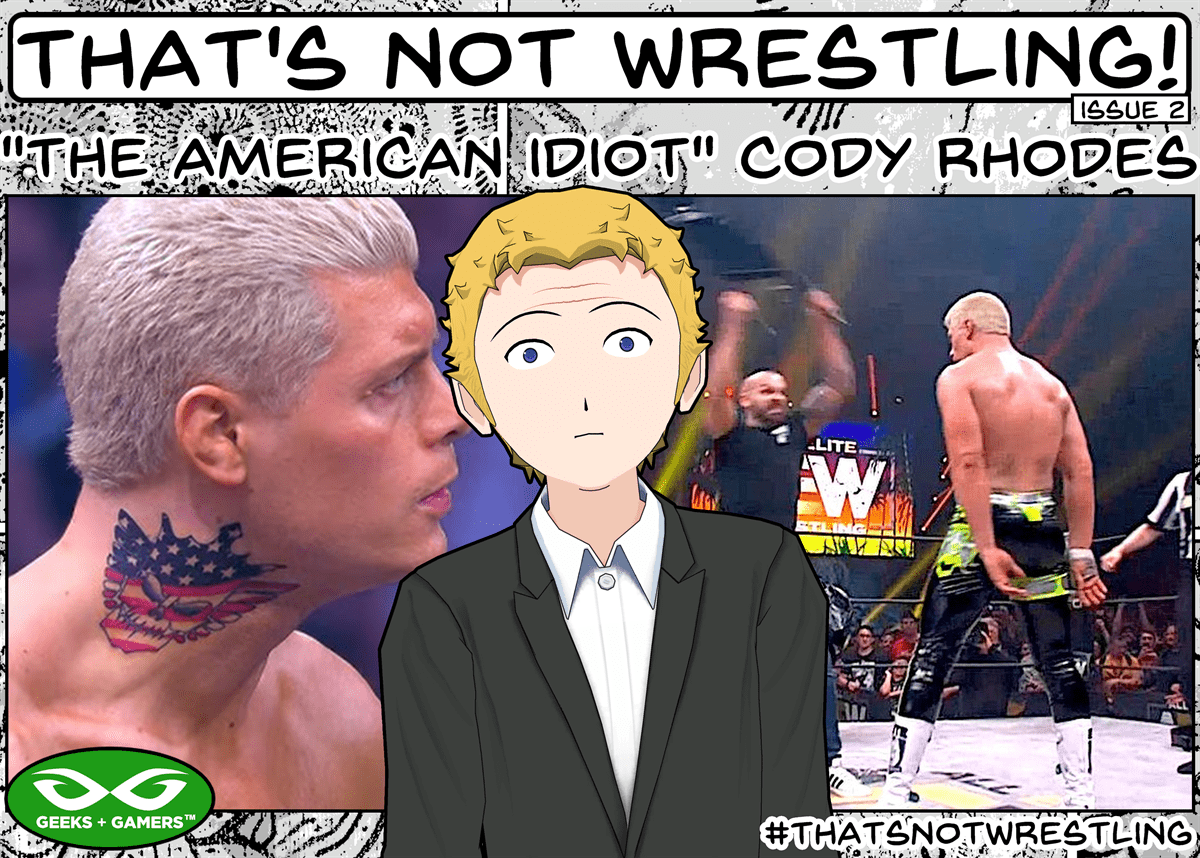 Welcome, and thanks for joining me at Geeks+Gamers! This week I discuss Cody Rhodes, MJF, daft tattoos, unguarded headshots, and more!
A couple of years ago, the planets looked to be aligning for a fantastic shift in the realm of pro-wrestling. Talk of a smashing new promotion with a television deal and "serious, sport-based wrestling" was on everyone's lips. Finally, the modern wrestling fan's life of "eating shit and learning to love the taste" was over. Or was it? Meet me here every Thursday to pick apart the actions of the daft, the dangerous, and the desperate in pro-wrestling… well, in AEW anyway.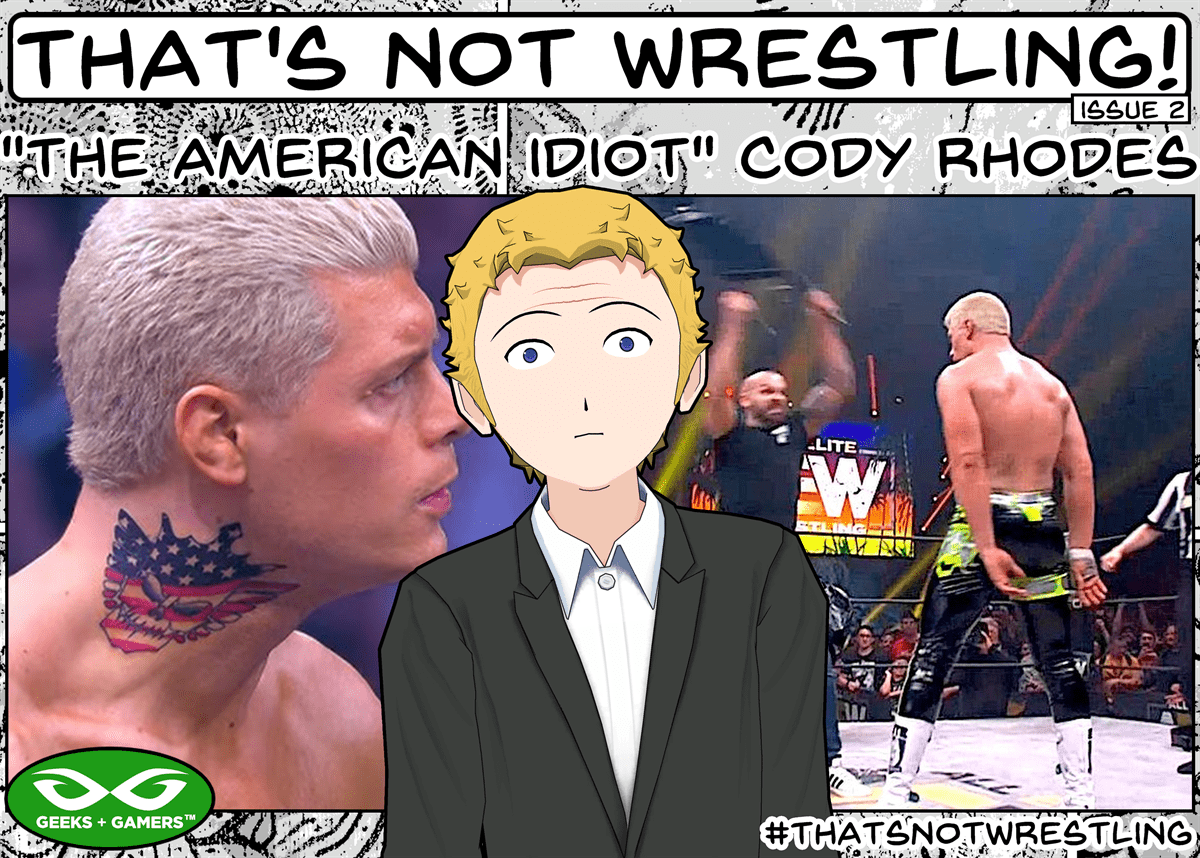 That's right! If rich uncle Tony Khan is splashing the cash on entrance themes, why not chuck Green Day some royalties for their apt single, "American Idiot"? The TNT-Tron video could fade in with a close-up of his neck, which then zooms out while he's trying to hide it with his suit collar in a board room meeting. Actually, before we get to that, let's have a quick look at the rest of AEW from the last week. I've no intention of producing a segment-by-segment review of AEW Dynamite or the PPVs. If the quality of the shows increases, I may be tempted to change my mind, but we're nowhere near that stage yet.
Blood, Guts & Dynamite
The five people who took a refund for their Blood and Guts tickets seem more satisfied than those who stuck around to watch the cage match. While some got off on the unadulterated chaos, others felt it looked tacky and that it "set the business back" somewhat. I land somewhere in the middle. I'm not against blading, but make sure you do it right and make sure you're not facing the damn camera when doing it. Also, Chris Jericho taking that bump "onto concrete" wasn't what was daft. It was the lack of effort to make it look relatively convincing that ruffled people's feathers. AEW didn't learn their lesson, it seems. There was more obvious blading on AEW Dynamite, this time from Christopher Daniels. You didn't see him cutting himself, but he dropped the blade a foot behind him, and it was clear as day when the camera was capturing his crimson mask.
However, a lesson they did learn may have saved Orange Cassidy's health/career last night. A powerbomb from Pac looked to have rocked Cassidy considerably. The finish of the match was changed on the fly. It looked sloppy as hell (the ref needed to be blind, deaf, and unconscious for it to actually make sense). Still, it's better than injuring someone or worsening an injury. Speaking of injuries, Tony Khan reported (on May 12th) that Ricky Starks received a "small fracture in his neck" during a match with Adam Page way back on April 21st. Here's to him making a speedy recovery. Lastly, AEW tried to drag us all back in time once again by repeating something they'd seen on an episode of WWE Raw from the Attitude Era. This week, another recreation of "Stone Cold" Steve Austin's beer truck shower.
Those who live in the past get stuck there.
Cody Rhodes
Just like with Kenny Omega last week, I'm not saying Cody Rhodes is completely and utterly useless. I'm not even saying he has nothing between his ears. I believe he knows exactly what he's doing; it's just that he's not very honest about things. He's also a reckless idiot, to say the least.
When Cody was in the WWE, I was a fan of his. Stardust wasn't the greatest gimmick in the world, but it worked with Goldust, and Cody put his all into it. So much so, I genuinely believed he was having somewhat of a good time playing the role alongside his brother. Once Cody distanced himself from the company, he made an effort to inform everyone that he hated the gimmick.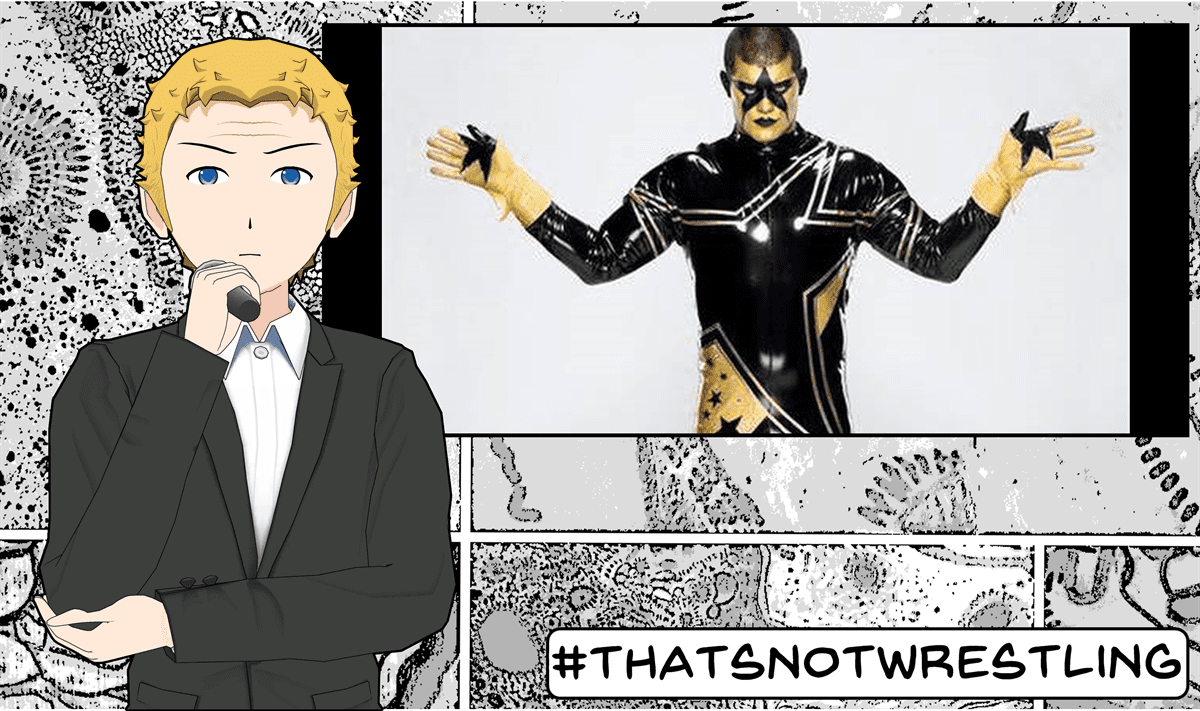 I cheered him on as he traveled around and checked out different promotions, having his style clash artistically with people he hadn't encountered while working for Vince McMahon. This was a great start to the young man's post-WWE career. However, you can't just do a few indie shows and wrestle with Nick Aldis for a summer and act like you've been working the territories for 20-plus years, c'mon.
I was cautious of Cody in AEW about five minutes in. A serious, sport-based product has been promised. They also assured us that they were here to focus on great wrestling and not just throwing stones at WWE. One of the first things Cody did in AEW was smashing a throne with a sledgehammer. Subtle.
He knows what he could have helped build here, and it was thrown away to play silly buggers for some quick yuks, cheap pops, and childish shots at WWE. Oh, and let's not forget the chance to get his Mrs. on television too. I'd crossed my fingers that her auditioning on AEW would land her a full-time job on a reality show or something; no joy there as of yet. She is currently pregnant and off the TV, so I'll take that as a temporary win.
I said last week how AEW stands next to Impact/TNA and immediately looks more professional. Cody knows full well that this works with him standing beside the majority of the AEW roster too. He does look like he's worked the territories for 20-plus years in comparison.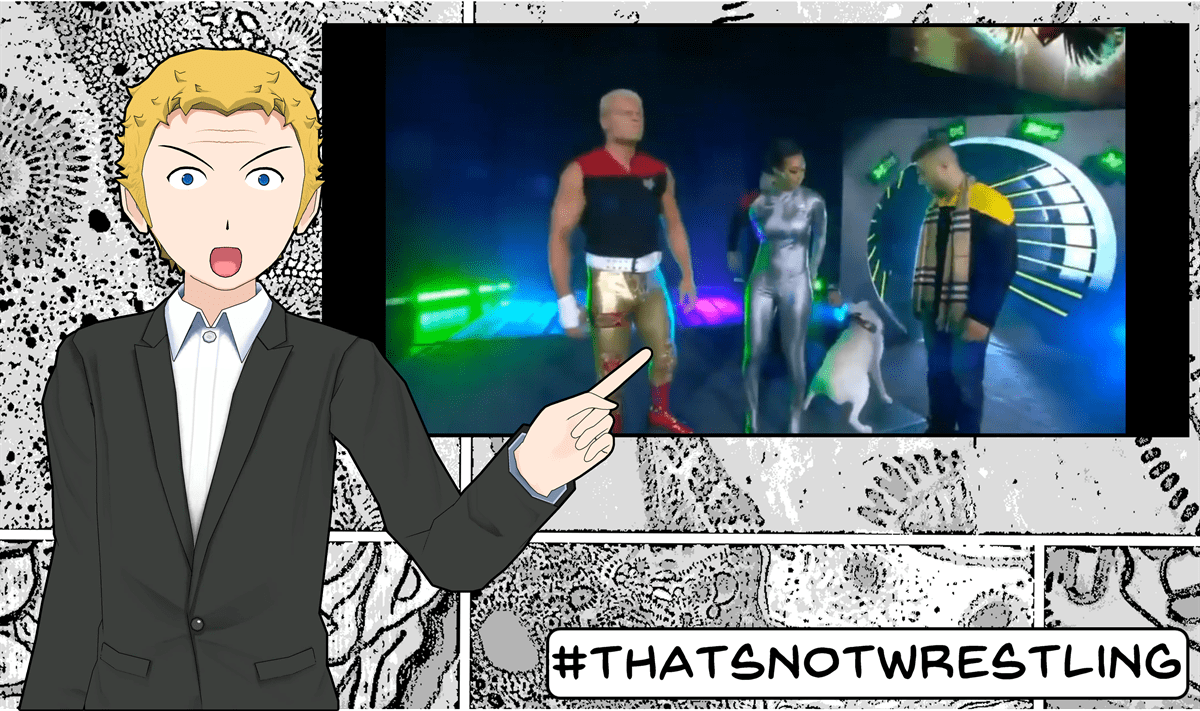 During the early months of the company, Cody's dog was dragged out into the arena and scared close to death with fireworks and screaming people. What did he think was going to happen? He then took that stupid unguarded chair shot. This was a dumb move both for his own scrambled brain and setting the bar for the rest of the impressionable, spot-light craving roster. Reckless.
As well as making sure he's liked at all times by reminding you of his father, Dusty Rhodes, Cody tries to present himself as a traditionalist to get the crowd behind him and invested. That would be fine, but he'll say the heel-face dynamic is a thing of the past and start eye/back-raking and whipping someone with his belt. This is often done in front of the redundant referees they have in AEW. But that's a story for another day.
I thought it was a nice touch that Cody played on his dad's nickname and called himself "The American Nightmare" when he left WWE. It was painfully evident that it was also meant to inflate his credibility in the process, and that he hadn't liked how WWE didn't let him be more of his own man.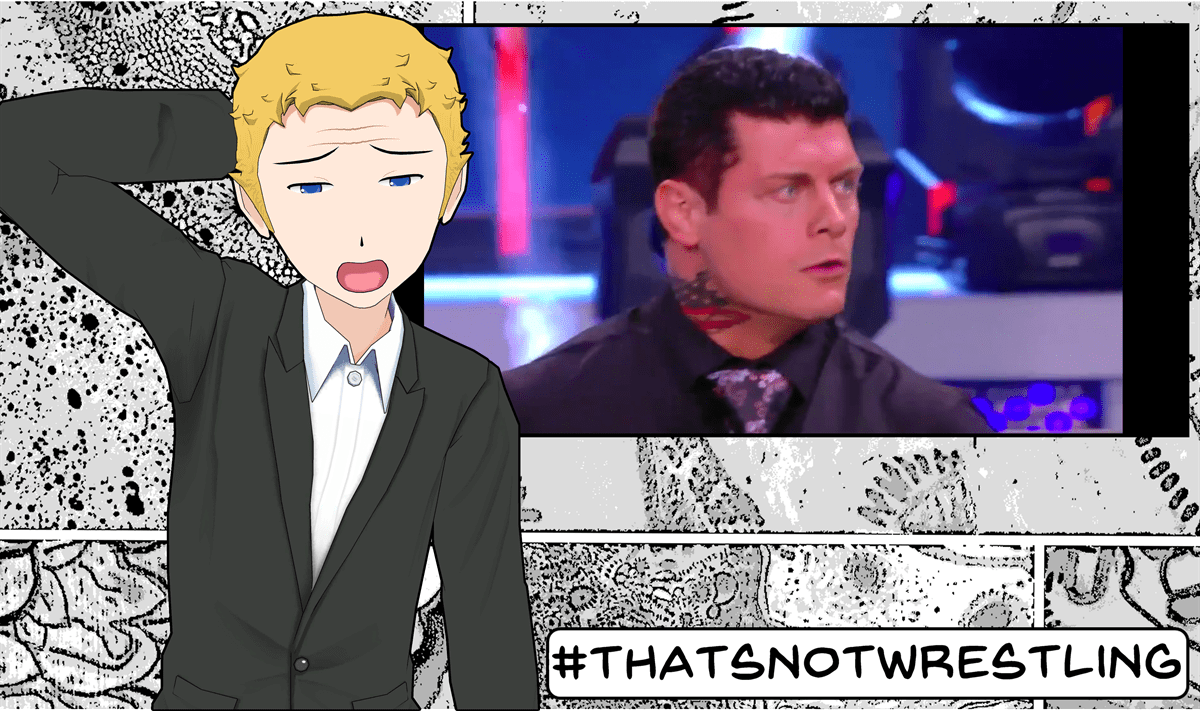 However, this last week on Dynamite, Cody announced that he's going to use "The American Dream" name for his upcoming Double or Nothing battle against Anthony Ogogo. I'm confident that once people accept him using it "this one time," in the name of patriotism, it'll give him a free pass to keep it. And with the recent freedom to use his second name, he'll finally be "The American Dream" Cody Rhodes.
For clarity, he's obviously free to use the name, assuming there are no copyright issues and such. I could just do without the smoke and mirrors, the contradictions and inconsistencies. When he's not having a 20-30 minute "Cody Classic" match or putting himself over and sniffing his own farts in a firey promo, Cody slithers up the ladder of entertainment and gets on any TV show he can. And please, before you do, don't kid yourself. He's putting himself out there first and foremost, not the promotion. They're both social climbers in that household. Couldn't he have just gotten a podcast if he wanted a platform to talk about himself? He could have spent hours saying how he and Brandi try to hide their Triple H and Stephanie McMahon cosplay costumes.
This is Wrestling!
I've raved about him before, but it's nice to see that Maxwell Jacob Friedman appears to be back on form. He knows how to rub people the wrong way, and he's bloody brilliant at it. This week on AEW Dynamite, he expressed his opinions on the quality of the local ring-rats Tully Blanchard had picked out for him.
MJF is excellent on the microphone and is a solid worker in the ring. He's been a student of the game for a long time, and he knows how to play it in most scenarios. He's one of very few who can handle people disliking him. He knows the value of staying in character, even when not on television.
He recently spoke in an interview with Yahoo! Sports and said:
"When I watch professional wrestling on AEW Dynamite, I cringe, I want to puke in my mouth a little bit, because I see these guys and they are murdering themselves. They are jumping from the top rope to the floor, they are doing the loopy loops, the twisty turns, the flippity do-das, and they are killing themselves. Some of these people who are younger than me, and I'm already wildly young, might not be able to walk anymore when they get to my age."
He's obviously a heel, but he's also right. If he keeps reminding the love-blind AEW fans of this legitimate concern while acting like he's better than them, it's going to generate more and more heat. Good stuff. AEW diehards took the bait again after MJF spoke to SteelChair Magazine:
"Me and my boys were willing to go wherever the money's at, it's that simple. Don't get me wrong, AEW runs deep in me, I don't want to leave, but I am a businessman at the end of the day, and I can't help myself if somebody's got an offer for me, I'm going to listen to it."
That's how you do it! Stay in character, big lad. Trigger those tantrums and get those butts in seats when AEW starts touring again soon!
That does it for this week. Thanks for stopping by. I'll see you again Monday for #AnotherWeekOfWrestling and next Thursday for more #ThatsNotWrestling!
Background Artwork Designed by Rachael Hope.
NEXT ISSUE:
Thanks for reading! Feel free to get in touch on Twitter, and/or check out everything else I write about over on: