Disney In The Dumps: Weekly Recap November 13
You know, the thing, man, let's jump in!
Job Cuts & Hiring Freezes
According to Variety, Disney will begin to limit company travel, establish a hiring freeze, and enact job cuts as part of a new plan. CEO Bob Chapek wrote:
"I am fully aware this will be a difficult process for many of you and your teams. We are going to have to make tough and uncomfortable decisions. But that is just what leadership requires, and I thank you in advance for stepping up during this important time. Our company has weathered many challenges during our 100-year history, and I have no doubt we will achieve our goals and create a more nimble company better suited to the environment of tomorrow."
This plan is a result of poor quarterly earnings, showing the stock at its lowest price in more than two years!
Mold Infestation At Walt Disney World Resort
Voyage of the Little Mermaid at Hollywood Studios has been closed since 2020 due to the pandemic, but now, reports are saying it will be permanently closed due to mold! Furthermore, Disney has removed all mention of this show from their official website. The show first opened in 1992 and was in need of remodeling.
A video on Tik Tok talks about how the fin used in Fantasmic used to belong to Ariel in The Voyage of the Little Mermaid. This seems to be another indication that the show is terminated. The comments provide more insight. Check them out below!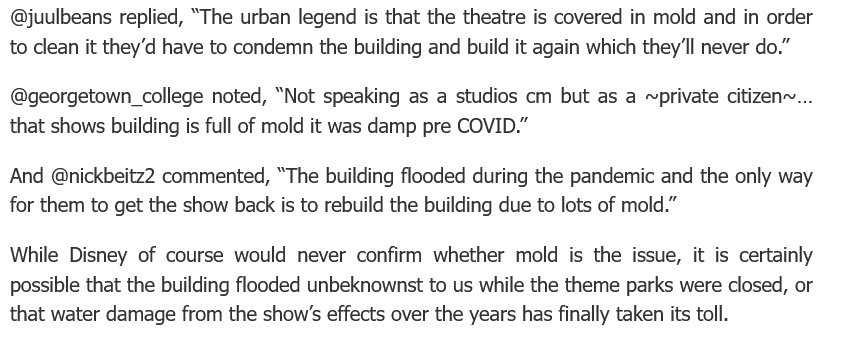 Broadway Lion King Interpreter Fired For Being White
Keith Wann, a sign language interpreter for longtime running The Lion King on Broadway, was apparently fired for being white. He has worked on Broadway for a decade. Wann filed a lawsuit against the Theater Development Fund and Lisa Carling, the director. Carling reportedly told Wann and other performers to "back out" of the show so they could be replaced by black ASL interpreters. Wann believes this is discrimination and skin color should not matter.
What Else Happened This Past Week?
Watch Jeremy give his thoughts on Disney Star Wars below!
Missed the "Disney In The Dumps" segments? Click here to read the previous ones!