Final Ant-Man and the Wasp: Quantumania Trailer and Poster Released
Phase 5 kicks off with a bang as Marvel has released a final trailer and a new poster for Ant-Man and the Wasp: Quantumania. The sequel to Ant-Man and Ant-Man and the Wasp – and pretty much everything else in the MCU because that's how these things go – Quantumania finds Scott Lang and Hope Van Dyne traveling to the Quantum Realm with Hope's parents, Hank Pym and Janet Van Dyne, and Scott's daughter Cassie. Once in the fantastical dimension, they'll run afoul of Kang the Conqueror, Marvel's next big bad. Paul Rudd and Evangeline Lily return as Scott and Hope, with Michael Douglas and Michelle Pfeiffer also back as Hank and Janet. Kathryn Newton makes her Marvel debut as Cassie, while Jonathan Majors jumps from Disney+ as Kang the Conqueror (and probably hopes he can get a second chance to make a first impression). Peyton Reed directs the film, as he did the previous two Ant-Man movies. Ant-Man and the Wasp: Quantumania will arrive in theaters on February 17, 2023, and you can see the trailer and the poster below: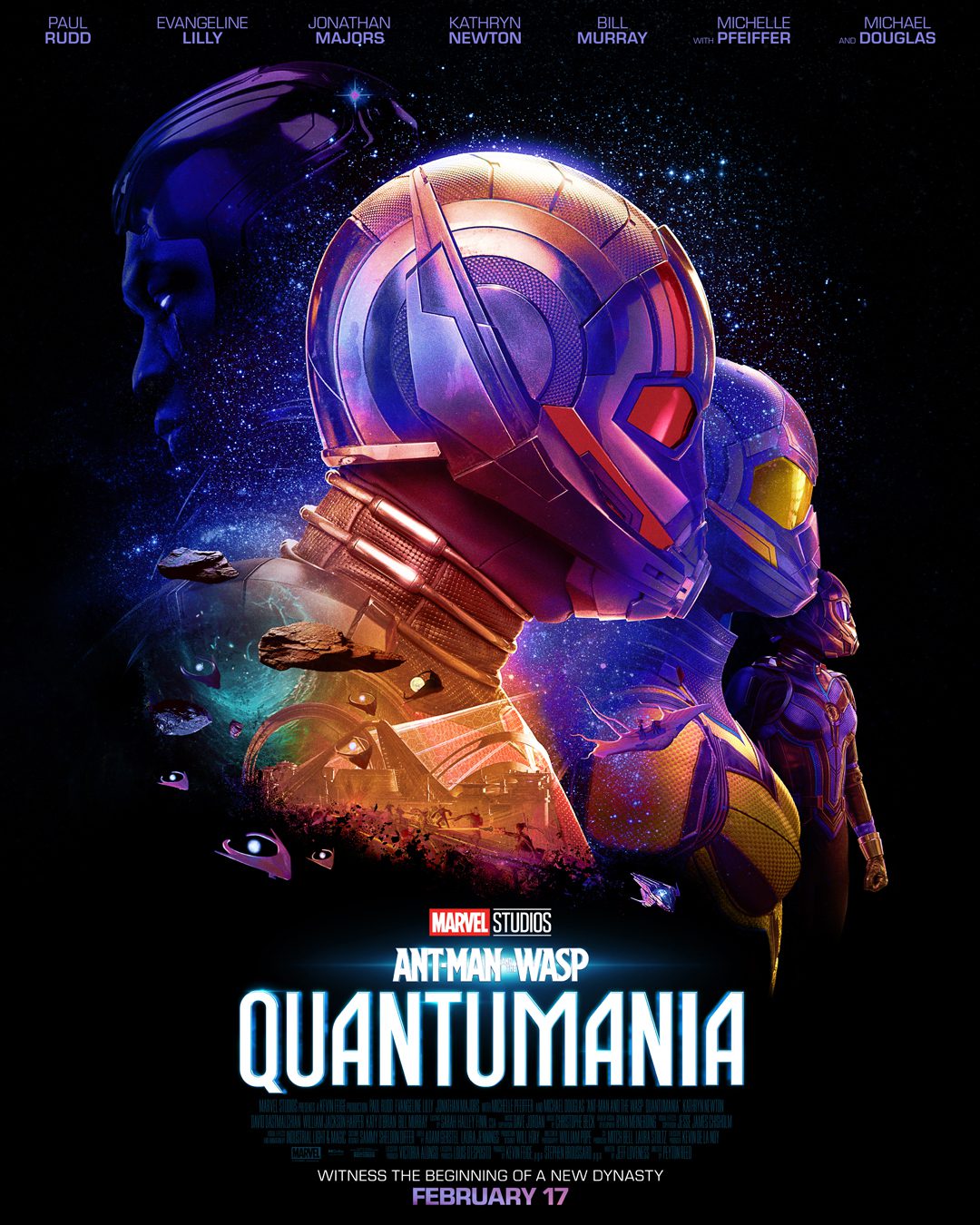 I know we've all been down on Marvel lately – with plenty of good reasons – but Ant-Man and the Wasp: Quantumania looks great to me. I love this trailer as much as I loved the first one, and there are even more hints at what's coming this time. I'm glad we got a peek at Kang being outright evil; after that embarrassing nonsense on Loki, they need to establish Kang as a real threat and a malevolent villain who can follow Thanos. In the first trailer, Kang seemed almost benign, like maybe he wouldn't even be the main antagonist but an x-factor who'd become more important down the line. But now we're seeing him let loose, and I'm excited to see the extent of what he puts Scott and Hope through in the movie.
Seeing Cassie in jail has got to hit Scott hard; she's following him down the path he'd hoped to keep her from, and he's got to be wondering if it's because he was gone for such a big part of her childhood. Kang appears to be offering Scott the opportunity to undo that, to be the father to Cassie that Thanos prevented him from being. That's a great set-up, an understandable dilemma that casts Scott in a human light, which is what the best Marvel stories do. How does a dad turn that down? Of course, we know it's a big mistake, but put in these terms, we understand why Scott will make a deal with the devil, and that's the key to identifying with him. There are plenty of cool visuals in the trailer, but the human factor excites me the most.
And holy hell, those visuals look amazing! I love the look of the Quantum Realm, with the bright colors, fantastical creatures and imagery that could be a vision of heaven or hell – much like the bargain Scott almost certainly strikes with Kang. This is so much bigger than Ant-Man's previous films, and frankly, it looks bigger than most of the other Marvel movies. It sets the stage for some epic adventures down the line because The Kang Dynasty will have to find a way to outdo this. And was that MODOK? It looked a lot like MODOK. This seems like an odd movie in which to introduce him, but I'll take it. I wonder if that means AIM will come back; I'd like that, especially if they have those great yellow suits for the rank-and-file agents. Phase 4 looms large right now, and not in a good way, but I can't help getting excited for Quantumania.