That's Not Wrestling #16: Moxley in a Wrestling Match!?!
Jon Moxley, CM Punk, Kenny Omega, AEW Rampage, Dynamite, and more!
Welcome, and thanks for joining me at Geeks+Gamers! This week, I discuss Jon Moxley, CM Punk, Kenny Omega, AEW Rampage, Dynamite, and more!
A couple of years ago, the planets looked to be aligning for a fantastic shift in the realm of pro-wrestling. Talk of a smashing new promotion with a television deal and "serious, sport-based wrestling" was on everyone's lips. Finally, the modern wrestling fan's life of "eating shit and learning to love the taste" was over. Or was it? Meet me here every Thursday to pick apart the actions of the daft, the dangerous, and the desperate in pro-wrestling… well, in AEW.
<Last Week's That's Not Wrestling!
Just to reiterate to anyone (re)joining the wrestling party, I follow and comment on wrestling as a whole; there's no predetermination to which company I cheer or which I boo. If someone does something good, awesome; if someone makes a mess, I'll draw attention to that. AEW does not automatically get a free pass to serve up bullshit just because it isn't WWE or because of VINCE-MAN-BAD!
Tiny Tony Khan has (access to) more money than sense; he's hardly the scrappy underdog fighting the corporate giant. Speak to some Fulham FC fans and see what happened when Mr. McKhan wanted a soccer team for his toy box.
The new superstar signing is a big step in the right direction, but it doesn't magically erase two long year's worth of embarrassment, cosplaying, and unnecessary injuries.
Punk the Pilot
Now that CM Punk has finally landed in AEW, it's time to see what his presence will bring with him. It may be a little too soon to call him "The Needle-Mover" at this point, as we're yet to see a rating that would dwarf any previous records. Sure, his debut saw AEW's best number to date, but his first Dynamite appearance was the third-best rating on that week's show; we haven't set the world on fire just yet.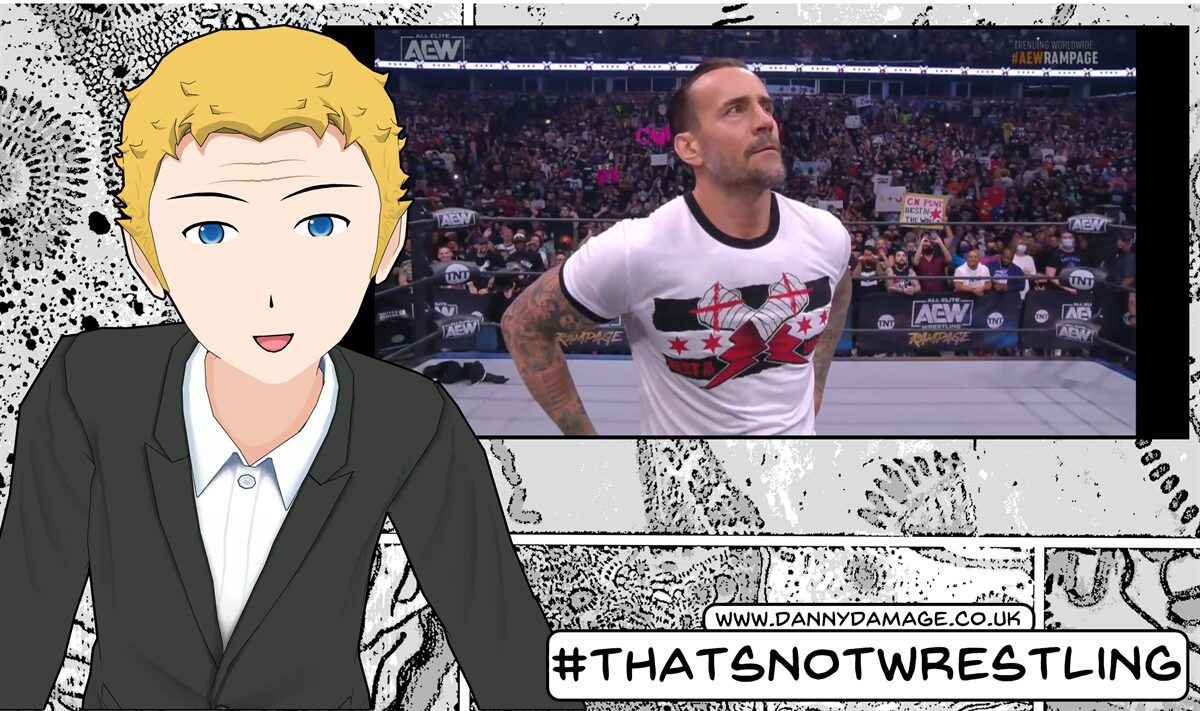 WWE Hall of Famer Booker T questioned Punk's debut promo on Rampage. He said that Punk shouldn't be focusing on the past and bad-mouthing where he came from. As you'd expect from some of the AEW Die-Hards, Booker has gotten a load of heat online for this. Booker even followed up the statement by saying that he didn't think it was bad, just that it could have been better.
Now, while I agree that CM Punk had a rough ride working for Vince McMahon and that he's certainly entitled to have some beef, part of me agrees with Booker's initial point. I'm not saying that it should be forbidden to mention "the other place," but when so many on the AEW roster (more on Jon Moxley later) have taken so many shots at WWE in the last two years, it doesn't really have the same impact or bring anything new. I'm all in favor of focusing on the here and now with the option to pluck a bit of wisdom from the past, so let's look ahead.
This isn't the instant explosion of awesomeness that every impatient Ian had hoped for, but fear not – this fire burns; it's just more of a slow-building inferno in the making. Fill the tank, wipe the seat down, give him the keys, and let CM Punk fly this puppy to where it needs to go!
Focusing on Darby.
Once CM Punk had settled in with the crowd and gotten comfortably cross-legged in the middle of the ring, he did, in fact, talk briefly about the future. Darby Allin and Sting were conveniently watching the show from the rafters above. This made it even easier for Punk to accept Allin's indirect challenge from a few weeks ago.
The pair will meet at All Out on September 5th. Here's a lovely promo poster for the event. Don't worry; I'm not going to mention that 10 out of the 17 individuals on there are known from working elsewhere… oops.
Warrented jokes aside, it's fortunate that Punk's area of effect isn't limited to the angle or match he's currently fighting. On Rampage, he drew a crowd into the building, told some stories, made a connection, and then he left each of the fans with an ice cream bar on his way out.
Everyone else on the show had the time it took the crowd to finish their literal (and figurative) satisfying treats to catch their attention and make an impression. Punk's appearance on Dynamite wasn't quite as eventful. He recapped what he was doing, told his Mrs. he loved her, and headed off. I suspect we're going to see a lot more of him in the weeks ahead.
Kenny Omega's Sunday Best
Following the huge ovation that CM Punk got from the Chicago crowd at Rampage, Kenny Omega had a suit on and said very little during his segment. There's a chance that Omega was caught by the camera as he'd just got back from a court hearing. Then again, there's a greater chance someone gave him the idea.
Similar to the time Cartman wore a wool sweater and thought it instantly made him nice, Omega borrowed a suit and hoped it made him look like a champion… or, at least, like a professional wrestler. Don Callis did the majority of the talking, the promo didn't wander too far from the believable, and it didn't outstay its welcome. Any time this format is deviated from is another chance to reveal that Omega isn't all that he's hyped up to be.
The arrival of CM Punk was teased for a while and much anticipated. My main event of this week's issue of That's Not Wrestling was, in my opinion, the biggest shock on Rampage last week. I don't think anyone expected this to happen…
Jon Moxley Had a F*¢k!n Wrestling Match!
That's right! It usually takes the sound of the starting bell for Jon Moxley to decide that it's time to go to the floor, grab some weapons, and brawl out in the crowd. For "some" reason on last week's AEW Rampage, however, that didn't happen.
Much to my surprise, the referee rang the bell, and the two men emulated a relatively convincing contest. Seriously, I'm not kidding. They didn't even leave the ring once. I re-watched it to double-check! Jon Moxley, that sly little bastard, had me well and truly fooled. He also had me full of regret for cheering his "freedom" from WWE once it became apparent that all he wanted to do in AEW was participate in street fights and deathmatches.
Jon Moxley wrestled Danny Garcia in the main event of Rampage. After Moxley's initial onslaught, an aggressive Garcia got lucky and took advantage of Moxley momentarily. The rookie would bite off more than he could chew when he tried to make Moxley submit. Garcia's hold was reversed, and he found himself in a bulldog-choke hold with no option but to tap out himself.
No weapons, no ignoring the rules, no series of 9999 near-falls; not even a signature or finishing move were used because they weren't needed. The coherence was genuinely perplexing.
Seeing Jon Moxley used in WWE primarily for comedic stupidity was a sad affair, especially when you could see there was a hell of a lot more to him. All this time, I assumed Moxley had some sort of dissociative personality issue where, once he stopped "being" Dean Ambrose, all knowledge previously held and gained while in that persona was wiped. Ambrose was always more technically sound than he was given credit for, and he was the most charismatic member of The Shield.
Let's hope this is a new leaf turned for Moxley.
Craving That Pop
Others backstage will have surely heard the reactions that CM Punk receives and will have wanted to know how they, too, can get to that point. Thankfully for them, and for us, they'll get in line to ask Punk for pointers and not The Young Bucks, Kenny Omega, or Cody Rhodes. Hell, I'd be surprised if any of the Extra Value Performers were to directly ask Punk for advice, but I wouldn't rule out them lurking around a corner and listening in on a free lesson.
CM Daddy's home! Be on your best behavior!
That does it for this week. Thanks for stopping by. If you like videos about wrestling, help yourself to  PUTTING IT BLUNTLY: AEW Double or Nothing NXT Takeover 36, & WWE SummerSlam 2021 reviews on my YouTube channel. I'll be back on Monday for Another Week of Wrestling, and then next Friday for more #ThatsNotWrestling!
Background Artwork Designed by Rachael Hope.
NEXT ISSUE:
Thanks for reading! Feel free to get in touch on Twitter, subscribe to my YouTube channel, and/or check out everything else I write about over on: