That's Not Wrestling #17: Free The Revival (again)
FTR, AEW TV, All In, and more!
Welcome, and thanks for joining me at Geeks + Gamers! This week, I discuss FTR, AEW TV, All In, and more!
A couple of years ago, the planets looked to be aligning for a fantastic shift in the realm of pro-wrestling. Talk of a smashing new promotion with a television deal and "serious, sport-based wrestling" was on everyone's lips. Finally, the modern wrestling fan's life of "eating shit and learning to love the taste" was over. Or was it? Meet me here every Thursday to pick apart the actions of the daft, the dangerous, and the desperate in pro-wrestling… well, in AEW.
<Last Week's That's Not Wrestling!
Whether you've been following AEW for the last two years or it's just caught your attention recently, there's a good chance you've spotted Dash Wilder (Cash Wheeler) and Scott Dawson (Dax Harwood), AKA FTR, on your screen. Like quite a few of the wrestlers on the roster, it's my opinion that FTR has been just as mismanaged in AEW as in WWE.
It's a sad truth for me to admit. But you know me by now, I'll just say what I see! I consider FTR the greatest tag team in the world today, so the fire in my belly that I've brought with me is in the name of improvement! I know they signed a multi-year deal just last year, so they're probably not going to get their freedom any time soon. The most we can hope for is that AEW and its tag division stop being so sloppy and let some Top Guys do what they do best.
I've also got a treat for your ears!
Click play, turn it up, and continue scrolling down.
The Revival of Tag Team Wrestling
"The American Dream" Dusty Rhodes saw what great chemistry Dash Wilder and Scott Dawson had and instantly put them together as The Mechanics. They made their on-screen debut on July 17, 2014, and dominated the NXT tag division.
It wasn't just their attention to detail in the ring that impressed the wrestling fans, nor was it just the regular wrestling fans that paid attention. Until Dash and Dawson arrived, resident underwear model Randy Orton had lone-ridden "Ravishing" Rick Rude's gimmick of turning the women in the crowd into uncontrollable messes live on TV. The Revival inadvertently came into possession of this torch and began turning heads on all fronts. These two manly, Southern tough guys stood out among the majority of the industry that was obsessed with flips and looking pretty, and even your Mrs. noticed too!
The Revival got over in a big way while in NXT, and it was truly sad to see them leave. A pattern had begun to emerge around talent that was called "up" to the main roster, and not a good one. Leaving the WWE Network library with fantastic matches against The Vaudevillians, American Alpha, DIY, and others, The Revival said their goodbyes, and the path from here became a downward slope.
Misused in WWE
They moved up to the main roster on April 3, 2017, on Raw, defeating The New Day. From there, they'd feature heavily in the comedic antics of said New Day, The Lucha House Party, and The B-Team. They would eventually defeat Bobby Roode and Chad Gable for the Raw tag titles in February 2018, almost a year after leaving NXT. Sadly, they'd drop the belts to Curt Hawkins and Zack Ryder after just 55 days. They would regain them in May, but only for 49 days.
The next time they did anything of note was when they briefly formed a cool little stable with Randy Orton… as they were leaving. Although they did, in fact, hold the Smackdown tag team titles for 54 days, they were just henchmen essentially. It was a sheer drop off a cliff after Orton was drafted away from them to Raw. Stupid costumes were planned, a back shaving skit with Drunky and Jay Uso occurred; they were nothing but fodder to laugh AT.
Saying that, however, they were the first (and possibly only at this time) tag team to have held the NXT, Raw, and Smackdown tag titles. So it's not that there was no belief in them from WWE, but I suspect Vince McMahon needs to play his stupid games. Before he embraces you completely, he needs to trust you. Well, he needs to humiliate you on film, so the footage is at his disposal whenever he needs to pull your leash a little tighter.
Unhappy with almost everything to do with their employment at WWE, the pair started wearing trunks that said "FTR." A mentality the WWE held (according to The Revival's social media) that meant "fuck The Revival." Refusing any and all offers sent their way to stick around, Wilder and Dawson were granted their release by WWE in April 2020.
Freedom for FTR…Apparently
The two would change their names to Cash Wheeler and Dax Harwood individually and FTR as a unit. "Fear the revolt," "fuck the rest," there have been a few suggestions on what the name may actually mean. I'm pretty sure it's never been confirmed, and it's just an orphan acronym. Anyway, FTR made its AEW debut on the May 27, 2020, episode of Dynamite.
Despite AEW's habit of presenting lackluster debuts 90% of the time, everyone was excited, myself included. They aligned themselves with Tully Blanchard and won the AEW Tagteam Championships on September 5, 2020, from Kenny Omega and Adam Page at All Out. Things looked promising now that they'd escaped Vince's' land of politicking, petty games, and insecurity…
Evidently, things aren't much different in AEW than in WWE. It seems clear to me that AEW plays a game of "It's not what you know; it's who you know," too. After just 63 days with the gold, FTR lost the belts to The Hardy Soyz The Young Bucks on November 7, 2020, at Full Gear.
Right around the time you'd expect a rematch and/or feud to begin between the two alleged greatest tag teams in the world, it didn't happen. FTR would be conveniently whisked away by creative forces, and the Bucks would still hold the belts as I'm writing this in September 2021.
It was at this point I expected some "FFTR" trunks to soon make an appearance.
Same Old Shit in Accident & Emergency Wrestling
FTR and Tully vanished from the tag team title picture once they joined MJF, Wardlow, and Shawn Spears to form The Pinnacle. In fact, they just about avoided two-on-two tag matches for most of this period. The whole purpose of the faction was to assist MJF in his long-winded feud with Chris Jericho and The Inner Circle. FTR got beaten up in the back, and their leader's head was flushed in a toilet by Jericho. They even got the Stadium Stampede's stench all over them too.
To make matters worse, Jericho was going through a "What if Chris Jericho was the main star during the Attitude Era" phase and rehashing loads of old WWE skits, spots, and angles. One of these wastes of time was Jericho's bubbly-spraying jeep, where FTR had to jump/roll around and sell being "shot" with Jericho's lack of imagination in liquid form. A fucking embarrassment on several levels.

Well, things somehow managed to get shittier after this. Cash Wheeler was injured "in a freak accident" thanks to a lack of professionalism in making a ring safe. One of the turnbuckle hooks hadn't been checked, and it cut a deep gash in Wheeler's arm after light contact. Thank fuck someone wasn't taking a face bump into that corner, or their neck/throat!
Reports claimed that the injury was not career-threatening, but Wheeler mentioned he initially had some concerning motor issues. He took a few weeks off to let it heal up and to prepare for their return to tag team wrestling on television.
The lads finally returned on Dynamite this last week to face Santana and Ortiz in an entertaining but brief match, where FTR would go on to… lose!?! Oh, fucking hell!
What Now for FTR?
With all due respect, all  FTR has done since leaving WWE is air their grievances on Talk is Jericho, win a couple of matches, put The Young Bucks over, and go back to being underused and/or made fun of.
I'm not going to say the WWE is an improvement, but they'd have been better off in NXT, Impact Wrestling, or even the NWA. I understand that the NWA is probably a bit full over there by now, and NXT is a little too close to WWE, but Impact would benefit significantly from their presence. Impact was putting on some great tag matches last year and beyond when The North was on top. There's nothing really for them to lose by changing what they're currently doing.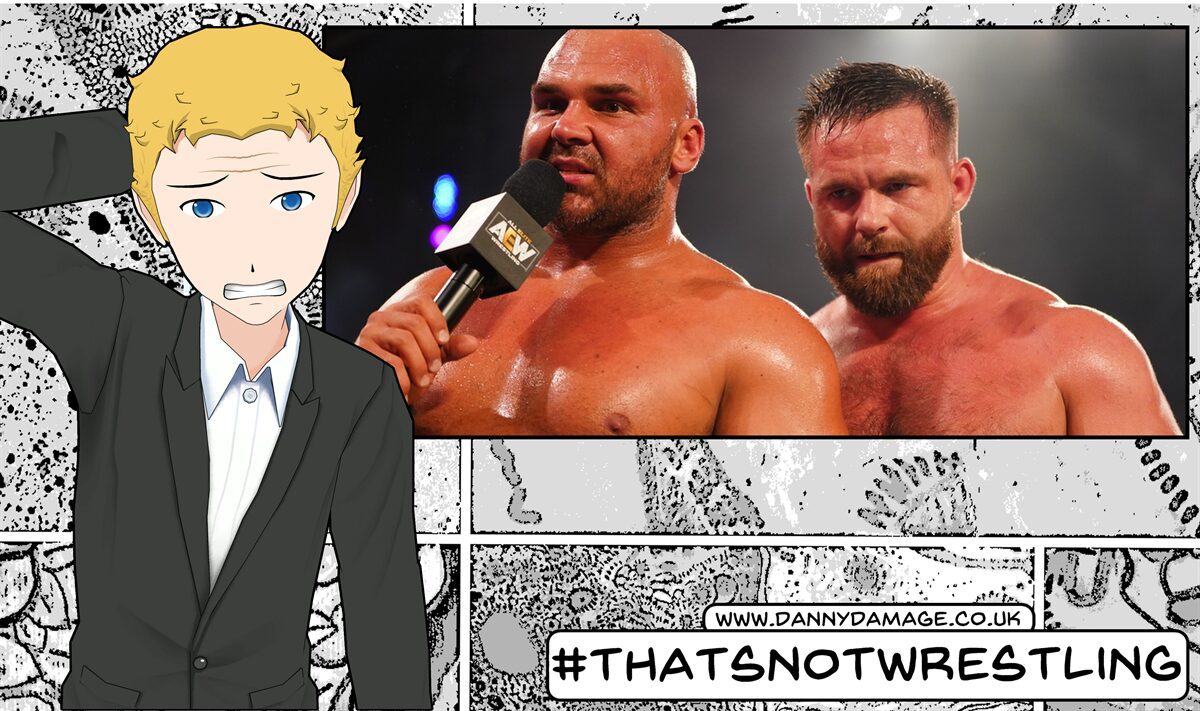 Fingers crossed that CM Punk's arrival and subsequent bar-raising of the main event scene has begun a chain reaction in AEW. As well as the women's division being thirsty for some proper guidance, The Young Bucks' Daycare AEW tag team division needs a good kick up the arse; I'm not the only one that thinks so. The rabid, death-spot-craving die-hard fans in attendance will only react as intensely while the spots are fresh. Since we've all been conditioned by WWE, we expect something to be used at least 300 times before considering it slightly outdated, let alone overdone.
AEW has really sprinted hard to try and catch up with WWE. Already, AEW has four shows a week, four PPVs a year, and a managerial simulator mobile game. The console video game that's on the horizon will be interesting, but that's for another time! Before long, AEW is going to max out their daftness and leave fans looking for something different and believable to sink their teeth into… or they'll just walk away and return to calling wrestling "fake" and/or "silly."
Fortunately, for those that stick around to see if anyone can entertain them while having their disbelief suspended, they're in very great hands with Cash Wheeler and Dax Harwood around!
That does it for this week. Thanks for stopping by. If you like videos about wrestling, help yourself to PUTTING IT BLUNTLY: AEW Double or Nothing NXT Takeover 36, & WWE SummerSlam 2021 reviews on my YouTube channel. Keep your eye on GeeksandGamers.com once AEW All Out has finished for results on Sunday night; I shall also be recording a PUTTING IT BLUNTLY for it.
VACATION NOTICE: Next week, there will be no Another Week of Wrestling (6th Sep), and That's Not Wrestling (10th Sep) – I shall return on Monday the 13th and Friday the 17th.
Background Artwork Designed by Rachael Hope.
NEXT ISSUE: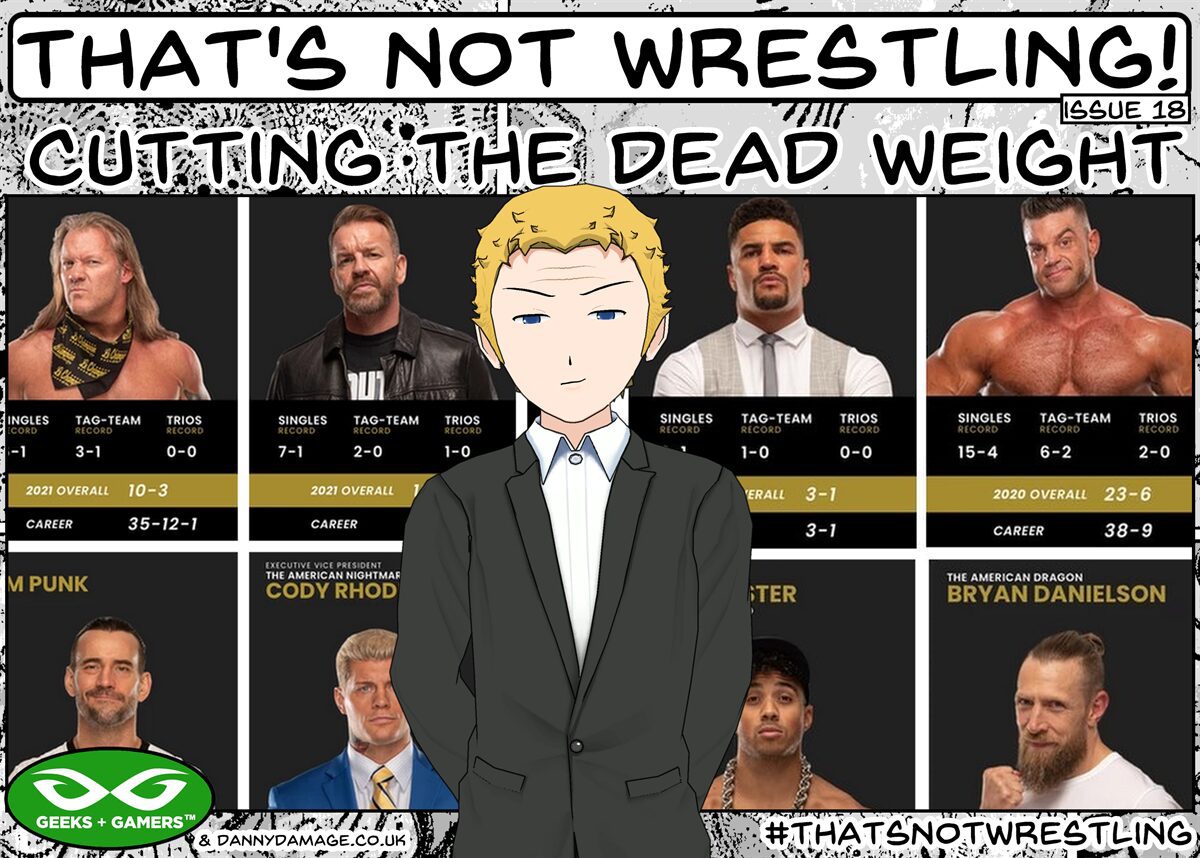 Thanks for reading! Feel free to get in touch on Twitter, subscribe to my YouTube channel, and/or check out everything else I write about over on: