That's Not Wrestling #20: Clean Your Damn Table!
AEW Commentary teams, ExcaliBORE, Jim Ross, CM Punk, Tazz, Chris Jericho, and more!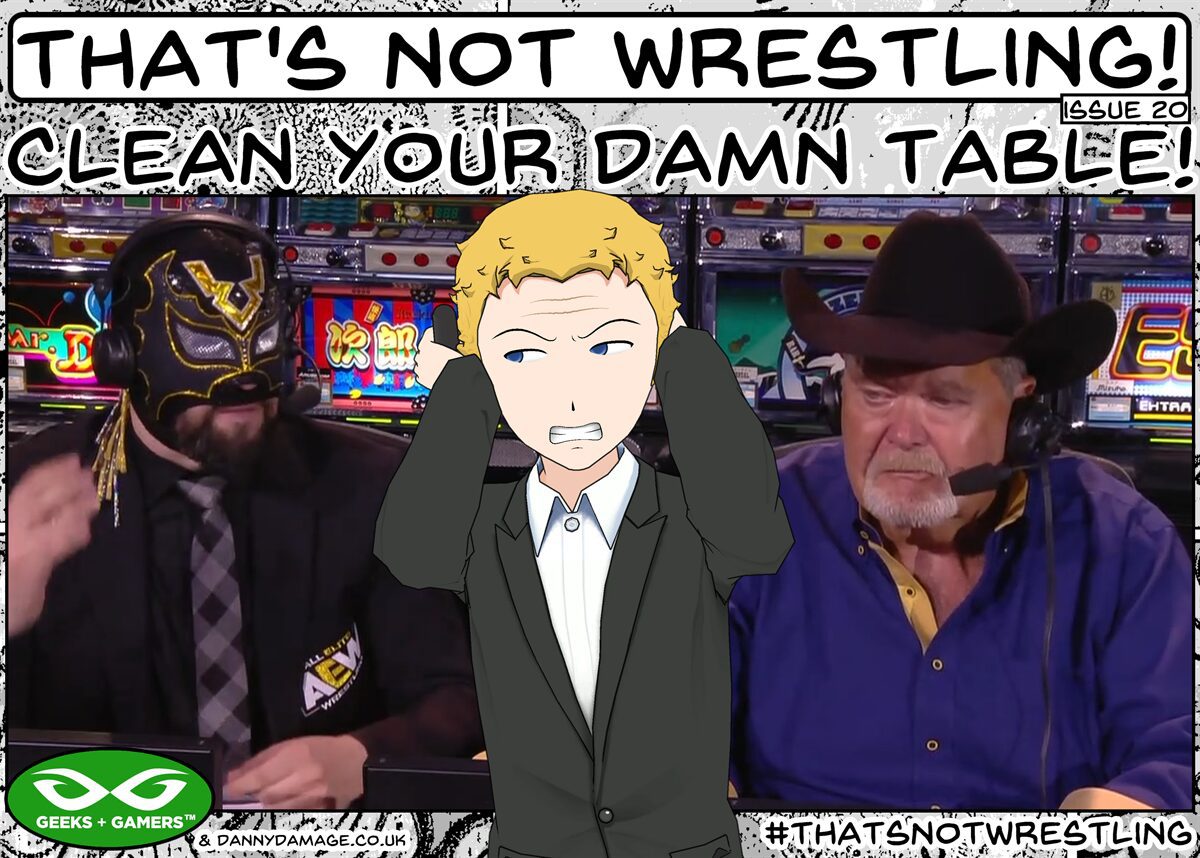 Welcome, and thanks for joining me at Geeks + Gamers! This week, I discuss the AEW Commentary teams, ExcaliBORE, Jim Ross, Tony Schiavone, CM Punk, Tazz, Chris Jericho, Mark Henry, and more!
A couple of years ago, the planets looked to be aligning for a fantastic shift in the realm of pro-wrestling. Talk of a smashing new promotion with a television deal and "serious, sport-based wrestling" was on everyone's lips. Finally, the modern wrestling fan's life of "eating shit and learning to love the taste" was over. Or was it? Meet me here to pick apart the actions of the daft, the dangerous, and the desperate in pro-wrestling… well, in AEW.
<Last Week's That's Not Wrestling!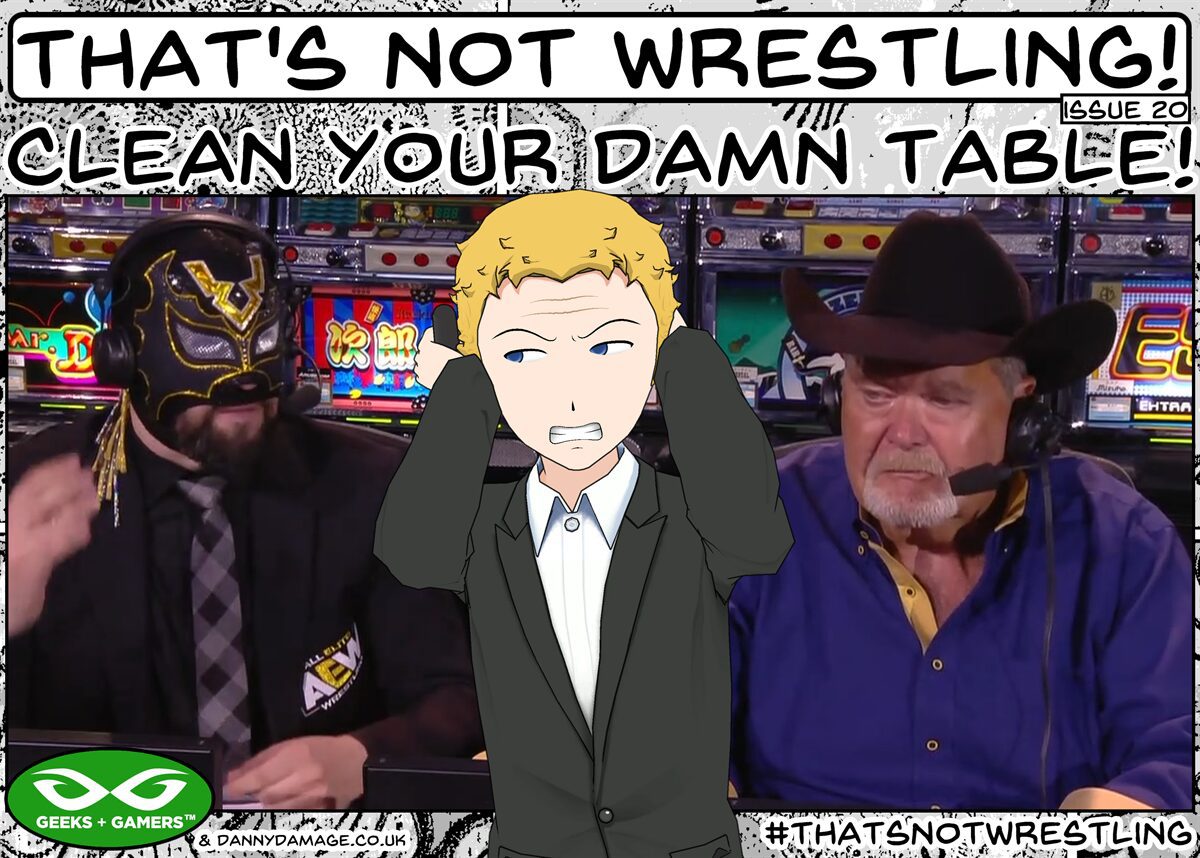 This week brings my final (for the time being at least) issue of That's Not Wrestling. Over these 20 issues, we've looked at some of the biggest stains that Tony Khan and AEW have left on the carpet since a promise was made to change the world… of wrestling.
Things may be picking up slowly after two years, but we're not out of the water yet. WWE looks like an easier opponent to topple, but with the way WWE currently presents itself, AEW needs to worry about looking like they're kicking someone that has something wrong with them. I'm aware that this may be intentional on Vince McMahon's behalf – we all remember that neck brace that magically appeared when he was in court!
Anyway, it's always best to work on your own problems before throwing stones at others with the same flaws… especially when you said you wouldn't be behaving like that, but have done, several times, and then some. So join me one last time as I get my Dr. Peterson on and tell AEW to clean their damn room table!
Excalibore and the Crowded Table
The primary issue I have with the AEW commentary table is the same thing that people used to say about WWE's commentary table; three's a bloody crowd! Sometimes on AEW, there are four or even five people all trying to talk at the same time. Less is more; it's that simple. They've already had a reshuffle since Rampage first launched, but there's still a lot of butts in seats at that desk, and the wrong man has been forced to the front.
Chris Jericho is rather bothersome when he runs in and starts shouting for no reason. But he's, surprisingly, not the worst offender on trial today; there's someone else that is needlessly noisy even more often than The Ayatollah of Cake and Cola.
You just caught a glimpse of the next AEW commentary problem, and it has a few names; Ugly Bob, Excalibore, Excrement, Sock Face, Marc Letzmann, and Excalibur. His mask is to remind everyone that he tried to be a pro-wrestler once. His persistence in wearing his mask in AEW while working with the likes of Jim Ross is to remind everyone that he tried to be a professional pro-wrestling commentator during this portion of his career.
He likes to call everything by names other than what everyone else knows them as, using a foreign variant or an indie name. This is in an effort to sound experienced, educated, informed, and cool, of course. If someone has a named finish, like "Pete's Piledriver," then fair enough, call that. But nobody wants to hear some bell-end shouting the names of basic moves in Japanese, Spanish, or stupid during a televised American wrestling show. You're in the big leagues now, kid; better start acting like it. It's almost like he's a child and his parents were too bothered about being his friend, and they couldn't bring themselves to correct him for 40 years.
If AEW catches anyone channel surfing or checking the promotion out for the first time, the onlooker is instantly excluded from the conversation. They don't understand what's going on due to all the shouting of the secret club-house history, rules, and language. So, although he does a thorough job calling The Hardy Soyz and Kenny Omega's matches exactly how they want them called, Excalibore rarely does any favors for others on the roster, or the promotion itself, really.
Like the whole Extra Value Performer clique, it seems that he's just interested in putting himself and the core group over and not bringing what "expertise" he may have to make the whole show better.
There's another thing he does that gets in the way of everything, although this one may not be his fault. Every time a show opens and the match starts, Excalibore will say, "Before we get too far into the action," and proceed to plug the AEW ticket dates and website, which is fair enough. But the problem with his delivery is that he automatically just steams ahead and right through whatever's happening on the screen, even to the point of shouting ticket information over dual crowd-chants and conversation/smack talk in the ring.
The result is that the ticket information AND whatever's happening on-screen both mush together and cancel each other out, leaving the need to re-summarise with "Check out the website for details" anyway. This is probably a matter of inexperience, or like Michael Cole, has someone in his ear instructing him against his instincts. Still, he does a lot of shouting at inappropriate times aside from this spot; I'm just giving him the benefit of the doubt.
I suggested banishing him to YouTube or just getting rid of him completely, but he's a pet enabler friend of management, and his job seems rather secure. Fortunately, there seems to be a glimmer of hope in the presence of CM Punk. I mean, if Jon Moxley managed to behave like a grown-up long enough to have an actual wrestling match, I'm confident that something can be done with this fickle fuckwit.
However, CM Punk can't do it alone…
A Fountain of Knowledge
Before I get into the other talent within the AEW commentary teams, I've already observed a couple of interesting interactions between CM Punk and The Masked Blunder, Excalibur. Punk remarked a couple of weeks ago that he expected Excalibur to call the armbar in front of them by its Japanese name, and I've heard Punk clear his throat and "hmm" a few times when Excalibur gets too excited and/or waffles too much shite.
It's also evident to me that Excalibur does tend to dial it back a little when Punk's around. This might leave the door open for Excalibur to take advice on board from others he's ignored/missed in the past.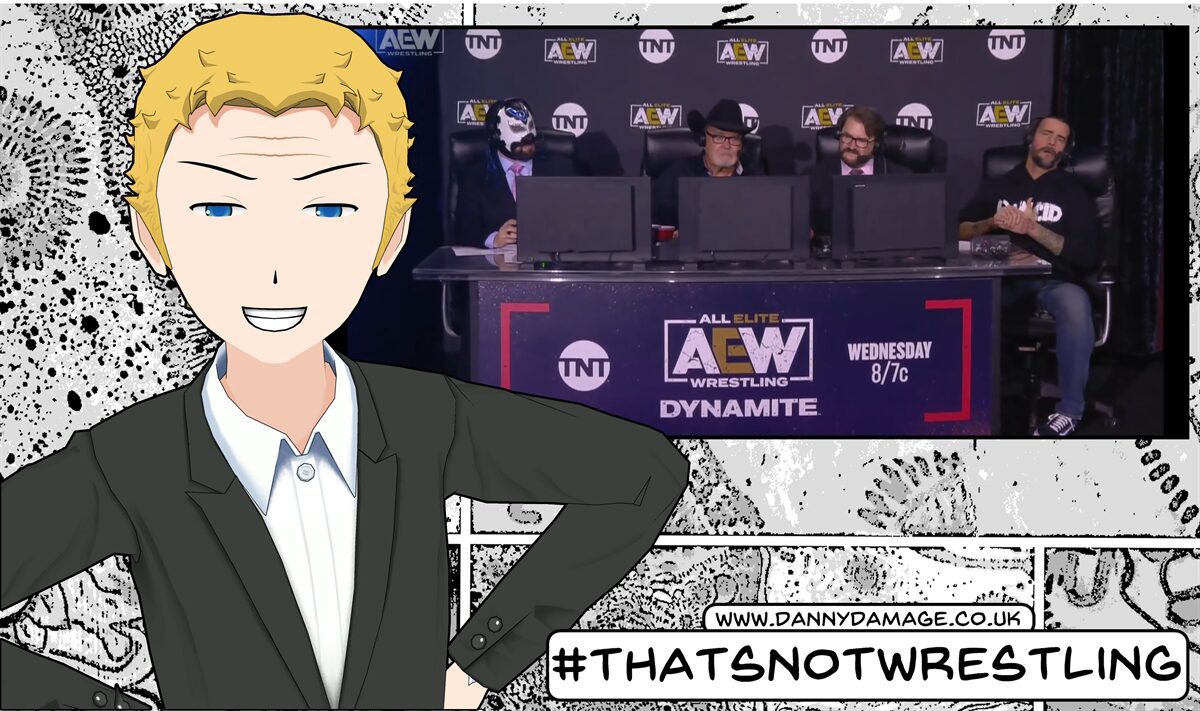 It's not like Excalibur isn't surrounded by tons of wisdom to absorb; someone should check his mask of stupidity and make sure it isn't blocking his ears.
Tony Schiavone and Jim Ross have been around the wrestling business for a long time, and a lot can be learned from them – more so from Jim Ross, of course. After Jim's primary purpose of being the voice of AEW and putting the promotion over, it appears clear to me that he's there to level Excalibur up as much as possible.
Mark Henry was briefly at the AEW commentary table for Rampage before being recently replaced by Ricky Starks. And if that wasn't enough variety in experience and perspectives, Tazz also spends a lot of time with a headset on, as do Paul Wight and Chris Jericho. Sadly, as I mentioned earlier, Jericho has the same idea in his head as Excalibur and has come to believe that shouting should be a default setting.
Despite all this going on around him, he still seems to be the same announcer he was on day 1. This is a huge shame. Jim Ross isn't going to be around forever, and Excalibur is running out of time to break some very bad habits.
The Solution
If Tony Khan's not going to get rid of him, unmask Marc the Chocolate Fireguard instead. Hell, make an angle out of it revolving around having anxiety or something; there's an easy opportunity to get someone some heat for bullying him and ripping his mask off. He can even have some "Look how brave I am talking to people without my blanky" moment later if he'd like.
The funny thing is, if my sources are accurate, he actually looks more like a professional commentator without the mask and not like a pro-wrestler… which is obviously why he wore the mask when he was in the ring. That made sense for him to do, kind of. I'm clearly ignoring the fact that when he "wrestled," he was built like I was when I was 10 years old. Regardless, wearing the mask in his new role doesn't actually mask his weaknesses as it did before.
Secondly, write him a nice long list of all the moves he calls incorrectly and what they're actually called. If he's not speaking the same language (figuratively AND literally in this case) as his co-commentators, then they're not on the same page, and they'll collectively struggle to take the viewer on a journey that makes sense.
Lastly, sit Tazz next to Excalibur every week. Whenever Excalibur starts shouting for no reason, or over-jerking himself/one of his friends, Tazz can give him a little "tsst" on a nerve or pressure point. It won't take him long to train himself out of the behavior with motivation like that.
AEW and Tony Khan look to be putting a lot of faith in Excalibur to lead the AEW commentary team into the future. But as things stand at the moment, that's an utterly ridiculous desire that borders on delusion.
Excalibur could listen to the veterans and sages around him and become one of the most valuable voices in pro-wrestling one day… or he could continue to make people wish there were an alternate audio track on AEW; all because he and his mates are using this platform to boost themselves, and bollocks to everyone else!
With all this in mind, as a viewer/fan, I'm somewhat thankful. At least we're not at absolute rock bottom just yet.
Remember, it could get a lot worse…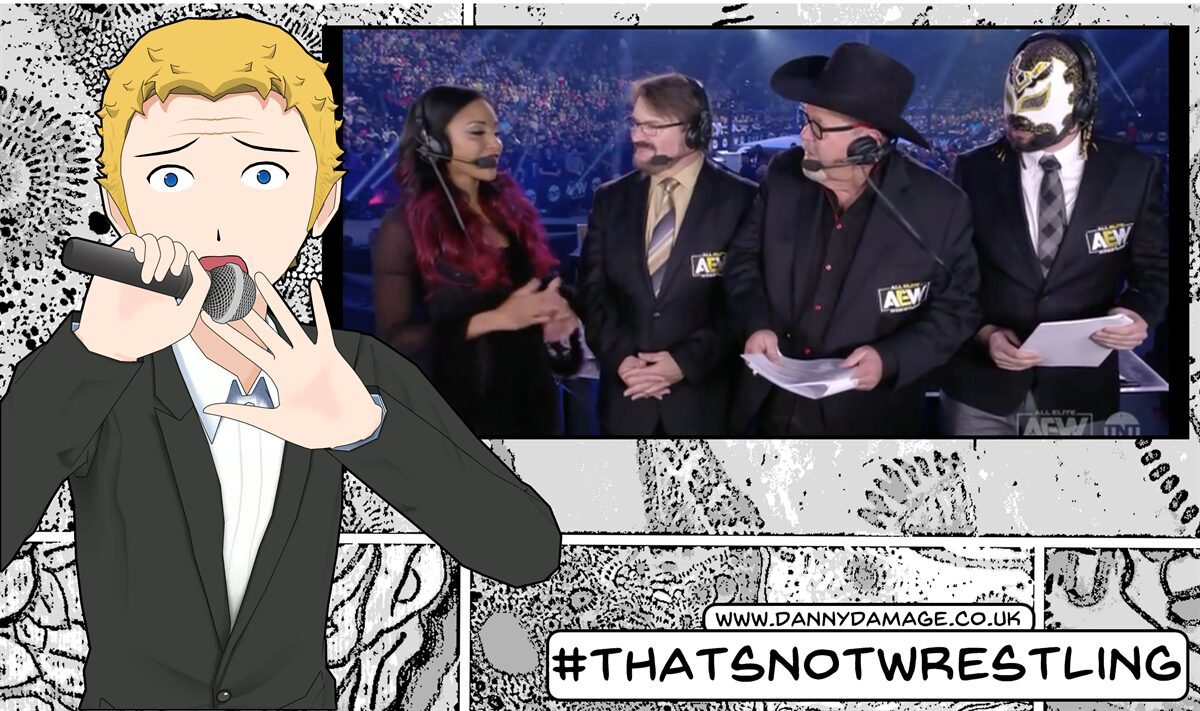 That does it for this week, and for the series! Thanks for stopping by, and I'll hopefully continue to see you on a Monday for #AnotherWeekOfWrestling!
If you like videos talking about wrestling, help yourself to the PUTTING IT BLUNTLY: WWE Extreme Rules 2021, AEW All Out, & NXT Takeover 36, reviews on my YouTube channel.
Alternatively, if you're a glutton for some more reading, I recently wrote PUTTING IT BLUNTLY: How To Play Video Games for my personal site.
Background Artwork Designed by Rachael Hope.
Thanks for reading about the AEW commentary teams! Feel free to get in touch on Twitter, subscribe to my YouTube channel, and/or check out everything else I write about over on: