That's Not Wrestling #4: Redundant Referees and AEW Double or Nothing Preview
AEW Referees, Double or Nothing, The Young Bucks, AEW, and more!
AEW Referees, Double or Nothing, The Young Bucks, AEW, and more! Welcome, and thanks for joining me at Geeks+Gamers!
A couple of years ago, the planets looked to be aligning for a fantastic shift in the realm of pro-wrestling. Talk of a smashing new promotion with a television deal and "serious, sport-based wrestling" was on everyone's lips. Finally, the modern wrestling fan's life of "eating shit and learning to love the taste" was over. Or was it? Meet me here every Thursday to pick apart the actions of the daft, the dangerous, and the desperate in pro-wrestling… well, in AEW anyway.
<Last Week's That's Not Wrestling!
This name situation's getting a bit daft in AEW now. Do we have two new tag teams in the making? Christian Cage and Brian Cage in one corner, taking on Hangman Page and Ethan Page? Or we could screw everyone's head up and have Page and Cage vs. Cage and Page. Maybe they're all going to join up in a stable. Cages & Pages? Page2Cage? 2 Many Ages? Ahem. Moving on.
It seems that the moment I introduce even a trace element of an AEW Dynamite recap to That's Not Wrestling, AEW goes and shows they're not as important as the NBA Playoffs and get bumped to Friday night. Apologies, rich uncle Tony Khan. What I meant was that AEW is warming up the time slot for their future AEW Rampage weekly show. Please don't cease my pocket money!
With that being the case this week (and will be some other weeks too), I've decided to stick to my usual Thursday target for publishing and will instead look forward to the Double or Nothing PPV over the weekend. Well, I'll say, "look ahead;" I'm not really looking forward to most of it. If anything of note occurs on Dynamite this Friday, I'll mention it on my YouTube channel when I make a video for Double of Nothing on Monday.
Let's see what AEW has in store for us with Double or Nothing…
Casino Battle Royale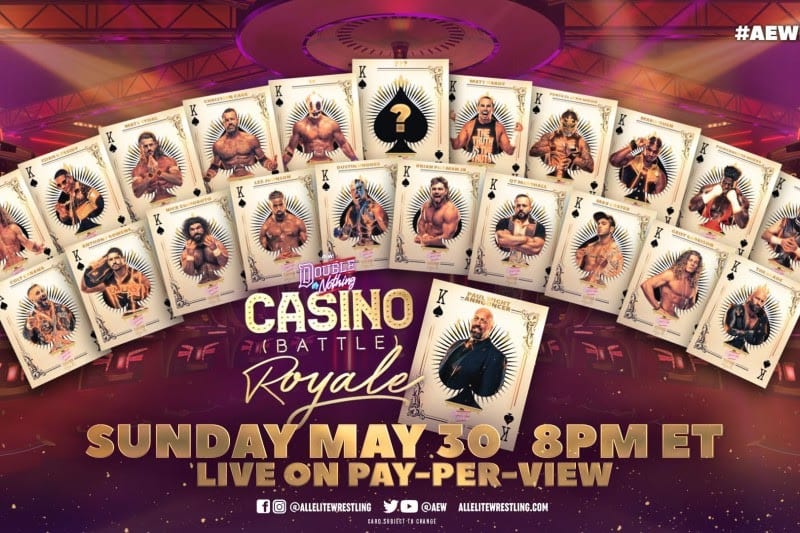 Griff Garrison, Brian Pillman Jr., Pres10 Vance, Stu Grayson, Nick Comoroto, QT Marshall, Lee Johnson, Dustin Rhodes, Anthony Bowens, Max Caster, Penta El Zero M, Isiah Kassidy, Marq Quen, Matt Sydal, Christian Cage, Matt Hardy, Powerhouse Hobbs, Evil Uno, Colt Cabana, Jungle Boy, and a surprise entrant have been announced so far.
Prediction: I'm not sure it's worth guessing who'll win this. I don't think half of the entrants know what's going on in these half the time. Maybe Christian, or Pillman Jr., perhaps.
Hangman Page vs. Brian Cage
Hangman Page looked promising at the start of AEW. It was the right call to get him all the way to the final with Chris Jericho and have the World Title slip from his fingers. However, the following year of making him look like a drunken fool was rather unnecessary. Let's hope that the live crowds haven't forgotten how much they loved Page when they eventually return.
Prediction: I think Page will win after everyone and their dog on the outside gets involved. He needs a win and some more credibility.
Sting and Darby Allin vs. Scorpio Sky and Ethan Page
Ethan Page in Impact/TNA as part of The North was absolutely brilliant. If you haven't seen any of his work over there (before the Karate Man bollocks), I highly recommend finding some. He's yet to impress me in AEW. He got a bit silly where he was before, and I feared that he was, in fact, auditioning for the mud show.
Prediction: Sting and Darby for the win. Page and Sky should work on Darby and use all the tricks they know, look after Sting, and have him clean up at the end.
Anthony Ogogo vs. Cody Rhodes
I'm still not sure what these guys are fighting for. A couple of weeks ago, I mentioned that Cody behaves how he wants in his own little bubble, but even the rules within move around a lot. Last week, I said I liked the look of Ogogo. I'm interested in what can be made of him.
Prediction: Ogogo will get the surprise win. Something tells me Cody's going to try and work me for some sympathy; a great way to do that is "internal bleeding" caused by the devastating hands of Ogogo. Cody could get a sneaky rollup, I suppose, and get murdered post-match; Ogogo definitely gains more from a win here.
TNT Championship: Miro vs. Lance Archer
A refreshed version of Miro that I'm calling "The Beast Man" will take on a baby-face Lance Archer with Jakes Roberts in his corner. Okay, Roberts can't interfere if we're to keep Miro as the heel. Either way, it should be a good old slobber-knocker for Jim Ross to sink his teeth into.
Prediction: Miro retains. He's only just won it and all that.
AEW Women's World Championship: Hikaru Shida vs. Dr. Britt Baker
Baker has suffered from injury and silly pre-taped fights thanks to AEW. Although talented in her own right, Shida was put where she is because she's one of Kenny Omega's pets… sorry, pet projects.
Prediction: Baker will win the title. It's been long enough; we all know it's due.
AEW Tag Team Championship: The Young Bucks vs. Jon Moxley and Eddie Kingston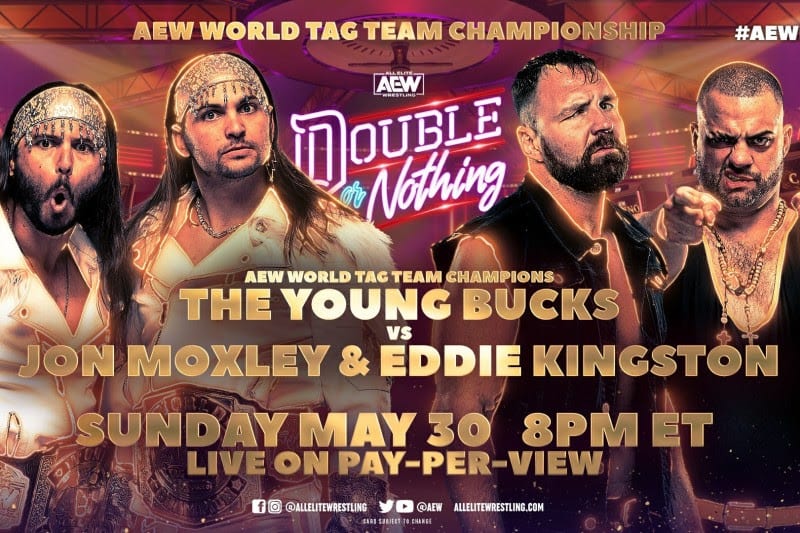 Hopefully, the intensity of Mox and Kingston will benefit this Deathmatch vs. Gymnasts clash, and it isn't just 20 minutes of sheer stupidity.
Prediction: Matt and Nick, The Hardy Soyz, will retain. Remember – you gotta make the Bucks look really, really strong!
Stadium Night Live/Stadium Stampede Match: The Inner Circle vs. The Pinnacle
I've previously stated that these two teams have already been to war in their previous conflict. War Games/Blood and Guts should have been the match to end this. They've gone from a bloodbath to a boyish brawl on a football field.
Prediction: Let's have The Pinnacle pick up the win here, please. End this feud; you've already buggered it up.
AEW World Championship: Kenny Omega vs. Pac vs. Orange Cassidy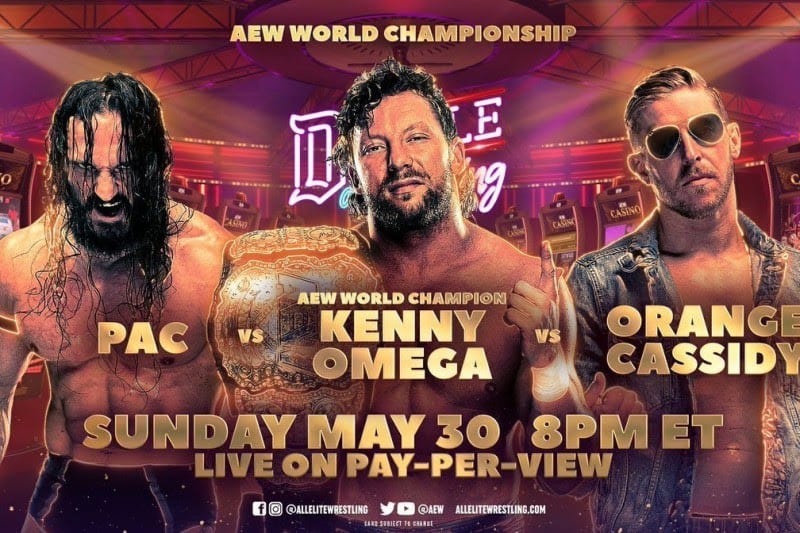 I like Pac, but I'm not looking forward to this. My feelings on Kenny and Cassidy are known already (recap: they suck), and their face-meltingly painful interactions haven't made me look forward to this match at all.
Prediction: Omega will keep his title.
And now for the main dish…
Redundant AEW Referees
Are you fed up with me talking about balance yet? Tough titties because here's some more!
WWE wants their referees to be nameless, ghostly beings that only pop into the shot to make the count or break a hold, like the old video games where the number of on-screen sprites was limited. AEW referees, on the other hand, go all the way to the opposite end of the spectrum, have them stand out too much, and still offer nothing of value.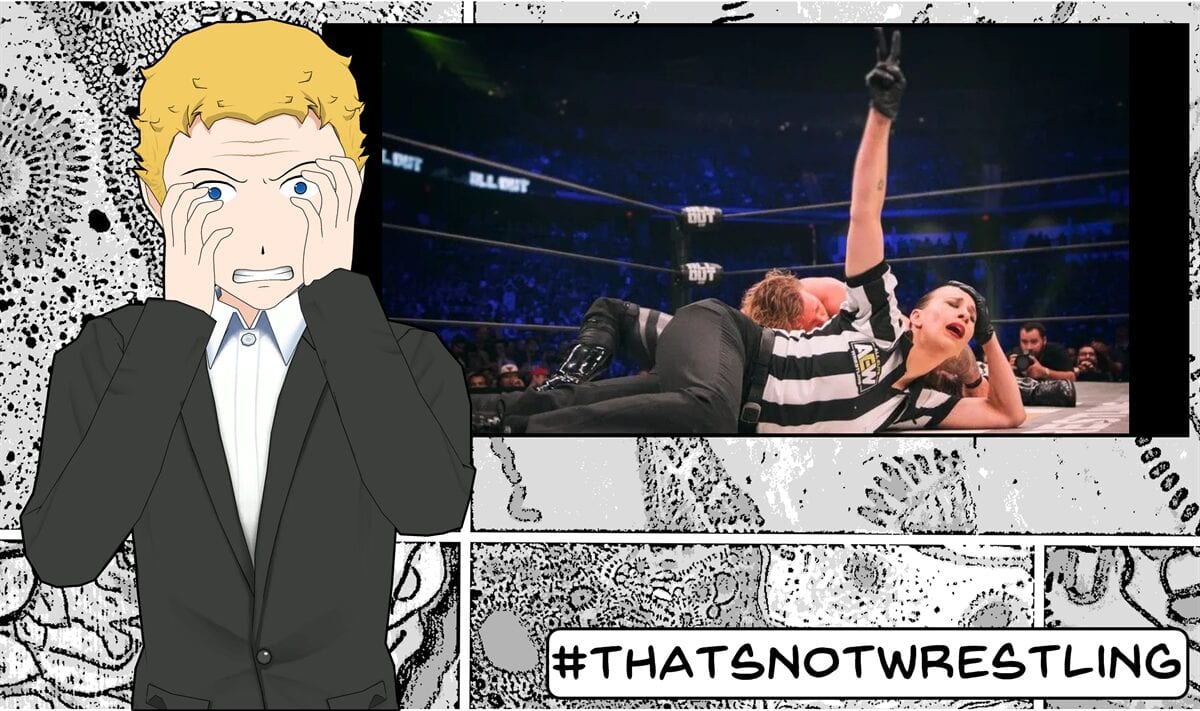 Despite looking like a mime artist that shares a makeup bag with a clown, I was impressed as hell by the first few showings that Aubrey Edwards got. She took her role as seriously an AEW referee as I've ever seen any official, and she actually added something to the match. She had no trouble getting in the faces of anyone trying to intimidate her, and she didn't get in the way or distract from the action.
Fast forward beyond a couple of weeks of fans tweeting how she's the best thing since sliced bread, and she turns into an absolute nuisance. She immediately started over-gesticulating, taking too much time to do things, making it about her (and not the contest), and getting too involved. She, too, got her own checklist of shit she needed to get in during each match.
I'm not angry, just disappointed. Aubrey isn't the only redundant AEW referee; she's just the most over-exaggerated of the bunch. But wait, there are more getting out of the tiny car…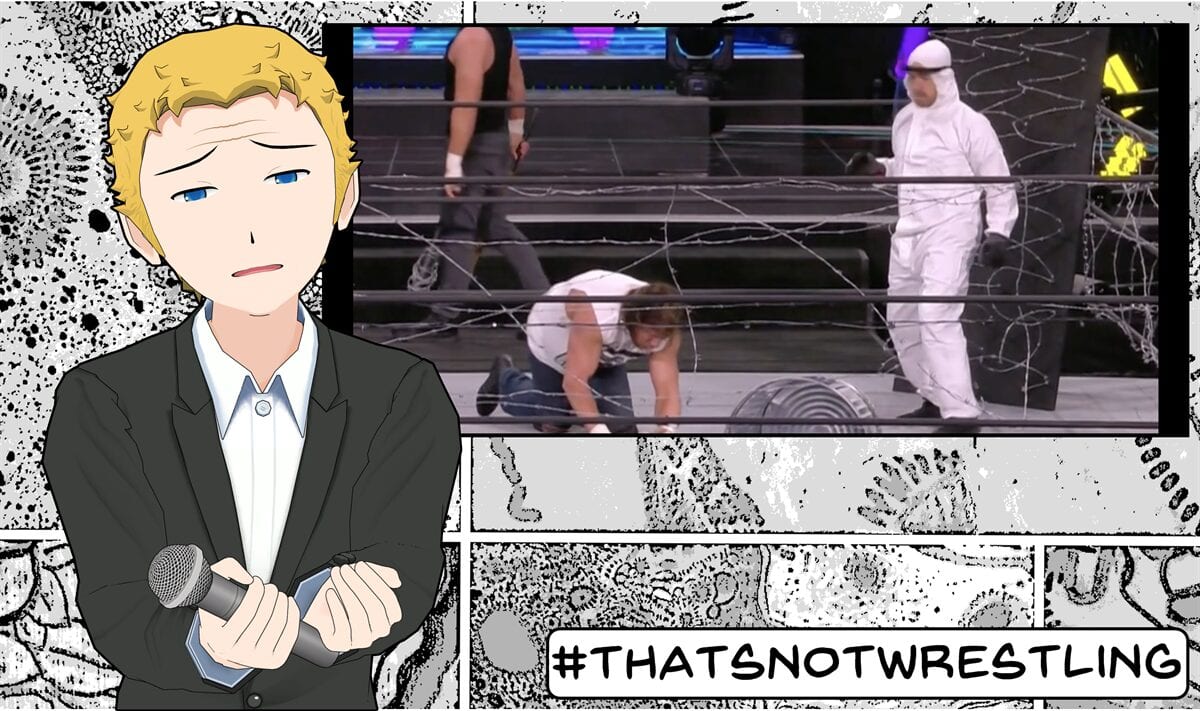 Moving on to Bryce Remsburg. I mentioned in the last issue that The Bucks have a personal AEW referee for their matches so the gaps in their game can be filled in; this is often that man. Since it happened in another promotion, we'll ignore the fact that Remsburg once refereed a match between two invisible men. Oops!
Because the Young Bucks spend 99.99% of the time having the one type of match they know, the AEW referees end up with the responsibility of trying to hide the nonsense. They've changed the rules so that you have ten seconds to switch out after a tag, and that's still not enough. Many of the matches may as well be tornado-tag rules. Sometimes, the referees have to act deaf, sometimes blind, often stupid, and sometimes they just give up trying altogether.
Since so many are so fixated on video games, how about this analogy? The whole point of a tag team match is that two people combine their health bars and take that collective effort and battle another two with the same idea. When you're not the legal person, you can't get involved and have somewhat of a regenerative effect in place, but you're not Wolverine!
This gives the heels the opportunity to cheat, cut the ring in half, and isolate one of the faces, essentially halving the opposing team's health bar. Doing so correctly will get the crowd behind the guy getting beaten down, and they'll be screaming for him to make that hot-tag.
All of this suicide dives right out the window when everyone goes 100 miles per hour from the bell and runs through their personal checklists of shit that THEY need to get into the match. The crowd is rarely a factor in what happens, other than to satisfy the egos of needy spot-monkeys when they find something to jump off.
Other AEW referees are guilty of some of this behavior, too; Remsburg just happens to be the best at being the worst. Often, when counting someone that's tagging in/out or when both competitors are outside the ring, the referees will start a count, but as no one listens, they just fade themselves out and wander off. It's much like the empty threat from a parent that gives their child three seconds to do something, then wastes two minutes with the old "two and a half, two and three quarters, etc." cop-out.
So why does this happen? Why is this allowed to be a trend that TAKES AWAY from what it's meant to be enhancing?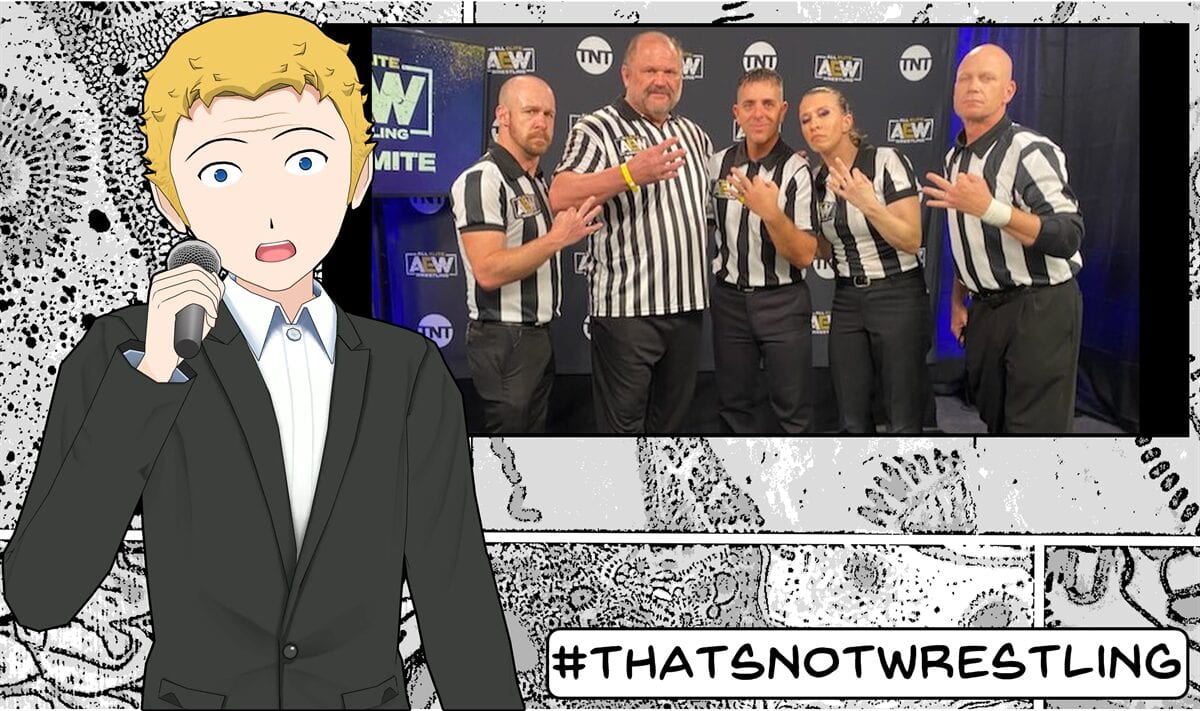 Ah, there we go. They're all dirty, sweaty, m-m-massive fans. Like the rest of the AEW menagerie, the AEW referees are too interested in getting themselves over, dancing in front of a camera, and not working together to put the whole thing over.
This is one of the fundamental problems with AEW in singles and tag matches. It's like there are six people on stage at once, doing their own guitar solo on top of each other instead of having a jam and working together.
That does it for this week. Thanks for stopping by. Don't forget to look out for "Putting It Bluntly: AEW Double or Nothing" on my YouTube channel. I'll see you again Monday for #AnotherWeekOfWrestling and next Thursday for more #ThatsNotWrestling!
Background Artwork Designed by Rachael Hope.
NEXT ISSUE: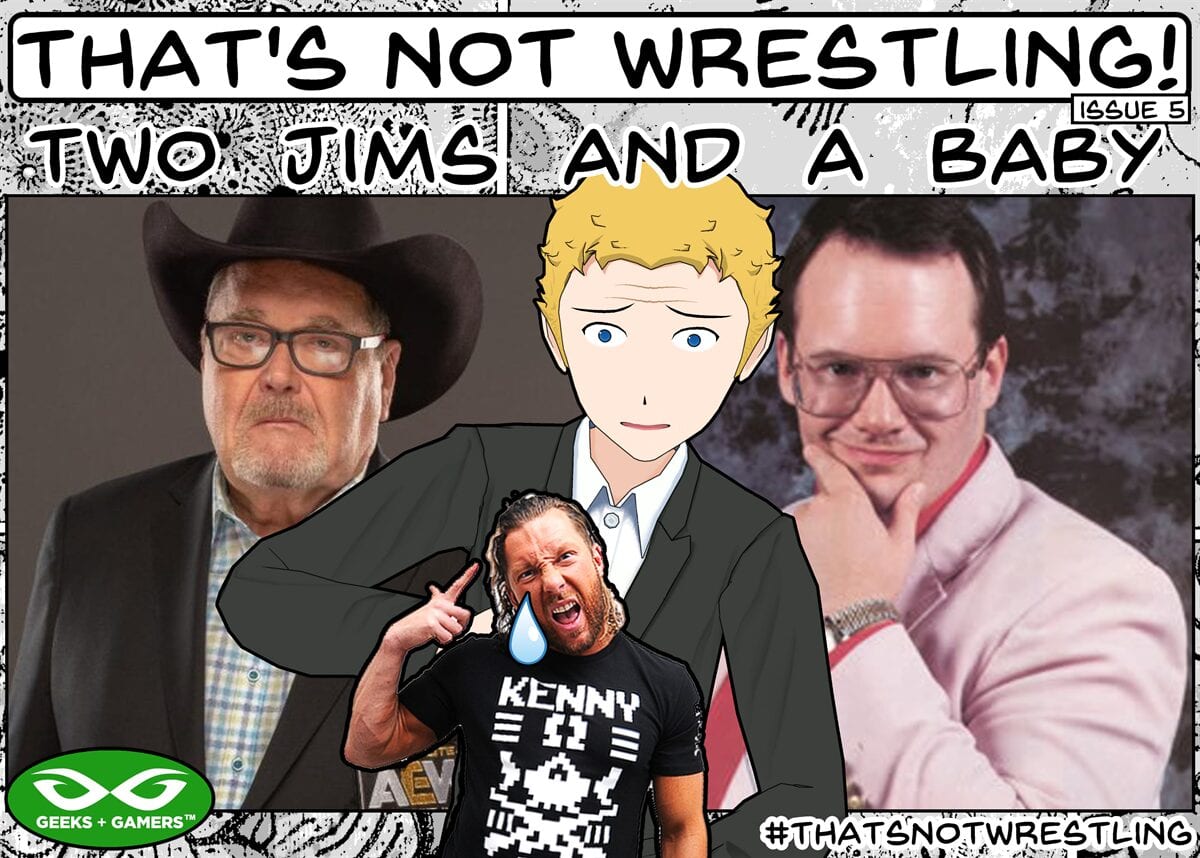 Thanks for reading! Feel free to get in touch on Twitter, subscribe to my YouTube channel, and/or check out everything else I write about over on: