Another Week of Wrestling #16 (30th August 2021)
NXT Reboot, Nick Khan, Bray Wyatt, Impact Wrestling, Karrion Kross, Chris Jericho.
I discuss the NXT Reboot, Bray Wyatt, Impact Wrestling, Nick Khan, Vince McMahon, Karrion Kross, Chris Jericho, MJF, wrestling news, and more! Welcome, and thanks for joining me at Geeks + Gamers!

<—Last week's installment of Another Week of Wrestling!
As well as bringing you That's Not Wrestling every FRIDAY and ranting about PPVs on YouTube, I'll also be mouthing off on a Monday regarding other wrestling events that catch my eye. I'm Danny Damage, writing for Geeks + Gamers, and this is Another Week of Wrestling!
Karrion Kross' Demolition
After losing the NXT Championship to Samoa Joe last weekend at Takeover 36, Karrion Kross received no respite. The next night, he caught everyone off guard on Monday Night Raw when he appeared looking like a bright red pallet-swapped member of Demolition. Scarlett was once again absent, though perhaps represented in spirit by Kross' choice in wardrobe color.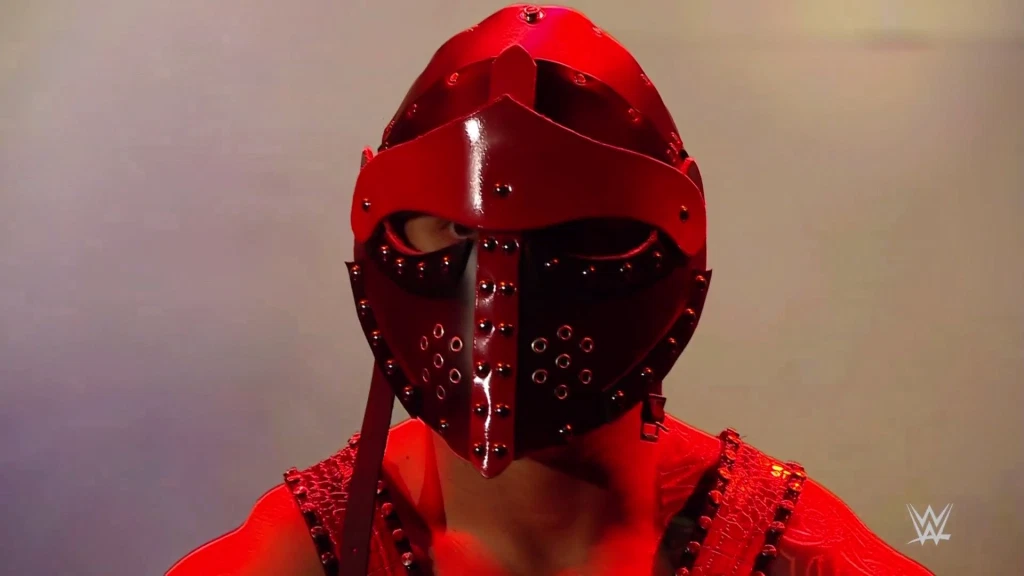 The poor bastard! He's taking a powerbomb from his Mrs. in the future, isn't he?
To be perfectly honest, I've never been excited or impressed with Kross, but not many people on Earth deserve this treatment. When Kross first debuted in NXT, I thought that Big Cass had gotten shredded and shaved his head. Maybe I'm biased because I can't unsee this now. Obviously, he's an athletic giant, but I still see a lump of clay. There's a bit of shape to it, and you can see where it might go, but it hasn't been turned into something yet. I don't think the mask is what's missing!
I think putting him at the top of the mountain so soon forced us to accept him as he was, but the fans weren't entirely convinced. Half the crowd head-banging to your entrance theme while the other half drools over your escort is rather two-dimensional. It will only get you so far. Once the lights are on and that unique part of the show's over, it's evident that everything in the ring is rather generic.
Kross has already lost to Jeff Hardy on more than one occasion. Perhaps he's going to get beaten a few more times before Scarlett grabs him by the balls and tells him to sort his shit out. Maybe that's it, that this is a fresh start with Kross on the main roster. I suppose it wouldn't be the first time we're expected just to forget everything that happened to someone in NXT/before arriving in WWE.
A Retirement or a Burial
It seems I recently gave too much credit to Booker of the Year Tony Khan. I assumed that the last Labor of Jericho was the final chapter of the Chris Jericho and MJF feud. I was wrong. After taking a third loss to the younger man, Jericho demanded one last chance to beat MJF in a match. MJF granted it, but with the ultimate stipulation…
Jericho agreed to the terms, and if he loses to MJF at All Out this weekend, he must immediately retire as a wrestler. I'd be on board with this if he follows through with what he's said. I'm sick of hearing myself say that Jericho has been barrel-rolling downhill since the pandemic hit and the Fozzy tour was canceled.
Jericho needs to go away for a while for people to miss him, but I wouldn't have gone the whole hog and said it was time for him to hang up his boots. If he's found someone worthy enough for him to pass the torch to, he can't go wrong with MJF.
However, if Jericho does win, he'd be no better than HHH and/or John Cena burying up-and-coming talent with that golden shovel. MJF has had to endure a lot of monkey business in AEW already. From having his head flushed in a toilet to the dinner-date dance skit, he's running out of chances to make that lasting impression.
We'll find out on Sunday what happens. I'm hoping that hearing himself shout on commentary each week will be enough to satiate Jericho.
Impact, Let Me In!
Talk on the Internet suggests that Bray Wyatt may be heading to Impact Wrestling. Not a bad idea, since AEW should really put a "no vacancies" sign up in their window for a while. If you haven't seen it, Impact spoiled its chances of being taken seriously and feels like a dress rehearsal that never ends. With that said, Impact does present moments of lucidity from time to time. Last summer saw a pretty solid couple of months building up to Slammiversary 2020; the nonsense was momentarily kept to a minimum.
My main concern with Bray going to Impact is the its history with pre-filmed sketches in place of matches. In a similar story to AEW having too few rules, Impact may give Bray too much rope creatively and run too far from believability. If done right, it could breathe some fresh life into a promotion many forget still exists.
I enjoyed the FireFly Fun House when it was kept purely on the big screen. This gave the impression that this was just in Bray's head and a product of his psyche. In the real world, he was this big brute with a scary mask that paid off/intimidated a stagehand to cut the lights at the right time.
Sami Callihan may have some explaining to do. Last year, when I was keeping up with Impact each week, Callihan was running around like a dollar-store Bray Wyatt/The Fiend of sorts. Now, I'm not expecting "The Fiend" to show up anywhere. WWE will have those rights trademarked and locked up tighter than the cage in Kenny Omega's basement. But I'm sure Bray has a treasure chest full of characters and personas at his disposal. I'm certainly going to keep an eye on what he gets up to when he's ready to come back to wrestling.
NXT Reboot
Good old WWE, giving something a fresh coat of paint and hoping we all wipe the slate clean. Just when things were looking like they were picking up anyway, WWE goes and spoils it all by announcing something stupid like an NXT reboot. My PUTTING IT BLUNTLY: NXT Takeover 36 Review has more on NXT's recent successes.
I was at a loss for words when I found out. There's no need for an entire NXT reboot. It's gotten big, fat, and lazy since being sold to The Vultures of Television. All it needed was to go out for a run and trim down a little bit.
"In terms of an NXT rebrand, look for it in the upcoming weeks, it's going to have a whole new look, it's going to have a whole new feel, and we believe because of a lot of the 'indie wrestlers' if you will, have come through our system, and are in our system with SmackDown and RAW now. We don't want to keep doing that same thing, we want to look elsewhere for great young talent". – WWE President Nick Khan*
Well, that didn't tell us much. Are they going to bring people in less experienced than those they've previously signed up and assimilated? I don't think that's the problem. It's probably got more to do with Raw and Smackdown pilfering most of the talent that gets over, not too long after they get over. This creates a vacuum, and the roster gets filled by the closest people, not necessarily the right people.
Why would someone think like this? It's almost as if they don't know what they're talking about…
Vince's Successor?
Has Vince McMahon bitten off more than he can chew in looking for a modern-day equivalent to himself to handle his business? Many assumed that when Vince left the company (or this mortal coil), Triple H and Stephanie would be the ones to shuffle over and take the wheel. However, as I mentioned a little while ago, it seems that handing the family business down is no longer the plan. Was this intentional? Or has a situation snowballed out of control? I wonder how Triple H feels about the NXT reboot and his grip on it slowing weakening. He was doing a decent job when left alone.
For whatever reason, it seems like Vince wants to take his fat little money monster down to the market and make a pretty profit on it. But, there's an issue or two that needs addressing before that can happen. Since the company's reputation has the lingering stench of greed, narcissism, and other questionable behavior, Vince needed someone to give his Sports Entertainment empire the 10 Years Younger treatment. He needed someone to clean up WWE and get it ready for its big date. He needed someone like Nick Khan.
WWE President Nick Khan has claimed that he's not chasing a sale but is open to hearing all business offers. He's said a lot of things without saying anything at all; he's even contradicted himself a few times when questioned about a potential sale and the NXT reboot.
"We signed a dozen new talent, we're always looking for what's next. We live in the present, we live in the future, we don't live in the past."*

"We're doing a complete revamp on NXT, led by Triple H, Paul Levesque, who's really one of the architects of the original NXT. What we found, it's probably why we did the tryout yesterday, what we want to make sure is easy for folks who want to be WWE superstars is figuring out how to become WWE superstars. If you think of the life of an elevated athlete throughout their career, the opportunity to go play somewhere has always been easy, being able to play somewhere is not."*

"The people I love and care for, of course I care what they think about me as an individual. The people I don't know, they are allowed to have their opinions. It does not affect me in any way, I don't read it, I don't look at it, it's not something I derive any pleasure of pain for"*

"If I'm blamed by whatever the fans don't like, that's good by me." – WWE President Nick Khan*

Right, I've heard enough. With crap like this and what he said earlier about the NXT reboot, it's obvious this guy's a salesman through and through. I thought Vince and some of the slippery buggers he'd brought on board over the years were bad enough, but Nick Khan takes the cake with the amount of stretching/stalling for time and waffling shit that he does. He doesn't know about wrestling, and he either doesn't or can't see matters from a wrestler's perspective, or from a fan's. He's purely profit-driven. Don't believe me?
"From my point of view RAW would benefit for being four hours, so we get paid more money, SmackDown would be eight hours, but I understand our creative folks as amazing as they are, their is only so much great content they could do on a weekly basis, so we're good with the three and two system." – WWE President Nick Khan (*quotes transcribed by HeelByNature, full video interview here)

Yeah, it's just like a video rental store to Khan. He's just trying to extend the opening hours the best he can. For some reason, he thinks this mentality applies to wrestling too. Maybe he's heard the "universe" in the WWE Universe and related it to the Marvel and DC universes. Offering to loan out a character to any and all projects willing to throw money at them sounds very quick and lucrative. It's not like WWE talent doesn't already don KFC outfits and dance around like fools.
Vince at least has some attachment to his company, formerly his father's company, and now his family's company… allegedly. No matter how cold and messed up Vince is, there'll be something deep in there that is connected to WWE, even if it's just his personal pride. Nick Khan, however, sees this as 100% business. Relationships like theirs are harmonious when they're on the same page but chaotic once they clash.
It seems the NXT reboot is just one small cog in the grand plan. In all honestly, I have no idea where WWE is going to go. I'm not sure anyone does. I'd like to see the company run by Triple H and Stephanie, or at least let them take NXT for their own purposes and see what they can come up with. On their own, they have more knowledge of the wrestling business than any smooth-talking suit you could find. Together, they'd be a force to be reckoned with.
I know it's a "better the devil you know" kind of scenario, and those suck. But once WWE gets bought by someone like Disney – someone that'll dilute it and whore it out even more aggressively than Vince McMahon – there will be no going back!
That's it for this week. Digest and discuss! Don't forget to look out for "That's Not Wrestling!" which lands here on GeeksandGamers.com every FRIDAY – Yes, the day is changing! Take care, and I'll see you then and next Monday to discuss #AnotherWeekOfWrestling!
VACATION NOTICE: Next week, there will be no Another Week of Wrestling (6th Sep), and That's Not Wrestling (10th Sep) – I shall return on Monday the 13th and Friday the 17th.
Background Artwork Designed by Rachael Hope.
Thanks for reading! If you're looking to organize something more in-depth, have a quick natter, or just throw a passing insult, feel free to get in touch on Twitter, SUBSCRIBE to my YouTube channel, and/or check out everything else I do over on: