Eternals Getting BOMBED by Industry Reviews Ahead of Release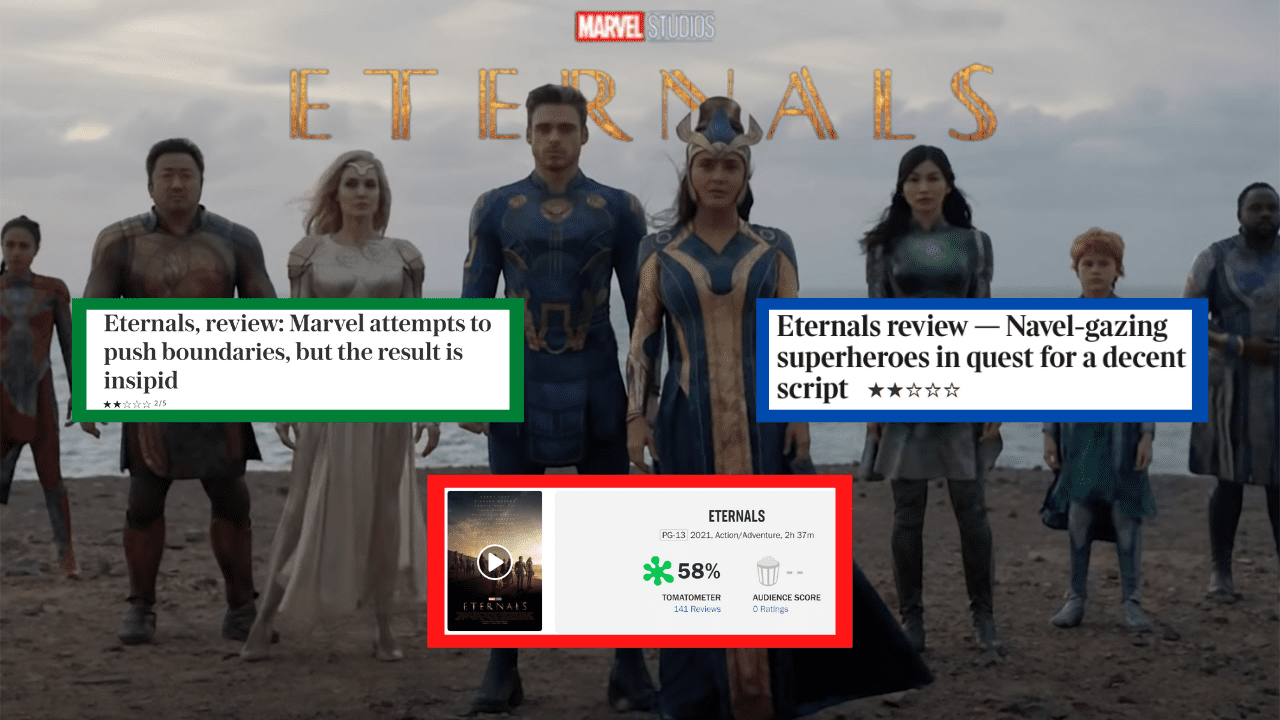 Even before hitting cinemas on November 5th, Eternals is already making history as the lowest-rated film in the MCU. You hate to see it.
At time of writing, Rotten Tomatoes has the film at a 58% based on 141 critic reviews, a full 8 points lower than current titleholder Thor: Dark World at 66%.
While Variety's review called it "a squarely fun and gratifying watch," but a "disappointment" overall, most other outlets have dropped trou on this obscure and diverse Marvel IP.
The Times critic Kevin Maher gave the film a 2/5 and mentioned how the script has a "strange self-sabotaging energy." Maher also said, "It is the characters, however, who represent the biggest shift away from the swaggering, mostly white, mostly male, mostly straight, mostly neurotypical and mostly hearing ensembles (think Iron Man, Captain America, Thor, etc.) that have defined the Marvel brand this far." Clearly, Scarlet Witch, Black Widow, or the Guardians of the Galaxy aren't things to this brainlet.
Maher makes a more substantive claim with how the film is "ten characters in search of a script. Because the one they have now, co-written by [Academy Award-winning] Chloe Zhao, the director (Nomadland), is derivative, messy and miserably undernourished. Eternals is two steps forward for representation but three steps backwards for dramatic ingenuity." So, it's a bad film, but it ticks all the D.I.E. (Diversity, Inclusion, Equity) boxes. Okay, cool.
The Guardian's Steve Rose said: "That's the problem: there's just too much going on: it's all headed towards yet another 'race against time to stop the really bad thing happening' climax." He gave the film a similar 2/5 rating.
The Telegraph's Robbie Collin also jumped in on the 40% parade: "Perhaps the hope was that Marvel's 26th film might rattle the franchise out of its comfort zone. But the franchise is nothing but comfort zone, which renders its latest entry an instant white elephant."
It was always going to be a hard sell for a collection of characters no one in the mainstream has ever heard of to generate interest. Tack on Kumail Nanjiani going after fans like a petulant child, and it's a dour recipe for disaster that is so awesome and unique for having natural lighting, right? Because that's what people want in their superhero films.