How To Collect: A Beginners Guide To Collecting
Have you been wanting to start your very own collection but just didn't know how?  It can be quite intimidating to see a massive collection. You might think, how on earth does one start, and why would you collect? To inspire you, I've asked my fellow Geeks + Gamers members to share photos of their personal collections.
It's pretty easy to start collecting once you make a few decisions.
First, decide if you only want to focus on one category (Harry Potter, dog figurines, car models, Star Wars, dolls, Lord of the Rings, Marvel, etc.) or only specific merchandise for various I.P.s, such as collecting only Funko or LEGO.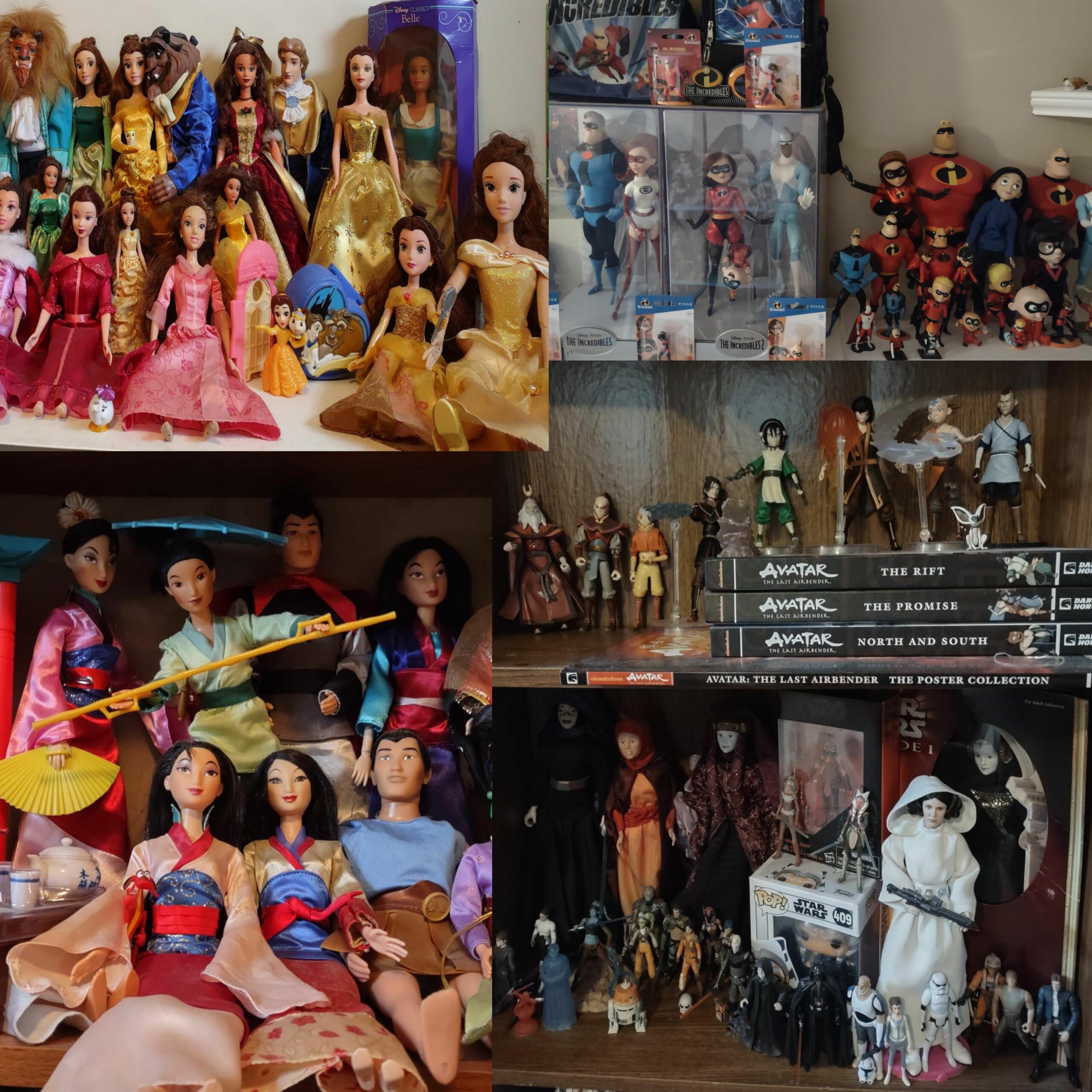 Virginia Kublawi's Collection.
Before making that decision, there are a couple of factors you should consider. Do you have enough space for collecting the specific product? Funko's, books, and figurines/busts/sculptures take up a lot of shelf space. Do you have the funds to collect high-end, expensive merchandise, or do you find yourself with funds to collect reasonably-priced items? Do you think you will become bored collecting only one type of item or focusing on just one I.P.?  Do you want to leave your items factory sealed in their original boxes, or do you want to open them up? Keep in mind that when you build a LEGO set, the value will decrease if the box has been opened.
Collecting busts, sculptures, and figurines is a lot of fun but, as previously mentioned, can be expensive and require a lot of space. Familiarize yourself with brands like Gentle Giant, SideShow Collectibles, Star Ace, Enesco, Department 56, Hot Toys, Diamond Select, and Threezero.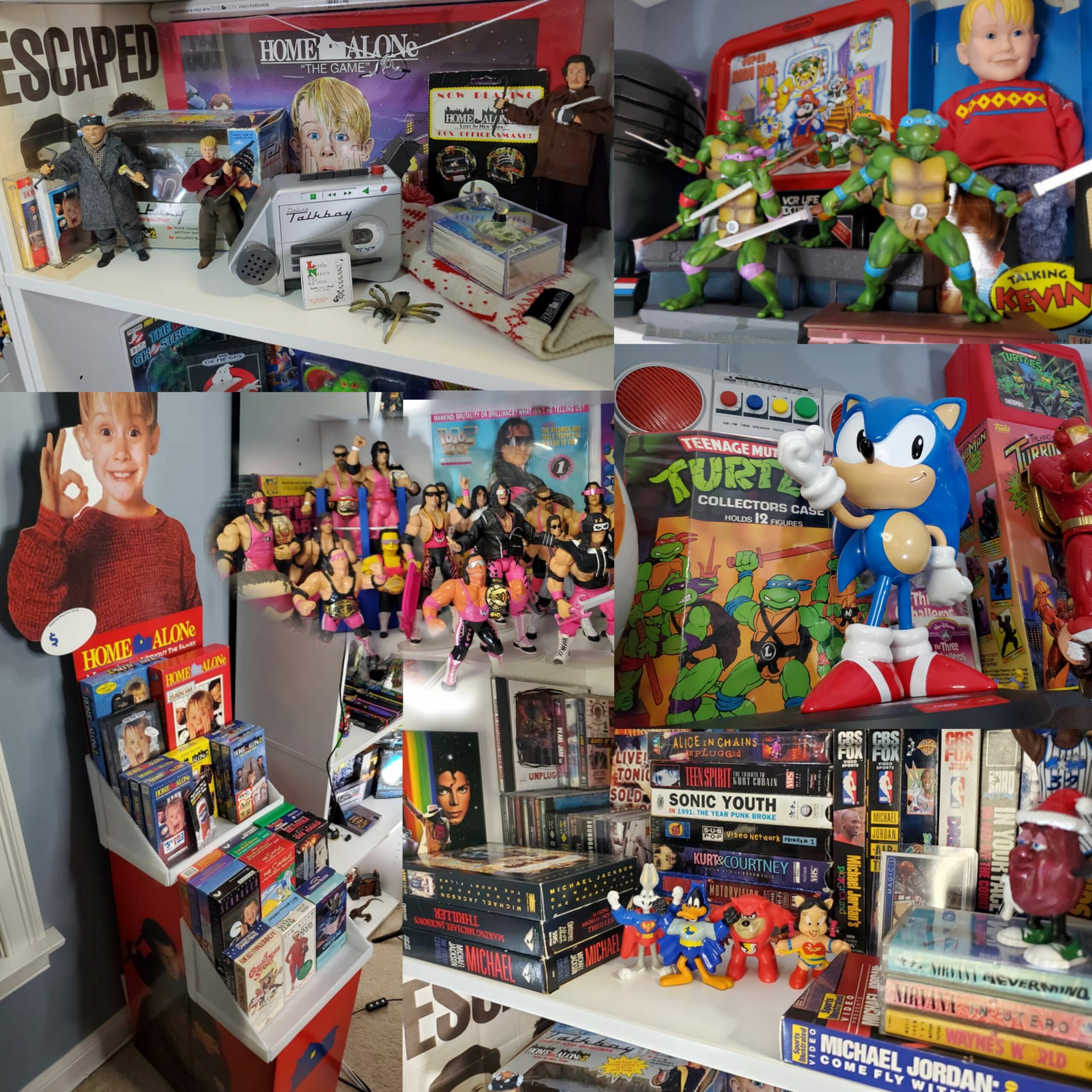 Tommy's collection. Check out his YouTube channel!
If you only have some small wall space, consider collecting pins or other small items! You can collect hundreds of pins on a few pinboards that don't take up too much space. Again here, you can decide if you want to collect officially licensed pins or fantasy (unofficial, fan-made) pins. If you would like to collect both licensed and unlicensed pins, concentrate on something specific so you are not overwhelmed. For example, focus solely on villains, heroes, animals (and even more specific: cats or dogs) from various films, etc. For me, I only collect licensed Harry Potter pins. My reasoning is pretty simple. It narrows my collection to everything Potter-related, but licensed. It's a pretty specific focus, but vague enough that you can nitpick what you like best. There are plenty of pins to collect, especially if your fandom is connected to Disney or Universal Studios. Facebook has tons of pin groups where you can buy, sell, and trade pins with other collectors. Additionally, you should always think about the future. Should you ever decide to sell, think about the following: licensed items are always going to have some sort of value; it might be very little or become extremely valuable. However beautiful fan-made items are, there is no guarantee that they will have value, or as much value, in twenty-five years' time.
Hollywood Scholar's Collection. Check him out on YouTube!
Collecting books can be fun and rewarding. There are so many genres to collect from, and you can always focus on antique books and search for first print, first edition books. Educate yourself on how to identify if a book is a first print, first edition. Don't worry; it is very easy! Bookfinder will become your friend. The site will help you search for any book by title, author, and ISBN. You can even focus on collecting just one series in various translations from all over the world. For example, there are various Harry Potter collectors who collect the translations for the cover work of the book. If you want to collect Lord of the Rings, consider collecting rare editions. Some rare translation and editions are worth anything from a small fortune to a hefty chunk of money! There are all of the Star Wars expanded universe books to collect if Star Wars is your passion.
Alex's collection.
If you don't have a lot of room, trading cards are easy to store. Just buy some binders and card sleeves, or even a card collecting box! You can even collect autographs, costume cards, and prop cards from various I.P.s., such as Star Wars, Harry Potter, Doctor Who, and Marvel. Click here to see if your fandom or favorite sport has a series. (The website might not be up to date. If you can't find a series, do a quick search on Google.) Familiarize yourself with various trading card brands like Artbox and Topps, as well as learning card terminologies. Note that most base cards (easily found cards that are usually numbered 1 to 90+) from a series are reasonably priced, but chase and rare cards can be quite expensive. An Artbox autograph card of Emma Watson easily sells for a minimum of $2,500.
Blabbering Collector's collection.
Just like cards, postcards are easy to store and are reasonably priced! You can find postcards from all over the world of your favorite franchise in various languages. You can easily collect postcards from your favorite places across the globe.
Stamps take little room, as you just pop them into a stamp collecting binder or a box. You can learn so much about a country just by researching the stamp. There are many free resources that help you identify the value and history behind the stamp. Plenty of franchises have produced stamps as well; some are worth a few pennies, while others are worth a couple of thousand.
If you're collecting Funko, know that the stickers on the box are important. If the stickers state "exclusive," "limited edition," or "convention," then they are more valuable. There are a lot of Funkos, so be prepared to collect a lot of them! Also, note that any "exclusive" sticker on any item (not just Funko) is always more valuable than a non-exclusive item.
Tuggs' collection. Check out Tuggs on Pour Choices!
And if you have a spare room that's just waiting to be filled, well then, buy as many shelves and other displaying furniture as your heart desires!
After finalizing your decisions, it's time to start budgeting. You can decide not to plan a budget and buy whatever sparks your interest or the later, more efficient option: setting a firm amount per week/month/months. Whatever works for you and your financial stability! It also helps to have relatives who help fund your collection.
Ryan Kinel's Collection. Check out Ryan on YouTube!
Once you're ready to start collecting, it is time to research your prices and websites. If you're collecting retired and vintage items that are no longer being produced, second-hand websites like Mercari and eBay will become your best friends. Check the "sold listings" page to see what the items have previously sold for, and always filter your searches with the lowest price showing up first. For items that are still being produced, check their brand websites, Amazon, Walmart, BoxLunch, Loungefly, Target, and tons of other websites to compare prices. Pop into stores like GameStop and check the prices there. Remember, the goal is to spend the least amount per item. Save a few bucks here and there, and pretty soon, you can buy yourself another item with all the money you saved!
If you happen to stumble upon an item you already have, but the price is unbelievably low, snatch that merchandise up! You can always resell it for a profit to increase more funding for your collection. This applies to lots that you may find. You can find various lots on eBay and Mercari, among other websites as well! Make sure you research the value and selling price of each item in the lot prior to purchase. You want to make sure that you can resell it and make more than what you originally paid for the lot. Keep in mind that there are fees and taxes associated with selling online. The point is to be able to make money off of reselling, so you will not only need to recuperate the money spent but make a reasonable profit after!
Krista Novva's collection. Subscribe to Krista on Twitch!
Some last few words of advice: always keep the boxes of items that you collect! This includes certificates (COAs) and other paperwork that came in the box. Keep them safe! If you're buying something without the box or COA, make sure you're paying less than the value of the item complete with the box! This also goes for items that are defective and/or broken. Research will always save you money and time. Check out collectors on YouTube and other social media platforms, as they will provide plenty of tips and wisdom for you. Lastly, to keep everything organized, consider holding onto receipts, taking photos of your collection, and entering your collection into a software such as Microsoft Excel.
At the end of the day, collect what you want to collect; so long as you're happy, that's all that matters. Happy hunting!