An Interview With Dan Vasc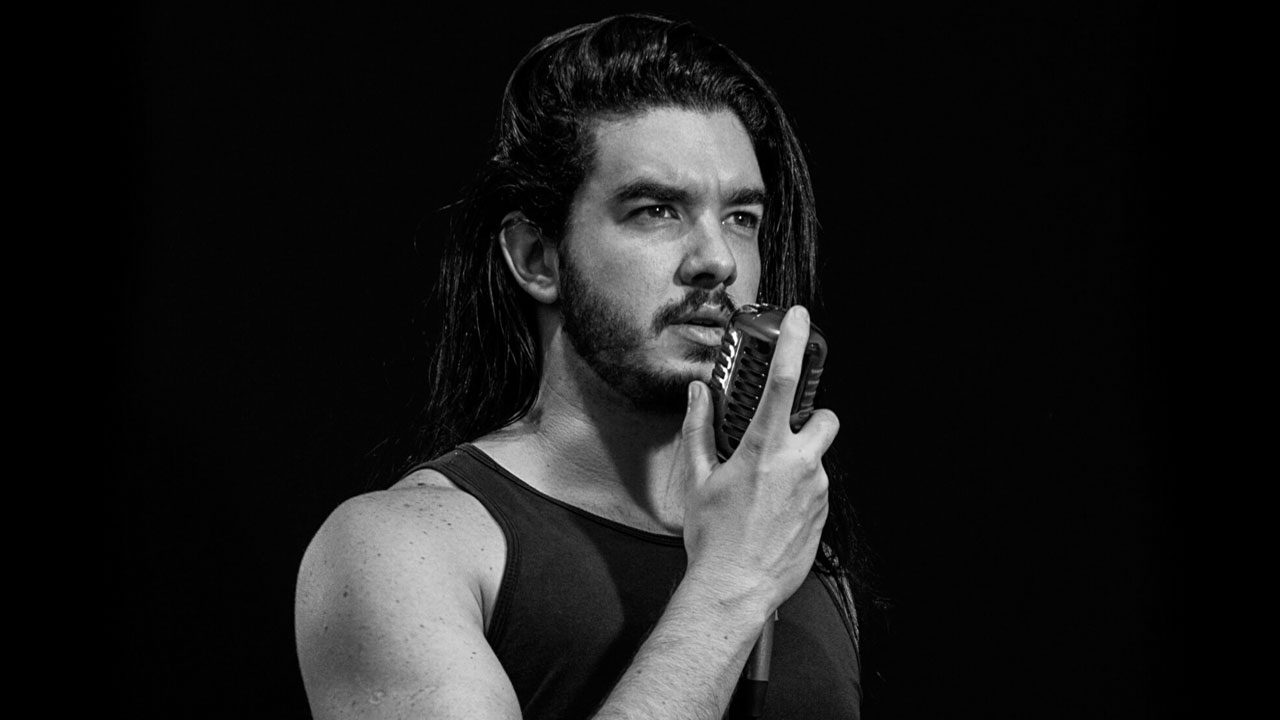 I recently sat down with Brazilian metal singer Van Dasc… I mean Dan Vasc!
Blabbering Collector: How and when did you get involved with Geeks + Gamers?
Dan: It all started with Disney Star Wars, when The Force Awakens [came out], I was like, "Screw this, I'm out!" And The Last Jedi came out, and now people were really hating it! I was researching about it on YouTube, and then I found Gary's channel, Nerdrotic. And then from there, I watched "Friday Night Tights", and I discovered the G+G guys. And then Lady Gravemaster invited me to be on "Friday Night Tights." I found out that not only are the guys great content creators, but great guys in general! We hit it off, right then and there. The rest is history. Here I am; I made the theme song for "FNT"! I never really felt at home in the YouTube music community, so it was nice to finally have friends on YouTube!
BC: When did you realize you had a great singing voice?
D: I really cannot answer that. It is the same thing as asking a doctor, "When did you discover you were a great surgeon?" I didn't discover I was a great singer; I decided that I was going to be a  great singer. I can tell you when I did that! I guess that is going to be your next question, right?
BC: Yep, go ahead!
D: I decided I was going to make a living out of singing after I left the army. I went to college and majored in business after leaving the military. I hated it. I hated the classroom format. I despised all of it. After two years, I told myself, "It's music; there is no way around it. I gotta try with music or else I'm going to be super sad and bitter." It feels like I had no choice. People tell me, "Oh, you're so brave!" But I don't see it that way; I had no choice. Music it was.
BC: How did you meet and collaborate with Samuel Kim? I've been a big fan of his since 2019!
D: I made three videos with him already! It started when everyone was on The Witcher season 1 fever. I posted my "Toss a Coin To Your Witcher," and he had created his epic version. I started to communicate with him, saying, "We should do something together!" And we did! We did a cover of "I'll Make A Man Out Of You" from Mulan. He's a great guy!
BC: Yeah, I love his work,. I listen to his music at least once a day.
D: His output is crazy. He uploads, sometimes, five videos a week; it's nuts!
BC: He's incredible. Do you like Linkin Park?
D: Not much. I respect their legacy. They helped start a genre called "new metal." It's heavily influenced by emo and punk. I'm okay with that. But the culture around that is just a lot of self pity and victimization. I respect a lot of new metal musicians, but when you start crossing paths with heavy metal and begin to tell us that "This is heavy metal" when it isn't… That's my problem with new metal. Like, new metal is fine; do your thing, but you're not really one of us. I have huge respect for Linkin Park and their fans, though.
BC: Can you talk about your experience with trying to sign with record companies? Do you regret not signing with any?
D: I definitely do not regret not signing. I plan on staying independent forever, and if I work with a record label company of any sort in the future, it will be as partners. Not as a signed employee, because that is what people are who are signed with these companies: employees. And people try to glamorize this, but at the end of the day, you're an employee. I didn't leave college and my "normal job" just to be an a employee again. I decided to be my own boss, be the captain of my own ship.
D: I realized that this is what I wanted to do precisely when I got rejected by 90% of the record label companies I contacted a few years ago. The 10% that did respond and offered me a deal gave me an outrageous offer. They were asking for five albums, one album a year, and would get, like, 12.5% of the profits from the sale of the albums, and other stuff that was really egregious. And I was like, "I don't need this." There are some musicians that still value that format, and that's fine, because they just want to make the music and not have to worry about anything else.
But I actually like having to worry about the other stuff that isn't the music. To me, it's part of the fun, and I like to be in control. I'd rather be a king in hell than a slave in heaven. I would rather own 100% of my own stuff than not as much with a record label, but with a record label you wouldn't even own your own music!
BC: Tell me a joke.
BC: I feel like picking a song to cover is quite difficult, as there are so many good ones. How do you pick a song to cover on YouTube? Do you just throw a dart and go, "That one!"
D: It could be a song that I've been listening to a lot lately that I just cannot get out of my head. The fastest way to get it out of my head is to do a video! After I record it, I can't stand it anymore. When I do a recording, I listen to it around fifty times during the editing process.
I would put no effort into picking a song for the first first hundred or hundred and fifty videos. I feel like those videos are like YouTube's college. They are more for yourself than anything else. They are there for you to learn the craft. You are learning. My first hundred and fifty videos are super cringe, but they helped me to learn how to produce an entire song by myself, to learn about my camera presence, to know what to do, what not to do, what is underacting and overacting, and to calibrate myself.
After that, I started to put in more thought about it; that's when my channel started to flow. I started to think about trends, but at the same time, not to "sell myself." I mean it in a sense of not doing something that I hate just for the views. I started to worry about those trends, but still doing something that I liked. Now that my channel has grown, I have the luxury to not worry about the trends as much, although it's fun to do one now and again. Nowadays, I only worry about what is fun to do and what the audience will equally enjoy.
BC: Can you talk about the process of creating videos and editing them?
D: It's like any other YouTuber, except that I have the music on top of it. I have to produce the music, which involves laying down the instrumentals. I do some of the instrumentals myself, like when I'm really in a hurry, but when I'm not in a hurry, I just pay one of my awesome producers to do it for me. After that, I lay down my vocals, which can take an entire day. I have to mix everything in the recording booth. Then it's shooting the video! This is the same as any other YouTuber; I have to do my poses, looks at my camera, make sure people aren't bored… stuff like that!
BC: When you say you do your own instruments, do you actually play them in the recording booth or is it done on the computer via music software?
D: It depends. If it's something easy enough, I can just record myself on the guitar. But when I come up with an arrangement that surpasses my own ability to play and I'm in a hurry, I use the computer, especially MIDI Guitar. It's a long process.
BC: What goes into your lyric-writing process? Do you just sit down and it all clicks in your head?
D: It always starts with the vibe and message that I want. For the theme song for "Friday Night Tights," it has to be something funny that addresses the criticism that the guys usually have, but more like making fun of it and embracing it. Once I have the message, I look at the theme, which was influenced from 80's cartoons and hard and glam rock-themed. Once you have all that, the song pretty much writes itself.
BC: If you could bring any fictional character with you on an adventure, who would you bring?
D: That depends; give me more context!
BC: It's whatever you want; your adventure!
D: Captain Kirk would be a good adventure companion.
BC: How do you separate your work life and personal life?
D: It's good to have some time for your friends and family. Family comes before anything else. But if you need to have so much of a separation, then I feel like you need to change careers. What makes sense to me is that you choose to do something, you ultimately choose an occupation that doesn't feel like work.
It's not a luxury because you are putting in all the work! If you are willing to put in the work to choose an occupation that you enjoy, I feel that you won't need and want to do that separation too much.
BC: This one's for the ladies: how long have you been growing your hair out (years-wise), and what's your hair treatment?
D: I left the army in 2008. After three years, I cut it once. That has to be eleven years now… wow! I get a trim all the time, though. I go to the salon every three months, and I get a trim and I get some hydration thingy; I do not know the names of this stuff. I just tell the lady, "Hey, make my hair look pretty."
I do have a pretty normal hair routine. Shampoo, conditioning… a little bit of oil when its too dry. One thing I've noticed that has done wonders for my hair is eating healthy and taking more care of my general health. I eat better, I exercise better, and all this stuff that you're already supposed to be doing… your hair will thank you for it!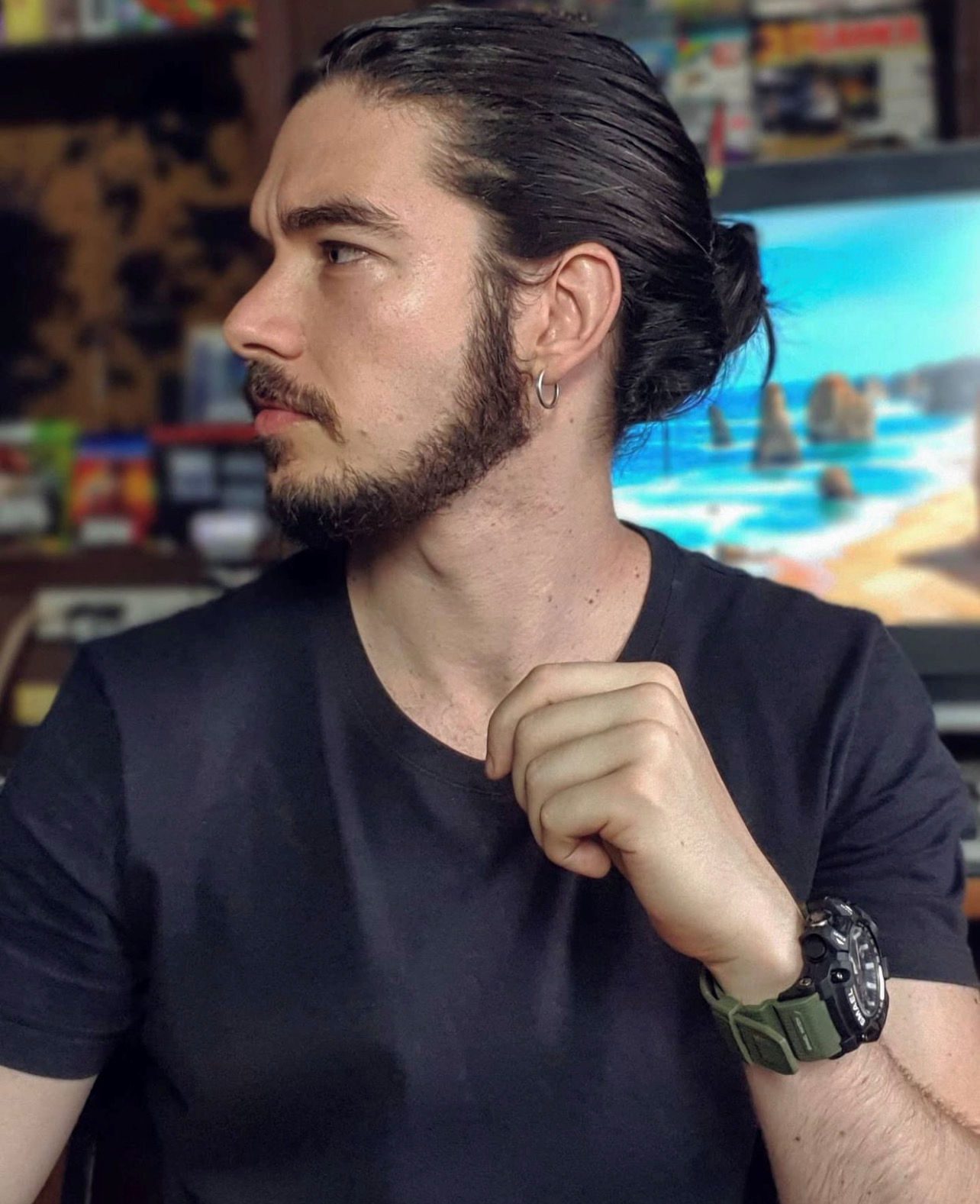 BC: Are you planning on coming to any meetups this year?
D: Absolutely! I would love to visit the USA.
BC: Have you ever met Christopher Lee?
D: In person, no, unfortunately. We communicated through his son-in-law, Juan Aneiros. To give you the context: I participated in Christopher Lee's heavy metal albums. I interpreted one of the characters, Oliver. The album was a story about Charlemagne. In the song "The Devil's Advocate," Oliver and the others sing about protecting their king. Even though I never communicated with Christopher in person, Juan did show him the demo.
Here's a very interesting story: Christopher Lee was interested in doing the narration for our album. We had everything set up; he would narrate and sing a song with me! But, unfortunately, his health declined and then he passed away. He gave us a lot of motivation and encouragement. To know that a legend like Christopher Lee would have worked with us! Working with us would have been his last work! This was after the Hobbit movies. The album would have been immortalized for that.
BC: Anything you would like to say to your audience?
D: Hey, thank you for sticking with me all these years! You are all responsible for where I am today; you are the bosses I respond to. I'm glad that you all create the rules instead of some corporate record label. Thank you for that!
Speed Round – Short Answers Only

BC: Favorite film?
D: The Lord of the Rings trilogy.
BC: Film. One.
D: Film! I cannot choose one! Uh, if someone was pointing a gun to my head, I would have to pick The Fellowship of the Ring!
BC: Favorite song?
D: "The Power Of Thy Sword" by Manowar.
BC: Lightsaber color?
D: Green.
BC: Mine too. Favorite singer?
D: Eric Adams from Manowar. Not the New York mayor.
BC: Queen or ACDC? 
D: Queen.
BC: Wizard or Jedi?
D: Jedi.
BC: You traitor. Celebrity crush?
D: Celebrity crush? Oh my god! Scarlett Johansson, but ten years ago.
BC: That's very specific. Favorite food or candy?
D: Candy or food?
*proclaims* STEAK.
BC: If you were trapped on an island and could only have three things with you, what would they be?
D: Well… a phone, a generator so I can charge the phone, and… *giggles* a Starlink receptor so I have the internet. I will then use those three things to get off the island.
Questions from the Twitterati
Twitter: Any funny stories from when you were in the Brazilian military?
Dan: I do have a few! During our boot camp, we were only allowed to have water with us. And sometimes, if we misbehaved, the sergeant would dump water down our necks! And it would be super cold, and we would have to sleep for a few nights in wet clothes. We would be freezing cold, and the clothes would never dry! You are cold and you have no water!
Well, one of the guys managed to sneak in a powder to make a smoothie or something. The sergeant never noticed the powder and dumped his bottle down his back. So when he went to sleep (on the ground, in a sleeping bag, in a tent) he was all sticky and covered in his juice! Well, one night, I woke up to him screaming bloody murder, something out of a horror movie! I turned on my lantern because there wasn't even electricity, and this guy was covered in ants! He had to go to the hospital… he turned out alright. I was pretty scary, but pretty funny.
BC: Ugh! Oh, God. I'm going to have nightmares now, thank you.
T: Favorite video game and/or anime?
D: *Giggles* You're welcome. My favorite video game is Metal Gear Solid. My favorite anime is Naruto.

T: How do you see your evolution both as a human being and in your singing career? Is 32-year-old Dan Vasc different from his younger self?
D: Oh, definitely different; in some ways for the better, and in some ways for the worse, like many people. The singing part is simple – if you practice, you get good! Now, in life, with ethics and morals, it's not always the case. I feel like, in some cases, I'm better than I was in the past. I think I'm more rational; I don't let my emotions dictate my decisions in a bad way anymore. That doesn't mean I don't have any emotions; it just means I have control over them.
I think I'm worse at being judgemental now. I miss not being so judgemental. I miss not seeing malice in stuff and just being able to experience something without asking myself about agendas or hidden intentions. I wish I could get back that innocence so I could enjoy stuff more.
T: What is your retro holy grail?
D: Monkey Island for the Amiga! That's pretty hard to find!
T: Why do you hate the word "talented"?
D: I don't really hate the word "talented." What I feel this person is referring to with this question is that I don't believe that it exists. If someone calls me "talented" or says, "You're talented," I don't create any drama around it. I see that the person is trying to be kind and is giving me a compliment. I say, "Thank you;" I genuinely appreciate the person's intentions.
But I feel that sometimes the word is often used to excuse lack of effort. What I  do believe exists is that we are born with tastes and personalities that allow us to enjoy something enough to tolerate the gruesome work and man-hours that [go] into something to be good at it. This often gets mistaken with some characteristic, that you are born "talented."
T: What type of guitars, amps, and effect pedals do you use?
D: I use a really basic Condor guitar. I don't really use anything physical beyond that. I just plug my guitar in and I stimulate the rest with Guitar Rig 5. That is really rare for me to do as, more and more, I'm outsourcing my guitar work, but when I do, that's pretty much how I work.
T: Who is your favorite superhero?
D: I dunno if he counts as a superhero, but Zorro! He was the inspiration for Batman, by the way!
T: Which three singers/bands are your biggest inspirations?
D: That changes all the time, except for number one. One is Manowar with Eric Adams – again, not the NYC Mayor. Two is Running Wild, as it influences my guitar arrangement a lot, and Accept.
T: Are you single?
D: *chuckles* My answer is maybe yes, maybe no, but most likely who knows. *chuckles some more*
T: How many requests do you get a week? Can you do a metal Celine Dion cover?
D: Oh, yes! I will do a metal Celine Dion cover. I was actually planning one! I won't tell you anymore about that; it's a surprise. It's gonna be "absolutely amazing." It'll be out sometime this year, for sure.
As per requests, I get a lot! It's hard to keep track because sometimes I'm live on a panel and people drop a superchat, but I try to keep track as much as I can. I have a Google Documents file with hundreds of requests! Most of them won't ever get touched. *laughs* But it's good to know what the people want. I'm more of a guy who loves to give you what you didn't know you wanted.
Thank you, Dan, for taking the time out of your busy schedule to chat!
You can find Dan on his website, YouTube, Twitter, Facebook, and Instagram. You can find his music on Bandcamp, Apple Music, Spotify, and Amazon!