AEW Collision Results (June 17th 2023)
AEW Collision Results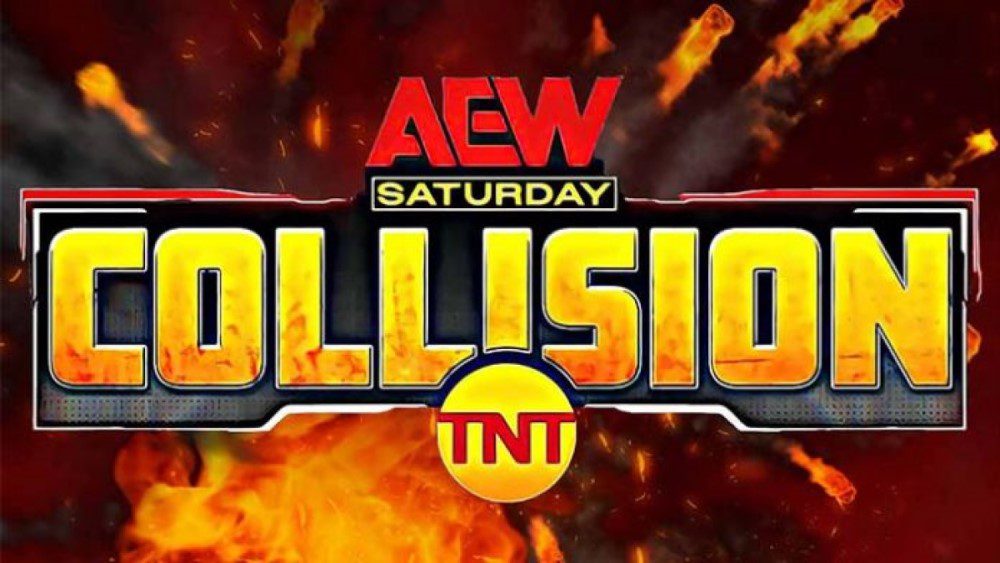 AEW Collision results and commentary from Danny Damage!
Hello, and welcome to a one-off rundown of AEW Collision. I wanted to mark the occasion of the new show's maiden voyage, give it a chance to impress, and ease some potential future guilt for not reviewing (or even watching) AEW Forbidden Door next weekend. Sorry, but I've been burnt before. You may as well just play a video game with no rules, rhyme, or reason for five hours. Time will tell on the redundancy of the weekly backflip demonstrations in a couple of weeks when AEW Fight Forever is finally released; let's see if that 850,000 still tune in at specific times when they no longer have to.
A few people have their sulky faces on because CM Punk has essentially been given his own show. Now, I was the first to call him a bell-end for wearing t-shirts on TV that tried to compound a complex issue onto a piece of merch, but I have also always tipped my hat to his efforts in UFC. Punk knew that any one of the professionals he was put against would have been, in effect, bred for (shoot) combat sports. Punk ain't stupid, and he'll have known that there was a big difference in skill, regardless of a similar career-fighting record. My point is that the guy has a pair, a big pair, and people with tiny bollocks feel them shriveling up even more around people like him.
The commentary team has undergone a huge improvement for Collision. No longer are we forced to listen to Excalibore constantly barking the alternative names of moves so he sounds like he's been let in on some millennia-old banished wisdom. Kevin Kelly and Nigel McGuiness called all of the matches, and they were joined by Jim Ross for the main event. Such a refreshing change.
Fortunately, although Tony Khan's waifu, Orange Cassidy, was in the intro video at the start, he didn't make an appearance on the program.
AEW Collision Results (June 17th, 2023)
At the demand of a rabid arena full of fans, the night began with CM Punk walking to the ring.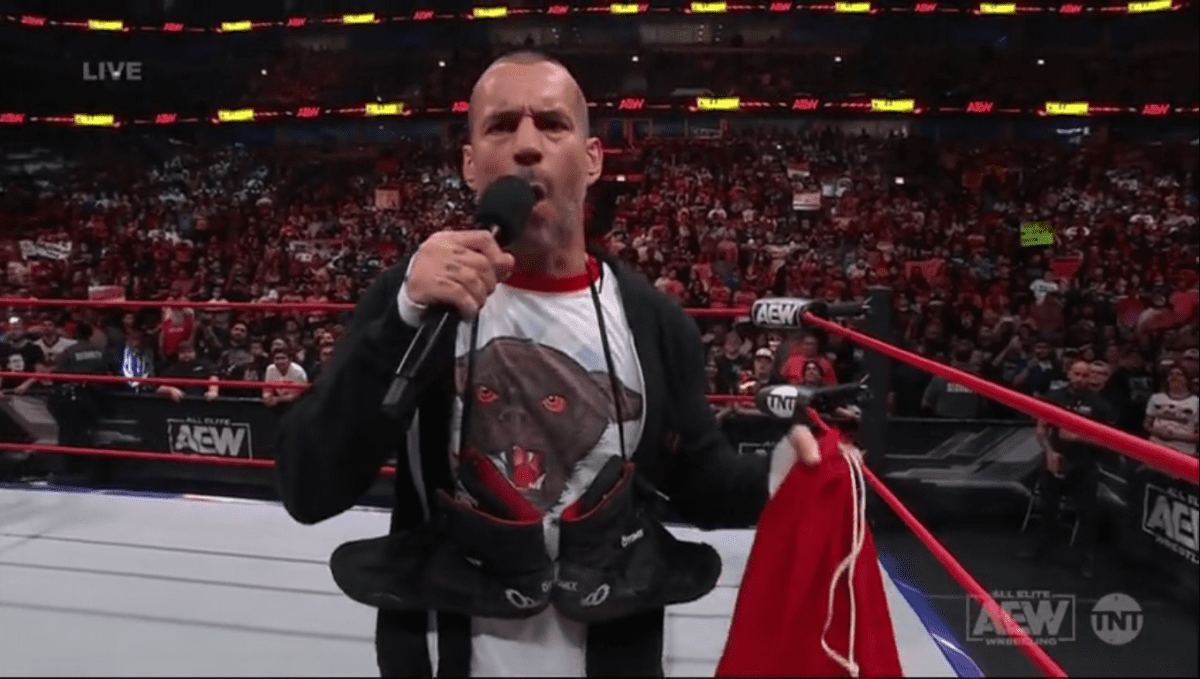 After thanking his fellow Chicagoans for having his back, Punk delivered a scathing promo where he said he was "tired of being nice," that the wrestling industry is actually a "business of grown-ups" and "not a popularity contest." He went on to talk about being "a genuine article in a business full of counterfeit Bucks," and then he addressed the fans that feel they deserve an apology from Punk. He told them he was "sorry that the only people softer than you are the wrestlers you like." Oooof. Daddy's home.
The promo is worth a watch in full, but in short, he said the contents of the red bag (assumed to be his AEW belt) were earned and that he isn't going anywhere until someone pins him or makes him submit. He's fired up and ready for another run.
Wardlow vs. Luchasauras (TNT Title)
Winner: Luchsauras (pinfall)
Arn Anderson was absent from Wardlow's side after his involvement/injury in the ladder match at Double or Nothing. Christian was in Luchasaurus' corner, and he played a huge part in the result.
Both men worked a sensible big man match, and the crowd got behind it with ease. Christian was being a pest on the apron and distracting Wardlow repeatedly. Eventually, the referee turned his back to engage with Luchasaurus, allowing Christian to crack Wardlow over the head with a camera at the opportunistic moment. One clubbing forearm to the back of Wardlow's head later, and a new champion was crowned.
Afterwards, Christian celebrated with the belt as if it was his, and Luchasaurus didn't really seem to mind.
Powerhouse House and QT Marshall were backstage putting over Hobbs' chances of winning the Owen Hart tournament. QT isn't really needed in these bits with Hobbs. Either set Hobbs out on his own again or give him a manager that can actually elevate him.
Buddy Matthews vs. Andrade el Idolo
Winner: Andrade el Idolo (submission)
A hero's welcome awaited Andrade el Idolo from the fans, as he'd obviously returned as a babyface… for this match, at least; we all know what's Tiny Tony Khan's booking is like.
Buddy Matthews had Julia Hart in his corner, and he worked on Andrade's recently repaired shoulder. Things evened up somewhat when Buddy hurt his old knee injury after landing a Meteora from the top rope.
Buddy got the better of a stiff exchange in the corner and went for a powerbomb, but his knee gave in, and he crumbled to the floor. He tried to get Andrade to tap out to Rhea Ripley's finishing hold, but Andrade escaped and made Buddy submit to the Figure Eight instead.
Post-match, Andrade offered a handshake, which Buddy eventually looked like he might accept. Before he could, the lights went out, and the rest of The House of Black appeared to beat down Andrade.
We were shown a video package reminding us that Scorpio Sky is apparently still employed at AEW.
Tony Nese and Mark Stirling were in the ring giving the Chicago crowd some grief. Nese had noticed how many disgustingly fat people were in attendance, so he told them to put down the snacks and stand up to do some exercises with him.
This led to Nese being interrupted and his scheduled opponent appearing for their match.
Miro vs. Tony Nese
Winner: Miro (submission)
It didn't take Miro long to lock Tony Nese in the Cobra Clutch and make him squeal. Just about everything that Nese threw at Miro was blocked simply by Miro tensing up and leaning in.
This was the 9 PM/top-of-the-hour spot, too, which tells me there might be some big plans for Miro if he's getting a spotlit showcase in such a prominent spot on a debut show.
"There are still things left to do" is the main takeaway from the CM Punk video presented that sort of explained where he's been and why he hasn't been here… in a kayfabe sense.
Skye Blue & Willow Nightingale vs. Toni Storm & Ruby Soho
Winners: Skye Blue & Willow Nightingale (pinfall)
I appreciated the fact that the two teams could be differentiated because of their matching ring attire. For some reason, this doesn't happen as often as it should.
With that in mind, I would probably let that slide if the quality of work in-ring was the tradeoff. AEW women's division isn't known far and wide for its high calibre history. Most of the time, it's a case of watching matches with gritted teeth while hoping nobody gets legitimately injured. This wasn't exactly the case for this encounter, so I guess I shouldn't complain too much.
They really amped up the fact that Skye Blue is from Chicago, and she was the main attraction of the match, as well as her mom at ringside, who slapped both the heels. I'm sure she's a lovely lass and everything, but Skye suffers from the same issue as many females in the business do. There's hardly any weight or force behind a lot of their stuff, and it makes the whole thing look like more of a cooperative performance. That's the main issue – the fact that she looks like so many others active in the industry at the moment doesn't help her stand out either.
Willow Nightingale having a bit more meat on her bones is one of the potential steps in the right direction. However, if her thing is that she's bigger and stronger than most of the other lasses, she shouldn't be throwing herself across the ring when a 100lb girl slaps her.
Toni Storm and Ruby Soho tried to use their spray paint cans to blind Skye, but Willow interfered, and the heels ended up getting each other. Willow softened Ruby up, and Skye hit her Code Blue for the win.
We then saw a Ricky Starks video where he vowed to win the Owen Hart Cup. I like Starks, but I don't know if he can clean off all the crap he's walked through in AEW so far.
Tony Schiavone introduced The Acclaimed and Billy Gunn for an interview. Max Castor's rap was tamer than usual, with some low-hanging Donald Trump dig. Billy allowed Tony to keep his microphone in his hand while saying he and The Acclaimed still have their eyes set on the Trios Title. Antony Bowens then snatched the stick away from Schiavone and went a bit over the top with the scissoring and the silly faces.
This accumulated in all four men in the ring meeting in the middle and scissoring with their hands.
Another serious-toned pre-taped video played next. This time, it was Jeff Jarrett looking forward to his Concession Stand Brawl with Mark Briscoe. A lot of the pre-tapes on AEW are forced and cringe-worthy. However, the selection we saw throughout the night didn't take away from the ride we were currently on. Good stuff.
CM Punk & FTR vs. Samoa Joe & Bullet Club Gold
Winners: CM Punk & FTR (pinfall)
A nice little six-man tag that didn't involve 1080-degree flips or Canadian Destroyers through stacks of tables.
The two tag teams did most of the heavy lifting, with CM Punk and Samoa Joe stoking the embers of their feud in Ring of Honor here and there. At one point, while Joe and Punk squared off, Jay White and Juice Robinson jumped Punk and gave Joe the advantage. Joe locked in the Rear Naked Choke, and FTR was initially too far away to make the save. For some reason, when Cash Wheeler finally got in the ring, he ran to the other side of the ring to free Dax Harwood, who then freed CM Punk. Wouldn't it have just been easier and quicker for Cash to kick Joe in the face once he got in the ring?
Anyway, we now have the question of  "What would have happened if FTR hadn't saved Punk?" and Joe's probably going to be Punk's first challenger.
The end of the fight saw Juice get smashed with a Shatter Machine and then a Go To Sleep.
Overall, I enjoyed this debut episode of Collision. There were a couple of instances in the night where I was laughing AT and not laughing WITH what was going on, which was disappointing. Maybe I was just expecting a bit too much of a change from the AEW norm.
That's not to say there wasn't anything good on the show. All the Punk stuff was worth a watch or two, and the quality of wrestling only really dipped during the women's match. I'll watch it again next week and will probably continue to do so until it just becomes Dynamite/Rampage but on a Saturday.
–  OLDER RESULTS –
Thanks for reading these AEW Collision results! Feel free to get in touch on Twitter, SUBSCRIBE to my YouTube channel, and check out everything else I write about over on: