AEW Revolution Results (2023)
AEW Revolution Results
AEW Revolution results and commentary from Danny Damage!
AEW Revolution Results 2023
When Tony "the Snowman" Khan announced the main event for Revolution, I raised an eyebrow in interest. However, two months of Tony's booking later, I'm really not that fussed anymore. Nothing against either of the wrestlers personally, but the whole "beat this string of guys, and then I'll fight you at the PPV" thing has already been done to death in AEW, not just with MJF.
Tony Khan should have announced the match when he did, shown the graphic and the date every week, and then said absolutely nothing. Assuming potential fans weren't turned off by the current AEW TV product, Tony would have scared fewer people away from his jam-packed 4-hour bender.
I watched the pre-show as I was waiting for the show to start anyway, but I wouldn't recommend it. The backstage interviews were horrendous, and the guy doing an impression of JD from Scrubs interviewing people ran off even more undecided customers.
Chris Jericho vs. Ricky Starks
Winner: Ricky Starks (pinfall)
Jericho and Starks put on a nice little opening fight to get the crowd warmed up. Starks had his ribs taped up, so Jericho obviously honed in on them throughout the match. Starks put Jericho away with the Roshambo.
Ricky Starks didn't need to wrestle Chris Jericho; Chris Jericho needed to wrestle Ricky Starks.
Christian Cage vs. Jungle Boy (Final Burial)
Winner: Jungle Boy
There were no rules in what was essentially a casket match combined with a buried alive match… because one stipulation per bout isn't enough for Tony Khan's attention span.
They scrapped all the way around the arena and made their way up to the casket up the ramp. After Jungle Boy splatted Christian with a con-chair-to, he chucked him in the casket, closed the lid, and won.
The Elite vs. The House of Black (AEW Trios Title)
Winners: The House of Black (pinfall)
I don't get paid enough to document Kenny Omega/The Young Bucks' playtime silliness; watching it's rough enough.
Here's some ringside fan-cam footage:
It took three full-grown men/meatheads to put Matt Jackson down for the three-count… because, of course, it did.
Jamie Hayter vs. Saraya vs. Ruby Soho (AEW Women's Title)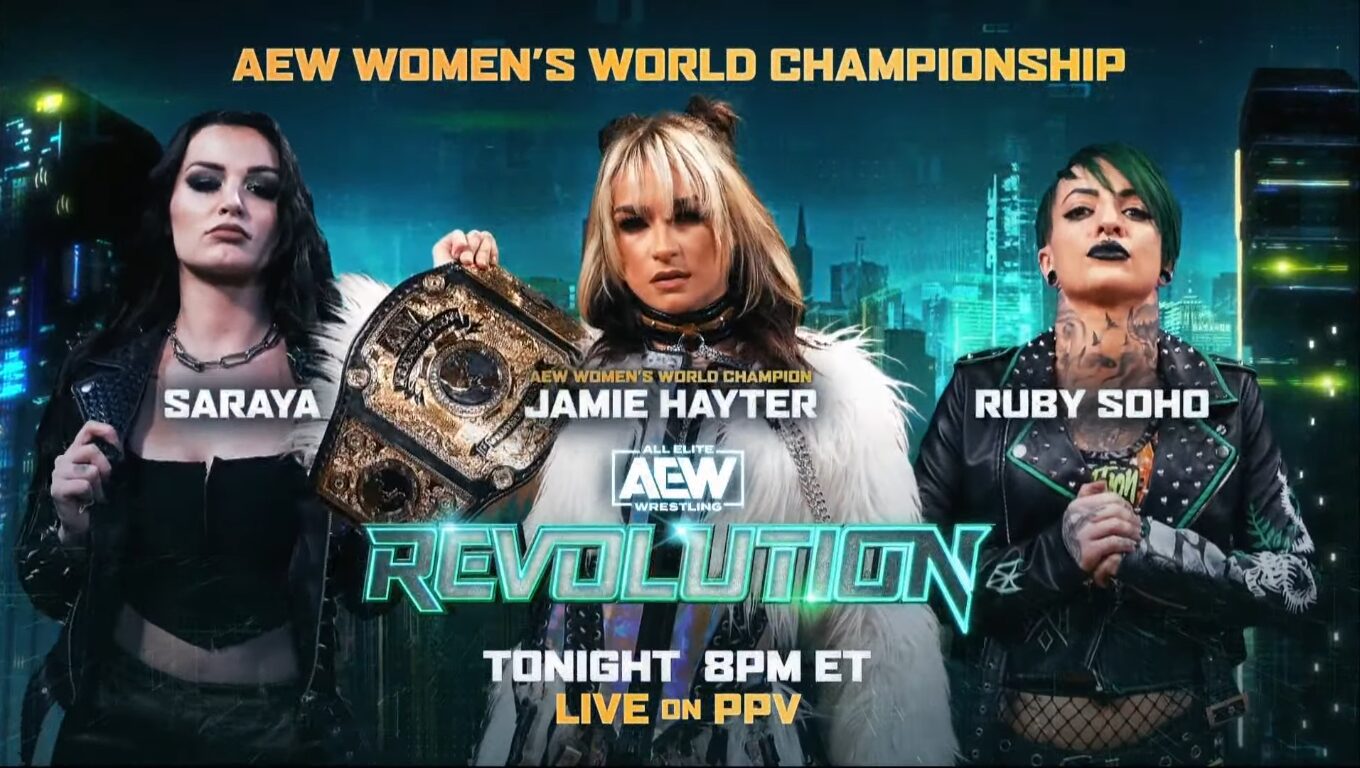 Winner: Jamie Hayter (pinfall)
As far as triple threats go, this match wasn't the worst. All three lasses knew what they were doing in there, and the convoluted spots were kept to a minimum.
After they all scrambled to score a pin, Hayter rolled up Soho for the win.
Post-match, Soho looked like she was siding with Britt Baker and Jamie Hayter by fighting off the sour heels, but Soho turned on the AEW originals.
Jon Moxley vs. "Hangman" Adam Page (Texas Death Math)
Winner: Fake Tough Guy #2 Hangman Adam Page
Well, they were raking each other with barbwire by around the three-minute mark and using forks on foreheads within about five. The ring was quickly filled with chairs, barbwire, and chairs wrapped in barbwire. Because the fans (and Moxley) haven't properly absorbed the concept of moderation, they quickly forgot the gore they'd just seen and chanted, "We want tables."
In order to top what they'd already spammed into boredom, Page wrapped himself in barbwire and landed a moonsault from the top rope to the floor. It got bloodier from there, and they just did stuff and waited for the referee to count to nine for 90% of the fight.
It finally came to an end when Moxley got hung up with a chain over the top rope and tapped out.
Samoa Joe vs. Wardlow (TNT Title)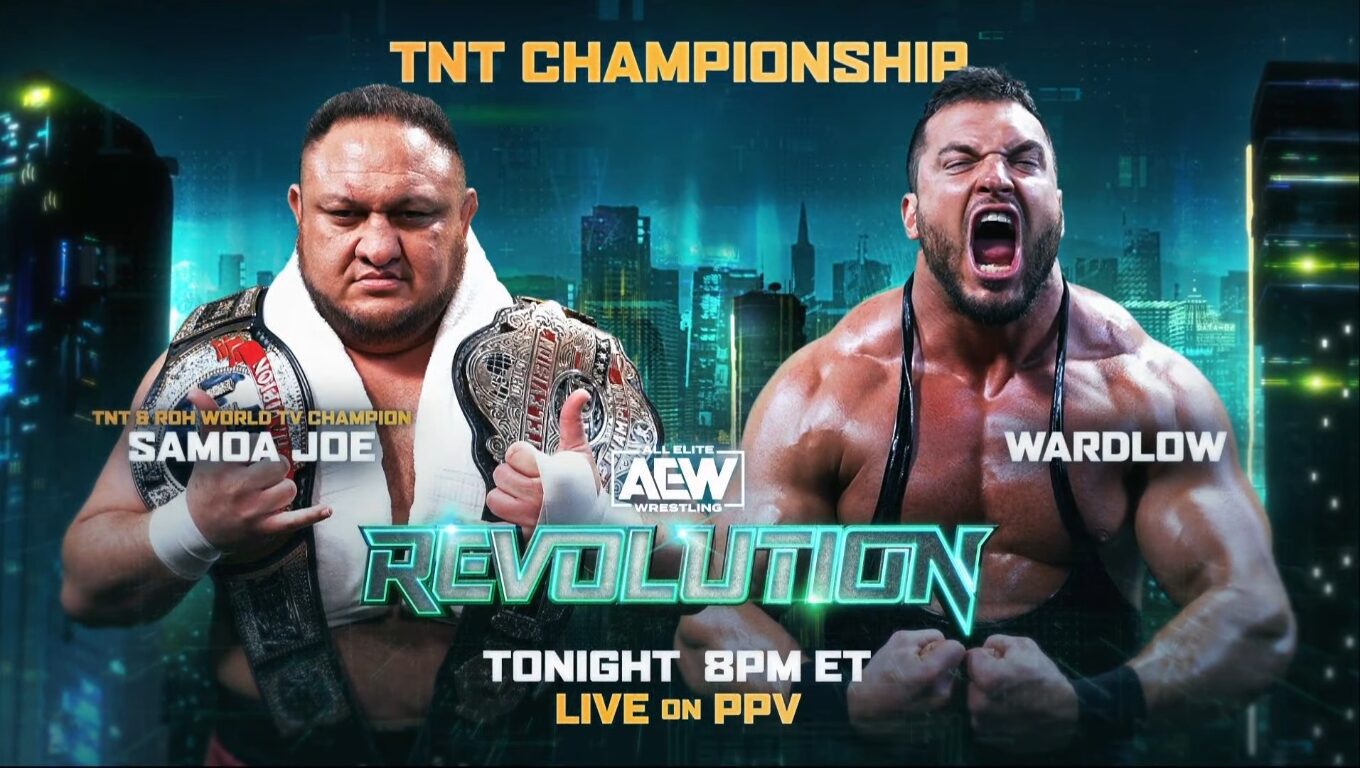 Winner: Wardlow (TKO)
After these two behemoths battered the crap out of each other while the crowd had a little nap, Wardlow made Joe pass out with his own submission.
Gunns vs. Acclaimed vs. Jarrett & Lethal vs. Team Cosplay (AEW Tag Team Title)
Winners: The Gunns (pinfall)
The match started with Jeff Jarrett and Jay Lethal clowning around for Danhausen and Orange Cassidy, and they kept at it throughout the match. Just like every time there's a triple-threat/four-way/etc., the acknowledgment of rope breaks, count-outs, legal participants, tags, and interference are toggled on and off at random. The Gunns eventually pinned Danhausen.
Once they'd defended their belts, The Gunns gloated on the mic for a bit, which caused FTR to return and knock the champs around and out of the ring.
MJF vs. Bryan Danielson (Iron Man/AEW World Title)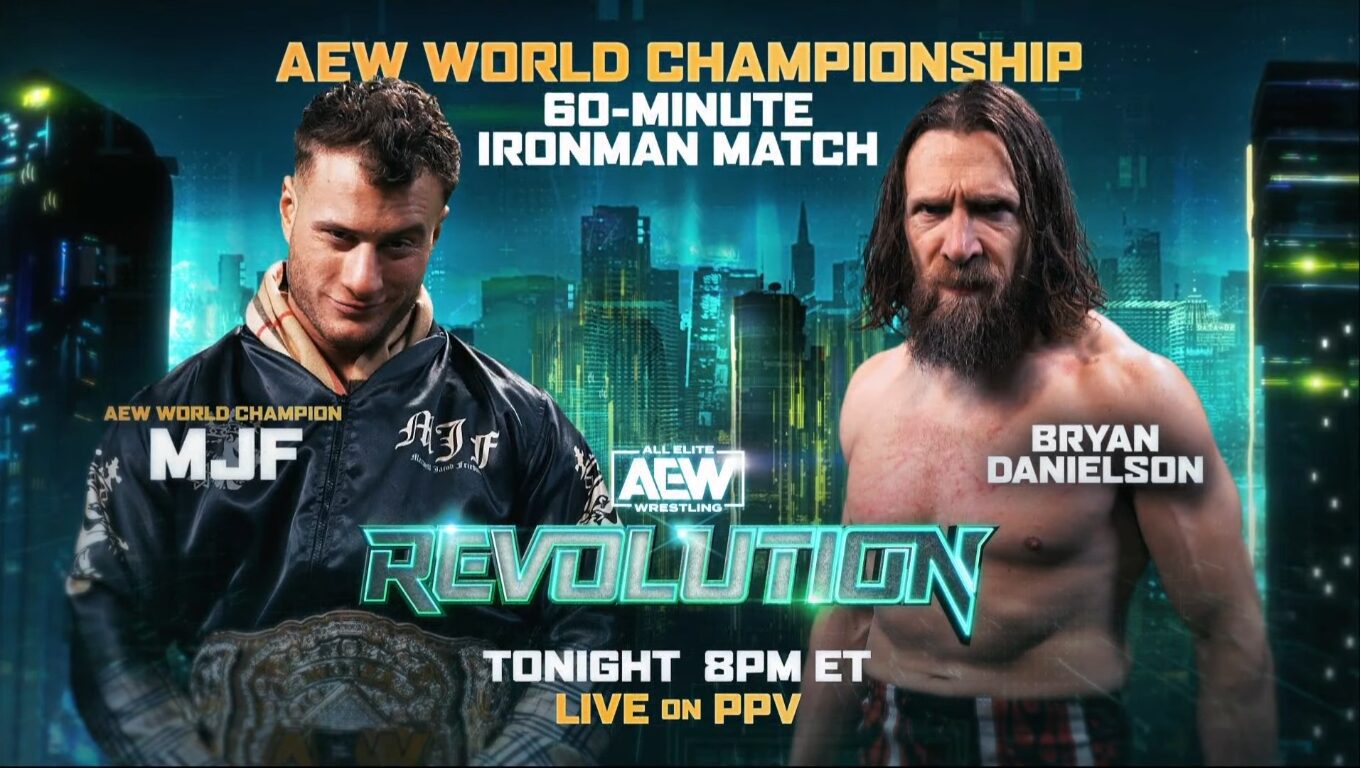 Winner: MJF (submission)
Going into the match, Bryan had a target on his left arm from the series of hitmen MJF hired to weaken it.
The first fall went to Bryan after he hit his running knee around the 25-minute mark. Then, MJF got himself DQ'd from a low blow, but the damage caused allowed him to score two consecutive pins, which brought the score to 2-2.
MJF took the 3-2 lead at around 40 minutes with a Heat-Seeker that followed from a Tombstone on the outside. Bryan got busted open, but with the amateur bloodbath between Moxley and Hangman, it didn't really have the same impact. Bryan busted MJF open with a diving headbutt and evened the score at 3-3 soon after.
MJF hit another Heatseeker with four minutes to go, but Bryan kicked out. MJF then landed a Tombstone off the second rope, but MJF's knees took a beating at the same time, and he couldn't capitalize with a pinfall. Danielson caught MJF in a single-leg crap with only 70 seconds left on the clock. However, MJF held on and outlasted the clock, despite Max tapping after the bell.
The night wasn't over with that. Thanks to Tiny Tony, the match was made to continue with sudden death rules. MJF rushed through his book of dirty tricks, but Bryan looked to have an answer for everything. The determining factor was an oxygen tank one of the doctors left after the bell rang the first time. Bryan got whacked senseless with the canister, MJF locked in the Labell Lock, and Bryan eventually tapped out.
A great main event with an expected outcome. The crowd was well into it, and Bryan has plenty to gripe about, so he doesn't come off as weak. The overall length of the PPV was excessive, as they always are when cut from Tony's notebook, but at least the headline match was highly enjoyable.
My only beef with the main event was that blood had already been used early in Moxley vs. Hangman, and Wardlow defeated his opponent with their own finisher, too. You'd think someone would have spotted this and communicated it beforehand.
–  OLDER RESULTS –
Thanks for reading these AEW Revolution results! Feel free to get in touch on Twitter, SUBSCRIBE to my YouTube channel, and check out everything else I write about over on: