AEW Full Gear Results (2022)
AEW Full Gear Results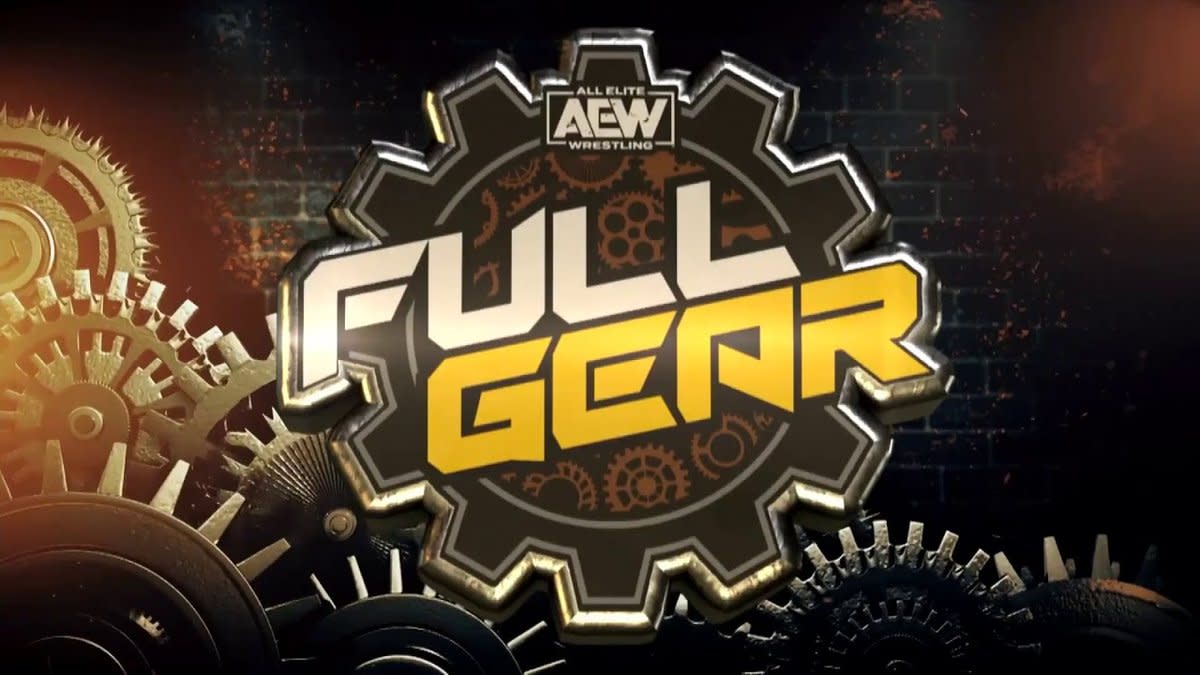 AEW Full Gear results and commentary from Danny Damage!
AEW Full Gear Results (2022)
Every… fucking… time! How many matches, Tony? It's not Wrestle Kingdom or WrestleMania, and it's not just me running on UK time (1 AM start) that has issues with this. Many people state-side kick up more of a fuss than I do about how long these drag on. Christ on a bike, I have no idea why this is your formula.
On an unrelated note, here's a Twitter shout-out:
Now, this isn't anything personal against Renee Moxley, but just as I've said about Excalibur acting as a talking head for the hype packages… no thanks. If someone gets hit by a vehicle or something and we need eyewitnesses to recall the events, sure, but find more veterans backstage to chime in with these pre-match packages. As it is, it looks like reality TV garbage with the 20-years-older-than-they-wish-they-were hosts gossiping about off-camera moments.
Okay, folks. Grab a coffee or something else with a kick to it; there's a long way to go for the one result we're really here for.
Luchasaurus vs. "Jungle Boy" Jack Perry (Steel Cage Match)
Winner: Jungle Boy (submission)
Jungle Boy got busted open from flying headfirst into the cage within ten minutes of the match. Christian lurked on the outside like the sinister spawn of James Mitchell, while Jungle Boy got picked apart by his much bigger opponent. While one of the outside referees wasn't paying attention, Christian lifted the key to the cage from his belt. As soon as the cage door was opened, security ejected Christian, and then the fight spilled outside momentarily.
Weapons were introduced, and Jungle Boy managed to take advantage of a few openings, including a two-count from a piledriver. After a few chair shots, Jungle Boy jumped off the top of the cage, putting Luchasaurus through a table with an elbow drop. He then applied the Snare Trap for the win.
Death Triangle vs. The Elite (Pissbreak/AEW Trios Championship)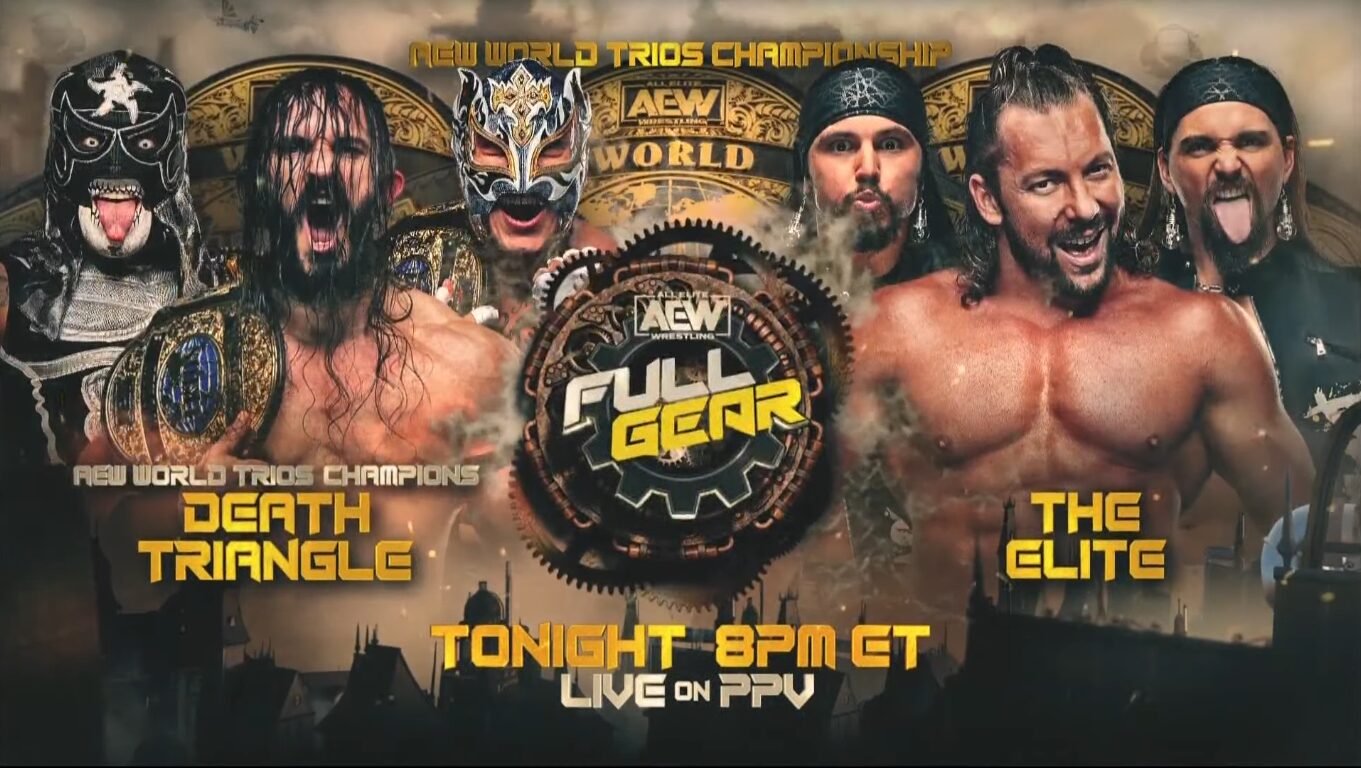 Winners: Death Triangle (pinfall)
For what it's worth, the live crowd popped for this match's graphic louder than any of the others. They also jumped into a "Fuck CM Punk" and then a "Colt Cabana" chant. As I'm sure will come as no surprise, I'm in heavy disagreement with the fans. Just like with everything else involving these clowns, tags/legal men meant nothing, everyone had 9999 specials stored, everyone kicked out of everything twice, and it just got dumb. In the end, Fenix countered the One-Winged Angel with a hidden hammer shot and rolled Omega up.
As I've been saying for years now, since AEW's video game was announced, I'll be very interested in seeing how many AEW fans tune in to watch weekly shows and pay for PPVs when they can Fight Forever 24-7 with a joypad in hand.
Jade Cargill vs. Nyla Rose (TBS Championship)
Winner: Jade Cargill (pinfall)
A bit of a clunky contest; it wasn't pretty. Jade won with Jaded.
Chris Jericho vs. Bryan Danielson vs. Claudio Castagnoli vs. Sammy Guevara ROH World Championship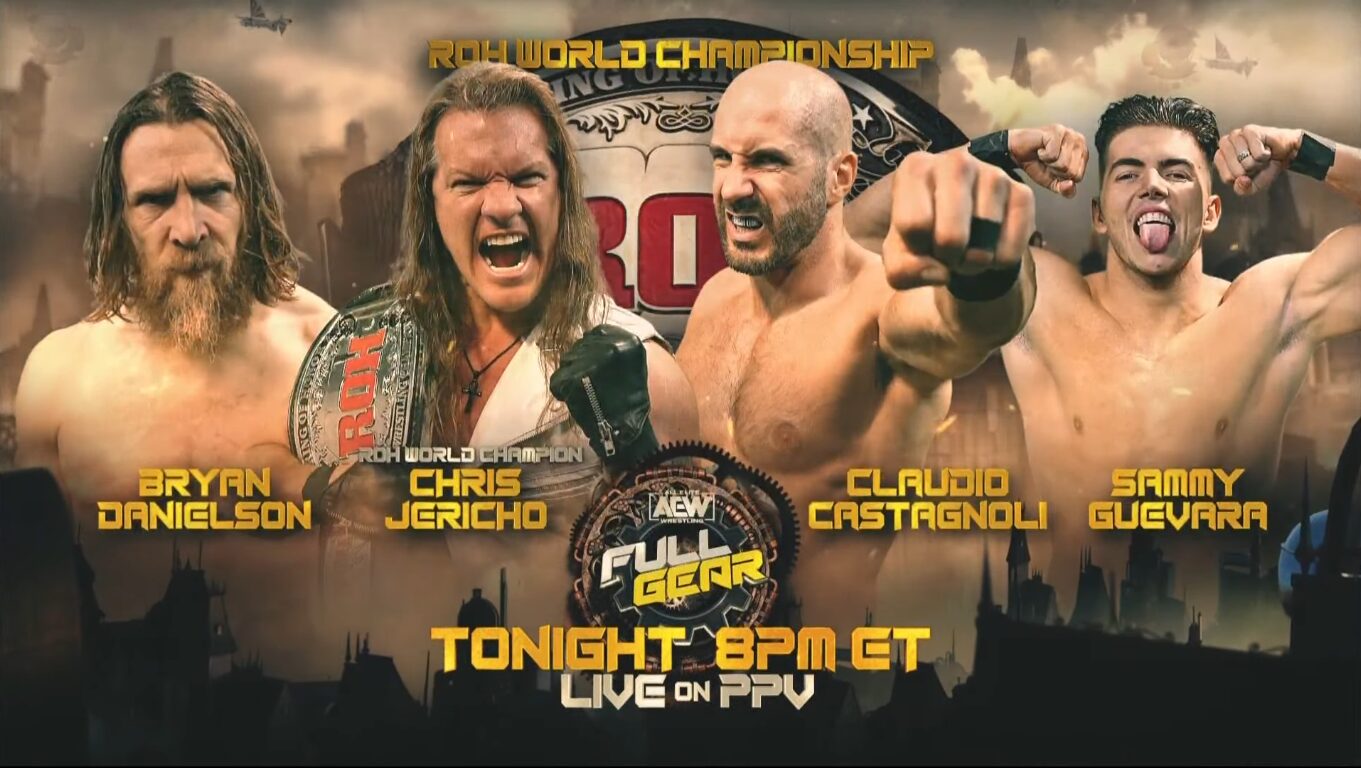 Winner: Chris Jericho (pinfall)
Despite this match being a fatal-four-way, most of it was 2-on-2 between the faces and the heels. Jericho instructed Guevara to sit back while he went for pinfalls until Sammy eventually broke up one of his pin-fall attempts, and they started fighting. The match continued every-man-for-himself style, but there was too much waiting around for the next (obviously choreographed) spot to happen, and that killed the match for me. The brief exchange and near-fall between Danielson and Claudio towards the climax weren't enough to save it, and Jericho fell into his wobbly back-elbow on Claudio to retain the belt.
Dr. Britt Baker vs. Saraya (Please Don't Drop Her Match)
Winner: Saraya (pinfall)
Baker focused solely on Saraya's neck from the get-go, which caused silence in the arena akin to Bryan Danielson's first match back from his neck injury. Saraya got hit with everything for ten minutes and even kicked out of two stomps. Eventually, Saraya hit her finish on Britt twice in a row to win the match.
Wardlow vs. Samoa Joe vs. Powerhouse Hobbs (TNT Championship)
Winner: Samoa Joe (TKO)
These three meatheads went all-out with power moves from the bell. Wardlow started showing how agile he was off the top rope and almost didn't rotate over enough for a senton. Then, Wardlow looked like he had things under control as he gave three power bombs to Hobbs, but then Joe KO'd Wardlow with the belt and choked Hobbs out to steal the match.
It wasn't that long ago that the fans were loving every bit of Wardlow, but that fixation had faded now. Joe, the heel, got a big pop for his sneaky win against Wardlow, the baby-face juggernaut.
Jeff Jarrett and Jay Lethal vs. Sting and Darby Allin (Mid-2000s TNA Memorial Match)
Winners: Darby Allin & Sting (pinfall)
For whatever reason, this tag team match was no count-out and no disqualification. It started on the ramp, and Darby found a ladder to jump off of within minutes. The battle eventually made its way to the ring, and the heel's ringside minions got involved during pinfall attempts… but not continuously. I mean, they're the bad guys; why wouldn't they just cheat throughout the match instead of waiting patiently outside until something needs breaking up?
The messy finish saw Lethal attempt a Lethal Injection, with the intention of Sting reversing it into a Scorpion Death Drop, but they tumbled over into a heap. Darby caught on to this and hit a Coffin Drop on Lethal to pick up the win.
Toni Storm vs. Jamie Hayter (Interim AEW Women's Champion)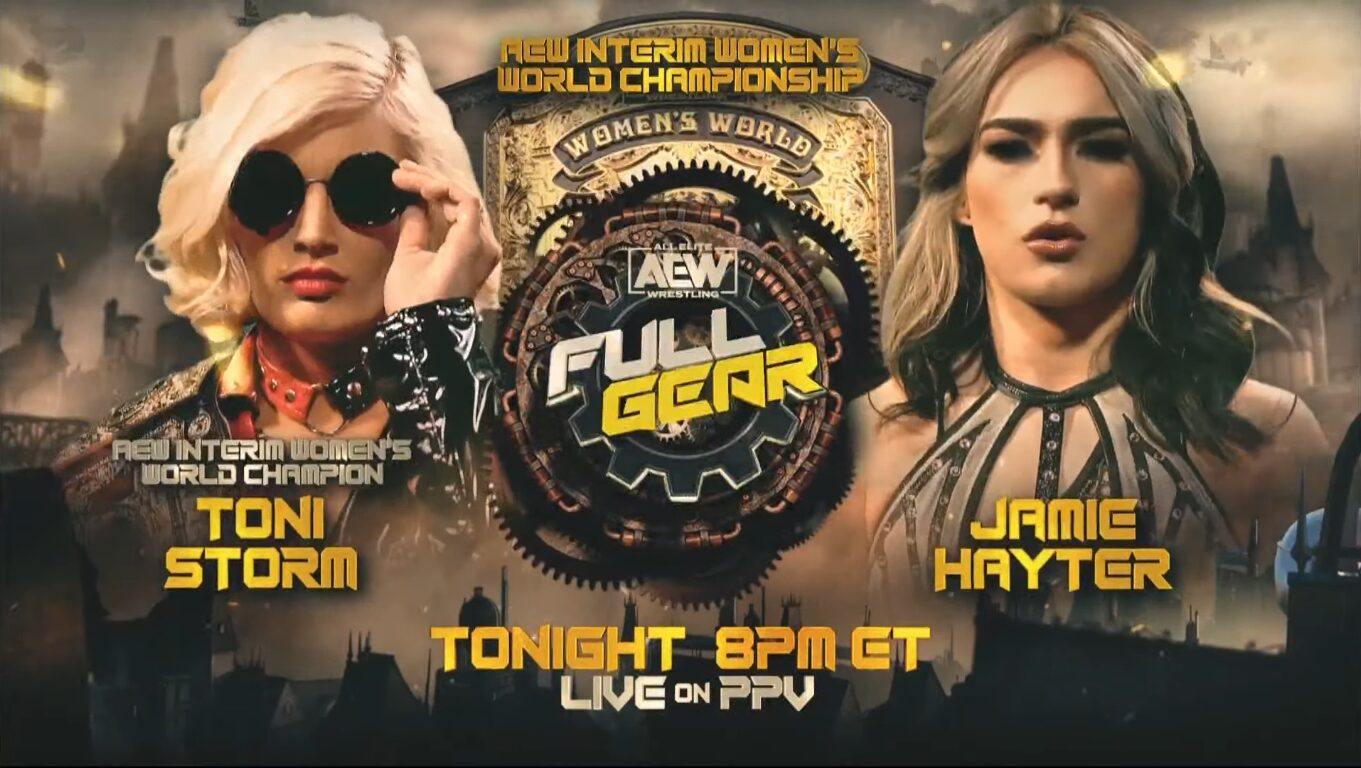 Winner: Jamie Hayter (pinfall)
Both lasses brought their A-game; Hayter, especially, treated the match like something special in all the pre-match hype footage. Hayter got the better of Storm early on, but that led to her getting cocky, putting her hands on the referee and allowing Storm to turn the tide. Even though Hayter said she wanted to beat Storm on her own, Rebel ran down to crack Storm with the belt.
Their cheating only scored a two-count here, but Britt Baker jumped out of the crowd to hit a stomp behind the referee's back. Storm kicked out again and got her own near-fall. After a series of twos from each of them, Storm's head made contact with an exposed turnbuckle thanks to Baker, and Hayter won her first title in the company.
The Acclaimed vs. Swerve In Our Glory (AEW Tag Team Championship)
Winners: The Acclaimed (pinfall)
The Acclaimed started off hot with Max Caster's rap and knocking Swerve and Lee to the outside. Swerve kept taking advantage of the referee's blind spots and bringing weapons into the mix, which caused him and Lee to bicker frequently. S.I.O.G. worked on Bowens' "injured" arm for the majority of the bout, and then Caster took out Lee with the guard rail that Swerve set up earlier. Once the match reset, Swerve tossed Caster over the time-keeper's table, and he revealed a pair of pliers. Billy Gunn appeared to put a stop to that and was hastily escorted away by security.
Swerve lost his cool and slapped Lee in frustration, so Lee washed his hands of the match, walked off up the ramp, and left Swerve to eat a pin.
Jon Moxley vs. MJF (AEW World Championship)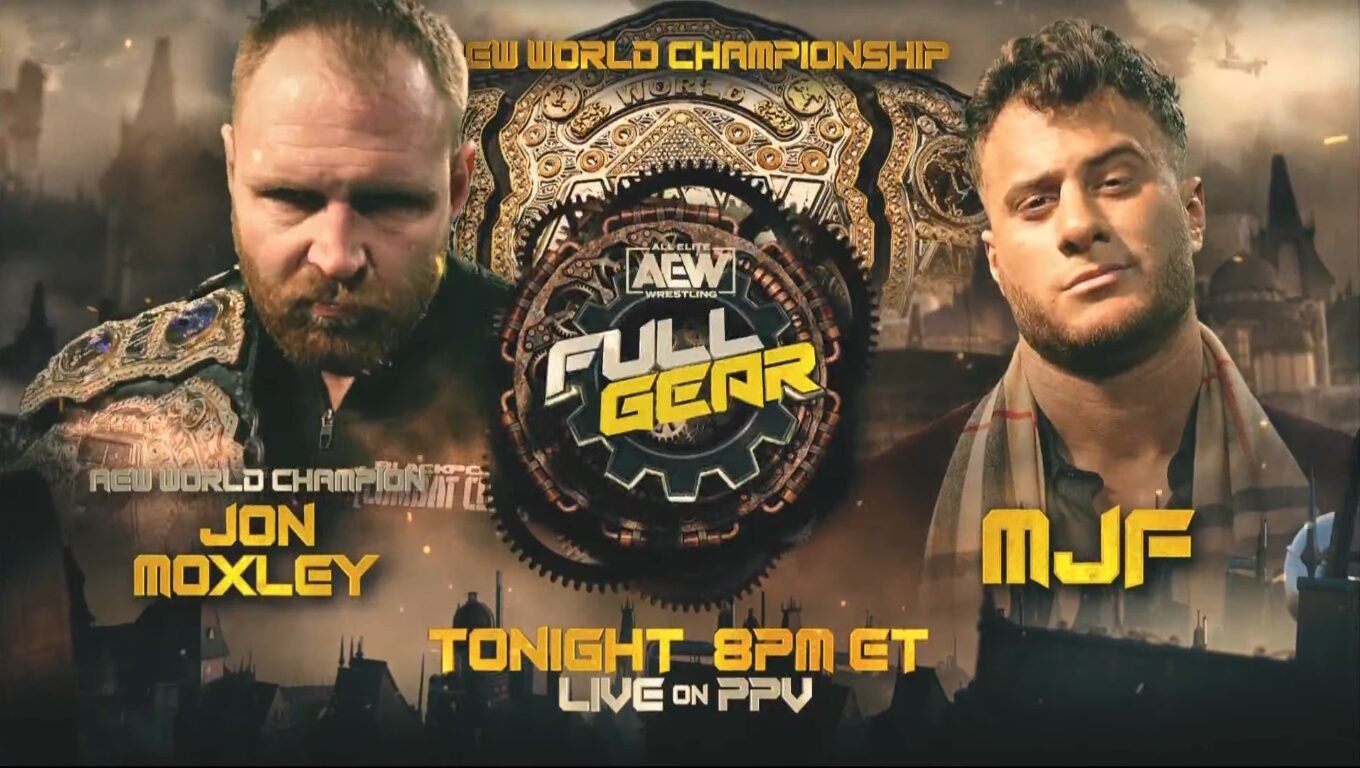 Winner: MJF (pinfall)
OH MY GOD, Moxley relentlessly did this bird-flipping thing with his middle finger that nobody has ever done before; what an original, edgy bastard he is!!! </sarcasm>
If Mox ain't going to take the match seriously, why should anyone else? Mox spent way too much time looking/smiling/tongue-poking/bird-flipping the camera and crowd, and it just took me out of it. He eventually got some heat due to his actions in the match, but his mannerisms and faces early on were just childish and silly, not hate-getting.
MJF hit Mox with a Tombstone Piledriver on the apron, and not even ten seconds later, Mox had recovered enough to Piledrive MJF through a table in response. Mox started working on MJF's leg and then hit a Paradigm Shift from the top. Luckily for MFJ, he was within arm's reach of the bottom rope, and he broke the count.
When the referee took a bump, MJF grabbed his Dynamite diamond ring, but William Regal threatened to give him a good thrashing if he used it. So,  MJF tossed the ring aside, and then the second referee took a bump, too. MJF tapped out while caught in the Bulldog Choke, but the official didn't catch it. Mox went over to wake one of the referees up, but it was at that time that Regal slid a pair of brass knuckles to MJF, allowing him to drop Moxley like a sack of shit and win the title.
The result was the right one, even if it was a bit of a long-winded way to get there.
Since the Punk/Elite backstage brawl, AEW has mostly reverted to its early days with regard to quality and content. Besides a few new ex-WWE signings, the bulk of the AEW favorites are the same now as they were three years ago, and a lot of what made it to television has been sloppy as hell. Dynamite has been struggling to top a million viewers each week; it even dropped to 800k this week. Rampage's numbers are embarrassing, and many TV shows with higher have been canceled in the past. This is one hell of a rickety bridge over a giant chasm. Putting the belt on MJF has a chance of turning things around, but many fans have long spent all of their goodwill with AEW/Tony Khan.
Let's wait and see if it's a case of too little, too late. If there's anything worthy of mention from the media scrum, I'll do so on Twitter.
–  OLDER RESULTS –
Thanks for reading these AEW Full Gear results! Feel free to get in touch on Twitter, SUBSCRIBE to my YouTube channel, and check out everything else I write about over on: