AEW All Out Results (2022)
AEW All Out Results
AEW All Out Results and commentary from Danny Damage!
AEW All Out Results 2022
Tiny Tony Khan had to get more matches in his one show than both Clash at the Castle AND NXT Worlds Collide combined. At least Eddie Kingston was (generously) where he belongs, on the pre-show. Remember, when WWE run their Draft Kings advert 15 minutes into a show, that's greedy, but when AEW uses the same advert after being on the air for just 20 seconds, that's fine! </sarcasm>
Claudio vs. Dante Martin vs. Penta vs. Rey Fenix vs. RUSH vs. Wheeler Yuta vs. Joker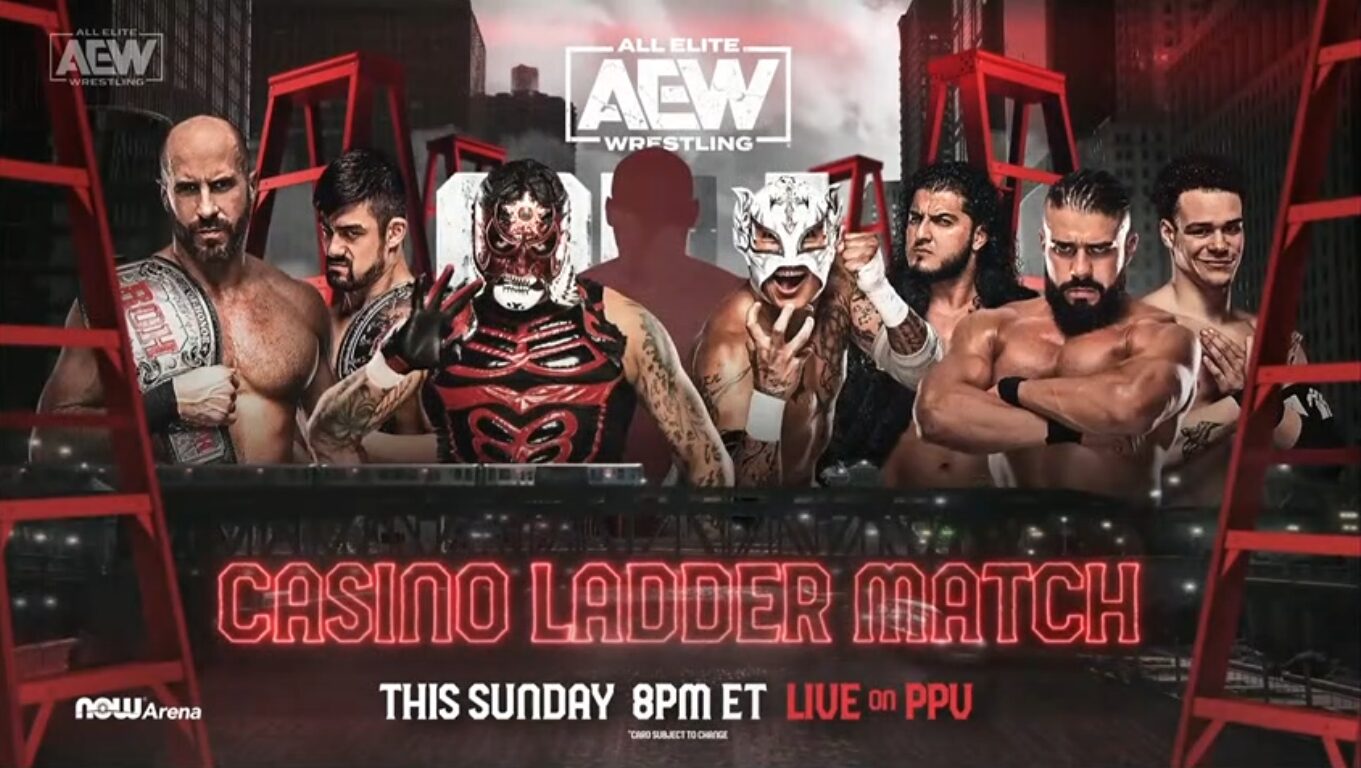 Winner: "The Joker"
As expected, the match was a chaotic scramble from the start, and all the furniture was brought out and used as soon as possible. Some of the spots were set up way too early, and some didn't make sense even while they were being used.
Stokely Hathaway and a group of masked men ambushed everyone, grabbed the chip, and presented it to the masked Joker, who never revealed his identity… but I'm pretty sure he's better than you, and you know it.
I seriously can't wait for the video game to be released. Not because I want to play it, but I'm curious as to how many of AEW's almost-million viewers will bother to tune in at a set time when they have 24/7 access to all the special moves and fantasy booking.
The Elite vs. Dark Order (Trios Titles)
Winners: Kenny Omega & Young Bucks (pinfall)
If you like these guys, you'll enjoy this match. They all ran through their checklists of shit to get in, and the referee was about as much use as tits are to a bull. There was no tag-team element to this series of ridiculous events – yet again, another tornado tag where everyone has 9999 specials in the bank, and everyone kicks out from everything like they're Hulk Hogan or the Ultimate Warrior in their primes. The Hardy Soyz are especially guilty of this. They're both tiny, and a decent enough fart would be enough to put them both on their arses.
The six-man masturbatory effort was finally over after Adam Page went for his Buckshot Lariat but ended up hitting John Silva when Kenny Omega ducked.
I know I just said it, but it's relevant here again: I seriously can't wait for the video game to be released. Not because I want to play it, but I'm curious as to how many of AEW's almost-million viewers will bother to tune in at a set time when they have 24/7 access to fake tough guys and no rules.
Jade Cargill vs. Athena (TBS Title)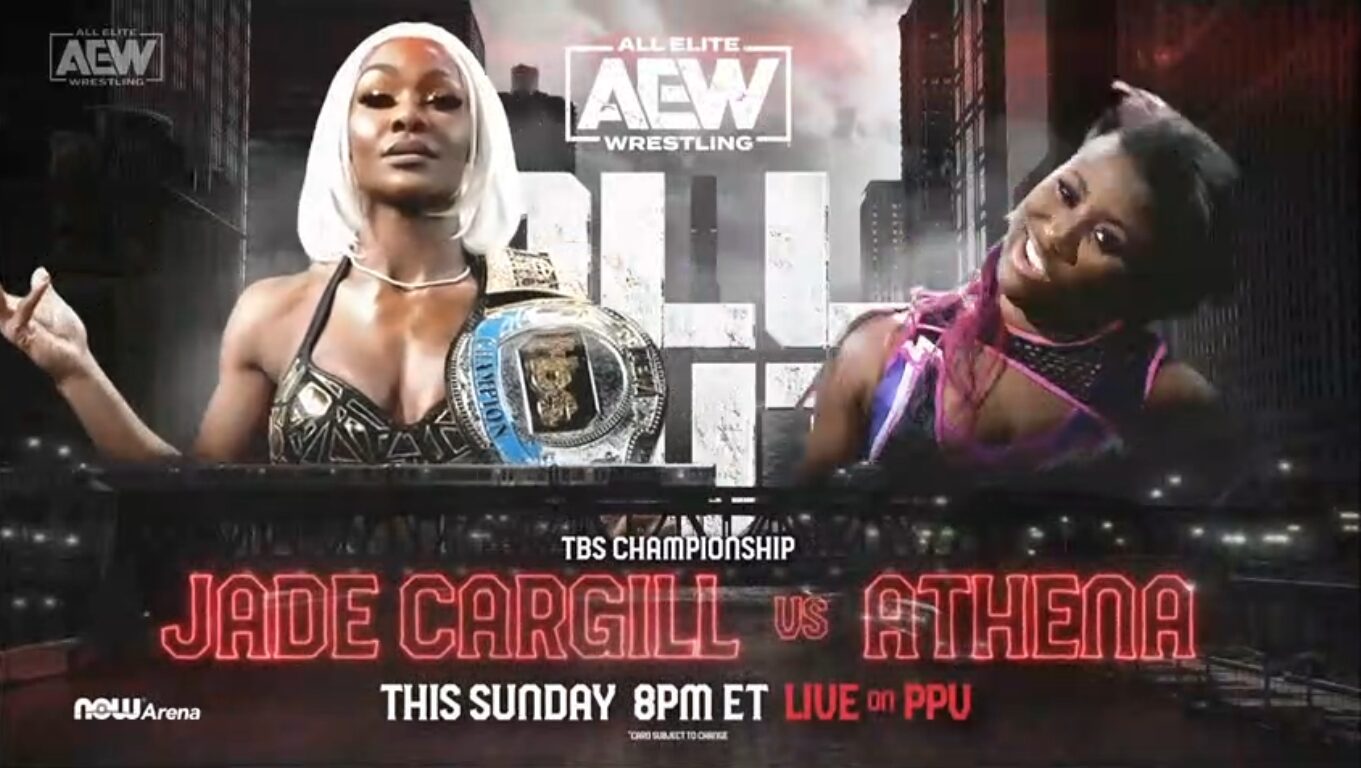 Winner: Jade Cargill (pinfall)
Athena got the jump on Jade and looked like she might get the upset win. However, Jade's minions intervened, and the referee didn't call the match off. Athena came back with some fire and hit Jade with everything she had, but her momentum fell flat on its face when Jade put a couple of moves together. Hitting Jaded put Jade's streak at 37-0.
If the She-Hulk series hasn't buried itself on its own (lack of) merit, Jade coming out painted green just finished it off. Call dirty Disney; that show's done!
FTR & Wardlow vs. Jay Lethal & Motor City Machine Guns
Winners: FTR & Wardlow (pinfall)
Wardlow was the only one of the six who wasn't a veteran here, so he was in good hands tonight. FTR had some good back and forth with Lethal and MCMGs, and the heels kept Wardlow from making a tag for as long as they could. When that time arrived, Wardlow demolished Lethal with four power bombs.
Post-match, Lethal's full posse surrounded the faces, but that caused Samoa Joe to appear and even the odds. Sonjay Dutt was left on his own and groveling to the faces. Dax Harwood's daughter then ran down to the ring and broke Dutt's pencil. One of the faces knocked Dutt out, and Harwood Jr. put a foot on Dutt's chest for a pretend pinfall.
I love me some FTR, but this was a bit much.
Ricky Starks vs. Powerhouse Hobbs
Winner: Powerhouse Hobbs
Starks flew out of the gate, but Hobbs ran into Ricky and flattened him. Hobbs toyed with his opponent momentarily, and then Starks tried to make a comeback. Hobbs was too quick and too powerful, and he ruined Ricky with his Spinebuster.
Swerve in Our Glory vs. The Acclaimed (Tag Team Titles)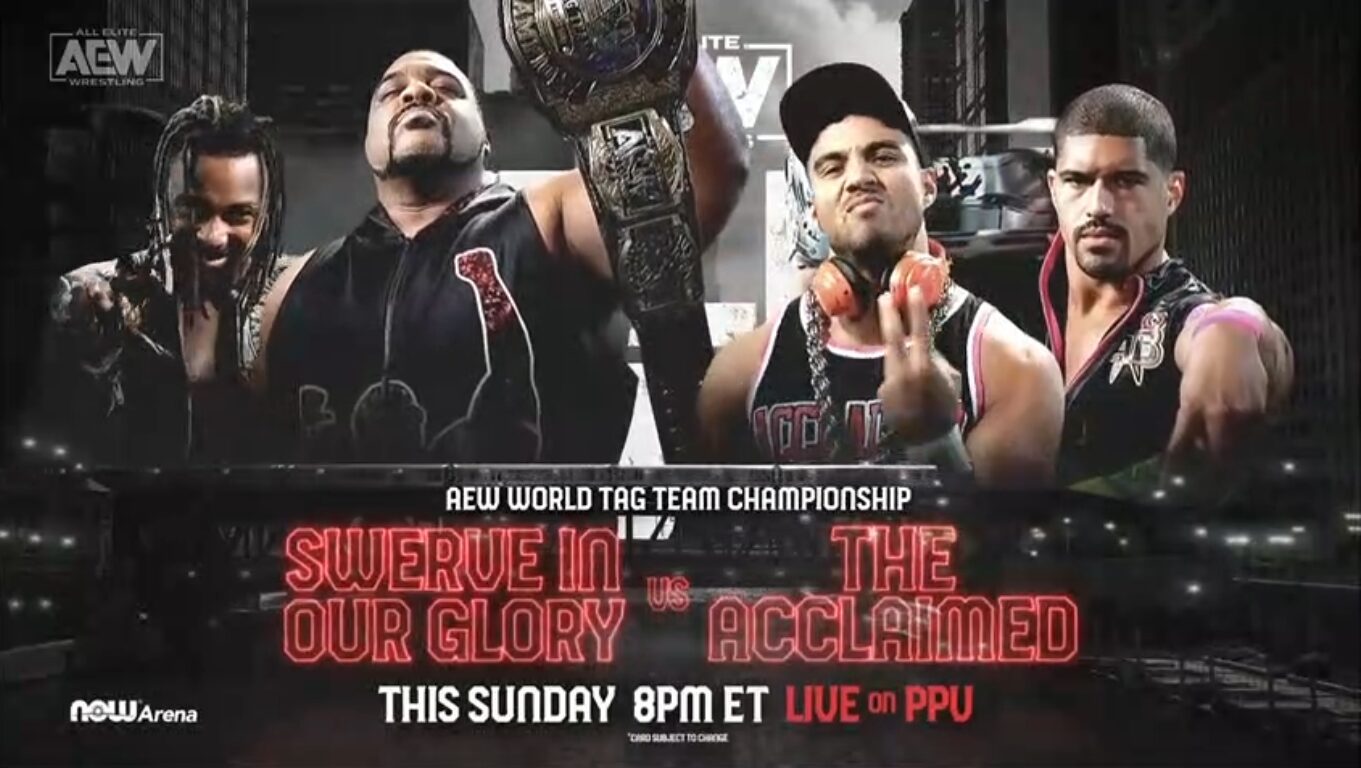 Winners: Swerve in Our Glory (pinfall)
The fans were madly behind The Acclaimed from the beginning, so Lee and Swerve naturally fell into playing the heels. Bowens "slipped" off the second rope and hurt his knee, so Swerve and Lee targeted that. The Acclaimed came close to grabbing the belts a few times, but the assisted stomp off the top put Bowens down for three.
I know many will sulk at this one, but Cringe in Our Glory isn't all that and a bag of chips like some people claim. They were brought in from WWE, told they'd be treated better, realized there are already 50 singles champions on the roster, and settled with the tag belts.
Toni Storm vs. Hikaru Shida vs. Jamie Hayter vs. Britt Baker (Interim Women's Title)
Winner: Toni Storm (pinfall)
Despite this being another fatal-four-way, 90% of the bout was a two-on-two between the heels and the faces. The crowd was very vocally behind Jamie Arsecheeks, and the roof nearly blew when she almost won the belt. The only reason she didn't win was because Britt Baker pulled the referee out of the ring. While Baker and Hayter were sizing each other up, Storm hit them both with jumping DDTs and pinned Hayter. The crowd didn't really react to Storm winning; they were gagging for Hayter.
Christian Cage vs. Jungle Boy
Winner: Christian (pinfall)
As Christian came down to the ring, he got a slap in the face from Jungle Boy's mom in the front row. Jungle Boy entered the arena and was cut off by Luchasaurus, who choke-slammed him off the stage and through the announce table. Luchsaurus then fed him to Christian, who hit a spear and a Kill Switch to win.
Chris Jericho vs. Bryan Danielson
Winner: Chris Jericho (pinfall)
Jericho and Danielson started off exchanging wrestling holds, then Jericho started bothering the audience once he had the advantage. It was an even contest that went on a bit too long for my liking. Jericho hit a low blow when the referee was recovering from a near-bump. Then, Jericho hit the Judas Effect to win another against Danielson.
Miro, Sting & Darby Allin vs. The House of Black
Winners: Darby Allin, Sting & Miro (pinfall)
The House of Black cut the ring in half and beat the snot out of Darby for some time. Eventually, Sting got tagged in, and he did his thing. More six-man chaos ensued, then Sting managed to spray mist in Malakai's eyes so Darby could pin him.
Jon Moxley vs. CM Punk (World Title)
Winner: CM Punk (pinfall)
Moxley is now the guiltiest culprit of cosplaying previous talent. Mate, give it a rest. You aren't Stone Cold, Mick Foley, or Terry Funk… not even close. Oops, I should stop; I don't want him to start bleeding profusely because I talked badly about him.
Punk quickly got the better of Mox and got a two-count from a GTS. They fought out in the crowd, and then Mox pushed Punk into the ring post, busting him open. Mox licked the blood off of his own hand and made Punk suffer some more. They traded near-falls while Mox flipped the bird again and again and again, and the match was over when Punk hit two Mox with the GTS twice in a row.
Before the show was over, The Joker from the Casino Ladder match was revealed on the big screen to be MJF. His music hit and MJF told Punk the belt would be his soon enough.
–  OLDER RESULTS –
Thanks for reading these AEW All Out results! Feel free to get in touch on Twitter, SUBSCRIBE to my YouTube channel, and check out everything else I write about over on: