AEW Double or Nothing Results (2023)
AEW Double or Nothing Results
AEW Double or Nothing 2023 results and commentary from Danny Damage!
AEW Double or Nothing Results (2023)
Honestly, I don't know where to start with this joke of a show, so I'll just reference this and crack on with the "matches":
Blackjack Battle Royale (International Title)
Winner: Orange Cassidy
Opening a PPV with Excalibore shouting for no reason and Orange Cassidy walking to the ring isn't going to lure as many people in as Tiny Tony Khan thinks. He might have been halfway to Nutsville at this point, but anyone joining in or cheering him on is just trying to get on Tony's good side.
For some reason, the battle royale started before everyone got in the ring, and the competitors were allowed to decide when they entered the match. A good portion of them just loitered on the outside, occasionally scrapping with passersby and getting in the ring when they felt like it.
There was so much shit flying around at once I thought I'd gotten a job at a sewage plant. The "talent" in the ring looked like Tony had opened his budget toy chest and was playing with his Wulk Wogan and The Wondertaker figures.
Ricky Starks should have done himself a favor and run home once the bell rang; he got so much stink on himself being in this match, and that's a shame because he's got loads of potential.
Big Bill has come a long way since he was nothing but a 7-foot man-baby in absorbent trunks with two moves in WWE. He's shredded, wearing jeans, and has picked up a few new tricks.
Jim Ross and Tazz sounded like they were parents humoring their kid's little show that had been put on to entertain the adults before bedtime. They both know how dire this all is, but they're on the pay, and they're locked in, so they're just trying to stave off their own impending insanity.
Swerve was the last person to get involved, and he did so by attacking ClumsLee Keith Lee. If Swerve were really as smart as he's supposed to be, he'd have waited until there was only one person left and improved his chances of winning significantly. Instead, he got tossed out by Orange Cassidy at the very end.
Chris Jericho vs. Adam Cole (Unsanctioned Match)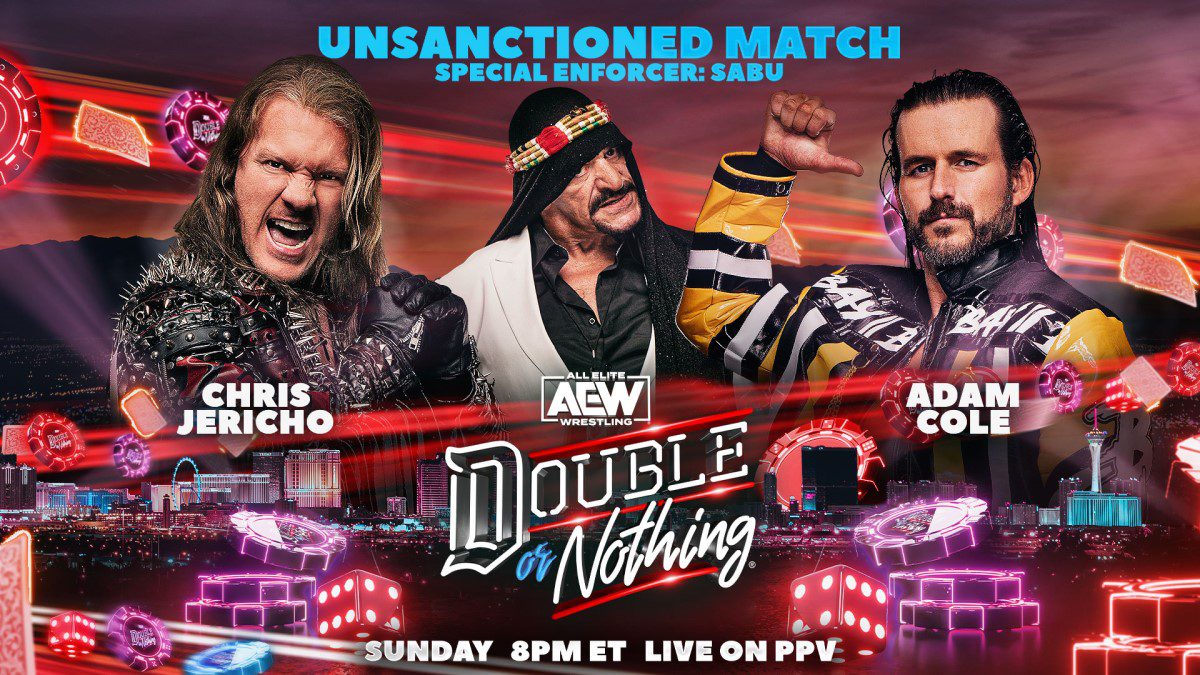 Winner: Adam Cole (TKO)
As per usual with Tony's booking, there's too much of the same on the card. This was unsanctioned match number one of two for the night, with this being billed as a one-on-one contest.
Chris Jericho's minions came to the ring with him, and Sabu putting one of them through a table (within about a minute) was enough for them all to magically vanish.
Aubrey "The Prancing Show Pony" Edwards had clown makeup on, and she tried her hardest not to flail around and draw attention to herself. That lasted three minutes.
Keeping a T-shirt on Cole was a good idea; it's just a shame Jericho didn't follow suit, and we were all subject to seeing what happens when he's not inhaling and leaning back. I was reminded of the episode of Futurama where the professor gave himself a facelift by pinning all his loose skin back with a bulldog clip.
While Jericho had Cole in the Walls of Jericho, Cole managed to grab a fire extinguisher from under the ring. It looked totally natural and not out of place at all!!! </sarcasm> Jericho then dragged Cole into the middle of the ring, turned around, and loudly told Cole when. If Jericho had just kept the hold on and remained facing forwards, Cole's counterattack would have NEVER been a possibility.
Jericho got the extinguisher in his hands not long after and sprayed Cole in return. Neither of them had the sense to bonk the other on the head with the big heavy object and be done with the match, so we painfully continued with the bout.
Britt Baker ran in at one point and belted Jericho with a Kendo stick. Saraya showed up, too, and the two lasses fought off into the back.
Jericho produced a chain with handcuffs on the end, and we got a gimmick match within a gimmick match because both Tony Khan and Chris Jericho don't have a clue when enough is enough.
Cole hit his Chicken Nugget Knee Strike for two, so he wrapped the chain around his little leggy and hit another.
The referee stopped the match when Cole mounted Jericho and rained hammer fists down onto his face, and Jericho couldn't protect himself. The crowd was caught off guard by the sudden ending and acted like they'd all collectively followed through when farting.
FTR vs. Jay Lethal & Jeff Jarrett (Tag Titles)
Winners: FTR (pinfall)
The bad comedy displayed before and during this match wasn't even on par with what you'd see on Raw/SmackDown or even modern-day Saturday Night Live, which are all very low bars to beat. This was a very sad state of affairs because all four guys know how to work, but every time they got a minute of wrestling in, the focus shifted to the heel's entourage on the outside, and the tone went straight into the toilet.
I've defended FTR in the past and said they'd been misused in AEW and in WWE, but no more. Despite what they said on Jim Cornette's podcast when they first signed to AEW, they have settled into their backstage role of "wise old uncles" and have become addicted to the smell of their own farts and the Khan Koolaid. *wipes tears and washes hands*
Jarrett swung his guitar and took out Mark Briscoe, who was playing the part of the referee. When Aubrey Edwards galloped down to replace the KO'd official, she and Sonjay Dutt engaged in some horrible physical comedy before Karen Jarrett cracked her over the head with a guitar. I bloody knew she couldn't resist taking bumps and thinking she's a wrestler too.
Once Briscoe recovered, Jarrett hit The Stroke and only got a two-count. This caused Jeff to get angry, push Briscoe around, and then get dropped with the Shatter Machine.
Wardlow vs. Christan Cage (TNT Title/Ladder Match)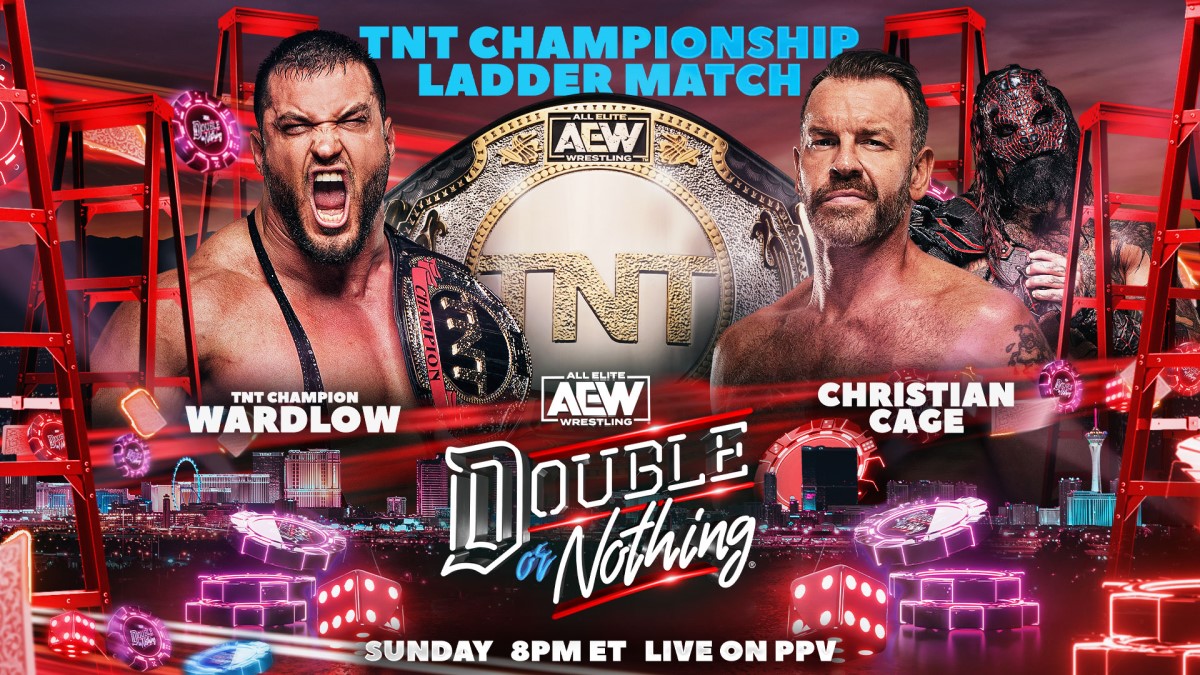 Winner: Wardlow
Since Wardlow got his mop chopped a bit ago, he's looked like one of the pre-made, generic-looking rookie characters from a wrestling game's season mode. They've properly dropped the ball with him and all that momentum he had leading up to him destroying MJF a while back.
As the match was being introduced, I thought, "At least Wardlow can learn something from Christian," but then I was reminded that it was a ladder match. It wasn't the worst ladder match in AEW history, but it was still just a ladder match booked for the sake of Christian being involved. Tony Khan can't leave the Attitude Era and all its nostalgia alone.
Luchasaurus came down to help Christian, so Arn Anderson did the same to even the odds. When Arn was grabbed by Luchasaurus, Arn "bit" his thumb and spat a blood pack all over it, with the commentator's trying to convince me that a thumb had been bitten OFF. I bet it's regrown the next time we see it.
Wardlow jumped off a giant ladder on the outside and put Luchasaurus through two tables; this gave Christian the chance to climb a ladder and get his hands on the belt. That wasn't the end, though, as Anderson tipped the ladder over and allowed Wardlow to win the match.
Jamie Hayter vs. Toni Storm (Women's Title)
Winner: Toni Storm (pinfall)
I was looking forward to this one and expected it might be a sneaky little match of the night, but then I remembered Hayter reportedly being injured, and all the air left my body.
While Toni Storm was waiting in the ring, Hayter's funfair theme music played a couple of times, and it looked like the champ was going to no-show. Then, the rest of Toni's Emo Bratz faction came down the aisle while battering the piss out of Hayter.
The heels beat Jamie down and worked on her arm. Once she finally got chucked into the ring, Hayter told the referee she was good to go, and the assault continued. Britt Baker and Hikaru Shida backed up Hayter the best they could, but Storm hit her with Storm Zero and took her belt.
I get that they had to rework the planned match due to injury, but we didn't need a 9999th clusterfuck on the card.
Oh yeah, Jim Ross tagged out at this point and was replaced by Tony Schiavone, who did his usual shtick of a five-year-old getting excited at all the moving shapes and colors on the screen.
Trios Title Open House Rules Match
Winners: The House of Black (pinfall)
FYI, the House of Black's special lighting effect in the arena comes off more like Sin Cara's version and not Bray Wyatt's. Not that either effort was any good, but anything to distract from the HoB's over 9000-level cosplaying game is a positive.
The Acclaimed and Billy Gunn answered the open challenge, and Max Castor's rap was the first bit of genuine entertainment on the show. It's just a shame it'd taken two hours to get there.
Another thing regarding Castor's rap is that, although it was hilarious, encouraging the live crowd to chant the name of the competing brand's most over heel might not have been the best idea.
Despite the usual pointless lack of rules for these trios matches, this contest was the closest thing to an actual tag match I've seen with the six-man setup in AEW. I suspect Billy Gunn's presence was largely to blame.
The heels worked on Antony Bowen's knee and kept him in their corner for the most part. Billy Gunn got the hot tag and cleaned house, but he was eventually dropped on his arse by Malakai Black's spinning hook-kick.
Jade Cargill vs. Taya Valkyrie (TBS Title)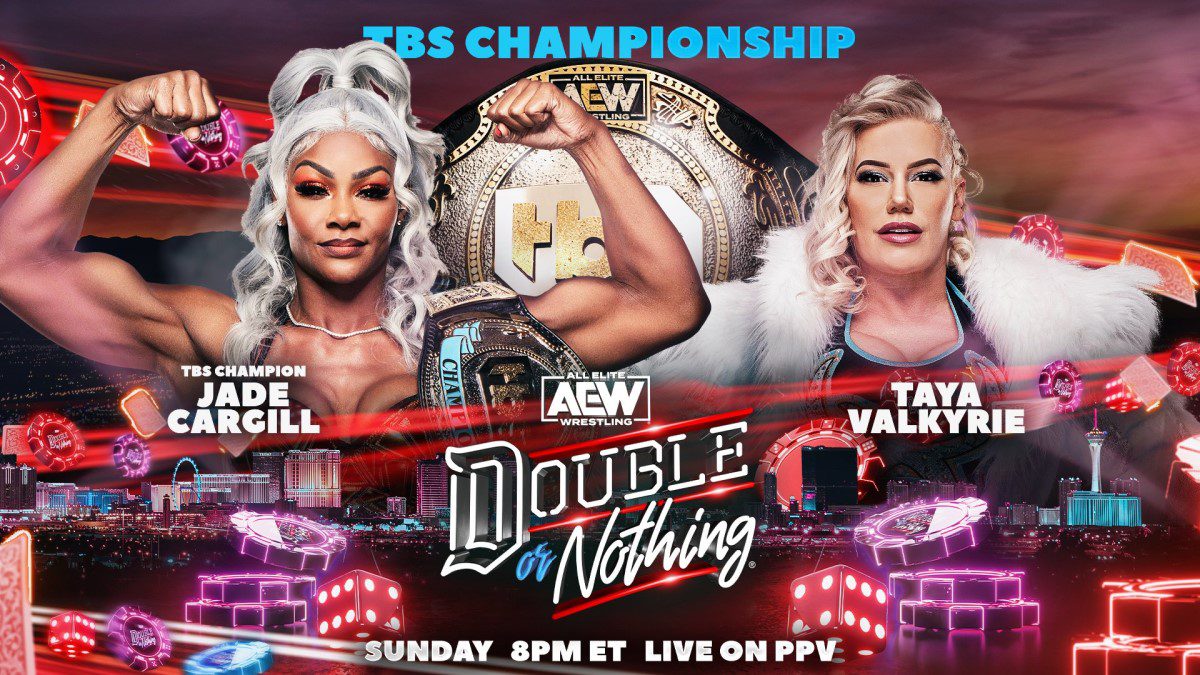 Winner: Jade Cargill (pinfall)
Ooof, this was a rough one. For starters, Jade's entrance was rather detrimental. Yeah, I'm sure the "singer" who was lip-syncing appreciated the air time and performance royalties, but why Cargill had to be reduced to one of her backing dancers is anyone's guess.
I've been a big fan of Valkyrie in the past. She was on form in TNA for a while and even briefly in NXT, but something's changed. She was always a well-built, athletic lass, but the extra timber she's recently put on has reduced her agility, and it's very evident. It's almost like she's a different wrestler altogether… and not in a good way.
Anyway, they stumbled around for a few minutes, and Jade kicked out of Taya's finish and then went straight into beating her with her own, just like that.
Jade and Mark Stirling gloated after the match and issued an open challenge, which Kris Statlander answered and delivered upon. So, that's both women's belts that have changed hands tonight.
MJF vs. Jungle Boy vs. Darby Allin vs. Sammy Guevara (AEW Title/Pillar Fight)
Winner: MJF (pinfall)
Jungle Boy sleepwalked to the ring. Sammy announced that he and his Mrs. are having a baby. Darby had a piss-weak pre-filmed WWE-esque skit shown before he skateboarded down to the ring, and MJF arrived on one of those kid's rides you find outside supermarkets.
Everyone teamed up against MJF at the start, and he rolled out of the ring while the challengers went through their flipping routine. MJF kept jumping back in at opportunistic moments, but the faces enjoyed giving him a beating whenever they could.
MJF tried to buy off Sammy again, telling him to "think of the baby." So, Sammy suckered MJF in by agreeing to lay down but then utilizing a small package for two. They all did silly spots that made it obvious it was entirely cooperated, including a four-way submission hold that looked like some sort of semi-erotic human centipede.
Jungle Boy pretended he was Roddy Pipper at one point, fighting the urge to use the belt to win the match, and then he tried to beat Darby fairly. Darby got the advantage and set up for the Coffin Drop, but MJF put the belt on Jungle Boy's corpse and finished a dazed Darby with a side headlock takedown and a pin.
At one point, MJF used a Cross Rhodes, so the table team started talking about Cody Rhodes and putting him over. *blank stare*
Unfortunately, just like with FTR, I'm washing my hands of MJF. He can bang on about "The Bidding War of 2024" all he likes, but at this rate, it's going to be between AEW and TNA… if he's lucky. Every time he agrees to work these dumb matches and pull loads of goofy nonsense over, he lowers his own worth.
It's not just that, either. He increasingly tries to be cute by shouting one-liners before and during moves (like The Elite do), his selling is often in the same vein as Shaun Michaels vs. Hulk Hogan, and he tries to convince us he's an evil, devilish entity while also being an utter goofball. Best case scenario, he's the Robot Devil from Futurama, or maybe Dave Grohl's Devil from that Tenacious D video.
I'm not angry; I'm just disappointed.
The Elite vs. Blackpool Combat Club (What a Waste of Danielson and Claudio Match)
Winners: Blackpool Combat Club (pinfall)
In an already ridiculous night of bad wrestling, Tony Khan wanted to top all the previous stadium/arena skirmishes and advertise the upcoming video game, AEW Take Fight Forever. This might bite Tony in the backside if people stop tuning in to his TV shows and buying his PPVs when they can do all the mud-show madness on demand in their own time. We'll see.
The Elite were singing and circle-jerking each other on the way to the ring, and the BCC had a band playing Jon Moxley's theme that didn't stop once they got to the ring… again.
A referee started bleeding mere minutes into the match; a screwdriver was used as a weapon, as was a barb-wired poker chip, chairs, a fork, a leaf-blower, thumbtacks, and plenty of other things that all happened simultaneously and couldn't be captured on the dual-screen presentation.
Adam Page tried to look tough with his eye patch, but he's still the most pussy-looking member of the Elite after Matt Jackson. The look in his eyes told me that Brian Danielson was missing Kane, Dr. Shelby, and Total Bellas at this point. Claudio was probably missing Sheamus and that best-of-seven series.
Matt Jackson joined in with the pandering for Tiny Tony's lonely boner when he hit an exploding superkick, but it looked as dumb as it sounds. No wonder Jim Ross bailed halfway through the show. Matt got dropped barefoot-first onto the tacks, and the BCC put a load in his mouth before Claudio gave him an uppercut.
The finish saw Don Callous distract Kenny Omega, which opened the door for Takeshita to ambush him and feed him to Wheeler Yuta, who got the pin. That wasn't enough, and the BCC beatdown Kenny a little more before celebrating and going off the air.
Honestly, I wonder who goes through more hand cream and tissues in a night; Vince McMahon watching his giant, sweaty men slapping their muscley meat together, or Tony watching his gymnastic toys spinning around and bleeding all over each other.
Answers on a postcard to the Twitter address below.
–  OLDER RESULTS –
Thanks for reading these AEW Double or Nothing 2023 results! Feel free to get in touch on Twitter, SUBSCRIBE to my YouTube channel, and check out everything else I write about over on: