Another Week of Wrestling #24 (1st November 2021)
Tommaso Ciampa, Halloween Havoc, Cody Rhodes, Xavier Woods, Kenny Omega, The Elite, wrestling news, and more!
I discuss Tommaso Ciampa, Halloween Havoc, Cody Rhodes, Xavier Woods, Kenny Omega, The Elite, wrestling news, and more! Welcome, and thanks for joining me at Geeks + Gamers!
As well as previously bringing you That's Not Wrestling and ranting about PPVs on YouTube, I'm here to mouth off on a Monday about wrestling news, results, and events that catch my eye, ear, and sometimes my nose. I'm Danny Damage, writing for Geeks + Gamers, and this is Another Week of Wrestling for November 1st, 2021!
<—Last week's installment of Another Week of Wrestling!
WWE Raw
Change places! The "season premiere" show opened with the promise of many new things. New talent, new matches, and even new theme music… of which I'm not a fan. The majority of it sounds like mumbled conversation playing over the PA.
Big E went through the usual checklist of cheap pops for the local crowd. He set them off chanting something, but I don't think he recognized it. Seth Rollins eventually turned up and declared himself the number one contender, despite losing against Edge at WWE Blood Money in Saudi Arabia. Rey Mysterio then walked down the aisle and threw his name in the mix, referencing his eye for an eye feud with Rollins… which Rey lost. Finn Balor was next to try and join the party with still no mention of his loss to Roman Reigns and the sudden loss of his demon powers. Finally, Kevin Owens said he should be next in line, although he's lately been made a fool of by Happy Corbin and Madcat Moss. Sonya Deville put her authoritative foot down and booked a fatal-four-way to determine Big E's next challenger later on.
Alpha Academy vs. Street Prophets vs. Dirty Dawgs. A triple threat tag team match did what you'd expect until Omos assaulted Montez Ford on the outside. This caused distracted enough for The Dirty Dawgs to pick up the win.
Since Zelina Vega is the first woman to win the women's King of the Ring, it was obvious that she'd soon be paying tribute to one of the many angles already done by the men. Vega appeared to be doing the Booker T King of the Ring persona, as her accent occasionally dipped its toe in the Queen's English. Doudrop had heard enough, so she came out to challenge Vega. The royal scepter was bashed into Doudrop's head, and Vega won and posh-waved. I hate how much of a boner Americans get for our stupid, sponging royal family. It's embarrassing. They'd go away if you didn't pay them this attention.
Becky Lynch cut a promo saying how great she is. Bianca Belair cut her off to challenge her for her title. Becky isn't so keen on fighting her again.
Damien Priest vs. T-Bar didn't last long. T-Bar threw one of the commentator's chairs at Priest; this caused a DQ and Priest to snap and pummel T-Bar in return.
Carmella put herself over backstage while her plastic tits tried to climb out of her top to safety. Contrary to Raw opening with people screaming, "NEW! NEW! NEW! NEW! NEW!" 'Mella and Liv Morgan had yet another match. The only moment worth mentioning was Cory Grave's reaction when Carmella's face was slammed into the commentary table. It was a little silly, and we don't really need to know that they're a couple, but at least it was some emotion in a sea of plastic body parts and cold, dead eyes.
Bearcat Lee vs. Cedric Alexander. This was a squash match, as it should be when building up Lee. Shame about The Hurt Business' push/image and shame about the dumb sound effects that accompany Lee's entrance song. Shelton Benjamin almost got in the face of Lee, but he thought better of it. Maybe he was just trying to figure why two heels were booked like that.
Now, I'd said a while ago about Dominik Mysterio not being the natural you'd expect him to be since Rey's his dad and all. This next match between Dom and Austin Theory really drove this point home. Both lads are 24 years old, and there's a gargantuan difference in their skill levels. Dominik was trained by his dad, Konnan, Lance Storm, and Jay Lethal, and he's only (puts hand near waist) this good. Theory was trained by AR Fox and is (puts hand above head) this good already. I can't be the only one that watched and noticed this. Maybe nobody has the heart to tell Rey or Dominik the truth; perhaps they've invested too much in him already. Anyway, the non-third generation talent won the match with ease.
RK-Bro defended their tag belts against The Dirty Dawgs. It was a good match; all the guys involved knew what they were doing, and the finish saw Riddle pin Ziggler with a spladle.
The Finn Balor vs. Kevin Owens vs. Seth Rollins vs. Rey Mysterio. Contract in the Hand ladder match was the main event of the night. It was a fun car crash of a match, but there was too much happening at once during a few parts of it. Kevin Owens obviously had to take the daftest bump of the evening, and Seth Rollins was eventually the one to win it. Big E appeared to congratulate him, but Rollins just walked by, laughing.
NXT Halloween Havoc
This week's NXT was their Halloween-themed show, and in typical WWE fashion, they bent over, grabbed their ankles, and offered themselves ever so openly to The Vultures of Television. As well as the commentary team saying "Happy Geiko-ween" as often as they could, Chucky the homicidal puppet was the host for the show. There were a ton of pre-filmed videos made for him to set up the show and some of the individual matches. Chucky wasn't picked because he's some generation-busting icon of Halloween that fit the role perfectly, of course; there's a new Chucky show on TV, and EVERYTHING has to be an advert for something else in WWE land.
Puppet Vince McMahon hosting this would have been perfect, with or without L.A. Knight's unscheduled absence.
The night began with the car crash match to catch people's attention. The Scareway to Hell triple-threat ladder match saw Toxic Attraction defeat Io Shirai & Zoey Stark and Indi Hartwell & Persia Pirotta. Io Shirai tried to outdo Kevin Owen's bump through a ladder the night before (I think she won), and everything else was a series of spots that were rushed to. The desperation to dry-hump some marketing trumped common sense once again with regard to the match's name. It's impossible for one to ascend a ladder to reach Hell or anywhere located below, but bollocks to that; "Scareway to Hell" sounds cool and promotable, so that's what's important…
Just when you thought all the pre-filmed, bad comedy segments featuring Johnny Gargano and Dexter Lumis had ended, we got force-fed something rather untasty. Since Lumis stole Carmello Hayes' North American Championship belt last week and invited Hayes and Trick Williams to come to his house to collect it, we had to endure several segments of what Vic Joseph called "Johnny Jigsaw." These weren't good. The production and location were professionally done, don't get me wrong, but this went too far away from pro-wrestling for too long, and it's lame. Scooby-Doo is edgier and better written.
Despite Grayson Waller losing his match against L.A. Knight to determine the host of Halloween Havoc, Waller came out and began to host the show instead of Knight. Fortunately, Waller was interrupted by Joe Gacy, who had a quick squash match against Malik Blade. The skinhead stranger from Gacy's previous segments approached the ring and was about to strike Blade, but Gacy talked him down. The two left together, and I may have heard Gacy call the stranger "Harland."
As mathematics teaches us, two negatives make a positive. Ikemen Jiro and horrid WWE party scenes were the two elements here. I found myself amused at Jiro questioning the safety of Halloween and parents that allow their kids to knock on the doors of strangers and take candy from them.
The Diamond Mine issued an open challenge to anyone that fancied their chances; NS Odyssey Jones challenged Roderick Strong to a non-title match. Jones was outnumbered with distractions on the outside; Strong took advantage and pinned him after a couple of running knee-strikes to the head.
Somehow, Imperium was interviewed live backstage and had subtitles pop up before they'd finished the first word of each sentence. Intriguing. I wish I had that setup to make notes for my wrestling news articles.

Raquel González and Mandy Rose's NXT Women's Championship match was selected by the "totally random and not at all rigged" roulette wheel. The spinning wheel came to an abrupt stop on a "Trick or Streetfight" match. Luckily enough, there was a pre-tape of Chucky knowing that this match would be chosen, and even more fortunately, a match card graphic with all the rules was on hand and shown on-screen five seconds after it was announced. The magic of television, huh?
Having just seen lasses batter the shit out of each other with an arsenal of weapons hidden under the ring, González and Rose did the same before a masked woman appeared and KO'd González with a plastic shovel. Rose hit her running knee on González's way down, and she became the new women's champion. All of Toxic Attraction have gold now. Oh yeah, the masked individual that cost González the match was Dakota Kai. The crowd in attendance chanted "Welcome back" to the heel that just cost the babyface champion her belt.
Johnny Jigsaw part two; this time, it had stupid zombies.
Greyson Waller resumed his backup host duties in the ring before L.A. Knight arrived and told him to scram. As they bickered, Solo Sikoa appeared and dropped Waller. Knight ran for cover. Just as I said last week, Sikoa's basic characteristics would not stand out if Samoa Joe was still allowed to be on the show. From now on, until I've proven wrong about him, Drunky and Jay Uso's brother shall be known as Slim-oa Joe.
More spinning of the wheel dictated the stipulation of the tag team title match between Imperium and MSK, this time, a "Lumberjack O'Lantern" match. Although Imperium won the contest and the belts, this was, by far, one of my least favorite matches of theirs. There were a lot of spots where the lumberjacks would coil up like quail to catch someone, and Imperium wrestled an MSK match rather than a good match that made sense. MSK should fuck off back to Impact or go to AEW's YouTube channel with the rest of the clowns.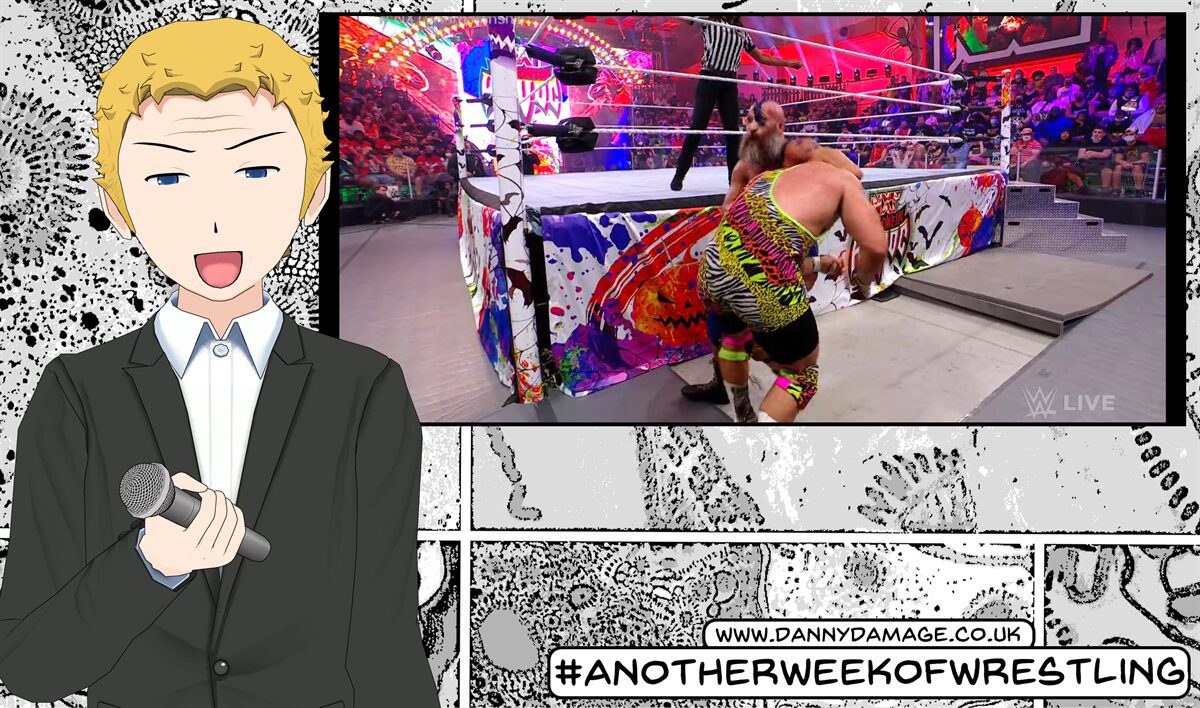 The main event NXT title match between Tommaso Ciampa and Bron Breakker was exactly what I expected and what it should have been. Breakker started off like a house on fire as soon as the bell rang, and Ciampa weathered the storm and exposed the concrete on the floor during the madness. Once Breakker started to get tired, Ciampa used that to his advantage and lured him to the outside, where he DDT'd Breakker on the concrete. This damage, followed by a Fairy Tale Ending, only got a two-count. But Ciampa remained calm, hit Breakker with numerous shots/strikes to the head, hit his finish once more, and retained his title.
AEW Dynamite
CM Punk vs. Bobby Fish was the treat that opened Dynamite. It was a great match to get people believing they'd made the right call putting time aside for the whole show. By the end of the night, you'll resent the trickery, but I'll get to that later. Punk and Fish put on a convincing contest, which is no surprise considering both guys know how a fight looks and feels. Punk held the advantage early on, hitting that triplet of hard scoop slams. It's nice that Punk has completed these three in this match. The other two times we saw these, his opponent escaped behind him on the third scoop. Fish couldn't out-wrestle his opponent, so he lured Punk to the apron, where Fish swept the leg and turned the tables. Fish used the opportunity to throw Punk around on the outside for a little bit. He even rolled back in the ring to break the referee's count, which afforded him a fresh ten-count to play with, bending the rules on the outside. After Fish worked on Punk's leg for some time, Punk made a comeback and got the better of an exchange where he hit the GTS for the win. Fish tried to kick out, but his shoulder left the mat at the 3.25-second mark.
Malakai Black cut a promo on his spooky set, making out like losing to Cody Rhodes was all part of the plan… nope, not for me, thanks. See if the guy next door wants to buy it.
MJF wrestled his contractually obliged match. I forget what the timeframe is where he's "forced" to compete, but I enjoy that a big deal is made about MJF "wanting" to work as little as possible. MJF lured Bryce Donovan in with a fake handshake, dropped him, and then finished him with the Heatseeker. Perfect! Then, MJF started to talk shit about Darby Allin and Sting, but not before he gave the live crowd some grief. He told the Boston fans, "I'd rather stick my junk in a blender" than risk it with any of the local ladies. Sting and Darby showed up and beat down Shawn Spears and Wardlow as MJF managed to flee to safety.
Britt Baker told Tony Schiavone that she'll face Abadon on Rampage. If Abadon wins the match, she'll get a title shot down the road. It will also be no disqualification, which Baker seems to approve of.
Sammy Guevara and Ethan Page had a decent match before arriving at the point we all knew was coming. Guevara rolled up Page, and then The Inner Circle ran down to save Sammy from the post-match beat down; Chris Jericho eventually waddled down and got there too. Jericho took the energy from the match, gobbled it up, and made it all about him. He set the crowd off with a "beat your meat" chant and then said the ten-man tag team match between them and American Top Team would be a Minneapolis Street Fight – also known as no disqualification.
Backstage, Eddie Kingston was in Bryan Danielson's face, saying he disagreed with Bryan's comments about him regarding hard work. Kingston shouted that he "has to take a pill every morning so I don't flip out and hurt somebody" and then played the victim/depression card… proving Bryan's point; fantastic. Bryan rightfully pointed out that these are issues that he and everyone else have to deal with, but you don't hear him complaining about it. Right on! Kingston and Bryan will meet on Rampage.
The Lucha Brothers were back in full force, but por favor, no mas! This show is on an American station. If the viewing nation struggles to speak English properly and requires their own version of it, simple enough to be taught to a Big Mac and fries, speaking an entirely different language isn't going to help get viewers hooked. The translator seems to be daydreaming half the time and doesn't repeat what was just said, and there are no subtitles in view. I don't mind a bit of reading if someone needs to blast out some passion in their home tongue; the Imperium subtitled segments worked fine. Then again, I'm probably alone in this. The live fans seem to pop at any and all buzzwords and catchphrases to repeat, as long as there are some bright colors and funny noises in between.
Hikaru Shida got her 50th win in AEW at the expense of Serena Deeb. From the start of the match, Deeb demonstrated she was a salty heel now, but Shida did well to take the fight to her. Deeb tried to pull Shida's knee off for most of the bout, but Shida caught her off guard and rolled her up. Just to drive home the fact she's now a heel, Deeb beat down Shida after the fact. This was one of Shida's best matches in AEW so far. Deeb is a professional, and Shida has more potential than most; more of this, please!
Leo Rush and Dante Martin will not be facing the Sydel Brothers due to an injury. Dante Martin will now face Matt Sydel one-on-one instead.
Jon Moxley destroyed Number 10 in a matter of minutes. Mox ripped open 10's mask, bit his exposed face, and then hit 10 with the Paradigm Shift. Moxley didn't have any time for celebration, either, as he's a dad now and has diapers to change.
FTR and Tully Blanchard cut another fantastic promo swearing victory at AEW Full Gear.
I wouldn't suggest watching any more of this show; it's "stepping off a cliff" levels of downhill from here on…
The American Idiot Cody Rhodes (and his WrestleMania scale entrance, every fucking time) graced us with their presence. I'm already bored. Cody's entrance – I mean, how self-unaware can one person be? How does he not get why people don't like him? I'd ask, "Does he not watch himself back?" but we all know the answer to that. I imagine he's very selective about what wrestling news and feedback he reads/takes on board.
Anyway, the crowd booed Cody and gave him a hard time. He replied with, "Believe it or not, I hear you," before part of a smirk slipped out, and then he said he almost hit a Pedigree last week. He went on to deflect, and what he said boiled down to, "At least I'm not as bad as Triple H. That was my only other option; this or that." Then Andrade El Idolo came out to tell Cody nobody likes him, which triggered the lights to go out and Malakai Black to get into position. Black blinded Cody with the mist, but Pac appeared to scare off both Andrade and Malakai.
Not even Colt Cabana dressing up as CM Punk for Halloween could have saved this main event. He didn't; he was dressed as Brandon Cutler, but still. Since a lot of the "and then?" crowd fill AEW audiences, here's their prescribed spot-fest presented in a way they can process it:
Dark Order has various costumes.
The Elite looked like bell-ends dressed as Ghostbusters.

Anyone can jump off things if enough people catch them.

Omega & friends "wrestled" with the cosplay prop backpacks and guns.

Hangman Adam Page was in the Marshmallow Man suit from the start.
This whole thing had the familiar underwear stains of Kenny Omega all over it; blow-up dolls, children, the invisible man, ballroom dancing with his opponent mid-match; add this dog shit to the list. Poor Adam Cole; he absolutely stinks of this shit now.
WWE SmackDown
Charlotte Flair opened the show with an air of smugness about her. Sasha Banks didn't let her talk for too long, but Charlotte told Banks she'd already had enough chances. This caused Shotzi Blackheart Shitzy Wetfart to roll out in her dumb toy tank and point out she'd had zero chances. Flair accepted the challenge and defeated Wetfart, but Sasha Banks' recent over-friendly mentoring/meddling in the match caused Shitzi to blame and beat Banks up after the match.
I'm all up for WWE using more than just their Fisher-Price WWE Four Horsewomen, but come on, Shayna Baszler is one of THE ORIGINAL Four Horsewomen, and she's been miles away from the women's singles titles. People can scream progression at me all they want, but the favorites in WWE haven't strayed far from the old bikini/underwear models from the past. We just pretend that "Instagram model" means something other than what it is: tits and ass.
SmackDown's former DUI Champion. Jeff Hardy was being interviewed before Happy Corbin and Madcap Moss wandered in to tell a bad dad-joke.
Adam Pearce offered an update via webcam. Brock Lesnar's suspension still stands, and he's adding a $1,000,000 fine on top of it!
Paul Heyman then commented on the matter, having to stop himself from falling into his old BRRRRRROCK LESSSSSNAR song and dance.
Drew McIntyre's open kilt challenge was accepted by M'st'ta Ali. It didn't take Drew too long to catch the evasive Ali and make him tap to a Kimura lock. After the match, Ali claimed people booed him because of his name.
The New Day and Hit Row went throat-deep with each other backstage. I thought that degree of disingenuous behavior was reserved for the slipperiest of heels.
The tomfoolery continued when Xavier Woods knighted Kofi Kingston. Hmmm, putting your friends in positions of power because of WHO they know, not WHAT they know, also sounds quite devious. Are we sure they didn't turn heel? Honestly, I'm more likely to cheer for Kenny Omega at this point. Eventually, Drunky and Jay Uso shut them up and challenged them to a match later on. I don't care about three of these guys, and I don't like Jay Uso enough to put all of that aside; sorry.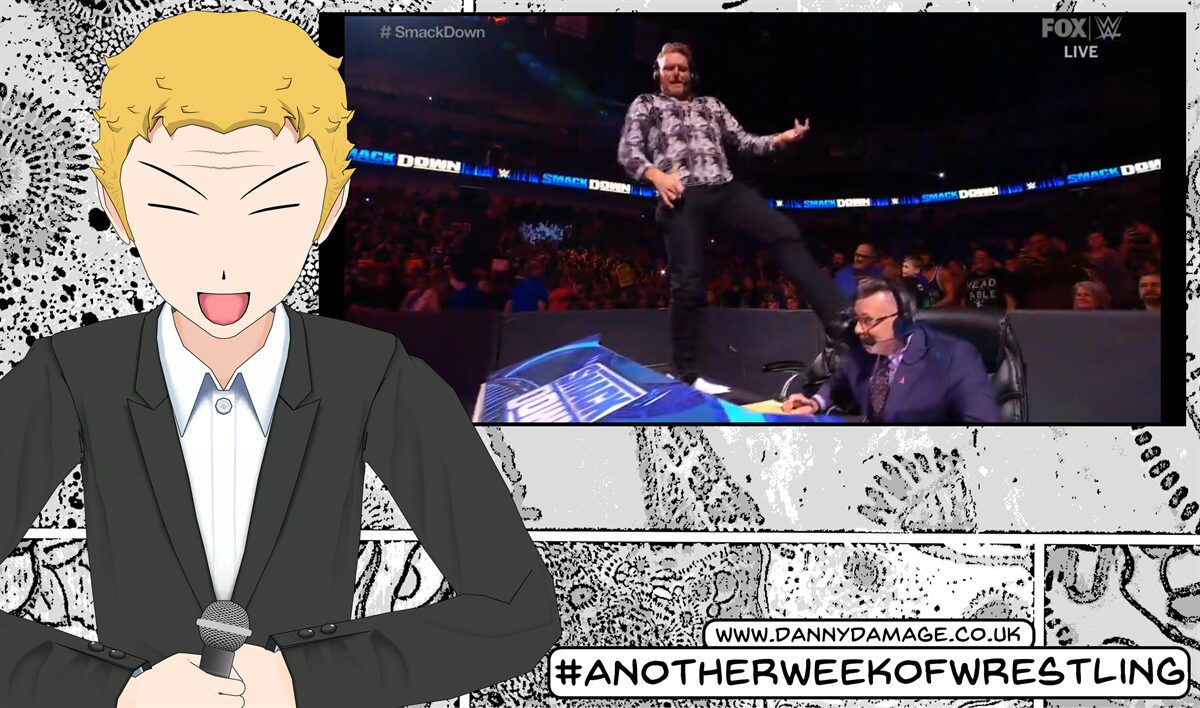 Rick Boogs & Shinsuke Nakamura vs. Happy Corbin and Madcap Moss. The only good thing about the Trick or Street Fight match was how excited Pat McAfee was during the whole thing. I still can't get my head around how much personality he's allowed to have and some of the things he gets away with. I love it. As Nakamura and Boogs came to the ring, McAfee stood with one foot on the commentary table and the other on Michael Cole's shoulder, going mad with his air guitar. McAfee also got so giddy with the silly spots involving daft Halloween props; it was almost enjoyable. I was as tickled as Cole was when McAfee said the match was "an absolute horror show…with an 'H'!" Two of the masked ghouls interfered with the match and cost the faces the win. It turned out that it was Humberto Carrillo and Angel Garza that aided Corbin and Moss.
As it's not important enough to be involved in the top wrestling news stories, I was unaware that the 24/7 Championship was still a thing until the train of "I thought they'd been released" came running through during the previous match.
Sonya Deville was cut off by Sami Zayn backstage before someone in the production truck cut away from whatever Zayn was about to say.
Naomi believed she'd be getting her revenge against Shayna Baszler tonight, but she was wrong; Sonya Deville arranged herself to be the referee for the match. I almost felt sorry for Naomi being put in this position, but then she fucked up a springboard, faceplanted, and Baszler did a great job of covering it the best she could. The finish saw Deville fast-counting Naomi's shoulders. I hope this is going somewhere good, and Naomi moves away from this dreadful gimmick. When she was a Funkadactyl, it was obvious there was more to her than just tits and ass, but her current "sensory overload while aroused" presentation isn't what she's missing. There was a brief period a few years ago when she was a nasty, stone-faced heel that had some promise.
The New Day vs. The Usos was the main event for SmackDown this week. The match was fine, although nothing groundbreaking. I stated earlier that I've no interest in either team; the revival of their feud did nothing to change that. Earlier in the night, Xavier took a shot at Drunky and Jay for being the same as they were in 2018; talk about the teapot calling the kettle a kitchen tool. Both teams know what they're doing in the ring, even if some of them don't know how to behave out in the real world, but both teams peaked and have been old wrestling news for years… especially the New Day. In the end, Woods got himself a blind tag and rolled up Drunky for the win.
AEW Rampage
Bryan Danielson vs. Eddie Kingston opened the show. Their initial lock-up and feeling-out process looked like a legitimate struggle. Kingston looked focused and took advantage of the referee's blind spots on several occasions. There was a moment when Danielson couldn't hold back a chuckle at Kingston's expense; this was when Eddie threw a few kicks his way. Someone on commentary (probably Excalibur) shouted that Kingston was trained in kickboxing, and it was about that time I wondered how long Hornswoggle had taken on students. They ended up on the outside, where Kingston took control with a Saito suplex on the floor. Kingston scrambled back in the ring and was happy to get a count-out victory, but Bryan got back in just in time. Kingston worked the previously injured neck until Bryan caught him in a triangle hold and made him pass out for the win. The only problem I had with this match was Kingston's attempt at being cute when he was caught in the submission. I've been in triangles before, and trust me; you have no time to flip someone the bird. Your hand will either be grabbing or tapping, or you'll be napping.
Just as CM Punk was about to answer a question posed to him by Tony Schiavone, an irate Eddie Kingston disrupted the interview because he was unhappy with the referee ringing the bell. He kicked off at CM Punk for having a smile on his face and left. Punk was informed that he had no time left to finish his discussion; he looked disappointed, and we moved on.
The third encounter between Matt Sydal and Dante Martin didn't wow anyone as much as the first two, but they still put on a good show. Martin tried to fly, and Sydal managed to keep him grounded for a lot of it; there was a lot more wrestling than you'd expect from two high-fliers currently employed by AEW. Martin used his double-jump springboard moon sault with a really tight cover to beat Sydal.
Mark Henry's split-screen interviews are rather hit or miss. Abadon simply spat blood when asked to comment on the match, and Britt Baker didn't really know what to make of it. Let's hope the match is good, at least…
I hope you didn't hold your breath for the Britt Baker vs. Abadon Trick or Treat match. As well as Baker selling being scared and bumping from fear at the start, the match just went downhill as soon as the bell rang. Whenever the two lasses got their hands on each other, it was rather clunky and disorientated; the rest of the time, they were just going over dumb weapon spots. Two attempts to put Baker through a table failed; Britt even tried to hide under one of the intact tables at one point. Then it got real tacky, and I don't mean the fact they got the thumbtacks out. After Abadon no-sold a stomp with a chair wrapped around her head/neck, Baker rammed some of the tacks in Abadon's mouth and went to apply the Lockjaw. This backfired when Abadon threatened to bite the hand of Baker instead, so she let go. The finish randomly happened when Britt rolled Abadon up on top of the thumbtacks. Since the whole match was no disqualification and Baker's buddies had gotten involved briefly earlier on, I wondered why they, the heels, didn't take advantage of being able to jump in the ring and double/team Abadon whenever they saw fit.
That's it for wrestling news this week. Digest and discuss! If you're interested in a quick natter, or just to throw a passing insult, feel free to get in touch down below or over on Twitter.  Thanks for reading; take care, and I'll see you next Monday to discuss #AnotherWeekOfWrestling!
| | |
| --- | --- |
| – BONUS ARTICLES – | – BONUS VIDEOS – |
The amazing black and white background artwork that I've mucked around with was designed by Rachael Hope!
Please subscribe to my YouTube channel, my Twitch channel, and consider buying me a Kofi! You can also click below to be warped to my personal homepage: