E3 Day 3 – Ubisoft Press Conference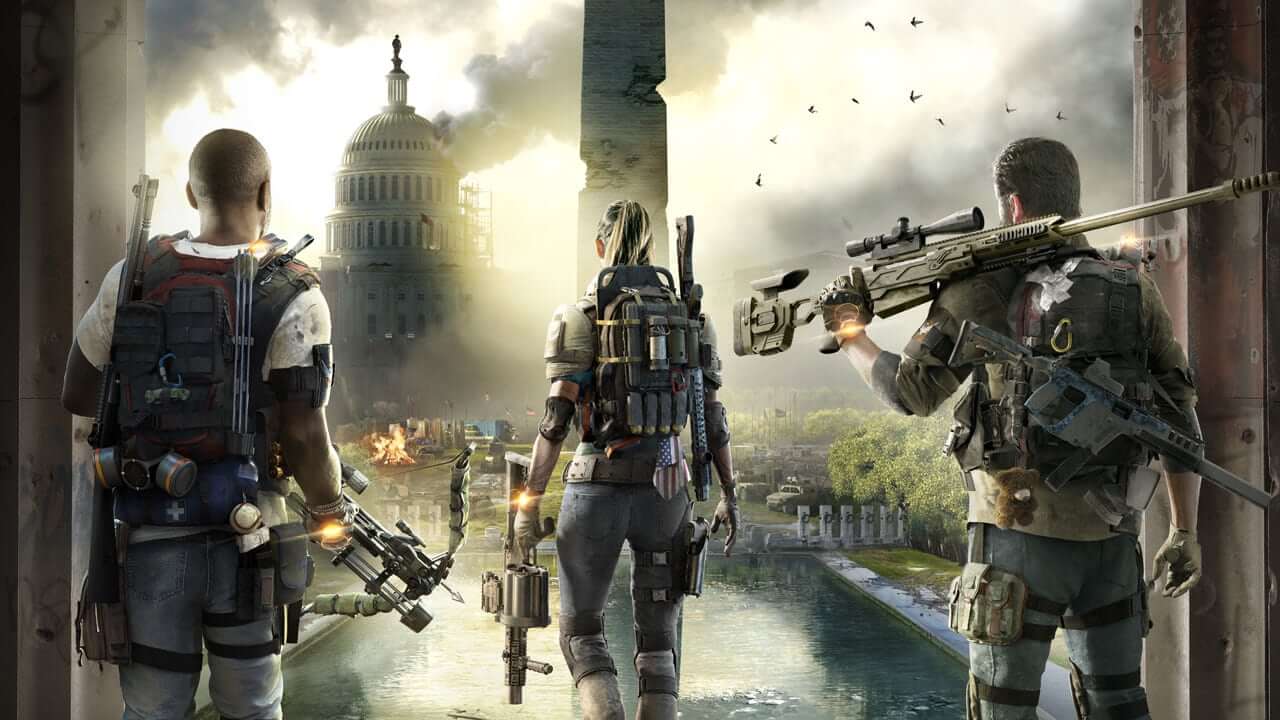 Following the Square Enix showcase at E3 was the Ubisoft press conference. They had a diverse spread of games to show off, with seemingly something for everyone coming out in the next year.
Ubisoft kicked off its conference with a song-and-dance performance featuring a marching band and a Panda to announce Just Dance 2019, which will be available this October. When the performers left the stage, a trailer for Beyond Good and Evil 2 played, emphasizing character interplay and featuring astonishing visuals. Ubisoft Montpelier narrative director Gabrielle Shrager and senior producer Guillaume Brunier then took the stage to talk about the story and characters, narrated some gameplay footage showing cities that look lived in and a mix of different gameplay styles (weapons fighting, flying). They then talked about the Space Monkey Program – in partnership with Hit Record – which will allow an unprecedented amount of fan participation; starting now, people will be able to submit their artwork, music and much more for consideration to be integrated into the game. Hit Record co-founder Joseph Gordon-Levitt explained a bit more about how the process will work. No release date for the game was given.
Justin Kruger, community developer for Ubisoft Montreal, then walked out and talked about the Rainbow Six Siege community, which now consists of 35 million players, and encouraged fans to watch the Rainbow Six Pro League starting June 18th at 5:00 PST, where teams will compete in a six-month-long competition. He also announced three other competitions: the Six Major, held in Paris this August; the Pro League Finals in Brazil in September; and the Six Invitational in Montreal in February. Kruger then showed a first look at a documentary about Rainbow Six players called Another Mindset, which will be released at the Six Major.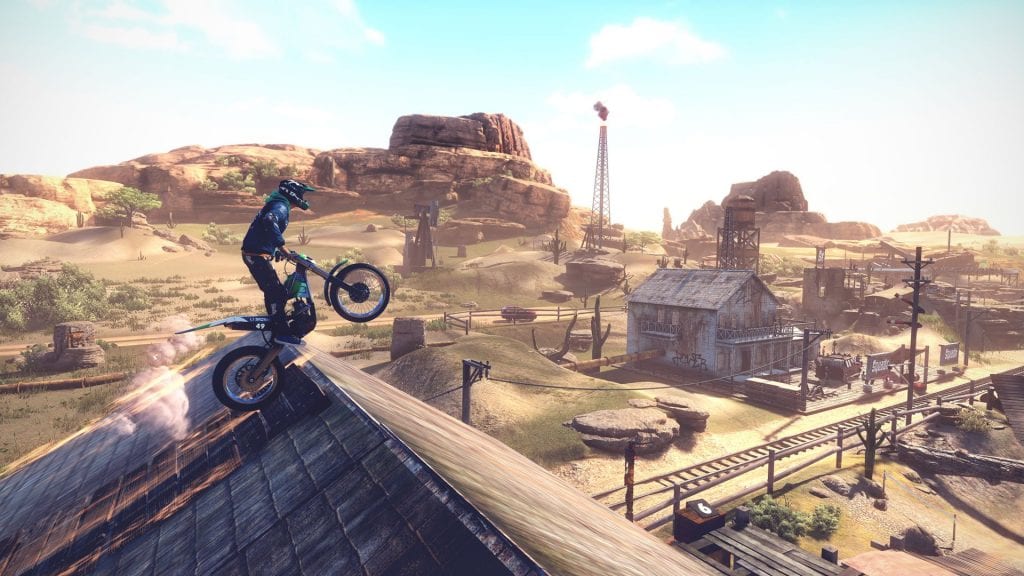 Ubisoft Redlynx creative director Antti Ilvessuo rode in on a motorcycle dressed like Super Dave Osborne to talk about Trials Rising, a new installment in the Trials series. The footage looked fast, exciting, and kind of funny when they crashed (sue me). Brad Hill, creator of a YouTube channel called University of Trials that teaches fans how to master the games, then explained how he was approached to help design the tutorials for Trials Rising, along with other members of the Trials community. Trials Rising releases in February 2019 on PS4, Xbox One, Switch and PC.
Next up was Julian Gerighty, creative director of Ubisoft Studio's Massive Entertainment, with a trailer for Tom Clancy's The Division 2. The trailer begins with a sweet image of a little girl playing, then reveals that this is happening inside an enclosed fort in a post-apocalyptic nightmare world. The atmosphere is superb, with a palpable dread thick enough to choke on, before the final image of the heroic soldiers manages to convey hope. Gerighty said players get to pick a specialization, with exclusive skills, weapons and abilities that advance over time. The Division 2 will also feature raids with up to 8 players able to team up. Three DLC "episodes" will have new stories, areas and activities, and will be completely free. The footage shown looked incredible, and The Division 2 should be a wild game. Tom Clancy's The Division 2 releases for PS4, Xbox One and PC on March 15, 2019.
Xavier Manzanares, lead producer for Ubisoft Paris, brought some footage of Donkey Kong Adventure, a DLC for Mario + Rabbids Kingdom Battle, set for release on June 26th, with music performed on stage. Honestly, it did nothing for me, but it probably looks cool if you're into this type of thing. Luckily, this gave way to an exciting trailer for pirate action game Skull and Bones. Justin Farren, Ubisoft Singapore creative director, walked out afterwards and described setting and gameplay, which includes impactful weather similar to Just Cause 4. The tone in the trailer is a mix of Jack Sparrow and Errol Flynn, with plenty of fun and adventure, and the cannon fire looks sensational! An interesting aspect of Skull and Bones is that your actions will have consequences; attacking one ship may alert another, for example, and then you're fighting for your life against a Navy boat. I'm looking forward to this one. Skull and Bones releases in 2019 for PS, Xbox One and PC.
Elijah Wood of Spectrevision (and some hobbit thing or other) and Ubisoft Montreal game director Benoit Richer are next up, and they talk about Transference, a psychological puzzle-solving mystery where you switch perspectives between different characters while playing. The trailer certainly has a creepy atmosphere, but I'm not sure how much fun it'll be. Transference will be available for PS4, Xbox One and PC, as well as virtual reality platforms, PlayStation VR, Oculus Rift and HTC Vive, in the fall of 2018.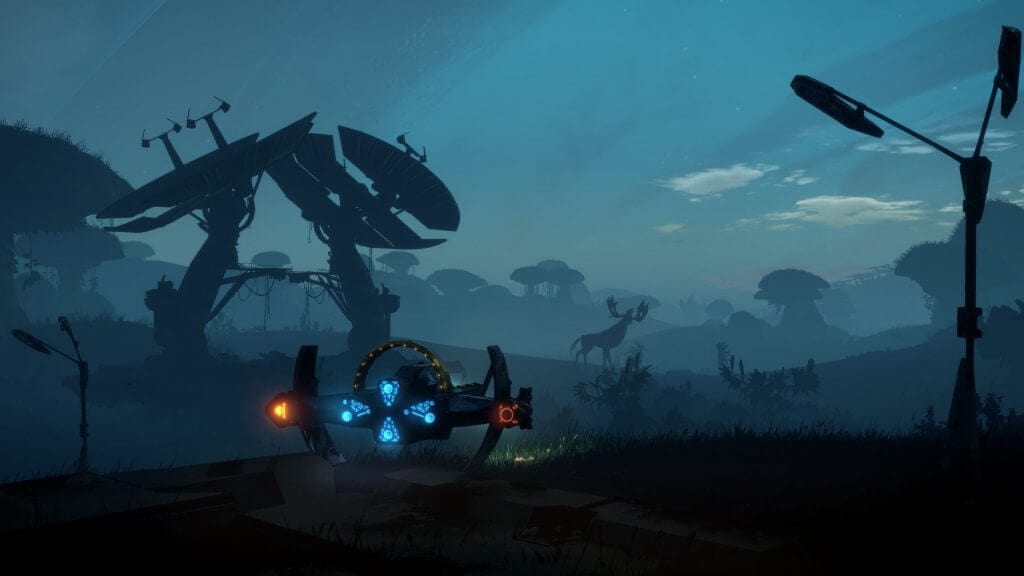 A trailer for Starlink: Battle for Atlas then cued up, showing some cartoony characters and flashy space battles. Ubisoft Toronto creative director Laurent Malville explained a little about the open-world nature of the game and assembling your starship. A trailer then showed some more action and guest star Fox McCloud of Starfox! Unfortunately, Fox is only in the Switch version, but this is still an exciting prospect. Yves Guillemot, co-founder and CEO of Ubisoft, then introduced from the audience Starfox developer Shigeru Miyamoto, to the cheers of fans. Starlink: Battle for Atlas will release on "all consoles" on October 16th, with preorders available now.
Roman Campos-Oriola, creative director for Ubisoft Montreal, announced that starting today and ending June 18th, the PC starter edition of For Honor will be available on Uplay for free. Ubisoft is being very generous with these giveaways! He then showed a trailer for an addition called Marching Fire, complete with a castle siege multiplayer mode called Breach. Marching Fire will be available on October 16th. Delphine Dosset, brand director of Ubisoft Ivory Tower, then talked about The Crew 2. The open beta will be available for PS4, Xbox One, and PC on June 21st, but the pre-load is available now. The trailer promised a stylish racing game with all sorts of different vehicles. Like the Donkey Kong DLC, this really isn't my scene, but I imagine racing game enthusiasts will find a lot to look forward to in this footage.
The final game shown was Assassin's Creed: Odyssey, which takes place in Ancient Greece. Jonathan Dumont, creative director for Ubisoft Quebec, explained the setting of the game, as well as the ability to shape the gameplay through the choices you make, including your character: you can play as a man named Alexios or a woman named Kassandra. The footage was largely dull; why they decided to show long clips of characters talking about nothing important to sell the game is beyond me. And the constant repeating of the famous "This is Sparta!" kick from 300 gets old fast. (Get it? Because Greece.) Assassin's Creed: Odyssey will be available for PS4, Xbox One and PC on October 5th.
Aside from a quick speech about the wonders of innovation, that's it for the Ubisoft conference. Some great looking games are on the horizon, and while not everything excites me, they all seem to hold promise for their intended audience. How did you like the Ubisoft conference? What games and/or content have you climbing the walls? What do you think of E3 so far? Let us know in the comments and keep checking out Geeks + Gamers for more E3 coverage!