REVIEW: American Crime Story: Impeachment Episode 2, "The President Kissed Me"
"This isn't about justice." "What is it about, then?" "Impeachment."
*SPOILERS*
In "The President Kissed Me," a despondent Monica believes that President Clinton has given up their affair and fears she won't return to the White House. She confides in Linda about the tryst, and Linda advises her on how to get his attention. Meanwhile, Paula's lawsuit gains a new ally. Ann Coulter aids in the quest to prosecute Clinton for less than altruistic reasons. A journalist arrives to question Linda, at last granting her the attention she wants – but not for the reason she thinks. Monica finally gets to visit the White House, and trouble ensues.
"The President Kissed Me" isn't quite as exciting as "Exiles," but the cast continues to impress as their real-life characters. Impeachment seems to be principally concerned with the exploitation and mistreatment of the women surrounding the Bill Clinton scandals. The focus is on Linda Tripp and her conniving betrayal of Monica as much as Clinton's treatment of the same or the media slaughter of Paula Jones. This series deals with the topic of the media as vultures a lot. Both previous installments have explored the damage the media can do to individuals and ideas. Susan Carpenter-McMillan (Judith Light), a self-described "conservative feminist," arrives on the scene to protect Paula's interests. I suspect she shares much in common with Linda, acting out of her own self-interest rather than Paula's. As soon as Paula is out of the room, Susan tells the next available person that while Paula is sweet, she is also "dumb as a rock." I may be biased because Susan is my political nightmare, but she also isn't really helping her case here.
Beanie Feldstein is endlessly likable as Monica Lewinsky, and it's excruciating watching her divulge such dangerous information. As despicable and duplicitous as the show makes Linda Tripp out to be, I can't help feeling a little bad for her. Her life is sad; she has no friends or hobbies. And, like with most people, her problems are mostly her own fault. She has no interest in putting herself out there in the dating world, telling Monica those days are long gone. She talks about how her children are the best thing in her life, but on the rare occasion they're shown at all, she doesn't get along with them. All Linda seems to care about is her career and getting back to the White House. It's no wonder her personal life is in shambles. It's interesting, though, that she's so willing to do the same to Monica. Sarah Paulson is devouring this role, and I can't wait to see more of her performance.
I feel silly for not realizing sooner that Clive Owen is playing Bill Clinton. This is a surprisingly great casting choice; "The President Kissed Me" goes a long way for this character. His charm and influence with women are palpable in this episode, and his accent is spot-on. His magnetic presence overtakes every scene he appears in, like the way he sweeps these young women up. The chemistry between Owen's Clinton and Feldstein's Lewinsky is electrifying, making the latter's decisions all the more understandable. However, this is not to say that Impeachment is entirely one-sided. Hilary Clinton (Edie Falco) has been acknowledged, shown, and Monica even expresses guilt over being involved with a married man. Monica's friend even observes that she has a pattern of getting into relationships with unavailable men and spiraling when they end things. I only ever knew the basic details of the Lewinsky affair, so this is all really interesting to me. Speaking of Falco, I thought she was a strange choice at first, but she really looks the part. "The President Kissed Me" delves into the complex web of agendas and factions around the impeachment and other events. This is another recurring theme of the series' various installments.
I know I mentioned this last week, but I have to praise Impeachment's fantastic costumes and makeup. Several of these actors are entirely unrecognizable, and the effect can't be overstated. American Crime Story was always masterfully crafted, but this aspect seems particularly noteworthy in Impeachment. However, it could be simply because I'm more familiar with these characters. The show's musical score by Mac Quayle particularly shines in "The President Kissed Me," highlighting Monica's inner turmoil and the scheming of peripheral characters. American Crime Story is always an A+ production, unlike its sister series that varies in quality from year to year.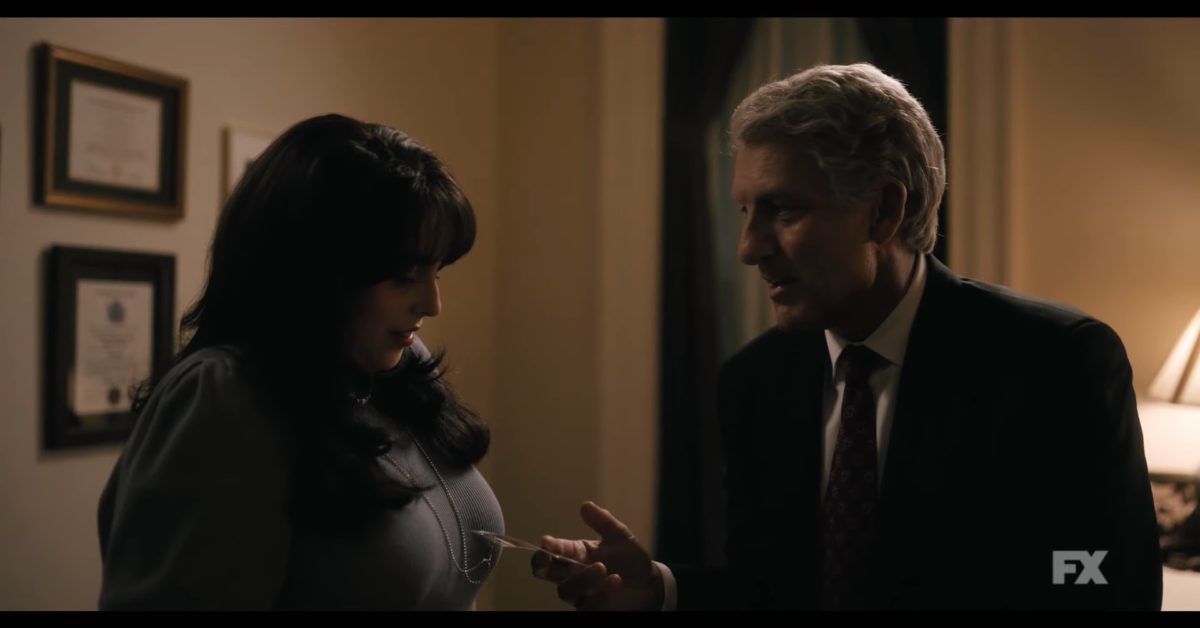 I also found the dialogue quite strong in "The President Kissed Me," with some real zingers from Cobie Smulders as Ann Coulter. I especially liked her line about being a conservative as opposed to a Republican because they're "too nice" and ineffectual. I don't really like or agree with the character, but this was a funny exchange. Her drive to use any means necessary to unseat Clinton fits well into the theme of opportunism and political scheming. Sarah Paulson also gets lots of great lines as Linda Tripp in "The President Kissed Me." Her speech about her children is pure gold, and it's genuinely sad to see how her relationship with her daughter really is. Even Linda's statement to the reporter, where she told him that there was a bigger story he was missing, was incredible. The lines themselves were pretty bland and straightforward. Still, Paulson's delivery brims with conviction and a sense of righteous indignation, even if Linda is by no means any kind of moral authority. The real story here is that everyone uses Paula and Monica for their own gain, even their female "allies" who came to "help" them. It's utterly shameful, but it makes for great TV.
Overall, I like "The President Kissed Me" less than "Exiles," but it's still good. I'm still hooked and ready to see where the story goes from here (including the parts we already know). The cast, music, costumes, and makeup create a thoroughly engrossing experience that yet again confirms American Crime Story as one of the best dramas on TV.
Plot - 7
Acting - 10
Progression - 7
Production Design - 10
Drama - 7
8.2
Good
Overall, I like "The President Kissed Me" less than "Exiles," but it's still good. I'm still hooked and ready to see where the story goes from here.