REVIEW: The Secret World of Arrietty (2010)
Based on The Borrowers by Mary Norton, The Secret World of Arrietty follows a family of tiny people as they try to survive an increasingly hostile world. The film was released in 2010 and was the directorial debut of Hiromasa Yonebayashi, who would go on to direct When Marnie Was There, also for Studio Ghibli and Mary and the Witch's Flower for Studio Ponoc. I saw this movie only once around the time of its American release, and I don't remember thinking much of it. I haven't seen any of the other Borrower movies and wasn't even aware this was based on a book. However, like Ponyo, I remember being annoyed with this film for casting Disney kids in the lead roles. Let's take a look. 
Arrietty (Bridgit Mendler) is turning 14, so her father Pod (Will Arnett) decides it's time for her to learn her family's art of borrowing. The two go out that night and journey into the human house under which they live. They collect necessities like food and supplies, but soon, Arrietty is spotted by a human boy named Shawn (David Henrie), forcing her and Pod to return home. Arrietty's mother, Homily (Amy Poehler), is beside herself when she realizes what has happened. Shawn tries to interact with the Borrowers, bringing them cubes of sugar and the like. His gestures only convince Pod and Homily that their family needs to move away. However, a friendship begins to form between Arrietty and the boy that changes both of their lives forever.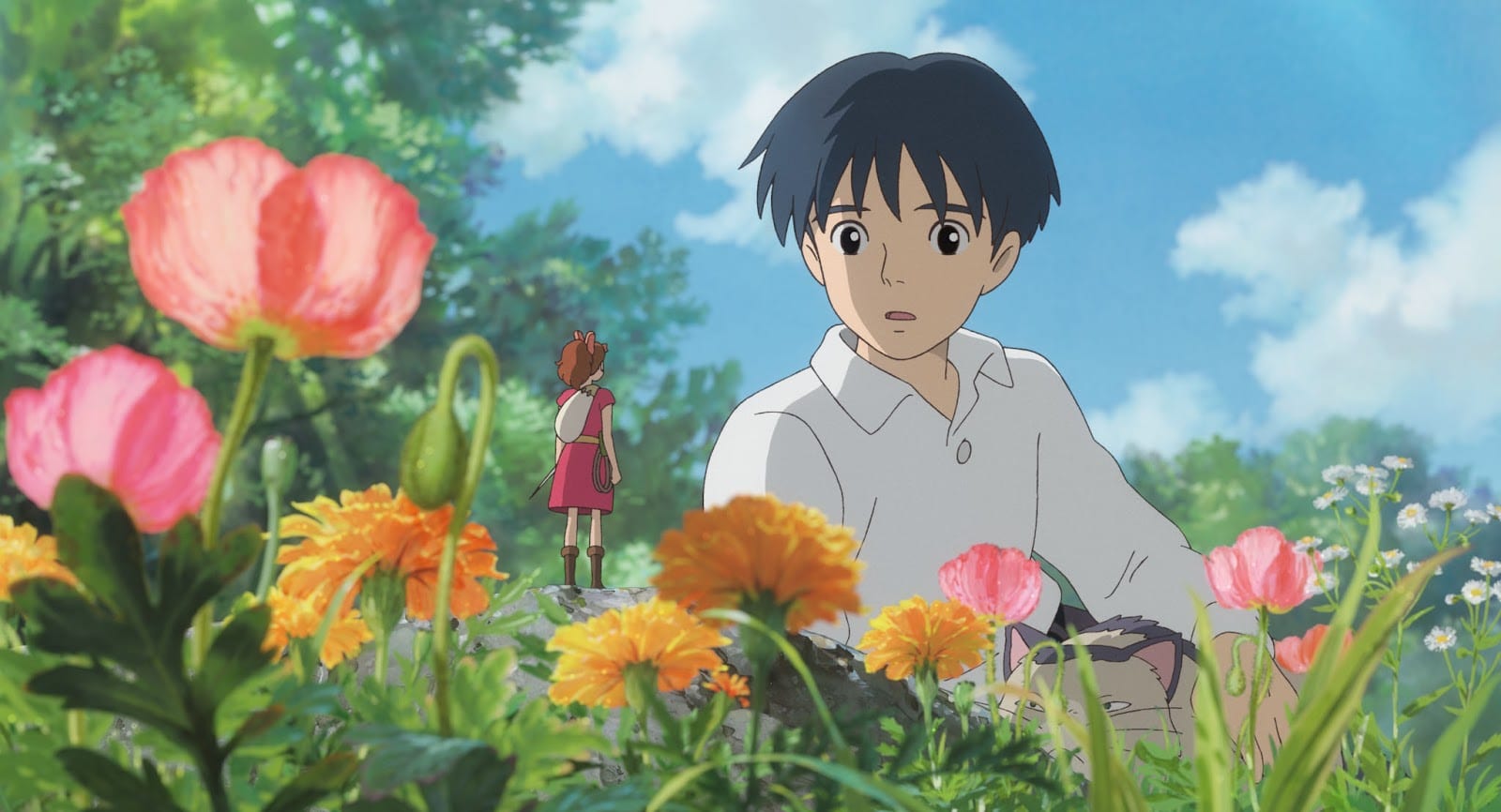 Of course, there's a lot to appreciate in The Secret World of Arrietty. Shawn's character design is pretty standard and uninteresting, but the little people are much more unique and creatively animated. The detail in the film's architecture and landscape is breathtaking, and the character animation ranges from subtle to cartoonish, both of which I like. One of the most interesting aspects of the movie is how human-sized objects are appropriated by the Borrowers, like Arrietty's hair tie being a chip clip. The film's original music by Cécile Corbel is beautiful and distinct. It actually reminds me of a more sophisticated version of the music from the Tinker Bell movies, and that's not a bad thing. However, I don't care for the song "Summertime" by Bridgit Mendler. It's just an annoying pop ballad, another attempt for Disney to leave their stamp on someone else's movie. 
I don't think Bridgit Mendler (Good Luck Charlie) or David Henrie (Wizards of Waverly Place) are nearly as annoying as the leads from Ponyo. The actors and characters are all older in The Secret World of Arrietty than the toddlers in Ponyo, which probably has a lot to do with it. Arrietty and her bond with Shawn would be the big draw to most Ghibli movies. Whether it's a romance, familial bond, or friendship, the central relationship in a Studio Ghibli production is usually masterfully realized. However, I don't find Arrietty or her plight very interesting. She's plucky and eager to go borrowing but unsure of herself once she gets out there. Shawn's illness is more effective at garnering sympathy, and I like that he doesn't dwell on it too much. It comes up naturally enough in conversation, too; Shawn tells Arrietty about his heart condition to explain his seeming insensitivity to the topic of death. I just don't find the friendship between these two very meaningful or earned. They only interact a few times throughout the whole movie, but Shawn saves Arrietty and her mom from his aunt's crazy housekeeper, so they're BFFs now. It makes sense that Arrietty would appreciate this and reconsider Shawn; how it all happens just isn't very satisfying. It feels like their characters and relationship are driven by the plot when it should be the other way around.
Will Arnett and Amy Poehler are excellent as Arrietty's parents, especially the former. Arnett brings a subtlety to this performance I've rarely seen from him outside of Bojack Horseman. He should do more voiceover roles. Pod is a quiet but caring man who wants Arrietty to be happy and keep peace with Homily. Arrietty's mother, Homily, is basically crazy. She's paranoid, loud, anxious, and generally unpleasant. This is probably my least favorite character. She obviously cares about her family, and that's why she acts the way she does, but it made me anxious, and I know she's not even real. My main problem with Arrietty's family is that there's not a whole lot to them. They have stock traits, and the acting is very good, but they don't feel as much like a real family as Ghibli characters usually do. There's also no real payoff to the tension between Arrietty and Homily. 
Moises Arias plays Spiller, the only other Borrower Arrietty's family encounters in the film. Moises was also a Disney star, appearing in Hannah Montana, The Suite Life of Zack and Cody, Wizards of Waverly Place, and more on Disney Channel. I only mention this to emphasize how much Disney used the Ghibli films as vehicles for their child stars when they held the American distribution rights. Spiller is a character of few words even during his already limited screen time. From my understanding, he's a love interest for Arrietty in the novels, but in this movie, he simply helps the family a couple of times and serves as a guide. Shawn's aunt Jessica (Gracie Poletti) is basically a non-entity. Shawn stays with her so he can get better, and this robs us of seeing his relationship with his parents, although it's remarked in dialogue that they don't pay him enough attention. This would be okay if Jessica added anything to the movie or Shawn's character, but she doesn't. The only meaningful scene the two share is when Jessica tells Shawn about the legends of the little people and how his grandfather believed in them. Hara (Carol Burnett), Jessica's housekeeper, is the source of all conflict in the movie. She wants to capture the little people, and at one point, traps Homily in a mason jar. Hara is actually pretty funny, especially after the Borrowers escape. 
Overall, The Secret World of Arrietty is disappointing but not awful. The technical aspects meet and often exceed expectations, but the story drags in parts, the characters aren't very interesting, and the relationships between the leads and amongst their families leave a lot to be desired.
Plot - 4
Acting - 8.5
Direction/Editing - 7.5
Music/Sound - 8.5
Animation and Character Development - 6
6.9
Okay
The Secret World of Arrietty is disappointing but not awful. The technical aspects meet and often exceed expectations, but the story drags in parts, the characters aren't very interesting, and the relationships between the leads and amongst their families leave a lot to be desired.