Arcane: The Perfect Pairing of Music and Animation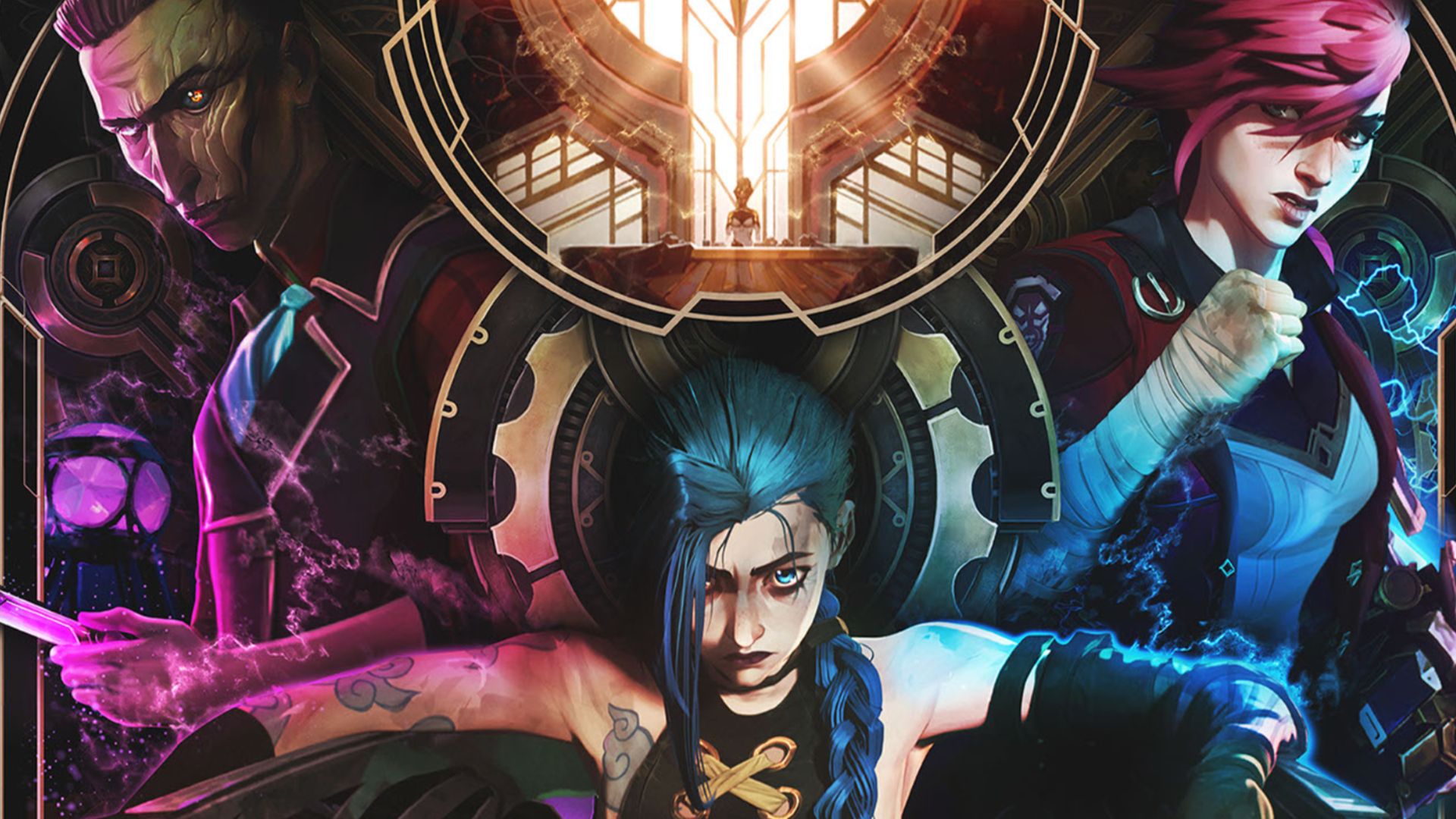 It's no secret that music and film can be combined to create provocative art. I think the strongest combination is achieved with animation in particular. Walt Disney, Max Fleischer, and Warner Bros. knew this in the early 20th century, and music has become inseparable from the medium. When you talk about animation, a layman probably thinks of cartoon musicals before anything else. This is a somewhat frustrating oversimplification, but it's not wrong. Animation and music are two of my favorite things in the world, and I think there's a specific reason they go together so well. To demonstrate this, I'll be talking about Arcane and how it utilizes music to its advantage. Keep a lookout for a comprehensive look at film composers coming from me, Blabbering Collector, and Tuggs. 
*SPOILERS*
Netflix's Arcane has such a unique, aurally diverse soundtrack that this piece was conceived as a look at animation in general, but this series is all I could think about. What do rock band Imagine Dragons, Police frontman Sting, and rapper Denzel Curry have in common? They each performed a song for Arcane. Some of the album's performers also wrote their respective songs. This soundtrack is unique in the breadth of musical genres it explores and in the way the music ties into the story. Each episode of Arcane essentially has a music video where dialogue and plot progression stop and let world-building and character establishment take over. For the show's theme song, Riot Games and the French animation studio Fortiche Productions turned to what was familiar to them. Imagine Dragons had collaborated with them on their character music videos in the past, and "Enemy" proved to be the perfect theme for the show. When lead singer Dan Reynolds sings, "Everybody wants to be my enemy," he could be talking about almost any major character in the series: Vi, Jinx, Silco. Even Jayce, in the beginning, likely feels like the world is against him. I tend to think the song is from Jinx's perspective due to her abandonment issues and disconnection from reality. I'm not the biggest Imagine Dragons fan in the world, but I like some of their songs, and this is one of the better ones. I think of them as this generation's Nickelback; they make harmless, catchy music, and people can't stand that.
Bea Arthur's "Welcome to the Playground" is the perfect introduction to the Undercity. The mechanical undertones indicate that the people here work hard and struggle, while the lyrics tell us that Vi is intimately familiar with this place. It's rough and stands in stark contrast to the glittering mansions of Piltover, but it's home. I find the sound effects particularly satisfying; they evoke emotions that are difficult to describe. "Our Love" by Curtis Harding and Jazmine Sullivan is just beautiful. I love this song; It feels like a throwback in a show that is simultaneously futuristic and Victorian. I don't know if this was the intention behind the piece, but it reminds me of classic R&B duets like "Ain't No Mountain High Enough" by Marvin Gaye and Tammi Terrell. But it's the way the song serves the narrative and characters that I find so satisfying, even more than the lovely vocals and dynamic music. Although the song is a man singing about his love for a woman, it serves as a backdrop for the love between Vander and his adopted children. We only get three episodes with the family together. That's not a lot of time, so what is there has to be economical and continually establishing or developing relationships. This is actually a diegetic song that Powder plays on a record player. As the music starts, she's visibly distraught over Vi's decision to turn herself in for the bombing in Piltover. Vander quickly senses what's going on and intervenes. Every character acts out of love, doing what they think is best for their little, broken family. Vi said she was willing to do anything for a better future for Powder, but once jail (or worse) is on the table, she's resigned to what she thinks she must do.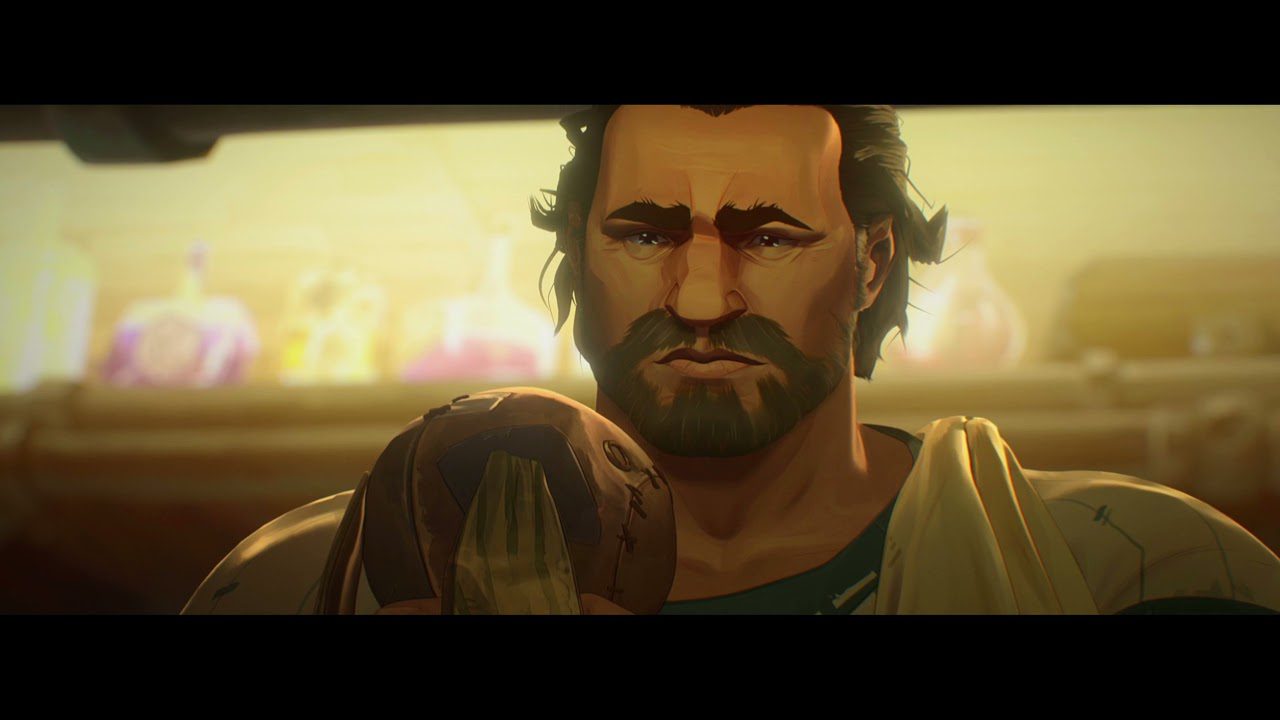 For his part, Vander loves his children more than anything in the world. He has sky-high expectations for Vi, but he also loves her the most. And she's the most like him, a tough leader with a tender heart. The greatest tragedy of Arcane is the breaking of this family. "Our Love" is the prelude to that, the swansong of the love between Vander and the kids. "Goodbye" by Ramsey accompanies the real fallout as Powder makes a fatal mistake, Vi reacts in anger, and Silco sees his chance to interfere. The lyrics of this one can be a little on the nose, such as "I can see a tear on my father's face," but I think it works really well. The animation of the character's facial reactions paired with the emotional music is magical. 
"Dirty Little Animals" by Bones UK is just as grimy and sinful as the title suggests. This filthy number pairs with the debauchery on display in the Undercity as it exists with Silco in charge. Vander wasn't a perfect leader, forming uneasy alliances with Piltover Enforcers and letting his people live in squalor. But Silco's Undercity is a stinking nightmare infested with crime and drug abuse. The streets are rampant with shimmer, turning addicts into mindless zombies capable of mass destruction. Imagine Dragons get another chance to shine in a cameo singing "Enemy" in one of the clubs Vi and Caitlyn investigate.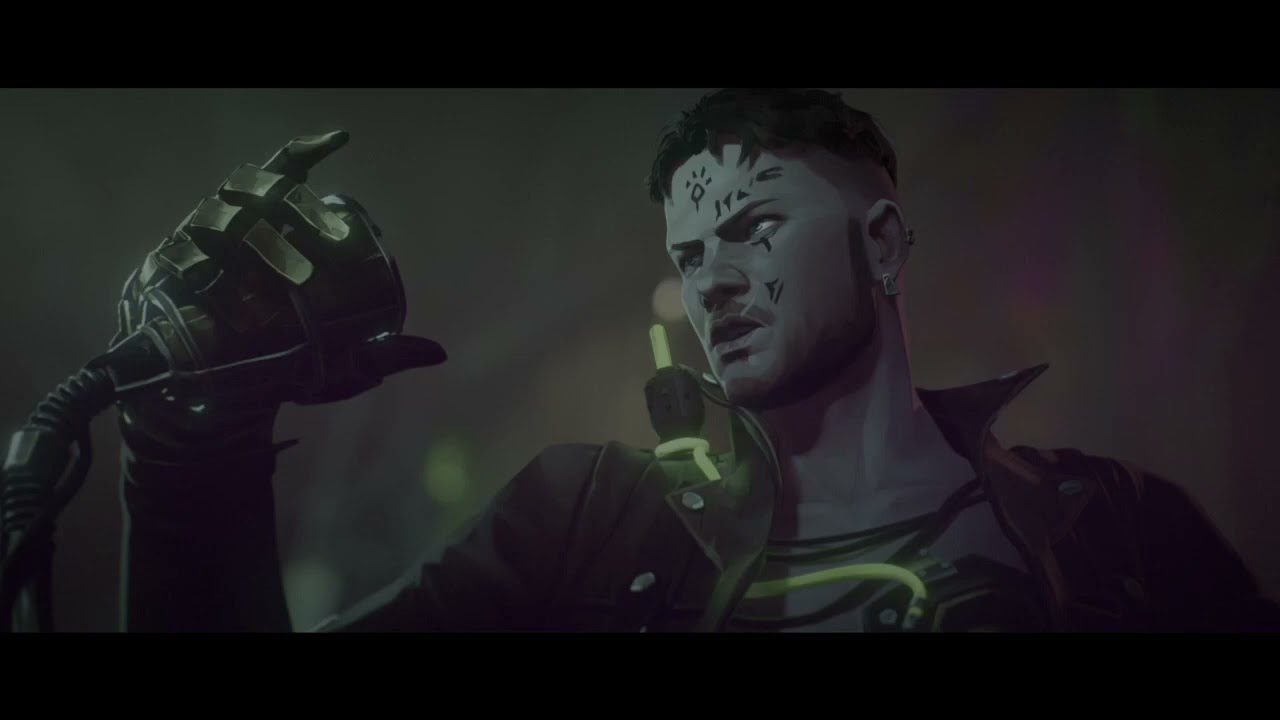 "Guns For Hire" by Woodkid is beautiful and tragic, exploring Jinx's tortured mind and abiding guilt as we're shown the world as she sees it. Mylo and Claggor, the biggest signs of her irredeemability, are always on her back and holding her down. The visuals of her visions and the smoke bomb are just stunning, and the emotional impact can't be overstated. This soundtrack has been a sampler plate of artists and genres well-known and obscure up to this point, but this is where it gets really weird. Episode 7, "The Boy Savior," has two of these musical interludes. This episode is largely about Ekko and him reconnecting with Vi, and both of these songs are rap/R&B hybrids. The strangest part is they're both incredible, and this is not at all my kind of music! They fit Ekko's character and the setting of Zaun extremely well. It makes sense that kids living in subjugation, who never get to see the sun, would feel this way, and this genre of music fits perfectly. "Misfit Toys" by Pusha T and Mako is the episode's opener, paired with graffiti and imagery of Ekko's gang.
This song is evocative of gang culture and classism, topics Arcane deftly and stylishly handles without losing its immersive elements. The aggressive, indignant lyrics and the striking visuals make for something truly special. "Dynasties and Dystopia" by Denzel Curry, Gizzle, and Bren Joy, is incredible. I love every song on this soundtrack for one reason or another, but this one might be my favorite. It plays over the famed Jinx vs. Ekko fight, which is, for my money, the most discussed sequence in the show. It's a true spectacle, visual splendor wrapped around complex characters and their relationship. Jinx and Ekko were childhood friends, and it's nothing short of tragic to find them in these circumstances at all. But Ekko has to challenge Jinx no matter how he felt about Powder so that Vi and Caitlyn can escape back to Piltover. The stunning flashbacks interspersed with the action give us insight into the games these two must have played as children. Now Jinx plays an entirely different type of game – a deadly one.
The visuals alone make this scene a marvel and unlike anything else I've ever seen. Even Into the Spider-Verse didn't have anything quite like this. But the song's lyrics are packed with references to the rancid place where these two grew up, the place that shaped them. I love that the music is relatively upbeat and exciting, as is the fight itself. This juxtaposition of emotions and motivations is what makes Arcane great. Even the title "Dynasties and Dystopia" is thought-provoking. Is it yet another exercise in the theme of duality, this time that of Piltover and the Undercity? The former is populated by great families like the Kiraminns; Jayce's house Tallis is a minor one, a family of laborers who make hammers, by comparison. "Dystopia" is the perfect word for the Undercity, a veritable hell on earth. Or is it the dynasties of corrupt leaders, including Silco and the council, that create the dystopia? Does dystopia refer to the split destiny of the city? Even the titles show so much attention to detail, and I have to commend that.
"Snakes" by PVRIS and Miyavi is extremely catchy, and the fight it accompanies between Vi, Jayce, and Silco's factory workers is one of my favorite scenes in the show. The fast-paced music and fist-pumping action disarm you, giving the feeling that the heroes are winning. A daughter of the Undercity and a son of Piltover stand united to fight their common enemy, Silco. And they're winning! But everything comes crashing down when their fallen enemy is unmasked, and it's a child. Jayce has pretty traditional beliefs and morals, and is horrified to discover what he's done. For her part, Vi is used to carnage and the unfairness of war. In her eyes, it was the boy or her. Both perspectives are understandable, especially when you consider that even as the scion of a lesser house, Jayce's life has been charmed compared to what Vi has overcome. It's still difficult to empathize with the willingness to kill a child, though, especially one forced to be a soldier and factory worker. "When Everything Went Wrong" by Fantastic Negrito is so much fun. I love listening to this song while I work because it's so quick and catchy, and the battle between Vi and Sevika (Silco's right hand) is exhilarating.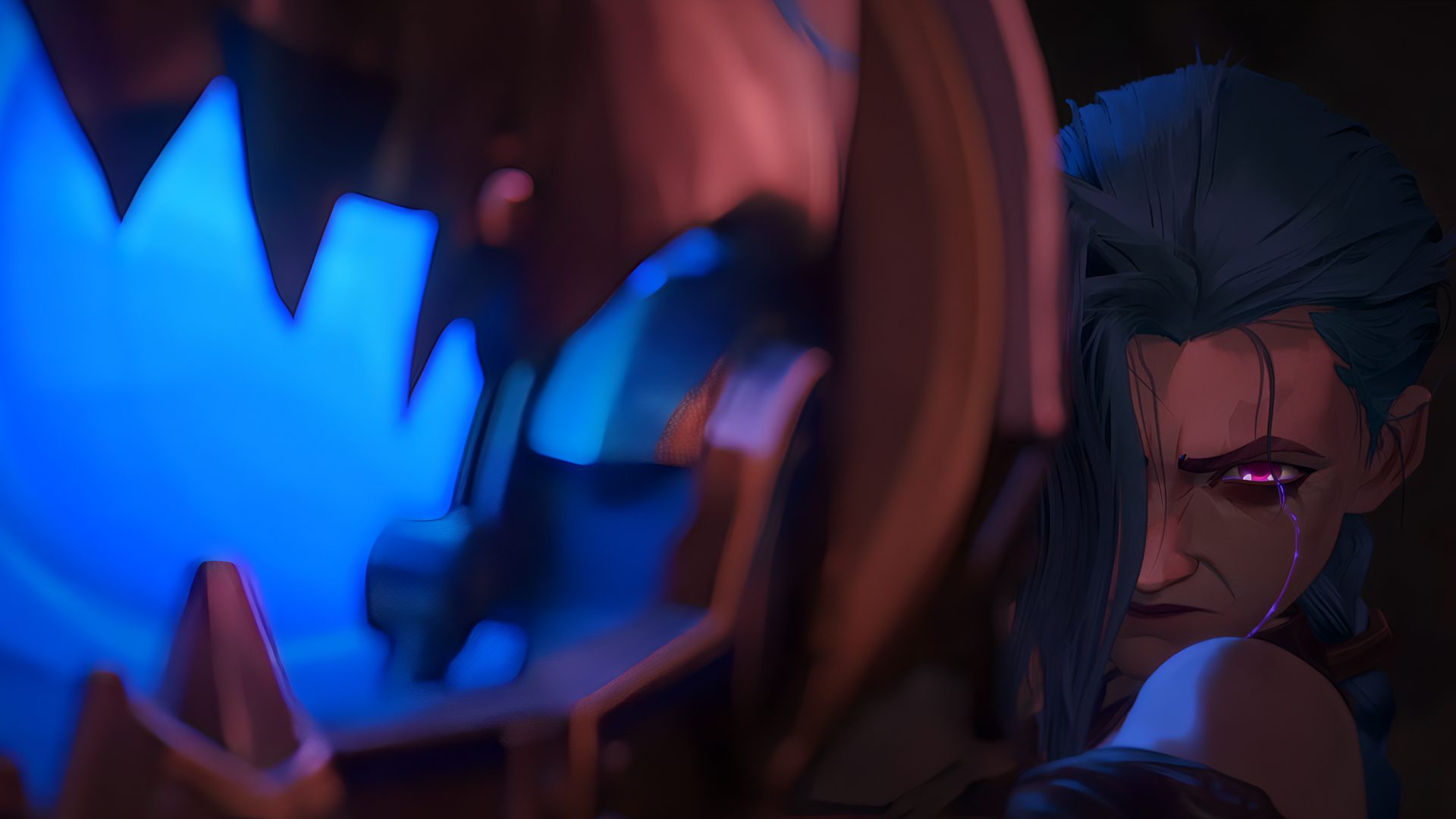 "What Could Have Been" by Sting and Ray Chen is a masterpiece, full stop. I've always loved Sting's voice and was somewhat surprised to hear it in the final episode of Arcane season 1, "The Monster You Created." Those exact words appear in the song as Jinx confronts Vi for letting her down and putting her on the wrong path. She lets Silco off the hook because she believes all her problems are really Vi's fault for not being the parental figure she needed. Vi was a young child herself and shouldn't have been in that situation to begin with. And while Silco's parental love and concern for Jinx seems sincere, that doesn't mean he was a good father. But the kicker is that Jinx isn't exactly wrong; neither is Vi. The situation is so complicated by this point that there simply is no right answer. Jinx was very young when her family was separated and she was taken in by a crime lord. But she should know better now. Layers of guilt, mental illness, denial of responsibility, and schadenfreude have clouded her perception beyond repair. I think Jinx was beyond redemption long before this point, but she finally solidifies it and dashes any hopes of peace and freedom for Zaun. "What Could Have Been" is beautiful musically and lyrically, and Ray Chen's violin solo late into the piece is breathtaking. I love how straightforward the song is with Jinx's feelings about Vi and their shattered relationship.
Arcane's soundtrack is a sampler platter of genres, artists, and ideas. What I love the most about the show's music is how it explores pertinent themes and relationships. The music isn't just aesthetic; it's thematic. This has to be one of the most unique albums I've ever encountered, and the fact that it works this well both in the show and just as music is remarkable.