REVIEW: Puss in Boots: The Last Wish (2022)
2011's Puss in Boots is a movie about which I feel conflicted. The animation and voice acting are excellent, and there's a clear attempt to give the film emotional stakes. However, the final product is nothing special, leaving no lasting impression. I was shocked when DreamWorks announced a sequel over a decade later. Sure, we're more than used to late sequels at this point, and animated ones gross a ton at the box office. But Puss in Boots? Does anyone even remember the first film? However, when they released the full trailer, I was in. The animation looked crisp, clean, and fluid, with some CG/hand-drawn hybrid magic from The Bad Guys. If anything could make Puss in Boots interesting in his own right, it would be bringing him to his lowest point and setting him off on a grand journey. Add that to a stellar cast and I was cautiously optimistic going into this movie! Let's take a look. 
Puss in Boots: The Last Wish follows the fierce feline fugitive from the law as he's faced with mortality. It's real this time; Puss (Antonio Banderas) is on his last of nine lives, and Death is at his doorstep. A solution presents itself when Puss learns of a single wishing star that crashed down in the Dark Forest. The only problem is, everyone else is after it, from Puss' old flame Kitty (Salma Hayek Pinault) to various fairytale creatures. With the help of friends both new and old, can Puss cheat Death one more time and restore his nine lives? 
The visuals in Puss in Boots: The Last Wish will knock your socks off. DreamWorks' signature CG look is blended seamlessly with traditional hand-drawn animation. The effect is more subtle than in The Bad Guys, although I also enjoyed the cartoony look of that film. Both approaches can be effective and have their uses. It's been 11 years since Puss in Boots came out, so I expected the animation to be even better, but this stunned me. The fight scenes are so fluid, and the frenetic energy is electrifying. Particular highlights include the wishing star, which is magical looking, and the giant creature Puss fights. The textures and lighting in this movie are unbelievable. The fight choreography is beyond impressive because it's lightning-fast but clear enough to follow. I'd be hard-pressed to think of a better-looking animated film that came out in 2022. The film's original musical score is provided by Heitor Pereira, and it's lovely. However, I don't like the movie's theme song for Puss, "Fearless Hero." They keep reprising this song, and I'm not sure why; it's not good! The tune is overly simplistic, and the lyrics are uninteresting. Every time they return to this song, it serves as a reminder that it's easily the weakest component of the opening fight sequence. 
The voice acting is at least on par with the first movie. Joining the cast are Ray Winstone, Olivia Colman, and Samson Kayo as the three bears and Florence Pugh as Goldilocks. Additionally, John Mulaney plays Jack Horner (who I'd never heard of!), Wagner Moura voices a bounty hunter who may be more than he seems, and Harvey Guillén plays a dog who joins Puss and Kitty. Da'Vine Joy Randolph plays Mama Luna, the crazy cat lady from the trailer who temporarily adopts Puss. As an aside, this character is such a mood; I, too, wish to live in a secluded mansion with innumerable cat companions. The first film also has an impressive cast voicing iconic fairytale characters, but that film lacks a strong unifying theme. As such, Boots' relationship with Humpty falls flat, and villains Jack and Jill leave no impact. 
If The Last Wish has anything, it has such a central idea as the first movie lacked. Puss' journey in this movie centers on mortality and making the one life you get special. Several characters after the star already have what they need or seek it for selfish, unjustified reasons. It's about recognizing what's in front of you as much as letting go of fear and ego. These ideas are familiar and well-worn, but that's because they're universal. Mortality is something we all have to face at one point, and there's catharsis in seeing it explored in fiction. It's nice to see our heroes (feline or otherwise) grappling with the same bugaboos that haunt us. It helps that other characters, namely Goldi and Kitty, are on a similar journey. All the major plot and character arcs are united in the movie's central theme, which makes for a more satisfying, coherent experience. 
The wolf bounty hunter is awesome. I love this character's design, voice (kudos Wagner Moura), and the mystique surrounding him. He's credited as the Big Bad Wolf, but he's much more than that. This character alone is more interesting, intimidating, and engaging than any of the villains and antiheroes in the first movie. I don't think the reveal of who he really is comes as a shock, but I don't care too much about being surprised. The concept and execution of this character rock, and he's so creepy and unsettling every time he's on screen. I almost wish we had more time with him, but that might ruin him by robbing the mystery and fear of the unknown.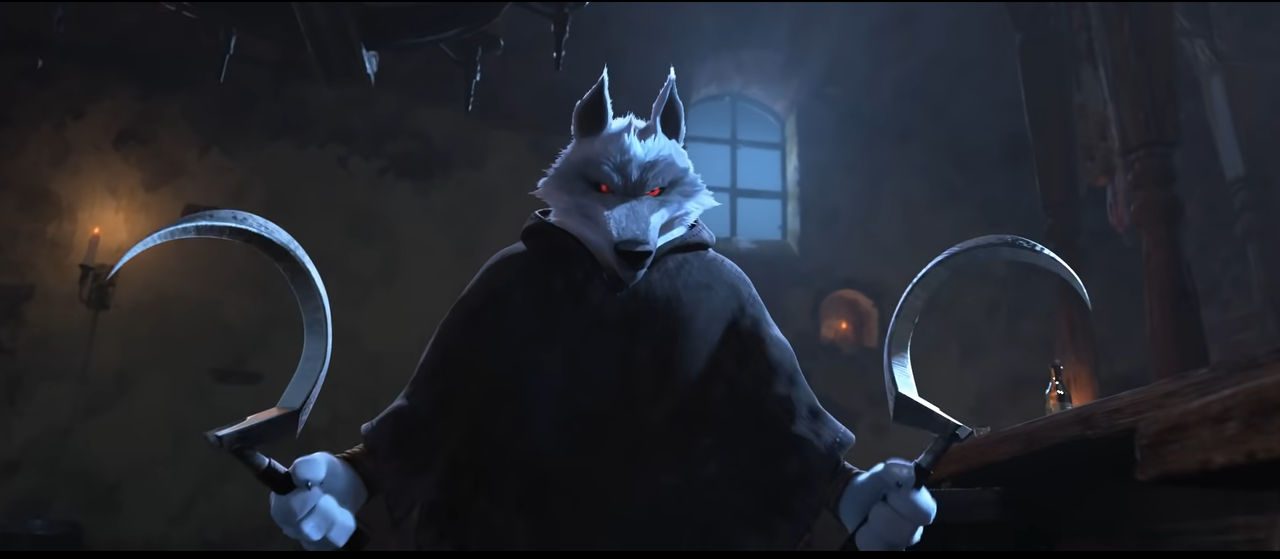 The comedy is more subdued in The Last Wish, which was a good decision. The central struggle is a very serious, human one, so I appreciate the attempt to reflect this in the tone. However, I died when Jack Horner called Goldi "Little Bo Creep." John Mulaney is hilarious in this role, and I also wish we could have seen more of him. 
Puss in Boots: The Last Wish is a massive improvement over the first film. I can't remember such an unnecessary sequel that I enjoyed this much. The acting, animation, and story elevate this movie beyond what the first movie even attempted. DreamWorks does best when they focus on characters, and that's exactly what this film does. It's not perfect; I would have liked a little less of the fairytale humor with Jack Horner, but that's what this franchise is. It's a parody, but the parodic elements sometimes go overboard. As for the elephant in the room: this film sets up Shrek 5. I'm not thrilled with the prospect of more Shrek, but Puss in Boots: The Last Wish surprised me; maybe that will too? Okay, probably not. 
But what did you think? Have you seen Puss in Boots: The Last Wish? Talk to us in the comments!
Plot - 8
Acting - 9
Direction/Editing - 9
Music/Sound - 7
Animation/Action - 10
8.6
Great
I would recommend Puss in Boots: The Last Wish even if (like me) you weren't thrilled with the first one. This film finally turns Puss into a convincing lead by focusing on his journey and internal struggle.