WWE Royal Rumble Results (2023)
WWE Royal Rumble Results
WWE Royal Rumble results and commentary from Danny Damage!
WWE Royal Rumble Results 2023
We were expecting a new year with a new start, but then Vince McMahon swaggered back into the picture, and many fans became rather deflated. That's not the only thing still stuck in its way. Sadly, my stance on forcing the women to perform tribute acts from the first Women's Royal Rumble remains solid.
On the positive side, Pat McAfee's surprise return on commentary was a nice way to start the night.
Men's Royal Rumble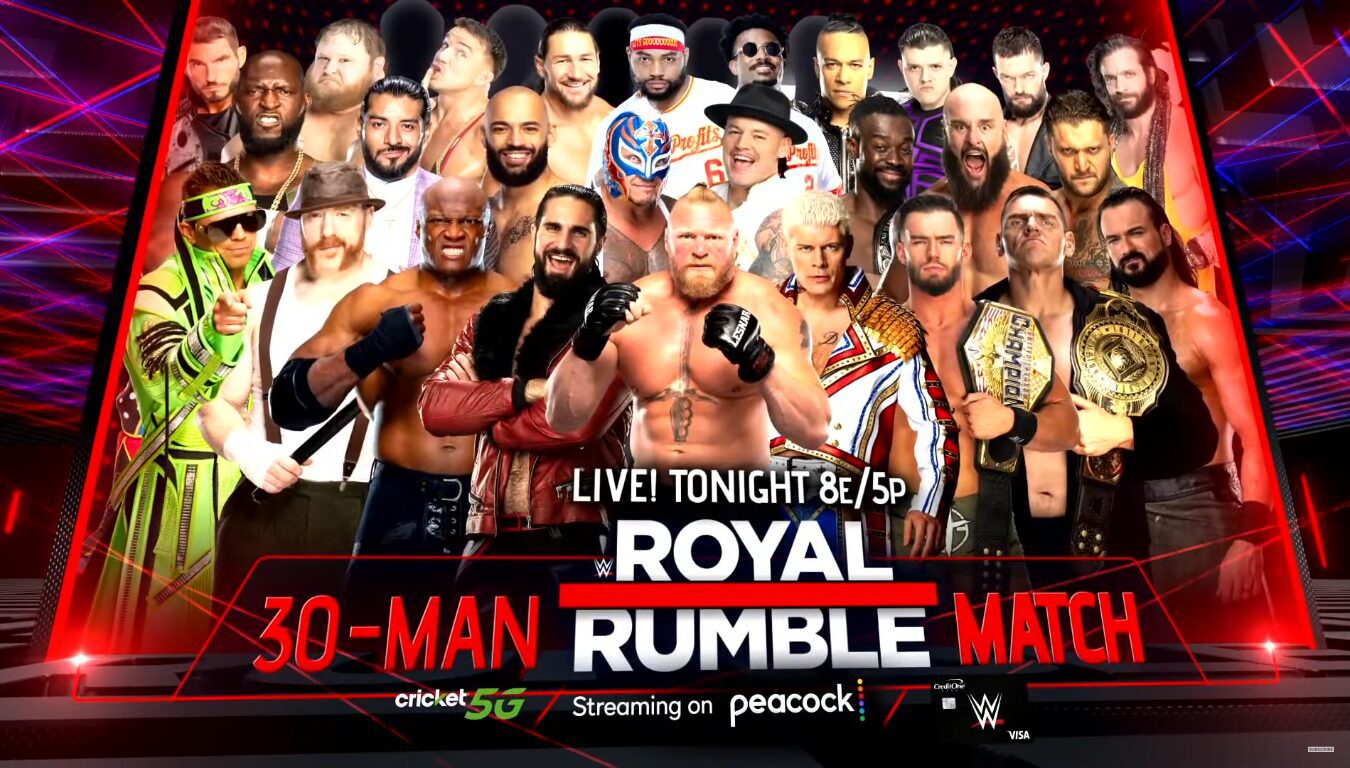 Winner: Cody Rhodes
Gunther started the match and was in the final four with Austin Theory, Seth Rollins, and Cody Rhodes, who entered at number 30. Rollins and Rhodes started going at it. Then we learned that Logan Paul hadn't actually been eliminated – he'd just been hiding. Paul launched Rollins out of the ring and was then thrown out by Cody. Gunther and Cody exchanged strikes for a while before Cody got his moment and won the match.
It might have had more impact if they hadn't used Cody's return as a way of selling the show/distracting from Vince McMahon's sexual/business escapades. It's not just me either; the crowd cared more about Edge, Booker, and Pat McAfee. WWE shouldn't have spoiled Cody's return beforehand.
Bray Wyatt vs. L.A. Knight (Pitch Black/Corporate Whore Match)
Winner: Bray Wyatt (pinfall)
The whole point of this match was to turn on a black light and have the face/body paint on Bray look all creepy. They also made sure the nuclear juice for kids that sponsored the "match" could decorate the ringside area. Yet another example of the fans, wrestlers, and the sport/form of entertainment being pushed aside so WWE can deepthroat a sponsor. See also: Dolph Ziggler wrestling as the KFC colonel. Shameless.
Bray beat Knight after hitting him with Sister Abigail. After the match, Bray put on a different mask that also reacted to the black light, and he pummeled Knight some more. Uncle Howdy then jumped off the stage and elbowed a floored Knight, causing an explosion… just because.
Bianca Belair vs. Alexa Bliss (Raw Women's Title)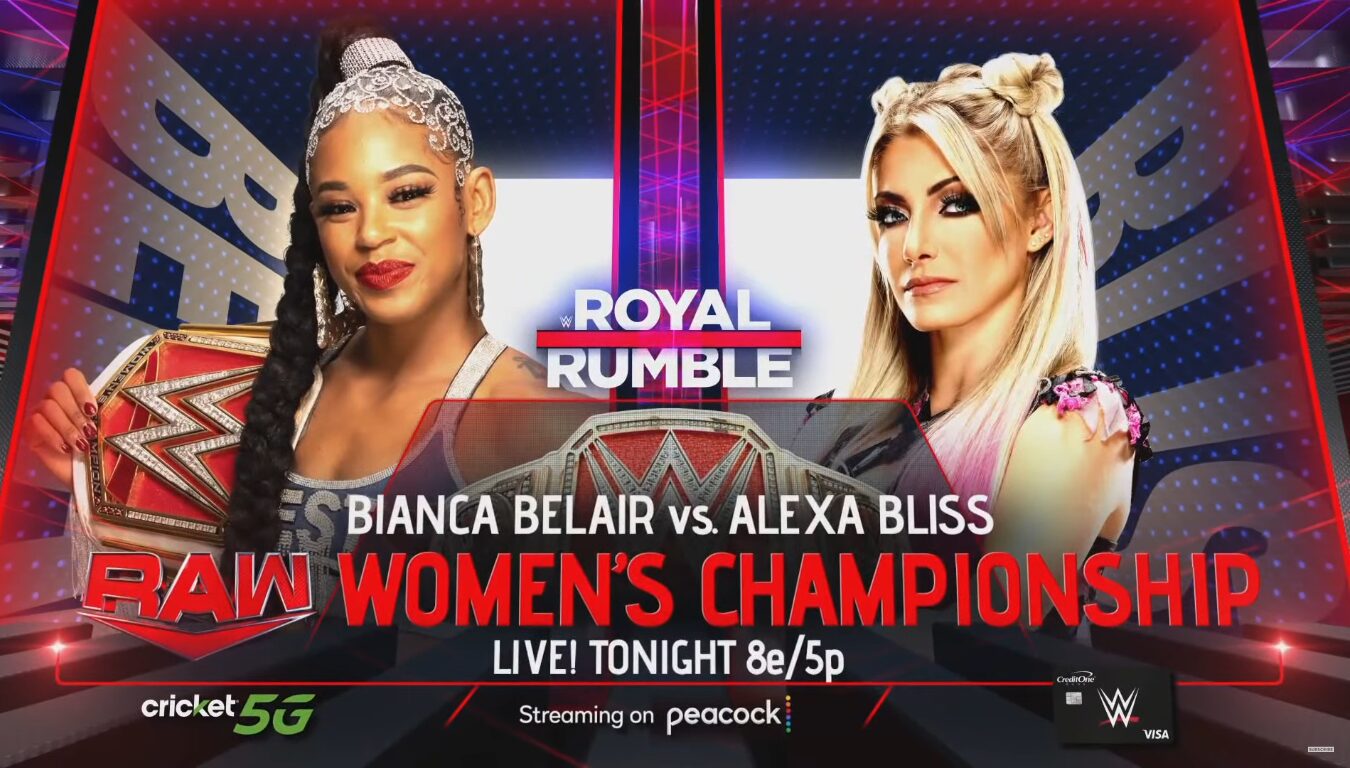 Winner: Bianca Belair (pinfall)
Alexa Bliss went out of her way to be more vicious than she has been in the last year or so. It wasn't enough to avoid a Kiss of Death and eating the pin, though. It wasn't a long match, but it didn't need to be.
Post-match, we got more of Uncle Howdy/Bray Wyatt popping up on the big screen and repeatedly asking Bliss if she felt in control.
Women's Royal Rumble
Winner: Rhea Ripley
Well, here's the extended piss-break match. Zelina Vega's cosplay costume was sponsored by a video game and her Twitch/Desperate Fans channels. Rhea Ripley started off at number one. Asuka returned with her old-school, evil clown makeup. Nia Jax returned at number 30 before being dumped outside by the other eleven women.
Liv Morgan and Rhea Ripley were the last two in the match. Morgan had Asuka's blinding mist in her eyes, which allowed Ripley to get the win.
Seriously, WTF is Morgan doing getting that far in a Rumble? She had her little stint with the belt whilst embarrassing Ronda Rousey for a few months; that's enough of WWE's current torture p@rn princess, thank you very much.
Roman Reigns vs. Kevin Owens (Undisputed Title)
Winner: Roman Reigns (pinfall)
These guys put on a decent match to close the show. They did a great job keeping the crowd interested, despite fatigue setting in. Kevin Owens kicked out of a spear, and then the referee took a bump. Roman Reigns instructed Sami Zayn to grab a steel chair. Zayn's hesitation allowed Owens to hit a stunner, but there was no referee to count the pinfall. By the time another referee arrived, Owens hit another stunner, which got a two-count.
Following a spear through the ringside barricade and Owens getting the back of his head slammed onto the steel steps a few times, Reigns hit one more spear, and that was enough to keep Owens down. Zayn was visibly horrified at the brutality towards his old friend, and Reigns set his minions on Owens after the bout.
The Usos handcuffed Owens to the ropes and super-kicked him over and over again. Reigns was about to splatter Owen's head with a steel chair, but Zayn stepped between them. Reigns decided to let Sami finish the job, but Zayn couldn't do it. Reigns started pushing Sami around, and Sami finally had enough and cracked Reigns with the chair instead.
Solo, Drunky Uso, and Reigns started murdering Sami in the middle of the ring before a tearful Jay Uso refused to join in, and he left the arena. What was left of The Bloodline caused some more damage to Owens and Zayn while everyone in the building booed the absolute shit out of them.
This was nowhere near one of the best Royal Rumble PREMIUM LIVE EVENTS, but at least it had a good ending to a long night. Everyone has been wondering how and when Sami's departure from Roman and Co. was coming, and we now have the answer.
–  OLDER RESULTS –
Thanks for reading these WWE Royal Rumble results! Feel free to get in touch on Twitter, SUBSCRIBE to my YouTube channel, and check out everything else I write about over on: