REVIEW: Encanto (2021)
I haven't been dreading Disney's Encanto, but I wasn't excited for it either. It's an original story directed by Byron Howard (Tangled) and Jared Bush (Zootopia) that features new music by Lin-Manuel Miranda. Sounds great, right? I try not to put too much stock in trailers, but the marketing for Encanto didn't inspire much faith. The main character seemed like Disney's now-standard goofy, quirky female lead and the basic setup of the story struck me as odd. However, I always see new animated Disney movies, and Miranda's work alone would have made the film a must-see. Let's take a look. 
The Madrigal family house contains a mystical candle that grants each member a special power, or "gift," when they come of age. However, Mirabel (Stephanie Beatriz) isn't given a gift, making her the only "normal" person in what may as well be a family of superheroes. When Mirabel receives a warning that the house and family are in danger, it's up to her to save the magic.  
We'll get the obvious out of the way first: this film is a wonder to behold. The animation glistens with passion and technical mastery. The locations in Encanto are breathtaking but remain cartoony, as opposed to the photorealistic look of The Good Dinosaur's backgrounds. Encanto uses light and color to stunning effect, turning several musical sequences into lively, fast-paced music videos. The movements of the characters are fluid but still convey the appropriate weight. My only issue with the film's visuals lies with some of the character designs. When we first saw trailers for Encanto, my husband remarked that the characters looked like they walked right out of Moana. I defended it at that time, saying that's just the Disney style. For example, people say the sisters in Frozen resemble Rapunzel too much, but I never saw a problem with that. My problem with Encanto is that, despite the stark visual contrast to classic Disney movies with waif-thin, conventionally attractive women (which didn't bother me), Encanto does little to distinguish itself from recent Disney movies. The characters look a lot like those in Moana and Coco, but without the distinguishing features and vibrant personalities.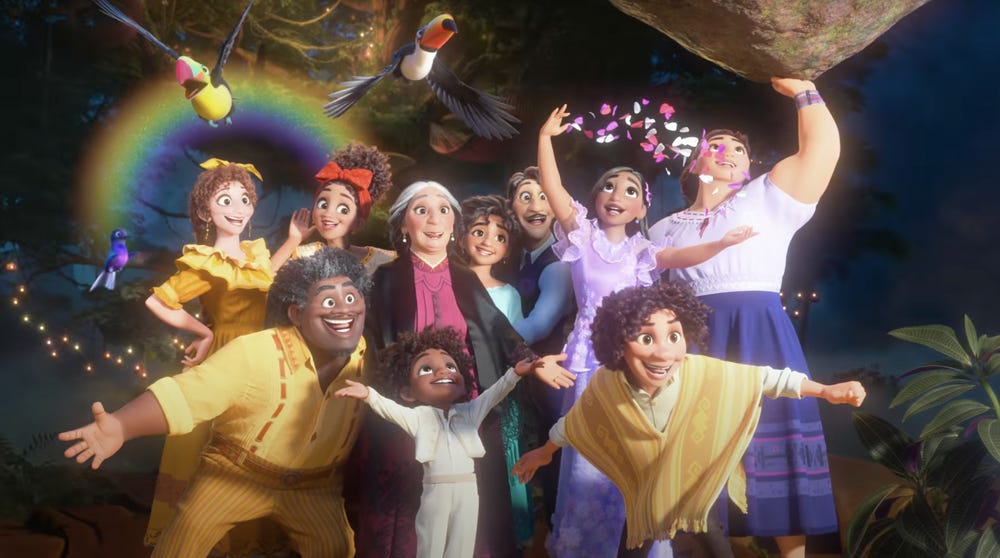 Aside from the animation, Lin-Manuel Miranda's original songs are the main reason to see Encanto. Based on my initial viewing, I don't think this score is as strong as In the Heights, let alone Hamilton. These songs are probably on par with his work for Vivo earlier this year. Both animated musicals contain some truly great songs and some that I probably will never listen to outside of watching the film. Encanto doesn't have any songs as bad as "My Own Drum" (thank God), but its best tunes can't rival those of Miranda's stage shows. I think he's probably overextended since having hit it big and unable to put everything into any one project. Between acting, directing, and composing, he's a very busy guy these days. You love to see it. Encanto does have a couple of bangers I could definitely listen to in the car, though. "We Don't Talk About Bruno" is the kind of ensemble number that slowly builds and reminds me I have a pulse. The solos given to Mirabel's sisters Isabela ("What Else Can I Do?") and Luisa ("Surface Pressure") are also highlights. Diane Guerrero is an absolute delight on Doom Patrol, so I was looking forward to her performance as Isabela, and she did not disappoint. This character is very different from Jane, a pretty girl struggling under the expectations her family has for her. I think her singing abilities have done the impossible and made me love Guerrero even more. Jessica Darrow's Luisa has a similar problem that ties into her ability. The visuals add a lot to these musical sequences, pulling off some truly unique combinations of lyric and aesthetic. 
Stephanie Beatriz leads the pack as Mirabel after her smallish role in In the Heights. She's okay in Encanto, but I don't find her as endearing or relatable as the film seems to think she is. Sometimes Disney falls into the trap of making its lead characters dorky or weird in the hopes of substituting these traits for a personality. I wish I had already reviewed tick, tick…BOOM! by now because that film does this really well while Encanto struggles with it. Actually, there are a number of areas in which that film shows Lin-Manuel Miranda's mastery of the musical, in contrast to Encanto's stumbles. Beatriz's performance isn't bad, but it doesn't leave much of an impact, and she gets outshone by seasoned performers like John Leguizamo and Olga Merediz. She is a relatively young actress portraying a young girl, but this wasn't a problem with Auli'i Cravalho in Moana or Anthony Gonzalez in Coco. Diane Guerrero is every bit as good as I expected, and I only wish she had more time to shine. Abuela Alma is voiced by two actresses; María Cecilia Botero speaks her lines of dialogue, and Olga Merediz provides her singing voice. Merediz is best known for originating the role of Abuela Claudia in the original Broadway cast of In the Heights and reprising the role for the film. I'm not sure why she doesn't speak and sing for Alma; I will never understand why some Disney animated movies do this. There's no call for two actresses, as Merediz excels at both acting and singing. Furthermore, the two voices don't blend well, so this is a little distracting. John Leguizamo is funny and charming as Bruno, and his musical stylings aren't bad either.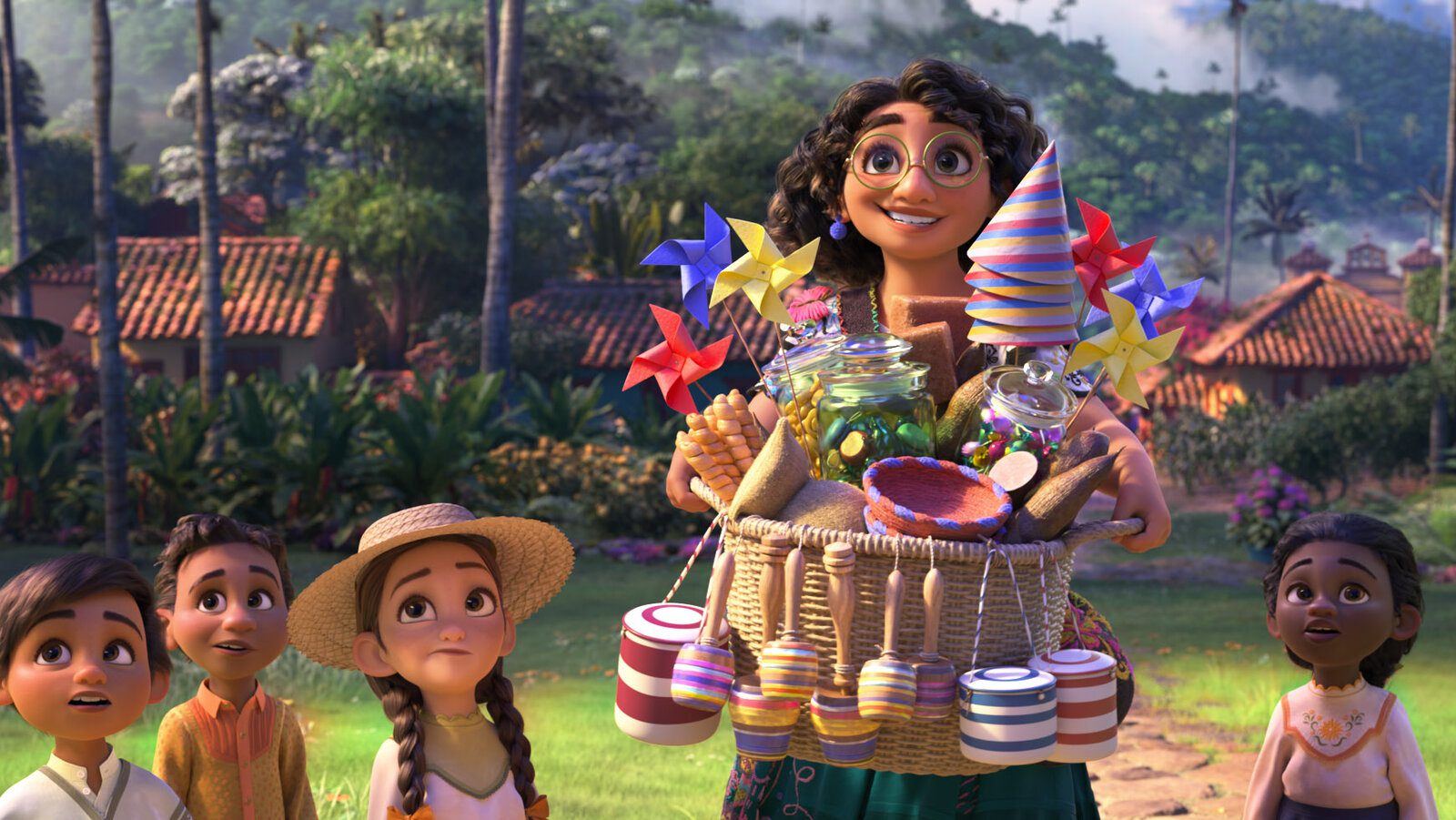 This is where my largest problem with Encanto comes in: the characters, by and large, aren't very likable or endearing. I think they missed the mark with Mirabel. She's not as determined as Moana, as funny as Anna, or as lovable as Rapunzel. If you take away her glasses, she's a less pretty, less smart Moana. I've already heard people rave about how relatable she is and compare her and this movie to Moana, and I must confess that I'm shocked. The plight Mirabel faces is a great one to explore in a family movie, but her personality is a blank slate. Her singing voice and appearance do little to leave an impression, so overall, this is one of the weakest Disney protagonists in recent memory. Abuela Alma is a harsh, unlikable witch until it's almost too late. When they explain why she is the way she is, I already don't like her, so it's difficult to empathize with her situation. I like Luisa and Isabela, but we only get a taste of their personalities and what motivates them. Meanwhile, the film begins with Mirabel's relationship with her little cousin Antonio, but he's one of the least developed family members! Mirabel's parents are completely dull, and her aunts and uncles (aside from Bruno) aren't fleshed out very well at all. I think they made a mistake in making the Madrigal family so big. The film is about Mirabel, but it also allocates precious screen time to other characters who themselves aren't very developed or interesting. However, even if this weren't the case, I'm not sure it would have saved the film. The magical elements at the heart of Encanto aren't handled or explained very well at all. Why did the candle become magical? How is the house sentient? Why is Mirabel the only Madrigal with no gift? I get that it's a movie, and you're supposed to shut up and enjoy, but I can't do that. Most Disney films and most of Miranda's musicals don't require that kind of mindless consumption, so I find myself shocked here. 
Overall, I'm frustrated with Encanto. The soundtrack and animation are on par with my expectations. But the characters and story – the beating heart of the film – needed a lot more work before being unveiled. As a fan of both Disney animation and Lin-Manuel Miranda's musicals, I'm disappointed.
Plot - 4
Acting - 8
Direction/Editing - 8
Music/Sound - 9
Character development - 4
6.6
Lacking
Overall, I'm frustrated with Encanto. The soundtrack and animation are on par with my expectations. But the characters and story – the beating heart of the film – needed a lot more work before being unveiled. As a fan of both Disney animation and Lin-Manuel Miranda's musicals, I'm disappointed.