REVIEW: Sierra Burgess is a Loser (2018)
Netflix should really be careful about what movies they greenlight. Continuing their series of romantic comedies in 2018 is Sierra Burgess is a Loser. The premise made me pause because I was scared that my immediate assumption about it would be correct: was this movie honestly going to tell me that catfishing someone is okay?
Sierra Burgess is a Loser follows a high school student named Sierra. She's seen as a loser in her school and is extremely insecure about her body. One day a hot guy named Jamey texts her thinking she's someone else, so she pretends to be that person in order to talk to him. To keep up the facade she gets help from Veronica, the popular cheerleader to whom Jamey thinks he's actually talking. Veronica and Sierra form an unusual bond as they try to keep Jamey from finding out the truth.
I was extremely worried that Sierra Burgess is a Loser would send the message that deceiving people the way Sierra does is justifiable under certain circumstances. Luckily, the movie never tries to convince the audience that this kind of behavior is okay, but rather tries to give the perspective of someone who might see it as a viable option. This is the story of someone so insecure that it feels like deception is the only chance she'll ever have to get noticed by someone.
The way this story plays out is a bit odd, though. I'm aware that insecurities tend to lead to toxic behavior, but it feels as if Sierra Burgess is a Loser does its best to shy away from addressing those insecurities. This is largely because this is a comedy, so most of the serious plot points are glossed over in favor of another attempt to make the audience laugh. Near the end of the film, Sierra does have to face the consequences of her actions, but that conflict only lasts for a couple of scenes, and she gets an ending that doesn't really make any sense.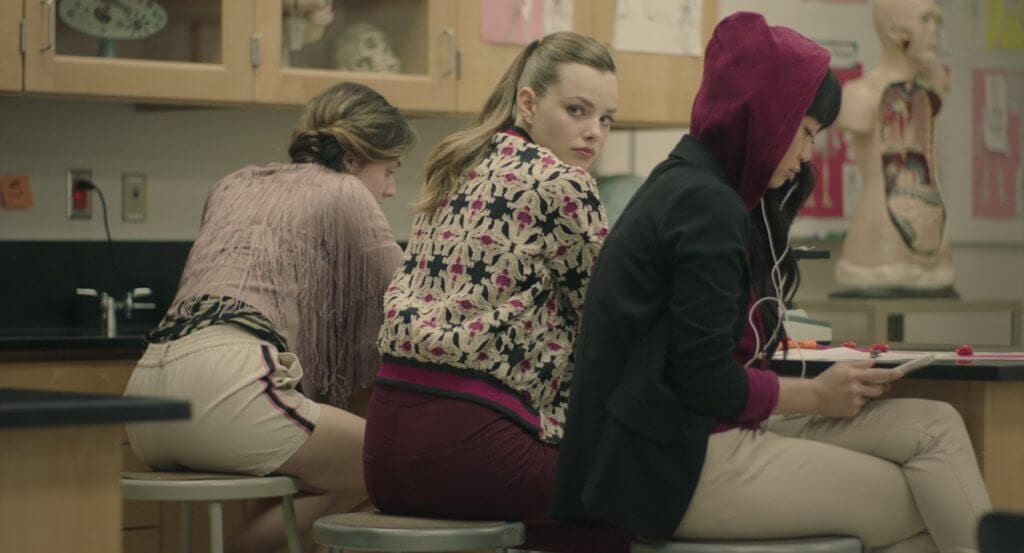 The characters in Sierra Burgess is a Loser don't develop much over the course of the movie. The only one who shows a significant change is Veronica. I like that they pull the curtain back on the shallow popular girl trope. They show her home life, which is completely messed up. Her mother doesn't act like a mom, and it's hard to believe anything can get done in that house. As the movie progresses, she starts to drop that shallow facade and accepts Sierra as a friend.

Sierra is an interesting character. She doesn't like the way she looks, but beyond that, she feels like she can't measure up to her parents' success. Her dad is a great writer, so even though Sierra is really smart, she doesn't think much of herself. It doesn't help that her mother constantly tells her to stay confident as if it's something that's easy to do. I can understand how all of these elements can get to her; it's just hard to sympathize with her completely because she's pretending to be someone else in order to talk to a guy. It just makes Sierra seem more selfish than anything else.
I did like the acting in Sierra Burgess is a Loser quite a bit, though. Shannon Purser plays Sierra, and she's great. A lot of people might know her as Barbara from Stranger Things, so it's nice to see her graduate to a lead role. I love how natural the dialogue sounds coming from her. R.J. Cyler plays Dan, Sierra's best friend. Ever since I saw him as the Blue Ranger in the 2017 Power Rangers film, I thought he was going to be a big star. Dan is a more minor role than he had in that movie, but he makes it work by giving a charismatic performance with great comedic timing. Noah Centineo is pretty good as Jamey. He played a similar character in To All The Boys I've Loved Before, which I also enjoyed. Kristine Froseth as Veronica was just okay. She isn't horrible, but given the amount of screen time she has, she doesn't stand out.
The music is mostly forgettable up until the end. Sierra happens to be a talented singer, so she eventually writes a song to sum up everything she's been feeling during the movie. Shannon Purser has a nice singing voice, so it sounds lovely. It felt like a genuine response to all of those pent-up emotions. After hearing it, I wished they'd used her singing more throughout the film.
*Spoilers*
The writing is a mixed bag. I love how organic the dialogue sounds at times because it makes these characters feel real. I also understand that the characters are teenagers so some of their decisions won't be the right ones. I have two main problems with how this movie was written. The first is that the dramatic moments are few and far between. If the plan was already to address some of these heavy emotions seriously, then they didn't take it far enough. None of these moments linger enough for the audience to get the impression that they have a lasting impact on the characters. The other problem I have is that the ending is a cop-out. This movie is about the struggles of accepting who you are as a person and not trying to be someone else. I don't like the idea of Sierra getting rewarded for essentially doing the opposite the entire way through the film. It doesn't make any sense, and it left a bad taste in my mouth as the credits rolled.
Sierra Burgess is a Loser is an interesting movie. It takes an issue that's extremely relevant to its targeted demographic and turns it into a comedy. This could have worked, but the execution would've had to have been much better. The dramatic parts of the movie work better than the comedic elements do. I find it hard to suggest anyone watch this unless they really love the genre. There are better teen comedies out right now on Netflix.
Plot - 3.5
Acting - 7
Direction/Editing - 5.5
Music/Sound - 6
Comedy - 3.5
5.1
Bad
Sierra Burgess is a Loser is a teen comedy that misses the mark. The solid performances from the cast don't negate glaring flaws in its concept and execution.